Instant updates as the news happens!!!

See CalNews.com's updates on Facebook 24/7




You can also follow up on Twitter!




Tweet us your news scooops today!!!



See we told you so...





Meet the California GOP's "Super-Minority" leaders!






Laissez les bons temps rouler!



Prison Scandal...

"Mr. Kelso belongs in a mental institution himself. He is mentally ill if he thinks the Taxpayer needs to spend $96,000 annually on each of these slimeballs. Mr. Kelso is the epitome of a power-drunk bureaucrat."


-
San Francisco Chronicle


CalTrans scapegoating rod manufacturer?


Supplier urged use of banned Bay Bridge rods
Caltrans decided to install high-risk steel rods on the Bay Bridge's new eastern span after a supplier pointed out that the agency had already approved them for the Richmond-San Rafael Bridge, according to documents the agency released Tuesday. However, the galvanized, high-strength rods that Caltrans approved in 2001 for the Richmond-San Rafael Bridge's seismic retrofit were tightened to far lower tension levels than the 2,300-plus rods installed on the eastern span. Experts say tension is a key factor in causing high-strength steel to snap - something that has already happened with 32 rods on the new Bay Bridge. "Low stress on one bridge means nothing for the Bay Bridge, where the stress is so beyond the other application - it's like apples and oranges, there's no comparison," said Russell Kane, a corrosion and embrittlement expert in Texas. "You can't say anything about how they will perform" based on the low-stress use, he said.

Sacramento Bee


More bawling from crybaby doctors about Obamacare


Loophole in health care law could stick doctors with tab
A loophole in California's upcoming health care overhaul could be exploited by families gaming the system or responding to hardship in a way that doctors say could leave a pile of unpaid bills. A chain of events would create a two-month period during which a family has medical coverage but no insurer must pay its claims. Nonpayment of premiums for subsidized policies would trigger the oddity: Federal law provides a three-month grace period before cancellation - but insurers are responsible only for the first month. Doctors say the liability might keep many physicians from participating in next year's program. A single prostate cancer patient's course of treatment can cost $93,000, they say.



Los Angeles Times


Garcetti wins race for L.A. mayor; Greuel concedes
Wendy Greuel called Eric Garcetti early Wednesday morning to concede the mayoral election, a Greuel campaign source told The Times, ending a two-year campaign to determine Mayor Antonio Villaraigosa's successor and the new political leader of Los Angeles. Garcetti will be the first elected Jewish mayor of the city. At 42, he will also be the youngest in more than a century. He is scheduled to take office July 1.



Press-Enterprise




Worse than Walmart, Islamics coming to your town


Supervisors approve Muslim prayer services despite opposition
Despite opposition from neighbors, San Bernardino County supervisors voted Tuesday, May 21, to allow an Islamic center to operate in an unincorporated area of the county near Chino. The temporary use permit, approved on a 3-1 vote, allows the Al-Nur Islamic Center to hold prayer services at an existing house on the 1.54-acre site between Chino and Montclair. Last year, supervisors approved plans for a 7,000-square-foot mosque on the property but opponents sued to block it. A judge ruled in February that the county must conduct an analysis of whether the project has enough sewage capacity but dismissed claims related to traffic, noise and other issues. The sanitation issue is expected to be dealt with separately later. Warren Inouye, an attorney for the Islamic center, said the center is within its rights to use the house for prayer services until the mosque project proceeds but sought the temporary use permit "to eliminate as much controversy as we can."


Sacramento Bee
Cha-ching! Tribes and Vegas High Rollers Win Again!
Las Vegas casino hosts fundraiser for California senator on eve of key vote
A Las Vegas casino that stands to make millions if the California Legislature approves a gambling compact for a Fresno-area Indian tribe is hosting a fundraiser this weekend for a state senator who is about to vote on the deal. The fundraiser to benefit Sen. Ricardo Lara, D-Bell Gardens, and the Latino Caucus Leadership PAC involves about eight Sacramento lobbyists who are flying to Las Vegas to attend an Ultimate Fighting Championship match Saturday and stay overnight at the swanky Red Rock Hotel. Station Casinos, which owns the Red Rock, and its sister company Zuffa, which owns the mixed-martial-arts fighting league, have donated the hotel rooms, food for a reception and tickets to the fight - a gift of about $5,000, said Dan Weitzman, a political fundraiser who organized the event. The Las Vegas-based casino company is lobbying hard to get the Legislature to approve a compact allowing the North Fork Rancheria of Mono Indians to open a casino along Highway 99 in Madera, more than 35 miles from the mountainous hamlet where tribal members live. The deal calls for Station Casinos to operate the 2,000-slot machine facility for the first seven years and take 30 percent of its profits, according to a Station Casinos report to investors. The state Assembly approved the compact earlier this month, passing it by a single vote. Lara and the rest of the California Senate could vote on it as soon as Friday. While it is common practice for interest groups to make campaign contributions to politicians deciding the fate of their business deals, the timing of this fundraiser - and the high stakes of this decision - are raising criticism of California's campaign finance laws.



Oakland Tribune


Gov. Jerry Brown: Bay Bridge 'not going to open unless it's ready'
A little more than a week before engineers are expected to disclose whether the Bay Bridge's new span can open as planned Labor Day weekend, Gov. Jerry Brown said Monday that he's taking the situation "very seriously." "That thing is not going to open unless it's ready, and the engineers are telling me that they're doing the kind of work that will be needed for that," Brown said speaking to reporters before addressing UC Berkeley's new political science graduates. Dozens of seismic safety rods have cracked during construction, prompting concern about the rest of the shock-absorber-like parts throughout the new span. Brown again Monday refused to predict when the bridge will open, saying he must wait until engineers present their report on May 29. Brown said engineers are digging through old records from manufacturers, and must test the rods themselves. Asked whether he's personally involved in the oversight, he replied, "Well, it's a pretty big issue -- I drive across that bridge, too."



Sacramento Bee


Lawmakers seek probe as doubts are raised on Bay Bridge opening
Elected officials voiced increasing doubts Monday about opening the new San Francisco-Oakland Bay Bridge as planned on Labor Day weekend, and asked for a formal investigation into state management of the massive construction project. Their comments followed a Sunday Sacramento Bee investigation into corrosion of steel tendons that support the span's skyway viaduct - the latest problem for the troubled $6.4 billion bridge. After months of largely dismissing concerns about Bay Bridge structural integrity, Gov. Jerry Brown conceded doubts Monday about meeting the Labor Day schedule. "I'm not going to predict," Brown said of the bridge's opening date. "First, we want to make it safe." San Francisco Supervisor David Campos, a member of the Metropolitan Transportation Commission, which holds financial responsibility for Bay Area toll bridges, went further than the governor. Sen. Anthony Cannella, R-Ceres, a member of the transportation committee and an engineer, said the opening date must be delayed if safety remained in doubt. Cannella and state Sen. Mark DeSaulnier, D-Concord, chair of the Senate Transportation and Housing Committee, called for a comprehensive investigation of previously reported problems with broken and suspect bolts, and flawed welds on the suspension span, as well as the skyway corrosion issues.



Sacramento Bee


Hope for California as one in six law school graduates can't find work
About 16 percent of 2012 graduates from California law schools were unemployed and looking for work nine months after graduation, according to new data from the American Bar Association. Many others were underemployed. Only half of law school graduates held full-time jobs requiring a law degree, the data show. Tuition at the state's law schools ranges from $38,000 to $50,000 a year. Globalization - many companies now outsource legal work abroad to save money - and the last economic downturn help explain the poor job numbers. The surest way to guarantee a job after graduation continues to be attendance at a top-tier law school like Stanford or UC Berkeley. By comparison, those who graduate in the bottom half of their class from a lesser-known school have the most problems. These charts show the unemployment rate among 2012 California law school graduates nine months after graduation, and the percentage of graduates working a full-time job that requires a law degree.



Sacramento Bee




Like they care if you're sick...


Judge allows thousands of UC medical workers to strike
A Sacramento judge Monday refused to stop a strike today by thousands of employees at the UC Davis Medical Center and four other UC hospitals – but ordered a limited number of critical care employees to stay on the job. The union for nearly 13,000 workers, including nursing assistants, pharmacists, medical technicians, operating room scrubs and other health care workers, was to begin a two-day strike at 4 a.m. today. The American Federation of State, County and Municipal Employees announced the walkout of workers at the UC Davis Health System and University of California hospitals in Los Angeles, San Francisco, San Diego and Irvine. The union, which is resisting demands for increases in employee pension contributions, claims the strike is about hospital staffing that has been reduced to dangerous levels. UC officials say the walkout is over an intractable contract dispute over wages and benefits. Impacts on patients were already occurring. The UC Davis network has postponed more than 45 surgeries, including cancer procedures, and 500 radiological appointments. UC officials said the strike, due to end at 4 a.m. Thursday, has also caused UC San Francisco to postpone five child heart surgeries and 12 pediatric chemotherapy sessions. They said UC San Diego has put off 120 procedures, from gastroenterology to spinal surgeries.



Sacramento Bee




With the state in chaos Brown babbles away about climate change to clueless grads


Jerry Brown, on script, urges Berkeley graduates to combat climate change
Of all the speeches politicians give, one of the most difficult may be the commencement address, given as it is to an audience that is often hot and tired and preoccupied with its own excitement – or anxiety – about the future. Leaving the podium on Monday at UC Berkeley, Gov. Jerry Brown said he thought he might have given a commencement speech in Santa Clara when he was governor before, from 1975 to 1983, but he was sure this was the first one for which he had prepared remarks. A script is appropriate for such a sober occasion, he said. Brown, addressing graduates of the university's political science department, told the students that climate change is a greater threat to their future than any number of other problems, from the home mortgage crisis and student debt to growing inequality and war abroad.



Oakland Tribune


Big salaries and fat consulting contracts for cops do little to stop the carnage in Oakland
Police investigating Oakland's 39th homicide this year, and the second in the city in about 14 hours
Police are investigating the city's second deadly shooting in less than 14 hours after a man was killed in West Oakland Sunday night. Officers were called at 6:30 p.m. to the 2900 block of West Street for a report of shots fired in the area, police said. When officers arrived they found a man suffering from gunshot wounds. The man was transported to a local hospital where he was pronounced dead, police said. No suspect information was available and a motive for the shooting was not immediately known. The fatal shooting was Oakland's 39th homicide of the year. In a Sunday morning incident, one man was killed and another wounded in East Oakland when a gunman opened fire on the car they were in, police said. Neither man's name has been released by police. The shooting happened at 4:36 a.m. Sunday in the 1400 block of 92nd Avenue near International Boulevard. The men were sitting in a car when someone from outside the vehicle began shooting at them. The 27-year-old Oakland man believed to be in the driver's seat was pronounced dead at the scene. The passenger, a 25-year-old San Francisco man, was able to get transportation to a hospital. His condition was not immediately known. Police have not released a motive and no arrests have been made in either of Sunday's slayings.



Los Angeles Times


Killer cops run rampant...in Bakersfield
A muted response to beating by deputies
Authorities said officers responded to a report of a possibly intoxicated man. A family leaving the hospital said they saw two officers wake Silva and tell him not to move. When Silva sat up, a deputy hit him in the head, said Laura Vasquez, 26. Witnesses said officers arrived and beat him with batons. Silva's cries for help and the crack of the batons woke up many in the neighborhood. A woman screamed, "Call the cops!" "They are the cops!" people shouted. Authorities said six deputies, a sergeant, two California Highway Patrol officers and a police dog were at the scene. She declined to give her name, saying, "I can't. They came to my house. At first the officer was very polite, very professional.... But when I told him, 'No, I don't want to talk to you,' he said, 'Is anyone in your house on probation?' And my — well, it was a threat." The night of the beating, sheriff's deputies detained two people in their home and told them they couldn't leave until they handed over their cellphones. Witnesses said both phones had video of the beating shot from about 20 feet away. The beating is the latest in several high-profile incidents involving the Sheriff's Department. The parents of Jose Lucero won $4.5 million in a wrongful-death lawsuit stemming from a 2010 incident in which their son died after being beaten by deputies.



Sacramento Bee




Will the oil companies finally have to pay?


California oil tax push would direct new funds to schools
Just months after California voters passed Proposition 30 to stave off education cuts, a push is under way to ensure that the next stream of higher education funding flows out of the ground. The idea of an oil severance tax has been bubbling for years, but proponents have been unable to surmount intense lobbying from the energy industry. That hasn't deterred a state senator from coming up with a bill and a University of California, Berkeley, undergraduate from circulating a ballot initiative, both of which would impose a tax on the resources that energy companies draw out of the earth and direct the windfall to California colleges. A key difference this time around is the legislative supermajority that will allow Democrats to pass new taxes without a single Republican vote, assuming Democrats vote as a unified caucus.


San Francisco Chronicle
Drug testing for California doctors?
They're calling it the "Pee in the Cup'' initiative — a proposed state ballot measure that would require doctors to be randomly subjected to drug and alcohol testing, the same way bus drivers are. It's being pushed by a tech mogul who's on a very personal crusade to clean up the state's medical practices. Bob Pack is a former AOL and NetZero exec whose 10-year-old son and 7-year-old daughter were struck and killed a decade ago near their Danville home by a driver under the influence of alcohol and prescription pills. After going public with a campaign to put his kids' killer behind bars for second-degree murder, Pack turned his attention to helping the state track patient prescriptions and spot "doctor shoppers'' like the driver in Danville. After state funding for the effort dried up, Pack tried and failed to qualify a ballot initiative that would have taxed drug companies to pay for the tracking. Now he's taking aim at doctors who abuse drugs themselves. He's enlisted the help of consumer advocate Harvey Rosenfield — the guy behind the landmark 1988 measure regulating the insurance industry — and former Clinton White House adviser Chris Lehane, whose trial lawyer clients have already dropped $2 million into a campaign account.



San Francisco Examiner


Driver fees could help combat gridlock
Downtown San Francisco will be mired in gridlock unless changes are made soon to alleviate automobile traffic — and the most effective method could be a long-discussed and controversial congestion-pricing scheme. Unless private automobile traffic is reduced by 27 percent over the next three decades, congestion levels will be unmanageable, with vehicles stuck at a standstill and pedestrians and cyclists prone to increasingly dangerous conditions, according to a new report by the San Francisco County Transportation Authority, a local planning agency. However, implementing congestion pricing could cut deeply into that 27 percent figure: The report pegged the number at 10 to 15 percent. It also would generate tens of millions of dollars for other transit needs.



San Francisco Chronicle


Bay Area has nearly a quarter-million Muslims...do you feel safe?
The Bay Area boasts one of the highest concentrations of Muslims in any metropolitan area in the United States, with almost 250,000 making up 3.5 percent of the region's population, according to a study by the Santa Clara University Institute for Social Policy and Understanding. Of that Muslim population, 37 percent live in Alameda County.


Daily News
Union money looms big in L.A. mayor's race
The "La Wendy" factory at the county union's headquarters buzzed with activity Friday morning. Workers stacked glossy "Wendy Greuel" doorknob hangers. Volunteers hung sign-up sheets for canvassing. And hotel cleaners broke into cries of "Sí se puede," a hopeful shout for a wage hike under a Greuel administration. Unions like the Los Angeles County Federation of Labor, which is backing Greuel, or the Teamsters, who endorsed rival Eric Garcetti, are making a big push in the Los Angeles mayor's race, sending workers to canvass, phone bank and gather signatures. But mostly, they are raising money. Labor groups have contributed significantly to the $10.2 million spent by outside groups in the mayor's race. One union for the Department of Water and Power has broken spending records. In race with two pro-labor candidates, with similar backgrounds, the unions' power is noticeable, say political observers. "The outside spending is changing the campaign narrative," said Jessica Levinson, a professor at Loyola Law School. "It's changing the tenor and tone." The emergence of SuperPACs, or independent committees, have allowed outside groups, which include unions, to skirt city rules limiting individual contributions to $1,300 per election cycle. Independent committees can raise unlimited funds, but can't coordinate with campaigns. SuperPACs have spent $7.5 million on Greuel's behalf in the race, more than three times the amount spent by outside groups on Garcetti. The latest filings show outside groups are now outpacing candidates' fundraising efforts. Greuel has raised $7 million to date, according to the city's Ethics Commission. Even as she runs short of money - the last filings show Greuel has $295,000 cash on hand, limiting her ability to run TV spots - labor groups have filled the gap. Some of the most powerful unions at City Hall - those representing police, fire, and the Department of Water and Power - have endorsed Greuel and aired advertisements for her.


Sacramento Bee


Is the new Bay Bridge just one giant f*ck up???


Corrosion plagues new Bay Bridge span
Doug Coe, a normally confident engineering manager for the new east span of the San Francisco-Oakland Bay Bridge, walked into the nearby Oakland project office looking as if he were fighting back tears. Joel Sayre, then a bridge spokesman who worked there, remembers tensing in alarm. Engineers had discovered an alarming corrosion problem with the "post-tension" tendons, and were pumping gallons of rusty water from the ducts that held them, Sayre said Coe told him. "Oh my god," he recalled Coe saying that afternoon in late spring of 2006. "What are we going to do?" Coe, whom the California Department of Transportation would not permit to answer questions, was talking about thousands of steel tendons in the skyway section of the new span – the elevated roadway that runs from the Oakland footing to the suspension bridge near Yerba Buena Island. Ducts containing the tendons, crucial to structural integrity, had been left unsealed. Rainfall and water used to cure concrete, tainted by construction debris exposed to salty bay mist, had entered many of them. The bridge was billions of dollars over budget and years behind schedule. Rusty water meant tendons had corroded. Sayre said Coe, lead skyway engineer, described a potential nightmare that could stop construction cold. Such concerns led Caltrans to examine hundreds of tendons. The agency found little significant corrosion – a false alarm. It laid out that conclusion in a report and moved on.

Sacramento Bee


Dems willing to sacrafice kids for teachers


Brown's school funding plan runs into lawmakers' concerns
Gov. Jerry Brown had hardly finished presenting his annual budget revision last week before state Sen. Ted Lieu lit up on Twitter with a burst of criticism of a major part of the plan, a bid to shift more state aid to poor and English-learning students. "Instead of working together to help all kids," said Lieu, D-Torrance, Brown's funding formula "pits teacher against teacher, community against community, parent against parent." Assemblywoman Joan Buchanan, D-Alamo, convened a hearing on the matter in the Assembly Education Committee the next day, and Senate President Pro Tem Darrell Steinberg, D-Sacramento, reiterated his own reservations about the proposal. He said lawmakers will model the effect of Brown's education proposal "region by region, district by district." In many ways, resistance to Brown's proposal to overhaul California's school financing system is a function of simple math. Though a majority of California's more than 6 million schoolchildren live in urban and rural districts expected to benefit from Brown's proposal, all but a handful of lawmakers who will vote on the measure represent at least one school district identified by the Department of Education as a potential loser. "If a district defines itself as a winner or loser, right or wrong, that's what these lawmakers are going to care about," said Kevin Gordon, a longtime education lobbyist. "It's what drives a lot of the skepticism." Brown was on the defensive last week, laboring to "clarify some common misperceptions" about his plan. He said the most controversial part of his proposal – to provide money to especially needy districts at the expense of wealthier ones – would amount to just 4 percent of total spending, with the rest distributed on a per-pupil basis partly to all students and partly to disadvantaged students statewide. Brown dismissed a California Department of Education projection that more than half of state school districts could receive less money under this formula than they might under existing law. In his annual budget revision Tuesday, he called it a "very small part" of his plan. That Brown was forced to address the matter at all suggests how difficult district-level considerations may be for the Democratic governor to overcome.



San Francisco Chronicle


Cop-Scam: Court's police takeover costing Oakand millions
No matter what the outcome, the federal court takeover of the Oakland Police Department is going to cost taxpayers millions — starting with the $270,000-plus-a-year salary for the new compliance director. That's $13,000 more than what former Police Chief Howard Jordan was making before he jumped — or was pushed — into medical retirement this month. In addition to the $270,000 salary, compliance director Thomas Frazier will receive benefits equal to those paid to the city administrator and the police chief, including any unused vacation, sick or executive leave that can be cashed out when the job ends. The city is contesting the benefit extras, which U.S. District Judge Thelton Henderson included in his order to the city last month. However, it is not appealing Frazier's salary. The judge also provided for Frazier's support team, whose three members will cost the city $110 to $200 an hour apiece. When all's said and done, their bill could total $385,000. Plus there's a host of expenses for Frazier and his group, including $500,000 for police radios and a computer, $200,000 for a techie to work on the radios and other equipment, $100,000 for a fingerprint reader and $250,000 for leadership training programs. Frazier is also hiring monitors to collect data on officers' use of force and racial profiling at a cost of $400,000. Put it all together, and the package is already over $2 million.


Bay Guardian
Life is good...if you're rich...
Do falling jobless numbers mean we're smart and focused, or rich and exclusive?
The unemployment rate continues to drop in San Francisco and all over California, according to new numbers released by the California Employment Development Department, which were trumpeted by Mayor Ed Lee as vindication for his economic development policies. "San Francisco's steady economic recovery is the result of our continued focus on job creation, education and training residents for the demands of the 21st century workforce. San Franciscans are getting back to work across the spectrum of job sectors – from hospitality to construction to technology to service industry jobs and we will continue to help these sectors grow in our City," Lee said in a press release. But are Lee's neoliberal policies of promoting technology and other corporations with tax breaks and city-subsidized training programs and financing mechanisms really creating the rosy economic picture he's painting? And even if it is helping to promote boom times, at what point have we essentially reached full employment, the point at which we should maybe turn our focus and resources to addressing the rising cost of living here? After all, San Francisco's unemployment rate of 5.4 percent is third only to Marin County (4.6 percent) and San Mateo County (5.1 percent). Those three counties also just happen to be the three counties with the highest per capita incomes in the state, a fact that explains our jobless rate more than the mid-Market payroll tax exemption and other taxpayer giveaways. "Unemployment rates tend to be lowest in areas with high education attainment," Ruth Kavanagh, EDD's labor market consultant for this area, told us when we called to discuss the disparties among counties.



San Francisco Chronicle


America's Cup Italian team sets demands
This was the week that Larry Ellison lost control of the America's Cup. Ellison's Oracle team was flying high when it was announced in 2010 that the Cup would be staged in the perfect blue amphitheater of San Francisco Bay. Then on Friday, Patrizio Bertelli, the Italian billionaire who owns the Luna Rossa team, issued an ultimatum to agree to his terms for the race or the team would walk. Bertelli's visit follows the death of crewman Andrew "Bart" Simpson of the Artemis challenger boat. Simpson's death has thrown the race into disarray, raising serious questions about the safety of the monstrous 72-foot catamarans. Challenging teams are having misgivings about participating, and a review committee has taken all the boats out of the water until next week. If another team drops out - and Artemis is reportedly waiting until next week to decide - this goes from the most glamorous sailing event in the world to a puny three-team boat race. Simply put, Ellison needs the challengers now a lot more than they need him. And they know that.


Sacramento Bee
Here we go again...California analyst's revenue projection higher than Jerry Brown's
California will collect more than $3 billion in additional state revenue, the state's nonpartisan legislative analyst said Friday, setting the stage for a Capitol fight among Democrats over spending. Legislative Analyst Mac Taylor's prediction of higher state revenue in the next fiscal year was due largely to sharp recent increases in the stock market and to differences with the Governor's Office in projecting California's near-term economic prospects. Because current state law would require the vast majority of any windfall to go to public schools, Taylor also proposed an alternative that lawmakers could use to free up billions for other uses. "Great for schools, that's a good thing," Taylor said of the current formula. "Not so good for the rest of the budget and the Legislature trying to balance its varying priorities. … We'd encourage them to just take another look at that issue." The Capitol is brimming with proposals for boosting spending on public services, including courts, mental health facilities, child care, middle-class scholarships, adult dental programs and Medi-Cal provider rates.



Sacramento Bee


Audit says moonlighting state managers shouldn't have had second jobs
California state government violated civil service rules by giving hundreds of salaried managers part-time jobs that paid them an hourly wage, according to an audit released Friday. The audit concluded that departments overpaid some for their hourly work, underpaid others, and used a poorly worded policy as an excuse to circumvent the notion that managers receive a fixed wage to do whatever is required to get the job done. The report found that 504 salaried managers and supervisors held secondary hourly wage jobs last year. About 85 percent of those dual appointments were inappropriate, state investigators said. Nearly all of the jobs were in the state's prison and hospital systems, its pension fund and its social services department. Departments offered various reasons to auditors for using managers to do lower-level work for hourly wages. They said they were working to meet crushing workloads, flexibly cover vacancies or leverage managers' knowledge and skills for less than it would cost to hire new employees or consultants. The California Department of Human Resources' audit brushed aside those arguments, saying salaried administrators have to work as much as the job demands for a fixed wage.



San Francisco Examiner


Recent violence increases focus on protecting San Francisco transgender community
Attacks against transgender people in the Mission district have government officials mobilizing to prevent further violence as the recent crimes evoke past tragedies and call into question San Francisco's commitment to protect such individuals. Theresa Sparks, who is transgender and the executive director of the Human Rights Commission, said progress has been slow. At a hearing at City Hall, she talked about a meeting she had six years ago with the mother of 27-year-old Nicaraguan immigrant Ruby Rodriguez, a transgender woman who was brutally killed. "Her mother sat down and said, 'Why is my daughter seen by this city and this country as a throwaway soul?' And I couldn't answer that because all the actions of San Francisco that were happening at that time, this population was seen as a throwaway," Sparks said Thursday during a public hearing. "And maybe I am being a little harsh, but history seems to be repeating itself." Six months prior to Rodriguez's killing, two other transgender women had also been slain. Since 2010, the District Attorney's Office has reviewed 11 transgender hate crime cases and brought charges in nine of them while two were dropped because the victim could not be found, said Rebecca Prozan, the office's director of community relations. Of the nine, there were six convictions. It's widely thought that crimes against transgender people are underreported. Challenges in protecting the transgender community in the Mission include immigration status, lack of English proficiency and distrust of authorities, city officials said. Campos expressed disappointment with the community outreach of the Police Department's hate crimes unit, calling that a "big part of the problem."



Oakland Tribune




Cops screw up, but get let off the hook...again


Arbitrator reverses discipline against officers faulted for tragic SWAT operation
The only two officers disciplined in connection with the deadliest day in Oakland Police Department history have had their punishments overturned by an arbitrator, who found that department leaders had unfairly singled them out and failed to consider their own accountability. Ricardo Orozco and Christopher Mufarreh were demoted two ranks for their role in the flawed March 21, 2009, SWAT operation against a parolee who hours earlier had shot two officers to death. Two members of the SWAT team also were killed by the parolee, Lovelle Mixon, when they stormed an East Oakland house where he was hiding. Mixon was killed in the shootout. In a 124-page ruling issued Thursday, arbitrator Paul Greenberg said the department's investigation into the incident was flawed and found that the discipline against Orozco and Mufarreh "has the appearance of the department needing to hold someone individually accountable ... but not considering the possibility that senior-level management decisions also contributed to the chain of events."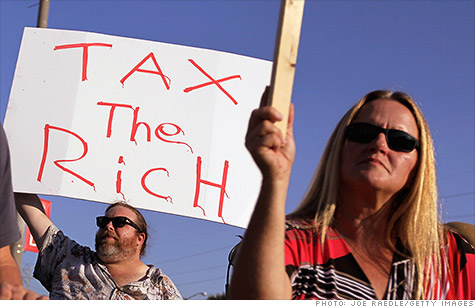 Dan Walters
A perilous tax trend accelerates
When voters passed Proposition 30 last year, they unwittingly accelerated one of the most perilous trends in California governmental finance – an ever-increasing reliance on income taxes from rich people to finance schools and myriad other state and local services. When Jerry Brown became governor the first time in 1975, the broadly based sales tax was the biggest generator of state revenue. Over the years, however, the sales tax has faded as consumer habits changed. Californians bought relatively fewer taxable goods – cars, clothes, appliances, etc. – and spent more of their incomes on untaxed services and investments. Income taxes now exceed 60 percent of general revenue and are headed to two-thirds within a few years, according to fine print in Brown's newly revised budget. The top 1 percent of Californians, in terms of income, now pay well over 40 percent of state income taxes or more than a quarter of general revenue. There are anecdotal indications that some wealthy Californians are contemplating financial or physical moves to avoid the new levies – such as golfer Phil Mickelson's public musing about fleeing from California and its high taxes. But the official assumption in the Capitol is that the wealthy will pay up and that income taxes will grow about 7 percent a year through 2016-17. Even if they continue to pay, however, the increasing reliability on high-income taxpayers is perilous.



Oakland Tribune


Canada comes to Silicon Valley to poach high-tech workers
Canada has landed in Silicon Valley with a brazen message: Give us your smart, your restless, your huddled Googleplex workers yearning to breathe life into the high-tech economy up north. As the U.S. Congress wrestles with a long-sought overhaul of America's immigration system, the Canadian government is trying to poach talented immigrants frustrated by U.S. visa policy. The campaign begins Friday with a four-day visit to the Bay Area by Jason Kenney, Canada's minister of citizenship, immigration and multiculturalism. "I think everyone knows the American system is pretty dysfunctional," Kenney said Thursday in an interview from Vancouver, B.C. "I'm going to the Bay Area to spread the message that Canada is open for business; we're open for newcomers. If they qualify, we'll give them the Canadian equivalent of a green card as soon as they arrive."


San Francisco Examiner


Will the Islamics ruin this too?


Cops tout Bay to Breakers security plan
Roughly 100,000 people are expected at this year's Bay to Breakers race. Local and federal officials, as well as extra video surveillance, will be on hand for the colorful San Francisco tradition. Race security is front and center as San Francisco prepares to host its first major public event — and one of its most high-profile — since the April 15 bombings at the Boston Marathon. About 100,000 people — 70,000 of them spectators along the route — are expected to attend the race. Law enforcement officers from six agencies, including the FBI, also are expected to be on hand. Nearly every available San Francisco police resource, from the bike unit to the equestrian unit to the department's bomb technicians, will be deployed along the racecourse. Security considerations extend beyond law enforcement. The Department of Public Works has replaced 60 waste bins along the route with trash receptacles with transparent liners that allow police and the public to see what's inside, according to spokeswoman Rachel Gordon.


Sacramento Bee


California's health exchange to serve as voter registration hub


Senate Minority Leader Huff doesn't want poor people to register to vote


Millions of Californians who contact the state's new health exchange to buy insurance will be given the opportunity to register to vote, too, a move that some Republicans fear could benefit Democrats. Secretary of State Debra Bowen made California the first state to designate its health exchange as a voter registration agency Wednesday, but others are expected to follow suit, said Shannan Velayas, Bowen's spokeswoman. The federal law commonly is known as "motor voter" because it ensured that applicants for drivers' licenses nationwide would be asked if they wanted to register to vote. Public agencies in California that currently serve as voter registration outlets include the Department of Motor Vehicles and offices overseeing the state's welfare, tax collection and in-home supportive services. California's health care exchange, Covered California, is creating a marketplace for millions of uninsured Californians to compare prices and buy health insurance policies this fall to take effect Jan. 1. Many of Covered California's clients are expected to be families of low and moderate incomes. Some will be eligible for taxpayer-subsidized policies, and others will have incomes low enough to qualify for Medi-Cal.


Sacramento Bee
Assembly backs limiting immigrants' vulnerability when arrested
The Assembly passed a bill Thursday designed to reduce the number of deportations and immigration holds for people arrested, charged or convicted of minor crimes. Written by Assemblyman Tom Ammiano, D-San Francisco, Assembly Bill 4 would prevent local police from detaining people based on immigration status when they are arrested unless they have prior serious or violent felony convictions. The bill, which Ammiano and supporters have dubbed the "Trust Act," is an expanded version of legislation proposed last year that was vetoed by Gov. Jerry Brown. As the measure moves to the Senate, Ammiano is expected to offer amendments to win Brown's support. The bill is designed to dictate how police deal with requests for information under the federal Secure Communities program. Under current state law, police have the discretion to send information to federal officials, who automatically check the immigration status of people using fingerprints obtained upon arrest. Ammiano said the Secure Communities Program is supposed to target serious offenders, but that hasn't been the case.


OCWeekly
Orange County Bids Farewell to Storefront Marijuana Dispensaries


Obama and Orange County Republicans keeping us safe...from Liberty


Until recently, anyone with a $20 doctor's note and a hankering for Hindu Kush could walk into his or her corner marijuana dispensary—one of hundreds and possibly thousands of such operations throughout the state—and walk out minutes later with a jar full of 100 percent legal weed. But after three years of allowing the state's medical-pot industry to explode, the Obama administration began cracking down on marijuana growers and distributors in late 2011. Cities that hadn't already banned storefront dispensaries began doing so, and raids and property seizures in Orange County quickly mounted, first in Costa Mesa and South County, then Anaheim and Santa Ana. On May 6, the California Supreme Court upheld Riverside's ban on dispensaries, effectively stating that any city in the state that wanted to prohibit such clubs were free to do so. By the time that ruling came down, you'd be hard put to find a single storefront in Orange County, with the exception of a handful in Santa Ana and Garden Grove, the latter of which ordered all dispensaries to shut down by May 14 or face immediate raids and fines of $1,000 per day. "I've heard rumors the city will be sending out the SWAT Team," says Marla James, president of the Orange County chapter of Americans for Safe Access, the nation's largest medical-marijuana activist group. "They will be arresting people."



Press-Enterprise


CALIFORNIA VETERANS: Homebuying program hands out few loans
A state program designed to help California veterans buy homes granted just 83 loans last year, despite more than $1.1 billion in available funding. The California Department of Veterans Affairs employed 87 staff members to run the loan program, spending $10.6 million on overhead to originate $10.5 million in loans, according to the state Department of Finance. During a recent visit to the agency's headquarters in Sacramento, the home loan call center was largely silent. Critics, including Democratic Assembly Speaker John A. Pérez, say the program is an anachronism and the money should be redeployed to meet other veteran needs. Agency officials say they know they need to do better and have used the economic downturn to revamp the program, originally launched in 1921 to help World War I veterans buy homes and farms. The overhead costs, they said, include servicing on the approximately 8,000 loans made in the past three decades.


Daily News
Your tax dollars at work...Condoms for prisoners and porn stars debated by Legislature
Two bills are pending in the state Legislature that promote and expand the use of condoms by two very different groups of people - porn stars and prisoners - each based on programs that are already in place in Los Angeles. One would require actors in adult films shot anywhere in California to wear condoms - a proposal that builds upon a ballot measure approved by L.A. County voters last year, and which has been blamed for shutting down porn production locally. The other would expand the distribution of condoms in state prison, a practice already followed in L.A. jails since 2001 and in San Francisco since 1989. Both are aimed at preventing the spread of AIDS and other sexually transmitted infections, though their level of support appears distinctly different.


Dan Morain


In casino debate, it's all about competition
Money flowing through Sacramento lately can mean only one thing: Gambling is front and center again in the Capitol. There's lots of talk of tribal sovereignty, reclaiming history and preserving ways of life. Important though all that is, the fight comes down to money, as gambling always does.



Dan Walters


California State Bar bill hits competition
California, it's now acknowledged, has a glut of lawyers. Thousands of law school graduates cannot find jobs as law firms cut back, as government agencies are squeezed, as corporations trim legal expenses and as technology handles rote legal work. The lawyer glut is acknowledged by the State Bar, the quasi-public entity that licenses lawyers, regulates their behavior and acts as a trade association for the legal profession. Joseph Dunn, the former state senator who runs the State Bar, told the Times that while the state had seen lawyer gluts in the past, "I don't think any of them rival the situation we are seeing today." Dunn's remarks struck many in the Capitol as ironic since as a legislator, Dunn made herculean efforts to get a new law school at the University of California, Irvine. The State Bar appears to be doing more about the glut than wringing its institutional hands. It's sponsoring legislation that could eliminate some competition from providers of do-it-yourself legal forms.



Steven Ring and Ken Cleaveland


Split-roll tax would backfire on economy
Why should you care if Proposition 13 opponents raise taxes on commercial real estate properties through their proposed "split-roll" tax? You've got no skin in that game, right? Dead wrong! The split-roll proponents say they're just raising $6 billion in needed government revenues by rejiggering the tax rates. Who do they think owns these buildings? Owners include hundreds of thousands of small investors in real estate investment trusts and other forms of collective real estate ownership. Retirees who depend on pension funds, insurance annuities and their own personal portfolios to supplement their incomes will lose revenue.



Dan Walters


Is Bay Bridge debacle a harbinger?
For months, the governor had dismissed revelations about shoddy construction and inspection practices on the grandiose, long overdue and massively over-budget project to replace the eastern portion of the San Francisco-Oakland Bay Bridge. More than two decades ago, Republican Gov. Pete Wilson proposed a concrete viaduct replacement that could be built quickly and cheaply. But nothing so ordinary was acceptable in a region with an elevated sense of its own specialness, so politicians spent a decade squabbling over the design. Eventually, the Metropolitan Transportation Commission settled on a compromise – a soaring suspension span tied to a single massive pylon and attached to a viaduct on the eastern approach. With costs soaring from the billion-dollar viaduct that Wilson wanted, and the $1.5 billion original estimate for the final design to well over $6 billion, cost-effectiveness is no longer a valid claim. And whether it's safe is an open question. One must wonder, too, whether the Bay Bridge debacle is a harbinger of what could happen on the much-bigger bullet train and Sacramento-San Joaquin Delta tunnel projects that Brown so ardently seeks.



Mercury News


California would help ensure higher education is a path out of poverty, not into it
A college degree is still the best road to financial security, helping to improve quality of life for millions of American families. But with the soaring cost of higher education, the route is paved with too many potholes. A few wrong turns and poor choices can lead students straight off the road of financial prosperity, into a ditch filled with crippling debt.



Bay Guardian


San Francisco promises that by 2020, no garbage will end up in a landfill. But is that really possible?
In January, Mayor Ed Lee appeared on the PBS NewsHour to talk up the city's Zero Waste program, an initiative to eliminate all landfilled garbage by 2020 by diverting 100 percent of the city's municipal waste to recycling or compost. "We're not going to be satisfied," with the 80 percent waste diversion already achieved, Lee told program host Spencer Michels. "We want 100 percent zero waste. This is where we're going."



Dan Walters


Big Capitol fight on Medi-Cal looms among Democrats
As massive as it may be, Medi-Cal is on the verge of a huge expansion that could add a couple of million more Californians to its rolls, some of them from expanded eligibility under the federal Affordable Care Act and some from signing up those who now qualify but aren't enrolled. The federal government will cover 100 percent of costs for the former initially, and then 90 percent there- after, but if there's a major enrollment of the latter, the state would be on the hook for potentially heavy costs.



Daily News


Voting for Wendy Greuel because she's a woman? It's OK
Wendy Greuel's candidacy for mayor, in a city that hasn't had a woman mayor and generally has too few women in political office, raises a basic question as Los Angeles residents make their choices for the May 21 election: Is it OK to vote for Greuel because she's a woman?



Dan Walters


Legislative analyst gives Democrats more money
Jerry Brown – who made "lower your expectations" a catchphrase of his first governorship – is back in that mode during his second stint, especially on spending. When Brown unveiled a revised 2013-14 budget last week, it was evident that he and his budget "gnomes," as he called them, had adopted a relatively pessimistic view of revenues, despite a recent surge in income taxes. It was, Brown said, largely a one-time bump, rather than a harbinger of a dependably higher revenue flow, and because of that, he was unwilling to restore cuts in health and welfare programs for the poor, the aged and the infirm. "The money's not there," he told reporters, uttering a flat "no" to a question about restoring those "safety net" services. The response did not please Democratic legislative leaders and they hoped aloud that a revenue estimate from their Legislative Analyst's Office would provide more room for spending on those services. On Friday, the LAO made that hope a reality, at least on paper, saying that the state could expect $3 billion-plus more than the governor projects. However, the relatively rosy forecast came with caveats.



Oakland Tribune


California lawmakers must address teacher pension shortfall
The unfunded liability at the California State Teachers' Retirement System is, as the LAO has previously noted, perhaps the state's most difficult fiscal challenge. It is certainly its worst pension problem. Failure to address it now will mean dumping more debt on our children. CalSTRS is the nation's second largest retirement plan, behind only the system serving state and local government employees. The teacher pension fund now has about 862,000 members, about 2 percent of the state's population. Thus, ensuring that teacher pensions are adequately funded is not only sound state fiscal policy, it protects large numbers of current and future retirees who need their retirement pay for survival.



Richie Ross


School reforms should reflect exception to local control rule
When Gov. Jerry Brown introduced the principle of "subsidiarity" as the basis for his public school local funding formula, my ears perked. While the word "subsidiarity" isn't familiar to most people, the principle is – local control. Each person matters more the closer to them that decision-making power lies. Unions have locals. Corporations have divisions. Service clubs have chapters. Catholics have parishes. Fast food empires have franchises. Armies have battalions. Governments have subdivisions. When principle becomes dogma, the most profoundly important rule, one equally grounded in theology, gets broken. That rule – that there's an exception to every rule – is the basis for granting clemency and showing mercy. God may help those who help themselves, but we're supposed to help, too. The governor's local funding formula needs an exception. The Legislature should make it. The governor should accept it.



Oakland Tribune


Oakland residents deserve to feel safe again
While the shake-up of the Oakland Police command staff has left officers and residents unsettled, it provides a long-overdue opportunity to restore order within the department and on the streets.



Sacramento Bee


State must pay enough to keep water workers
Unable to match the salaries of private and some public utilities, California cannot retain enough skilled employees to maintain and operate its complex and vital water delivery system. In the short run, the solution will be to negotiate new labor contracts authorizing higher salaries. In the long run, the structure of the state water system must be freed of constraints of state hiring and procurement rules.



Los Angeles Times


A return to the 'era of limits' in California
In a reminder of the boom years of the late 1990s, California's fiscal picture brightened in the first few months of 2013, leaving the state unexpectedly flush with cash. But when Gov. Jerry Brown unveiled his revised budget proposal Tuesday for fiscal 2013-14, he did something much more reminiscent of the "era of limits" in the 1970s: He laid out a cautious and moderate course. Specifically, he called on the Legislature to increase spending by less than 1% while doubling the amount held in reserve.



Dan Morain


Maldonado trips as he gins up crime issue
Republican consultants, searching for issues other than gay marriage, gunners' rights and immigrant-bashing, are contemplating at least two initiatives that might stoke voters' fears and shape the 2014 general election. One would jump-start California's long-stalled death penalty, in answer to the failed initiative last year to abolish capital punishment in California. Another idea – Maldonado's brainstorm – would repeal Brown's effort to reduce prison crowding by shifting low-level felons to county jails.



Sacramento Bee


Voters are only ones who can fix Prop. 13 tax dodge
It's patently unfair when the new owners of the Fairmont Miramar can take advantage of a legal scam to avoid paying their fair share of taxes.



Dan Walters


Love could kill Jerry Brown's school plan
Gov. Jerry Brown's ambitious plan to overhaul how California schools are financed may be loved to death. Dozens of school finance players, including Brown's fellow Democrats in the Legislature, have expressed conceptual support for Brown's plan. However, they attach caveats that their full support would depend on his accepting some changes. The net effect of all those demands, if granted, could be to leave the present system – one that no one defends – largely intact.



San Francisco Chronicle


Say it isn't so, Abel Maldonado
Abel Maldonado used a photo of Jerome Rogers as a prominent prop during a campaign event in Sacramento this week. Abel Maldonado is one of the more engaging, decent people you ever will meet in politics. He's earnest, he has a sense of humor and he seems genuinely determine to find the good — and common ground — in people of varying ideologies and backgrounds. At least that is what he is like in one-on-one situations. However, his campaigns just don't seem to match his interpersonal instincts for the high road.



Tammerlin Drummond


A rollercoaster week at Oakland Police Department
Gunmen have shot out the windows of AC Transit buses in drive-bys. Firefighters have had to duck for cover when bullets fired from the street struck their fire stations. Last week, we learned that Oakland is the robbery capital of the U.S., according to FBI data analyzed by this newspaper. Criminals are stealing people's cellphones, cars, jewelry and other possessions at gunpoint on a regular basis. Oakland residents and business people are desperate for police and city officials to take action to address over-the-top crime. But for every step forward, it seems, there are always at least two back.



Dan Walters


Can crime again be big issue in California?
Crime faded as a decisive political issue largely because the crime rate, having hit a peak about 1980, receded sharply. Whether that was due to new tough-on-crime laws or demographic and economic factors is still a matter of debate. Like fashions, hairstyles and tastes in popular music, politics tend to run in cycles. What's old becomes new again, and some believe California is ripe for a rebirth of crime as a high-impact political issue.



Vanessa Aramayo


State must act to shed its No. 1 ranking in poverty
Right now, one out of every four children in California lives in poverty. If grouped together, these 2.2 million children would live in a city larger than San Diego and San Francisco combined. They are far hungrier, undernourished and less secure than the rest of us. Their playtime and daydreams, hallmarks of childhood, are interrupted by basic needs that go unmet every day.



Bay Guardian


Why the PG&E settlement is lame


The victims didn't get to "safely absorb" the PG&E blast


One of the factors that the state regulators took into account when they decided how much PG&E should be fined for the San Bruno blast was the company's financial situation -- that is, how much of a fine could the utility "safely absorb." That's the first sign that something screwy is going on here.



Dan Walters


Immigration reform has big stakes in California
State legislators often conduct their windiest floor debates over nonbinding "resolutions" commending this or that, condemning this or that, or beseeching Congress to do this or that. These symbolic and usually meaningless legislative resolutions typically rate little or no media coverage. But one calling on Congress to pass "comprehensive" immigration reform, approved by the Assembly on Monday, deserves notice.



Dan Morain


Democrats can eat their own, too, as an aide to Brown learns
Steve Glazer's fight with Democrats might be a footnote to the 2012 election, except for what it shows about the dominant party in California and the new political order of the top-two primary. Hardly a reactionary, Glazer started as an aide to Gov. Jerry Brown when he was a college kid, and campaigned in 1986 to save the late Chief Justice Rose Elizabeth Bird, though voters ousted her. After helping Brown again in the 2010 election, Glazer became a consultant for the California Chamber of Commerce, hoping to elect moderate Democrats. That's when he crossed Speaker John A. Pérez and labor.



Dan Walters


California reverting to secrecy
There's nothing ambiguous about Article IV, Section 8a of the California Constitution: "At regular sessions no bill other than the budget bill may be heard or acted upon by committee or either (legislative) house until the 31st day after the bill has been introduced unless the house dispenses with this requirement by roll-call vote entered into the journal, three-fourths of the membership concurring." Its purpose is clear: The Legislature should give the public and those directly affected some time to weigh the import and impact of a new law before it is enacted, unless there's a genuine emergency. Or, to turn it around, it's bad form for the Legislature to whip up secret legislation and impose it on the public. But the Legislature often does just that, thus violating the spirit, and perhaps the letter, of the constitution. It's called "gut-and-amend."



San Francisco Chronicle


In the darkness of the California Legislature
It isn't all that often that we see anything bipartisan in the California Legislature. So here is a concept that all legislators should agree on: Our elected officials should at least have time to read a bill before they are asked to vote. A measure to do just that (with bipartisan support) had its first hearing this week in the Assembly Budget Committee. ACA4, which would require bills to be in print (and available for viewing online) at least 72 hours before a vote. This would effectively curtail the practice of "gut and amend," in which a meaningless bill becomes a "vehicle" (as they say in the Capitol) to be stripped of its language and a new (almost always unrelated) proposal inserted. ACA4 would allow exceptions for emergencies with a three-fourths. But before any of the witnesses had a chance to say a word, the chairman announced that it would be summarily disposed to the "suspense file." In other words, it's headed to oblivion.



Dan Walters


California's workforce takes a dive
The state's economic health – and ultimately its social health and its governmental finances – depend on having as many able-bodied adults as possible working, supporting their families, buying goods and services, and paying taxes, rather than consuming benefits. Having an ever-declining segment of the able-bodied adult population working, or at least seeking work, has corrosive, long-term effects.



Oakland Tribune


Bay Area can't afford to lose Delta water fight
There's no way voters can approve this plan until there's a full analysis of its costs and benefits compared to alternatives. The best way to improve the health of the Delta is to fix the damaged levee system and allow more water to flow through the estuary, not less. Additional water for cities and agriculture can come from increased recycling and from expanding reservoirs and using underground aquifers for more storage.



Bay Guardian


Why are the feds cracking down on pot again?
President Obama keeps saying that marijuana isn't a big priority for his administration, and his rogue nutcase of a US Attorney in Northern California keeps making it a priority. Now the Drug Enforcement Administration, which also reports to the White House, is joining the action, going after licensed dispensaries in San Francisco and San Jose. Maybe the feds are just trying to make sure everyone's following the rules -- except that the DEA has no jurisdiction over California law, and California laws says the dispensaries are just fine. So it's hard to imagine that this is anything other than a heavy-handed attempt to drive more pot clubs out of business. For what? For why? And why are our US Senators, Dianne Feinstein and Barbara Boxer, not making a stink about this?



Sacramento Bee


Pay-to-play fees for community colleges? No
Imagine you go to the grocery story and find long lines at the checkout. A clerk approaches and says, "You can wait in line, or if you're willing to pay four times more, we can get you out right away." That, in essence, is what Assemblyman Das Williams, D-Santa Barbara, is proposing for California's community colleges in Assembly Bill 955. Can't get into a high-demand course? Pay a $600 fee for a three-credit course and take it during the summer or winter break. Students in the regular class would pay the usual $138. Parallel courses, but different prices. The Assembly should vote down the ill-conceived two-tier pricing bill. But if it doesn't, the Senate should – as it did in 2011. In a public education system, legislators should not make deep pockets a determiner of success.



Tim Redmond


Why PG&E will never support solar
One of the most important stories on the future of the country's electricity supply has been largely ignored by the major media outlets. Here's the deal: The research arm of the private utility industry has issued a report saying that solar panels -- particularly used in small-scale distributed generation -- could soon make the entire industry obsolete.