Instant updates as the news happens!!!



See CalNews.com's updates on Facebook 24/7




You can also follow us on Twitter!




Tweet us your news scoops today!!!
Los Angeles Times
Budgets raided to address border crisis amid Congress' inaction
Surveillance drones that hunt drug smugglers along the Mexican border could soon be grounded. Installation of pole-top cameras and ground sensors to intercept illegal crossings might be delayed. About $44 million has already been diverted from the government's health-related accounts, including the National Institutes of Health and the Centers for Disease Control and Prevention, to pay for food, beds, clothing and medical care for the crush of unaccompanied minors who have crossed the Southwestern border. With the expected failure of Congress to agree Thursday on emergency funds to cope with the border crisis, the Obama administration is shifting an additional $94 million from other government programs and accounts — some far removed from the immigration debate — to meet the swelling costs of caring for the children through the summer, according to congressional aides. Congress is scheduled to leave town Thursday for a five-week break without acting on the president's request for $3.7 billion in emergency funding or agreeing on an alternative. But border agencies say their existing budgets — sapped by added costs from overtime, detention and transportation for the children, more than 57,000 of whom have arrived since October — will start running dry before lawmakers get back in September.


Washington Post


The FBI's frighting incompetence and abuse of power...
Federal review stalled after finding forensic errors by FBI lab unit spanned two decades
Nearly every criminal case reviewed by the FBI and the Justice Department as part of a massive investigation started in 2012 of problems at the FBI lab has included flawed forensic testimony from the agency, government officials said. The findings troubled the bureau, and it stopped the review of convictions last August. Case reviews resumed this month at the order of the Justice Department, the officials said. U.S. officials began the inquiry after The Washington Post reported two years ago that flawed forensic evidence involving microscopic hair matches might have led to the convictions of hundreds of potentially innocent people. Most of those defendants never were told of the problems in their cases. The inquiry includes 2,600 convictions and 45 death-row cases from the 1980s and 1990s in which the FBI's hair and fiber unit reported a match to a crime-scene sample before DNA testing of hair became common. The FBI had reviewed about 160 cases before it stopped, officials said. The investigation resumed after the Justice Department's inspector general excoriated the department and the FBI for unacceptable delays and inadequate investigation in a separate inquiry from the mid-1990s. The inspector general found in that probe that three defendants were executed and a fourth died on death row in the five years it took officials to reexamine 60 death-row convictions that were potentially tainted by agent misconduct, mostly involving the same FBI hair and fiber analysis unit now under scrutiny.


The Guardian


Putin to the West: Screw You!


Russia takes defiant stance in face of tough EU and US sanctions
As the US and the European Union adopted tougher economic sanctions against Russia over the conflict in eastern Ukraine and downing of Malaysia Airlines flight MH17, Russian officials struck a defiant note, promising that Russia would localise production and emerge stronger than before. But analysts in sectors that could be affected by the sanctions – finance, defence and energy – predicted that they would suffer in isolation from the west. The EU reached a deal on Tuesday evening to cut off Russian state-owned banks from European capital markets and was quickly joined by the US, which denied the state-owned banks VTB Bank OAO, Bank of Moscow and the Russian Agricultural Bank access to the US economy. In addition, the EU banned any trade in arms or "related material" with Russia, and the US prohibited transactions with Russia's United Shipbuilding Corp, which it classified as a defence company. Both the EU and the US will also ban technology exports to Russia for deep-water, Arctic or shale oil drilling. The sanctions imposed by the EU, which does far more trade with Russia than the US, will be reviewed in three months.


Politico


Lib-topia's foreign policy nightmare...


Poll: Disapproval of mideast policy
A majority of Americans disapprove of President Barack Obama's handling of the Israel-Palestine conflict, a new poll says. According to a Washington Post/ABC News poll released Wednesday, 52 percent of Americans disapprove of the president's "handling of the situation between Israel and the Palestinians," compared with 39 percent who approve. Thirty-three percent said they strongly disapprove of the president's management of the issue. Half of Americans disapprove of Obama's handling of international affairs in general, compared with 46 percent who approve, the poll found. His approval numbers on international issues are up 5 points since the beginning of June. The poll comes as the Obama administration has struggled to facilitate an immediate ceasefire between Israel and Hamas. In recent weeks, reports have surfaced of tensions between Israeli Prime Minister Benjamin Netanyahu and Secretary of State John Kerry.


Los Angeles Times


Employer health insurance mandate a political orphan
Obamacare was never about getting you quality health care, it was always about making money for insurers
When President Obama signed the Affordable Care Act, its requirement that large employers provide health coverage or pay a penalty seemed to many supporters a key pillar of the effort to guarantee health coverage to Americans. Four years later and after repeated delays, the so-called employer mandate has become something of an orphan, reviled by the law's opponents and increasingly seen as unnecessary by many of its backers. Twice in the last two years, the Obama administration has put off the penalties, citing difficulties enforcing the mandate. House Republicans plan to sue the president, largely over his suspension of the mandate, saying he has broken the law by failing to enforce a requirement that they bitterly oppose. That's only one of the ironies in the debate over this part of the health law: The center of a potential constitutional clash between the House and the White House is a program that many in both parties would just as soon see go away. The House could vote to approve the lawsuit as early as this week. Backers of the Affordable Care Act list the employer mandate as among the provisions of the complex law that they hope could be revised when healthcare becomes less politically explosive. "A few years down the road, there may be opportunities to revisit parts of the ACA and improve them. That would be nice to contemplate," said Paul N. Van de Water, senior fellow at the Center on Budget and Policy Priorities, a left-leaning Washington think tank. "We are not there yet." The employer mandate is designed to prevent businesses from dropping health benefits now that the government provides subsidies to help low- and moderate-income Americans buy coverage. Democrats who wrote the law worried that companies would be tempted to stop offering coverage, shifting the cost to taxpayers. Large employers that do not provide insurance are supposed to pay a fine — called an employer responsibility payment — of $2,000 per employee above the first 30 employees. Employers may be subject to even bigger fines if their employees cannot afford the coverage offered at work and then qualify for government subsidies to buy coverage on their own. But over time, the mandate has drawn increasing criticism, even from the law's supporters.



Politico


Ted Cruz, Kirsten Gillibrand team up on Hamas
Sens. Ted Cruz and Kirsten Gillibrand united on Monday to push a resolution condemning Hamas in its war against Israel, building on their burgeoning bipartisan alliance. The resolution from the Texas Republican and New York Democrat strongly criticizes Hamas for using "innocent civilians as human shields," tags Hamas and other terrorist groups with the blame for thousands of rocket attacks on Israel launched from Gaza and demands that Palestine Liberation Organization chairman Mahmoud Abbas condemn Hamas's tactics. Israel has reported that Hamas is keeping civilians in areas marked for attack by Israel, an idea deemed "deplorable" by Gillibrand, who called on the global community to "stand up" to Hamas. "Hamas is undoubtedly guilty of violating international humanitarian law through its deliberate, repeated, and consistent use of civilians as human shields,"Cruz said. "The United States of America, along with the entire international community must expose and denounce Hamas' barbaric tactics and unequivocally support Israel's right to self-defense." Cruz and Gillibrand's resolution in the Senate is a companion to a House resolution introduced nearly two weeks ago by Reps. Ileana Ros-Lehtinen (R-Fla.) and Ted Deutch (D-Fla.).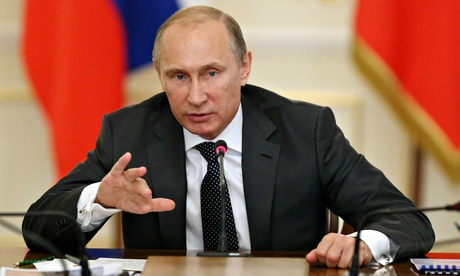 The Guardian


Putin stiff-arms Obama again...


Moscow may walk out of nuclear treaty after US accusations of breach


"Russia would be happy to leave this agreement, and I think Russia is using the Ukraine crisis to leave the agreement"


Russia may be on the point of walking out of a major cold war era arms-control treaty, Russian analysts have said, after President Obama accused Moscow of violating the accord by testing a cruise missile. There has been evidence at least since 2011 of Russian missile tests in violation of the 1987 intermediate range nuclear forces (INF) treaty, which banned US or Russian ground-launched cruise missiles with a 500 to 5,500-mile (805 to 8,851km) range. But the Obama administration has been hesitant until now of accusing Moscow of a violation in the hope that it could persuade Vladimir Putin, the Russian president, to stop the tests or at least not deploy the weapon in question, known as the Iskander, or R-500. Washington has also been reticent because of the technical differences in definition of what constitutes the range of a missile under the INF treaty. That ambiguity now seems to have dropped away. According to Pavel Felgenhauer, a defence analyst and columnist for the independent Russian newspaper Novaya Gazeta, Russia has indeed broken the treaty by testing the R-500 which has a range of more than 1,000km. Russian press reports have suggested the missile may even be in deployment, with state news agency RIA Novosti reporting in June that the "Russian army currently uses its Iskander-M and Iskander-K variants." Felgenhauer said he doesn't believe the missile has been deployed, although he said it's entirely possible that Russia will leave the treaty amid tensions with the US. Russian officials have previously criticised the 1987 treaty, including former defence minister Sergei Ivanov. In 2013, Ivanov, then presidential chief of staff, said of the treaty: "We are fulfilling it, but it can't last forever." According to Kremlin-linked analyst Sergei Markov, Russia has a far greater need for medium-range cruise missiles than the |US, because military rivals including China are located near its borders and because Moscow lacks the Americans' long-range bombing capabilities.


Washington Post
The middle class is 20 percent poorer than it was in 1984
Nostalgia is just about the only thing the middle class can still afford. That's because median wealth is about 20 percent lower today, in inflation-adjusted dollars, than it was in 1984. Yes, that's three lost decades. Now, as you might expect, the middle class has been hit particularly hard by the Great Recession and the not-so-great recovery. It's all about stocks and houses. The middle class doesn't have much of the former, but it does have a lot of the latter. And that's bad news, because, even though the crash decimated both, real estate hasn't come back nearly as much as equities have. So the top 1 percent, who hold more of their wealth in stocks, have made up more of the ground they lost. But, as the Russell Sage Foundation points out, the slow housing recovery means that, in 2013, median households were still 36 percent poorer than they were a decade earlier. In fact, the housing bust was big enough to erase all the gains the middle class had made the past 30 years—and then some. As you can see below, median households didn't add much wealth between 1984 and 2007. That's what happens when real wages don't increase, and the cost of a middle class lifestyle—housing, healthcare, and higher education—does. So, as Dean Baker points out, when the crisis did come, it devoured these meager gains and left the middle class with 20 percent less wealth than they had when it was "Morning in America."


Los Angeles Times


U.S. sees profound cultural shift on marijuana legalization
More than a third of adults have smoked it — including the last three presidents. Dozens of songs and movies have been made about it. Marijuana is no longer whispered about, nor hidden in back rooms and basements. It has come into the open in American life despite decades of prohibition and laws treating the drug as more dangerous than meth and cocaine. When the New York Times' editorial board called this weekend for the U.S. government to end its ban on weed — and let states decide how to regulate it — the newspaper reflected what a majority of Americans have told pollsters: Marijuana should be legal. The status quo, according to advocates and even the president, has resulted in the disproportionate arrests of minorities and the poor. "The social costs of the marijuana laws are vast," the editorial said. "There were 658,000 arrests for marijuana possession in 2012, according to FBI figures, compared with 256,000 for cocaine, heroin and their derivatives. Even worse, the result is racist, falling disproportionately on young black men, ruining their lives and creating new generations of career criminals." These are not new arguments. But this time they come from the New York Times, not High Times. Support for marijuana legalization has grown so rapidly within the last decade, and especially within the last two years, that some advocates and pollsters have compared it with the sudden collapse of opposition to same-sex marriage as a culture-redefining event. Gallup has found more popular support for legalizing marijuana than for legalizing same-sex marriage. In Gallup's most recent survey on the issue, in 2013, 58% of respondents said marijuana should be legal — up from 46% a year earlier and 31% in the early 2000s. This spring, 55% said gay and lesbian couples should be able to marry.


Politico
Empower the IRS? Not on GOP's watch


Republicans are in no mood to give the IRS any more authority


House Republicans, who've pounded the agency for more than a year, are now scoffing at calls to crack down on tax cheats. They're balking at a Senate plan to go after doctors who owe back taxes and another to make it easier to figure out if someone is overstating the mortgage interest deduction. They also won't accept an effort to cut the number of people wrongly claiming a child tax credit. That's a major change from just a few years ago, when Republicans led a bid to help the IRS clamp down on tax shelters and backed efforts to require foreign banks to help U.S. authorities catch Americans stashing income abroad and make it harder for people to misreport their capital gains. But that was before an inspector general report in May 2013 blasted the IRS for excessively scrutinizing tea party groups seeking tax breaks. More than 20 congressional hearings later, Republicans are in no mood to give the IRS any more authority. Before the tea party scandal hit, lawmakers had quietly agreed to raise tens of billions of dollars by improving tax collections. Wary of inconveniencing individual taxpayers, Congress often turned to banks, credit card companies and others to corroborate what people had claimed on their returns. That raised money because it not only made it easier for the IRS to detect errors, but because people are more likely to report accurate information if they know someone else will also be reporting on them.


New York Times


Taliban Making Military Gains in Afghanistan
Bush-Obama Foreign Policy Incompetence Nets Zero for the U.S.
Taliban fighters are scoring early gains in several strategic areas near the capital this summer, inflicting heavy casualties and casting new doubt on the ability of Afghan forces to contain the insurgency as the United States moves to complete its withdrawal of combat troops, according to Afghan officials and local elders. The Taliban have found success beyond their traditional strongholds in the rural south and are now dominating territory near crucial highways and cities that surround Kabul, the capital, in
strategic provinces like Kapisa and Nangarhar. Their advance has gone unreported because most American forces have left the field and officials in Kabul have largely refused to talk about it. The Afghan ministries have not released casualty statistics since an alarming rise in army and police deaths last year. At a time when an election crisis is threatening the stability of the government, the Taliban's increasingly aggressive campaign is threatening another crucial facet of the American withdrawal plan, full security by Afghan forces this year. "They are running a series of tests right now at the military level, seeing how people respond," one Western official said, describing a Taliban effort to gauge how quickly they could advance. "They are trying to figure out: Can they do it now, or will it have to wait" until after the American withdrawal, the official added, speaking on the condition of anonymity because the coalition has officially ceded security control. Interviews with local officials and residents in several strategic areas around the country suggest that, given the success of their attacks, the Taliban are growing bolder just two months into the fighting season, at great cost to Afghan military and police forces.


New York Daily News


Obamas are buying $4.25M desert home in California: report
Unidentified real estate sources: First Family is in escrow on the custom-built compound in ritzy Rancho Mirage
The Obamas are buying a $4.25 million hilltop hideaway near Palm Springs that boasts its own two-story waterfall and putting green, according to a published report. Unidentified real estate sources told the Los Angeles Times that the First Family is in escrow on the custom-built compound in the ritzy Thunderbird Heights community of Rancho Mirage, Calif. Frank Sinatra, Bob Hope and Bing Crosby once owned homes in the exclusive gated enclave. The centerpiece of the jaw-dropping desert property is a spacious, ultra-modern main house with four bedrooms, four and a half bathrooms and a "master retreat" complete with gym, tanning and spa rooms, the property's online Realtor.com listing says. A neighboring "casita" on the highly manicured, palm tree-dotted grounds offers three bedrooms and three baths. Nestled against a bighorn sheep preserve, the 8,232-square-foot estate covers 3.29 private acres. If the Obamas do eventually move in, they'll also enjoy elevators, two spas, a private rock-formed lagoon, stunning panoramic views and a misting system to help cope with the sweltering desert heat. And they would be following in the footsteps of former President Gerald R. Ford, who departed Washington for the same "playground of Presidents." Attempts to reach listing agents Marc Lange and Carl Blea of HOM Sotheby's International were not immediately successful.


Washington Post


A bad idea to mess with Israel...Palestinian death toll rises in Gaza fighting
The Palestinian death toll rose to more than 500 on Monday as Israel announced that it had prevented two more attempts by Hamas militants to infiltrate the nation via tunnels from the Gaza Strip. As international concern mounted over the growing casualties on both sides in the conflict, now in its 14th day, yet another diplomatic push was underway to bring about a cease-fire. U.S. Secretary of State John F. Kerry and U.N. Secretary General Ban Ki-moon were both expected in Cairo later Monday in hopes of finding a diplomatic resolution that has so far proved elusive. Over the past few hours, Israel reported intense rocket fire across its southern communities, reaching up to Tel Aviv, its second-largest city, where two rockets were intercepted by the Iron Dome missile-defense shield midmorning Monday. Prime Minister Benjamin Netanyahu, who held a security briefing in the south Monday morning with Defense Minister Moshe Yaalon and Benny Gantz, the military's chief of the general staff, said in a statement afterward that while the army had achieved some of its main goals, the "operation would be expanded in order to restore quiet to Israeli citizens."


Politico


Americans are recoiling from direct engagement overseas


Oppose U.S. involvement in Afghanistan, Iraq, Syria and Ukraine by large margins


Skeptical of the value of projecting U.S. power on foreign conflicts


Amid deepening violence across Eastern Europe and the Middle East, Americans are recoiling from direct engagement overseas and oppose U.S. involvement in Afghanistan, Iraq, Syria and Ukraine by large margins, according to a POLITICO poll of 2014 battleground voters. The survey provides a unique look at the foreign policy attitudes of voters who will decide the most competitive Senate and House races this fall. It shows an intensely skeptical view of American military intervention. Asked whether the U.S should do more to counter Russian aggression in Ukraine, just 17 percent answered in the affirmative. Thirty-one percent said the current policy is correct and 34 percent said the U.S. should be less involved. The poll was completed before the downing last week of Malaysia Airlines Flight MH17, the civilian airliner that was apparently attacked over eastern Ukraine. More than three-quarters of likely voters say they support plans to withdraw all troops from Afghanistan by the end of 2016. Only 23 percent oppose the plan. Forty-four percent of likely voters favor less involvement in Iraq's civil war, versus 19 percent who favor more involvement and 23 percent who say the current level of involvement is appropriate. A 51 percent majority said the situation in Iraq affects U.S. national security "a little" or "not at all." Forty-two percent said it affects U.S. national security "a lot." Likely voters prefer less involvement in Syria's civil war over more involvement, 42 percent to 15 percent. Twenty-six percent of likely voters support the current, limited level of involvement. The picture that emerges from the survey is consistent across issues of foreign policy and national security: Americans are profoundly wary of getting entangled overseas and seem to be skeptical of the value of projecting U.S. power on foreign conflicts.


Maria Elena Salinas
I went to Central America to find out why all those children are immigrating alone
Everybody has a theory about why more than 40,000 unaccompanied children have been detained at the border since last fall while attempting to enter the country without documentation. Republicans blame Obama's immigration policies. The federal government has stated that organized crime has spread rumors saying that minors can enter the country without consequences. The governments of Central America say the violence there (which they blame on U.S. drug use and trafficking) is to blame. Pro-immigrant activists say the lack of immigration reform is to blame for the crisis. I wanted to find out for myself why these minors — mostly from Guatemala, Honduras and El Salvador — are coming, so I set out to follow in the footsteps of the exodus. Mirna Couto, Martin Guzmán and Scott Monaghan, my production team for an Univision special titled "Entre el Abandono y el Rechazo" (Between Abandonment and Rejection), joined me as we traveled to the countries that drive migrants away. We also spent time on both sides of the border between McAllen, Tex., and Reynosa, Mexico. We covered more than 5,700 miles over eight days. In Guatemala, two-thirds of the population in rural areas lives on less than a dollar a day. But we found evidence of desperate poverty even in the capital. In Honduras, which is considered the most dangerous country in the world, poverty combines with the underlying danger on the streets caused by conflicts between rival gangs and the increasing presence of drug cartels. Being young in Honduras is a risk. This crisis was foretold. The United States had known for several years that the exodus of Central American minors was increasing. Since 2011, the number of unaccompanied minors from Guatemala, El Salvador and Honduras arriving at the southwestern border has multiplied and reached unprecedented levels. It's not about political statements here or the Machiavellian schemes of unscrupulous coyotes; it's because so little importance has been attached to the lives of poor children, alone, threatened, with no incentives or opportunities to get ahead. The worst part is that just as they are abandoned by their families, their governments or the societies in which they live, they are also rejected by U.S. laws, which do not grant them refugee status. Immigrant children are making the same journey toward the United States in search of the American Dream that immigrants from south of the border have been making for years. They face the same dangers, injustices and abuses as the others. They are risking their lives. Except this time, here's why the rules should be different: They are children.


Los Angeles Times


IDF shreds Hamas as Israeli forces push deeper into Gaza
Fighting intensified and casualties mounted Sunday as Israel put more soldiers on the ground and pushed deeper into Gaza, and heavy shelling drove the death toll higher while cease-fire efforts floundered. The fiercest shelling struck the eastern neighborhoods of Gaza City. Since Israel's military cautioned civilians to move out of targeted areas, more than 60,000 Gazans have taken shelter in U.N. facilities in recent days. Armed skirmishes on the outskirts of urban areas have turned into full combat as well-prepared militants engage troops and armored vehicles drawn deeper into densely populated turf with gunfire, anti-tank missiles and explosive devices. At least 100 militants have been killed since Thursday, when Israel began the ground phase of its military offensive now into its 13th day, Israeli reports said. So far, Israel's military has uncovered 14 tunnels dug from the Gaza Strip believed to extend into Israeli territory. Several have already been demolished or detonated, including two leading to communities north of the Gaza Strip. Israel regards the tunnels as an acute strategic threat, designed for carrying out cross-border attacks and kidnapping civilians or soldiers. At least two such attempts were made Saturday as around a dozen militants ambushed an army jeep inside Israel, killing two soldiers. Heavy weaponry and tranquilizers found in the tunnel later suggested plans to attack a nearby community and abduct Israelis back to Gaza. Military officials attributed much of the ground fighting to the effort against the tunnels. "Hamas is clearly trying to save these tunnels," IDF spokesman Lt. Col. Peter Lerner said, adding that Hamas has invested a lot in them and was "fighting to keep them open."


San Francisco Chronicle


US: Can't rule out Russian role in plane downing
So what? The US can't do much about it either
U.S. Ambassador Samantha Power told an emergency meeting of the U.N. Security Council on Friday that the United States cannot rule out that Russia helped in the launch of the surface-to-air missile that shot down a Malaysia Airlines jet over eastern Ukraine, killing all 298 people on board. Power said the U.S. believes the plane was likely downed by an SA-11 missile fired from an area in eastern Ukraine controlled by pro-Russian separatists. She said Russia has provided SA-11s and other heavy weapons to the separatists. Britain's U.N. Ambassador Mark Lyall Grant, who called the emergency meeting, was more emphatic on assessing blame for the crash. "It is clear where responsibility lies: with the senseless violence of armed separatists and with those who have supported, equipped and advised them," he said. "The council must be united in condemning these actions, and in demanding that these groups disarm, desist from violence and intimidation and engage in dialogue through the democratic mechanisms that are available to them." Power said that early Thursday a Western reporter reported an SA-11 system in separatist-controlled territory near Snizhne, "and separatists were spotted hours before the incident with an SA-11 SAM system close to the site where the plane came down." Power didn't identify the reporter. But on Thursday, AP journalists saw a rocket launcher near Snizhne. "Separatists initially claimed responsibility for shooting down a military transport plane, and claimed responsibility and posted videos that are now being connected to the Malaysian Airlines crash," Power said. "Separatist leaders also boasted on social media about shooting down a plane, but later deleted these messages." Russia's U.N. Ambassador Vitaly Churkin did not respond to the U.S. allegations but called for an international commission to investigate the crash. He asked why Ukraine allowed civilian aircraft to fly over an area where military clashes and airstrikes were taking place, and where anti-aircraft systems were operating, and called on investigators to also determine whether Ukraine met its international obligation to ensure the safety of the flying public and "prevent disasters from occurring." Ukraine's U.N. Ambassador Yuriy Sergeyev reiterated that the downing of the Malaysian airliner would not have happened if Russia did not provide sophisticated anti-aircraft systems to the rebels.


The Oklahoman
Appeals court rules Oklahoma ban on same-sex marriage violates U.S. Constitution
A federal appeals court officially declared Oklahoma's ban on same-sex marriage unconstitutional Friday but temporarily delayed the ruling to allow time for a possible appeal to the U.S. Supreme Court. The 2-1 decision by the 10th U.S. Circuit Court of Appeals reinforced the court's ruling last month in a similar case from Utah. That ruling effectively made same-sex marriage legal in all six states that are part of the circuit: Oklahoma, Utah, Colorado, Kansas, Wyoming and New Mexico. The court found in the Utah case that marriage is a fundamental right and that excluding gay couples violated their 14th Amendment guarantees of equal protection and due process under the law. Friday, the court applied the Utah ruling to Oklahoma's ban, which was passed overwhelmingly by state voters in 2004. Because the court put its ruling on hold, as it did in the Utah case, it was not known Friday when same-sex couples in Oklahoma will be allowed to marry. The U.S. Supreme Court is expected eventually to decide the broad question of whether states can constitutionally ban same-sex marriage. With challenges active in courts across the country, justices potentially could put new marriages on hold in the 31 states where it's illegal until that issue is resolved. However, if the Supreme Court isn't ready to take up the issue and doesn't put its own hold on lower court decisions, Oklahoma couples could get the green light to marry in a few months. Utah officials already have signaled their intent to seek a high court review. The Tulsa County court clerk, who has been defending the Oklahoma ban in federal court, now has to decide whether to appeal to the nation's highest court.


The Oklahoman
Religious leaders react to appellate court's ruling regarding same-sex marriage in Oklahoma
"This ruling...represents a disturbing move away from God's plan of marriage for men and women"
A federal appeals court officially declared Oklahoma's ban on same-sex marriage unconstitutional Friday but temporarily delayed the ruling to allow time for a possible appeal to the U.S. Supreme Court. The 2-1 decision by the 10th U.S. Circuit Court of Appeals reinforced the court's ruling last month in a similar case from Utah, effectively making same-sex marriage legal in all six states that are part of the circuit: Oklahoma, Utah, Colorado, Kansas, Wyoming and New Mexico. Here's what local religious leaders had to say about the ruling. The Rev. Nick Garland, senior pastor of First Baptist Church of Broken Arrow and president of the Baptist General Convention of Oklahoma: "This ruling, which was stayed and has no immediate effect, still represents a disturbing move away from God's plan of marriage for men and women." The Most Rev. Paul S. Coakley, archbishop of the Roman Catholic Archdiocese of Oklahoma City: "Today's ruling is not at all surprising — but it is still highly disappointing. As I have said in the past, only the union between a man and a woman brings forth children. Furthermore, every child has a father and a mother and deserves to know and relate to them whenever possible. Marriage — properly understood —facilitates this. We continue to pray that our society at large will recover this original understanding of marriage — and, in a particular way, we pray for the nine Supreme Court justices, who will presumably eventually decide the legal definition of marriage in the United States. It is our hope that, when the time comes, they will be prepared to affirm the sacred and inalterable truth that marriage is the union of one man and one woman." The Rev. Anthony Jordan, executive director-treasurer of the Baptist General Convention of Oklahoma: "This court ruling flies in the face of the will of the people of this state, who overwhelmingly supported marriage as between one man and one woman. At the same time, no votes of the public, opinion polls or even higher court rulings can change the biblical definition of marriage, which was set by God from the very beginning."
New York Times
For the G.O.P., Fine Line Seen on Migration


Gestures of sympathy for immigrant children met with scorn and derision


In 1996, when a surge in illegal immigration collided with the overheated politics of a presidential election, Republicans demanded a strict crackdown. They passed a measure in the House that would have allowed states to bar children who were in the country illegally from public schools. Senator Bob Dole, Republican of Kansas, the party's nominee for president, called for limiting social services to immigrants in the country illegally. Patrick J. Buchanan, one of Mr. Dole's rivals, had promised to build an electric fence along the border with Mexico. When Mr. Dole lost to Bill Clinton that year, he received just 21 percent of the Hispanic vote — a record low for a Republican nominee — and the party has never really recovered, even as the Hispanic vote has come to represent 10 percent of the presidential electorate, doubling from 1996. Today, as a wave of unaccompanied minors fleeing Central America poses a new crisis for Congress and the White House, Republicans are struggling to calibrate a response that is both tough and humane, mindful of the need to reconcile their freighted history with Hispanic voters and the passions of a conservative base that sees any easing of immigration rules as heresy. Some senior Republicans are warning that the party cannot rebuild its reputation with Hispanics if it is drawn into another emotional fight over cracking down on migrants — especially when so many are young children who are escaping extreme poverty and violence. But pleas for compassion and even modest proposals for change are dividing the party, and setting off intense resistance among conservative Republicans who have resisted a broader overhaul of immigration. Gestures of sympathy, like a trip to the border by Glenn Beck, the conservative radio and television personality who has raised more than $2 million to buy teddy bears, shoes and food for migrant children, were met with scorn and derision. Some anti-immigrant activists responded to news that the government was buying new clothing for the detainees by organizing a campaign to mail them dirty underwear.



Washington Post


Meet a mother in D.C. who risked having her kids smuggled to her from Honduras
From the moment she fled poverty-stricken Honduras a decade ago, Allis Godoy knew she would find a way to be reunited with the children she left behind. She was desperate enough to have them smuggled across Mexico to the U.S. border, spending thousands of dollars and risking their lives so they could join her in Northwest Washington. Four years ago, her teenage son David made the hazardous trip. Two and a half months ago, her youngest daughter, Madison, finally reached her side. By then, the pixie-like 10-year-old had endured two failed smuggling attempts and a third that landed her in the custody of U.S. immigration agents in Texas on April 14. Two weeks later, she flew to Washington and was greeted by the mother who had last seen her when she was 6 months old. It was the crowning achievement of Godoy's life. "If people call this a crime, why is it a crime to want to give your children a better future?" asked Godoy, 39, who makes salads in a restaurant kitchen and lives in a tiny apartment in Columbia Heights. "I have only one goal in life," she said. "To make sure my children never have to endure what I did as a child." Official Washington is in an uproar over how to handle the tens of thousands of unaccompanied children who have been arriving at the border since last fall, a surge that has overwhelmed the government and intensified the public debate over illegal immigration. But just a few miles from the Capitol, in neighborhoods such as Godoy's, is a parallel universe where families are waiting for the same children with open arms. Almost everyone in the region's Salvadoran, Honduran and Guatemalan immigrant communities knows someone whose son or niece has traveled here from the border. New children often appear in school classrooms, health clinics and social service programs, speaking no English and still getting over their shock. Godoy's story might astonish and anger many Americans, but it is an utterly normal part of life in her world, where the ability to "send for" one's children is a source of pride and relief for families who fled poverty and conflict in Central America, often entering the United States illegally. Many have struggled for years at menial jobs, worrying constantly about children back home. With no legal options, these parents frequently pay $2,000 to $5,000 to have their children transported to the U.S. border — or more if they are smuggled further inland. Financially stretched immigrants often borrow the funds or pool resources with family members. "It is not safe in Honduras. There is so much poverty and delinquency," said Godoy. "I never wanted to leave them, and my dream was to go home after a few years. But it didn't work out. Everything was so hard here, and I didn't have the courage to go back empty-handed." Some of her relatives faced the same dilemma, so they helped each other pay to bring their children north. "This is a family investment in their future," she said.


Union-Tribune


Issa on Central America fact-finding trip
Taxpayers fund "quiet" congressional vacation
Rep. Darrell Issa is leading a fact-finding trip to Honduras, Guatemala and El Salvador to examine conditions on the ground in those countries that have led to a surge of migrants into the U.S., including more than 57,000 youths with no parent or adult guardian. An Issa spokesman confirmed the trip, saying the five-member delegation left Washington Thursday evening and is scheduled to return Sunday. The four members traveling with Issa are Republican Reps. Paul Gosar of Arizona, Blake Farenthold of Texas and Kerry Bentivolio of Michigan. The lone Democrat on the trip is Massachusetts Rep. Stephen Lynch. The journey comes as Congress edges closer to its scheduled August recess and more doubt about whether President Barack Obama's request for $3.7 billion to address the border crisis will be acted on before the break. Speaker John Boehner Thursday suggested any concrete action before September is problematic. The trip that was supposed to take place quietly but the news leaked out and was first reported on Breitbart News.


The Hill
McCain: Obama 'AWOL'


Apparently no human tragedy is above the GOP's mud-slinging


Sen. John McCain (R-Ariz.) blasted President Obama for going ahead with a pre-scheduled fundraiser in New York City on Thursday night after the downing of a commercial airliner in Ukraine earlier in the day. "This is just what we used to call in the military AWOL," he said on Fox News. The administration is reviewing whether any U.S. citizens were on board, but McCain criticized the president based on early reports of U.S. casualties. Malaysia Airlines on Friday confirmed the nationalities of all but four of the passengers on board. None have yet been identified as being from the United States. "This is directly loss of American lives here," McCain said. "And the president goes to a fundraiser? Help me out." McCain harkened back to earlier this month when Obama was criticized for attending fundraisers in Texas but not visiting the border amid the surge of child immigrants flowing into the country. "I don't understand this president," he said. "Crisis on the border, he did the fundraisers, the fundraisers in New York while there are major, major conflicts, not to mention the loss of American lives, is reported that there were Americans on that airplane. I do not understand it." President Obama briefly addressed the tragedy during an event in Delaware, offering his thoughts and prayers to the families of the victims. Obama spoke with a number of world leaders on Thursday about the crash and directed his team to stay in close contact with Ukrainian authorities.


Los Angeles Times


Time Warner is girding to fight Murdoch's takeover offer
Time Warner Chairman and Chief Executive Jeff Bewkes is in an uncomfortable position: The cross hairs of Rupert Murdoch. For the last six years, Bewkes has presided over Time Warner, a genteel media company known for its sterling assets such as HBO, CNN and Warner Bros. movie and television studio. He has also systematically shed problematic assets, including AOL and magazine unit Time Inc. The reshaping of Time Warner made the company more lean but inadvertently made it a perfect takeover target. And now Murdoch and his 21st Century Fox team are banging on the door. "Time Warner will turn hostile and do everything in its power to prevent being taken over," predicted longtime media analyst Hal Vogel. "But if Rupert gets obsessed about having to buy Time Warner, and he does tend to get obsessed about these things, then he will end up overpaying."



San Francisco Chronicle


Seriously TSA? Seriously!!!
Fake screener probes passengers at SFO
A man suspected of being drunk posed as a security screener at San Francisco International Airport long enough to direct a couple of women into a private booth for pat downs before real security staffers caught on to him, authorities said Wednesday. The 53-year-old San Francisco man was arrested on suspicion of public drunkenness after creating a stir at the A-side security checkpoint of the International Terminal about 12:30 p.m. Tuesday, said Sgt. Wesley Matsuura of the San Mateo County Sheriff's Office. Authorities are investigating whether the man should be booked on other counts, such as false imprisonment. Matsuura would not give the man's name, saying the case has gone hush-hush since the federal Transportation Security Administration, which oversees airport security, took over the investigation into how the breach happened. Two other airport law enforcement sources tell us the incident started when the man entered the security area wearing khaki pants, a blue polo shirt and blue rubber gloves — an outfit that might have been mistaken for those worn by screeners with the private Covenant security firm. The man, apparently without saying much, steered a woman into one of the private screening booths used to pat down selected passengers, our sources say. What happened inside isn't known, because the woman soon disappeared to catch a flight. A few minutes later, the man directed a second woman toward the booth, our sources say. The incident raises disturbing questions about who's screening the screeners at SFO. TSA could not be reached for comment.


Clueless TSA in San Francisco lets impostor grope women at security checkpoint.
The Hill


Poll: 1 in 6 say immigration is nation's top problem
Seventeen percent of people in the United States say immigration is the nation's top problem, according to a Gallup poll released Wednesday. That's up from 5 percent in June, and is the highest number Gallup has registered for immigration since 2006, when 15 percent said it was the nation's most pressing problem. Gallup's new survey found immigration is virtually tied with "dissatisfaction with government" as the nation's top problem. The economy and unemployment rank below immigration and "dissatisfaction with government" as top problems, the new poll found. Only 8 percent now rate healthcare as the top problem, down from 16 percent in January, when problems with the HealthCare.Gov website were still making headlines.




Adam Taylor


The one thing everyone in Israel seems to agree on: John Kerry blew it
Anyone who has made even a passing glance at the Israeli media in the past few days will have noticed the incredible chorus of criticism being directed at John Kerry right now. The secretary of state has been lambasted by all sides for his apparent failure in attempts to negotiate a cease-fire between Israel and Hamas.



New York Times


A Stronger Bill to Limit Surveillance
The Senate is about to begin debate on a bill that could, at long last, put an end to the indiscriminate bulk collection of Americans' telephone records and bring needed transparency to the abusive spying programs that have tarnished the nation's reputation. The bill, to be introduced on Tuesday by Senator Patrick Leahy of Vermont, chairman of the Judiciary Committee, is a significant improvement over the halfhearted measure passed by the House in May. That legislation was notable for putting even Republicans on the record in opposition to the broad domestic spying efforts of the intelligence agencies, but its final version was watered down at the insistence of the White House. Over all, the bill represents a breakthrough in the struggle against the growth of government surveillance power. The Senate should pass it without further dilution, putting pressure on the House to do the same.



Elmira Bayrasli


Sorry, Americans, but sometimes democracy simply can't bring peace
The United States has made this mistake over and over again. Americans keep prizing elections over reconciliation and peace. The result: It keeps leaving war zones paralyzed without any prospects for progress.



Steven Greenhut


Supreme Court passes on significant environmental case
Recent U.S. Supreme Court rulings have sparked boisterous national debates that touch on the role of religion in health care and the power of unions to claim dues payments from workers. But sometimes the court's refusal to rule on an issue also has a significant effect on public policy — although such "non-decisions" usually don't lead to big public debates.



David Sirota


Internet's future at risk if corporations stifle competition
The business lobby often demands that government get out of the way of private corporations, so that competition can flourish and high-quality services can be efficiently delivered to as many consumers as possible. Yet, in an epic fight over telecommunications policy, the paradigm is now being flipped on its head, with corporate forces demanding that government squelch competition and halt the expansion of those high-quality services. Whether and how federal officials act may ultimately shape the future of America's information economy.



Charles Krauthammer


Moral clarity in Gaza
Israel accepts an Egyptian-proposed Gaza cease-fire; Hamas keeps firing. Hamas deliberately aims rockets at civilians; Israel painstakingly tries to avoid them, actually telephoning civilians in the area and dropping warning charges, so-called roof knocking. "Here's the difference between us," explains the Israeli prime minister. "We're using missile defense to protect our civilians, and they're using their civilians to protect their missiles." Rarely does international politics present a moment of such moral clarity.



Geoffrey A. Fowler


Getting Rid of Cable TV: The Smartest Ways to Cut the Cord
Going without cable—or at least with considerably less of it—is easier than you think. Last week, I sliced my bill from $212 to $75 without giving up the stuff I really watch. Yes, cable and satellite companies lock away some content for subscribers. But you don't have to be an online pirate to see what you want. Broadcasters give away the most popular HD channels free over the air, and Internet video services like Hulu, "smart" TVs and streaming boxes make it possible to remain a full-fledged couch potato. None of this is as simple as clicking channel up and down on your cable remote. But for the app-savvy, Internet streaming wins not just because of price, but because of convenience. We should send Hollywood a message by voting with our credit cards for the content we want—delivered the way we want it.



Larry J. Sabato


Does the GOP need a FrankenCandidate?
Did you ever see the documentary A Perfect Candidate? It was about Oliver North's 1994 challenge to U.S. Sen. Charles S. Robb, a Democrat from Virginia. Despite the title, North turned out to be less than perfect; he lost to a scandal-wounded but resilient Robb despite a Republican tidal wave. There will never be a perfect candidate, unless brilliant genetic engineers assisted by Watson the computer decide to undertake the task in the distant future. Until then, parties are left with flawed human beings, those bundles of virtues and vices that get proctoscopic treatment during long campaigns.



Sonia Nazario


The Children of the Drug Wars
Children from Central America have been making that journey, often without their parents, for two decades. But lately something has changed, and the predictable flow has turned into an exodus. Three years ago, about 6,800 children were detained by United States immigration authorities and placed in federal custody; this year, as many as 90,000 children are expected to be picked up. Around a quarter come from Honduras — more than from anywhere else.



Dana Milbank


The tea party's embrace of martyrdom
Hiroo Onoda, the last imperial Japanese soldier to surrender after World War II, hid out in a jungle in the Philippines for 29 years, refusing to believe that the war was over. He finally turned himself in, wearing his sword, cap and patched uniform, in 1974. Onoda died this year at age 91, but his passion for lost causes lives on — in the person of Chris McDaniel, a failed Senate candidate in Mississippi. McDaniel gave an election-night speech with no concession. "There is something a bit unusual about a Republican primary that's decided by liberal Democrats," he declared, vowing that he was "not done fighting." Imperial Japan taught its soldiers that death was preferable to surrender. The tea party's code is similar.



Clemens Wergin


Is Obama's Foreign Policy Too European?
I have long been a critic of the German foreign policy debate — of its freeloading on the American security umbrella, coupled with moral grandstanding whenever the Americans did things their way; of too much analysis of past events and not enough thinking about how to get things right in the future; of its tendency to take words as a substitute for deeds. That's why I have usually given the Americans the benefit of the doubt: At least they took on problems nobody else was willing to tackle. But then, at the height of the Syria conflict and just after yet another of Barack Obama's speeches, I suddenly understood the problem with this American president and his foreign policy. He sounded just like a German politician: all moral outrage, but little else to help end one of the most devastating civil wars of our age. President Obama, I thought with a sigh, has become European.



Ruben Navarrette


Border kids issue tells us who we are as a nation
This Independence Day weekend, memory takes me back to something my father said during a Fourth of July celebration many years ago. Days earlier, authorities had made a gruesome discovery. Coldblooded smugglers had left dozens of migrants to die in a railroad car. My dad and I were at a public event and, at the end of "The Star-Spangled Banner," he pointed at Old Glory and said: "See that flag. That's why those people died, trying to get here -- because of freedom and the kind of country we are." It's a good time to ask once again, what kind of country are we? In between parades and barbeques, Americans can show their patriotism by being on their best behavior. This didn't happen the other day in Murrieta. In that city about 90 miles north of San Diego, an angry mob holding placards and shaking fists terrorized a busload of about 140 children and mothers, while chanting "USA, USA." The sickening images remind us of the stakes involved with the "border kids" -- the estimated 52,000 young castaways from Central America who entered the United States uninvited in the last year and the tens of thousands of others likely to follow. This debate isn't just about what will become of often-unaccompanied minors. It's about something more important: What kind of country we've become.



Bill Scher


How Obama's immigration push could hand the House to Democrats
Everyone assumes that Republicans will easily hold the House in November. The dominant storyline among the chattering classes centers instead on the possibility that Republicans could seize control of the Senate from Democrats. But the rapidly escalating immigration face-off between President Barack Obama and House Republicans raises the possibility that Democrats could win back the House — even if Republicans do take the Senate. How is that possible? It's simple: There are more competitive House races than Senate races in areas with significant Latino populations.



Ben Mattlin


Beware the rush to help people die
The Medical Society of New Jersey, the state's largest physicians group, opposed a recently tabled bill for physician-assisted suicide. But it is pushing an alternative that may be just as bad: the Practitioner's Orders for Life-Sustaining Treatment, or POLST. POLST is a legally binding form with medical instructions that other healthcare providers, such as paramedics and nursing home staff, must follow if the patient is unable to speak because of illness. It gives more specific instructions than a living will or advance directive, and is said to be more effective because it comes from — and is signed by — a medical authority, such as the patient's doctor. Ideally, the patient gives permission for the form, but if the patient is unable to, a designated proxy can do so. I'm simply leery of the push for a better death before we've done all we can to promote a better life for those of us on the fringe.



Aki Peritz


I watched all the terrorist beheadings for the U.S. government, and here's what I learned
ISIS's delight in its gruesome exploits indicates the way its leaders would run their self-declared "caliphate" across a broad swath of Iraq and Syria. But their bloodthirstiness may prove to be the group's downfall; after all, no other Iraqi insurgent organization or Sunni tribe subscribes to its fanatical agenda. It's hard to imagine that any permanent political settlement there could tolerate such stunts for very long. The Sunni tribes of Iraq will eventually turn on ISIS, as they have done in the past. But when that occurs, expect even more bloodletting — and more gruesome videos.



Terrence Mccoy


The war on terror didn't defeat al-Qaeda. But ISIS could
One of the great ironies of the current battle for Iraq is that for all the billions spent on the war on terror, all the bullets fired, all the lives lost, what may ultimately defeat al-Qaeda isn't the United States or another Western power — but a group from within the jihadist movement. It didn't take drones. Or the surge. It took a charismatic, emergent leader known as Abu Bakr al-Baghdadi, who recently threw off the yoke of al-Qaeda's command and decided he and his militant pals would do their own thing.



Raoul Lowery Contreras


A 3-year-old is not a criminal
Is a three-year-old Honduran kid a criminal if he is carried across the Rio Grande in South Texas by a teenager who himself isn't carrying a passport from his native country with an visitor's visa, an I-94 form, attached to it? If not, who is the criminal in the current crisis on the border?



Dan Balz


Pew study: What divides the GOP coalition
Republicans broadly share a belief in smaller government, but they are sharply divided over issues including perceptions of Wall Street, the power of big corporations, the value of immigration and free trade, according to a new study of the contours of the American electorate. The findings provide timely insight into the political battle that unfolded this week in Mississippi, where Republican Sen. Thad Cochran narrowly defeated conservative state Sen. Chris McDaniel in a bitterly fought runoff that exposed the broader tensions within the GOP coalition. That election pitted the business and establishment wing of the Republican Party against the populist-conservative wing. As it has through a series of elections this spring, the establishment wing prevailed, but the new study from the Pew Research Center suggests that the GOP faces continued instability because of profoundly different views on some issues held by those who identify with the party. On business issues, an overwhelming majority of steadfast conservatives say too much power is concentrated in the hands of a few large companies and are split evenly on whether the economic system unfairly favors the powerful. Immigration provides another fault line, according to the study. A big majority of steadfast conservatives say immigrants put a burden on the country and take away jobs, housing and health care from others. Eight in 10 of these conservatives say that growing numbers of newcomers from other countries threaten traditional values. The two core Republican groups also part company in their assessment of America's role in the world. The business wing strongly agrees that it is best for the country to be active in the world. They also say problems in the world would be worse without U.S. participation.



Union-Tribune


Smartphone ruling a victory for individual privacy
The U.S. Supreme Court has brought welcome clarity to privacy laws that have been left behind by technological advances. In a unanimous opinion, justices held that police can't search cellphones without warrants — except in specific emergency circumstances. Chief Justice John Roberts' ruling was in keeping with past decisions establishing limits on impromptu police searches of homes and vehicles. Roberts' key point: "The fact that technology now allows an individual to carry such information in his hand does not make the information any less worthy of the protection for which the Founders fought." We agree.



Los Angeles Times


Who can get to the truth at the IRS?
After more than a year of scrutiny, three congressional committees continue to flail away at the Internal Revenue Service's alleged targeting of conservative nonprofit groups without producing any definitive answers to the questions they've raised. This page worried at the outset that the investigations would become too politicized to get to the bottom of the scandal. The result, however, has been even worse: Not only have two House probes disintegrated into partisan sniping, but the IRS further damaged its own credibility by belatedly disclosing the disappearance of two years' worth of emails belonging to a key agency figure who has refused to talk to Congress. It's past time to turn over the inquiry to an independent investigator who can dig up the truth and, if possible crimes are revealed, refer matters to federal prosecutors.



Mike Lupica


Rand Paul's views on Iraq separate him from Dick Cheney and other neo-cons who believe war is the answer
Rand Paul did not suddenly become a great statesman Sunday, or a great thinker, because he might have a better chance of becoming an astronaut before either one of those things happens. And Paul did not suddenly become the Republicans' best chance to take back the White House in two years, or make anybody forget that in the past he has too often acted like he was running to be king of the gun nuts. But Paul at least is a Republican who stands up to some of his party's tinhorn generals and television generals — Gen. Billy Kristol, the George Patton of cable news! — and anybody else who thinks that the way to make things right in Iraq is more dead American soldiers, and more war.



Sacramento Bee


Big Food turns up political heat on healthy school lunch standards
School lunches shouldn't be a partisan political issue, but congressional efforts to keep kids hooked on pizza and tater tots have turned them into exactly that.



Chris Edelson


Obama's swap for Bergdahl: A presidential power play?
In the wake of the prisoner swap that resulted in Sgt. Bowe Bergdahl's release by the Taliban, questions are rightly being asked about the deal's legal justifications. In fact, the Obama administration did not comply with statutory requirements that it provide notice to Congress before transferring prisoners from Guantanamo Bay, and it has not fully explained how it believes its unilateral decision can be legally justified. It seems likely, however, that the administration is relying on inherent (i.e. unrestrained) power to set aside statutory restrictions that, in its view, infringe on executive power. With the recent prisoner swap, however, the president seems to have done precisely what he promised not to do as a candidate.



Robin Abcarian


Misguided partisans ask Obama to intervene for Marine jailed in Mexico
I have news for the fevered partisans accusing President Obama of putting the welfare of one American soldier held prisoner in a foreign country over another. The situation of Marine reservist Sgt. Andrew Tahmooressi, 25, who has been jailed in Mexico since March 31 after being busted on the Mexican side of the U.S.-Mexico border with three firearms in his car, is not remotely comparable to the situation of Sgt. Bowe Bergdahl, who was held for five years by the Taliban. And you're not doing Tahmooressi any favors by pushing that narrative.



Ruben Navarrette


The immigration shell game


Obama also never misses an opportunity to toy with the "dreamers"


There was more hocus-pocus recently from the White House on the immigration issue. An overhaul of deportation policies that was due to be unveiled by Homeland Security Secretary Jeh Johnson in the next several days has been postponed until the end of summer. That is, if it happens at all. The whole idea of these stall tactics is to get a hot issue off the front page and move on to other issues. Instead of leadership from the White House, we get more games and magic tricks. Deportation overhaul? What overhaul? Now you see it, now you don't. In all likelihood, the administration is never going to reverse course on deportations. Once a chief executive does what President Obama has done — i.e., turn up the deportation machine full blast — it's nearly impossible to shut it down. those undocumented students brought here as children.



CHARLIE SAVAGE and ANDREW W. LEHRENJUNE


Can Bowe Bergdahl Be Tied to 6 Lost Lives?
Did the search for Sgt. Bowe Bergdahl cost the lives of American soldiers? Since last weekend's prisoner exchange in which Afghan insurgents turned over Sergeant Bergdahl after five years of captivity, a number of the men who served with him have called him a deserter. Some have gone further, blaming him for the deaths of six to eight soldiers.



Doyle McManus


Why Obama has changed his mind on Syria
President Obama's foreign policy speech at West Point last week was in large part a list of all the things he doesn't want to do. He doesn't want to withdraw from the world. At the same time, he doesn't want to use military force to solve every problem. Above all, he doesn't want to get stuck in another war in the Middle East, or anywhere else, for that matter. But there's an exception to the Obama Doctrine of restraint: terrorism. Obama is ready and willing to use U.S. military power — indirectly if possible, directly if needed — against terrorists who pose a threat to the United States. President Obama has approved a gradual but significant escalation of U.S. action on the most complicated and dangerous battlefield of all: Syria.



Clyde Prestowitz


Got intel, Uncle Sam? Share it with U.S. companies
By charging five Chinese military officers with hacking into U.S. corporations on behalf of Chinese industry, the Obama administration claims it is taking a tough step to protect the intellectual property of American companies. In fact, the move isn't so much tough as toothless.



New York Times


End Mass Incarceration Now
For more than a decade, researchers across multiple disciplines have been issuing reports on the widespread societal and economic damage caused by America's now-40-year experiment in locking up vast numbers of its citizens. Overwhelming evidence shows a crisis that threatens society as a whole. Those who study the problem have called for immediate correction. The severity is evident in the devastation wrought on America's poorest and least educated, destroying neighborhoods and families.



Phil Klay


Treat Veterans With Respect, Not Pity
Pity places the focus on what's wrong with veterans. But for veterans looking at the society that sent them to war, it may not feel like they're the ones with the most serious problem.