Instant updates as the news happens!!!



See CalNews.com's updates on Facebook 24/7




You can also follow us on Twitter!




Tweet us your news scoops today!!!
Los Angeles Times
Pols getting wise to e-cigarette scams...
E-cigarette firms targeting young people, lawmakers say
E-cigarette companies are preying on young consumers by using candy flavors, social media ads and free samples at rock concerts, according to a report released Monday by Democratic legislators. A survey of nine electronic-cigarette companies found most were taking advantage of the lack of federal regulations to launch aggressive marketing campaigns targeting minors with tactics that would be illegal if used for traditional cigarettes, according to a report released by Sen. Richard J. Durbin (D-Ill.) and signed by 10 other Democratic lawmakers, including California Sen. Barbara Boxer and Rep. Henry A. Waxman of Beverly Hills. According to the report, based on information from the eight companies that responded, five of the surveyed companies more than doubled their marketing expenditures between 2012 and 2013, regularly promoting e-cigarettes on Twitter, Facebook and Instagram. Producers have come up with an array of creative flavors, a practice that was banned for traditional cigarettes by the Family Smoking Prevention and Tobacco Control Act of 2009. E-cigarette flavor names include pumpkin spice, chocolate treat, snap! and cherry crush.


Kansas City Star


Just like the Taliban, whack-job killer was a religious bigot


Federal hate-crime charges, state charges likely in Overland Park shootings
Frazier Glenn Miller Jr., 73, of Aurora, Mo., also known as Frazier Glenn Cross, could be charged as soon as today in Johnson County District Court, where he probably will face murder counts. District Attorney Steve Howe said information about charges could be released this morning. Miller will face hate-crime charges in federal court, based on allegations that he was motivated by bias, said Barry Grissom, the U.S. attorney for Kansas. "We are in a very good place from an evidence standpoint and will present the case to a grand jury in the not-too-distant future," Grissom said in a news conference in Overland Park. Asked whether others could have been involved in the shootings, FBI Special Agent in Charge Michael Kaste said the investigation is focused on Miller. "We will look everywhere the evidence takes us," said Kaste, who oversees the bureau's Kansas City office. Miller has made statements to investigators, but authorities would not reveal those comments Monday. The southwest Missouri man long has been known for deeply anti-Semitic and racist statements. He was a Ku Klux Klan grand dragon at one time and founded the White Patriot Party in the 1980s. Reat Griffin Underwood, 14, and his grandfather, William Lewis Corporon, 69, were killed about 1 p.m. outside the Jewish Community Center, where Reat planned to audition as part of a singing contest. Reat was a freshman at Blue Valley High School. His grandfather was a physician. Both were Methodists. Terri LaManno, 53, of Kansas City, was killed at the Village Shalom assisted living facility in Overland Park. She was a Catholic.


New York Times


A Nation Run By Morons: Pakistan Drops Attempted Murder Charges Against Nine-Month-Old Baby
Nine-month-old Musa Khan will not be going to prison on attempted murder charges. The Pakistani baby drew international attention in recent days when the local police took the unusual step of charging him along with four adults in connection with a violent protest in Lahore in February. Critics say the charges reflected the tendency of the Pakistani police to lodge exaggerated complaints against poor families. On Saturday, though, Musa was spared incarceration after the police withdrew the charge against him, the baby's lawyer, Irfan Tarar, told The Associated Press. The case against the baby led to widespread ridicule being heaped against the Pakistani legal system, particularly after little Musa was photographed crying while being fingerprinted — and he then had to be comforted with a milk bottle. His family subsequently moved him out of Lahore to Faisalabad, citing safety reasons. Musa was charged along with his father and grandfather for allegedly being part of a group of slum residents who threw stones at gas company workers who were trying to disconnect homes from gas service for nonpayment of bills. The child's lawyer, Mr. Tarar, had argued that children under age seven cannot be prosecuted under Pakistani law. The nine-month-old had been free on bail pending a Saturday hearing in which a judge allowed for the dismissal of the case against Musa.


New York Times


HHS Secretary Takes the Fall for Obamacare Debacle
Sebelius Resigns After Troubles Over Health Site
Kathleen Sebelius, the health and human services secretary, is resigning, ending a stormy five-year tenure marred by the disastrous rollout of President Obama's signature legislative achievement, the Affordable Care Act. Mr. Obama accepted Ms. Sebelius's resignation this week, and on Friday morning, he will nominate Sylvia Mathews Burwell, the director of the Office of Management and Budget, to replace her, officials said. The departure comes as the Obama administration tries to move beyond its early stumbles in carrying out the law, convince a still-skeptical public of its lasting benefits, and help Democratic incumbents, who face blistering attack ads after supporting the legislation, survive the midterm elections this fall. Officials said Ms. Sebelius, 65, made the decision to resign and was not forced out. But the frustration at the White House over her performance had become increasingly clear, as administration aides worried that the crippling problems at HealthCare.gov, the website set up to enroll Americans in insurance exchanges, would result in lasting damage to the president's legacy. Even last week, as Mr. Obama triumphantly announced that enrollments in the exchanges had exceeded seven million, she did not appear next to him for the news conference in the Rose Garden. The president is hoping that Ms. Burwell, 48, a Harvard- and Oxford-educated West Virginia native with a background in economic policy, will bring an intense focus and management acumen to the department. The budget office, which she has overseen since April of last year, is deeply involved in developing and carrying out health care policy. "The president wants to make sure we have a proven manager and relentless implementer in the job over there, which is why he is going to nominate Sylvia," said Denis R. McDonough, the White House chief of staff.


Washington Post
Social Security, Treasury target taxpayers for their parents' decades-old debts


Our feckless government targeting old people; screweing millions, out of billions


A few weeks ago, with no notice, the U.S. government intercepted Mary Grice's tax refunds from both the IRS and the state of Maryland. Grice had no idea that Uncle Sam had seized her money until some days later, when she got a letter saying that her refund had gone to satisfy an old debt to the government — a very old debt. When Grice was 4, back in 1960, her father died, leaving her mother with five children to raise. Until the kids turned 18, Sadie Grice got survivor benefits from Social Security to help feed and clothe them. Now, Social Security claims it overpaid someone in the Grice family — it's not sure who — in 1977. After 37 years of silence, four years after Sadie Grice died, the government is coming after her daughter. Why the feds chose to take Mary's money, rather than her surviving siblings', is a mystery. Across the nation, hundreds of thousands of taxpayers who are expecting refunds this month are instead getting letters like the one Grice got, informing them that because of a debt they never knew about — often a debt incurred by their parents — the government has confiscated their check. The Treasury Department has intercepted $1.9 billion in tax refunds already this year — $75 million of that on debts delinquent for more than 10 years, said Jeffrey Schramek, assistant commissioner of the department's debt management service. The aggressive effort to collect old debts started three years ago — the result of a single sentence tucked into the farm bill lifting the 10-year statute of limitations on old debts to Uncle Sam. No one seems eager to take credit for reopening all these long-closed cases. A Social Security spokeswoman says the agency didn't seek the change; ask Treasury. Treasury says it wasn't us; try Congress. Congressional staffers say the request probably came from the bureaucracy. The only explanation the government provides for suddenly going after decades-old debts comes from Social Security spokeswoman Dorothy Clark: "We have an obligation to current and future Social Security beneficiaries to attempt to recoup money that people received when it was not due."


Politico
Veteran, a father and husband and a small-business owner deported
I Served My Country...Then It Kicked Me Out.
We were chained together like slaves and kept handcuffed and shackled for seven hours before boarding an ICE chartered plane
Just a few years ago, I had a great life in the Tidewater area of Virginia. I had a wonderful wife who is a glass artist, and our two children were thriving. My trucking business was starting to take off. We were hauling goods
from Norfolk's port to distribution centers for Target and Wal-Mart. My wife and I bought our first house and had money in the bank. I applied to become a U.S. citizen in 2005 and answered all the questions on the application honestly, even admitting to a stupid mistake I'd made years earlier. I passed the written and oral tests and completed the Citizenship and Immigration Services biometrics exam. I waited and waited, and when I called to ask whether there was a problem no one had answers. Then at 6 a.m. on June 10, 2010, I answered loud knocks on our front door in my pajamas. Eleven armed immigration officers supported by state troopers were there with their weapons drawn, some wearing bulletproof vests. They stormed into my living room and put me in handcuffs while my wife came down the stairs, screaming, and my daughter, who was 12 years old, watched in horror. A few minutes later I was in their custody, just partially dressed, heading to the Hampton Regional Jail.

Washington Post
Vance McAllister scandal a reminder that harassment policies vary on Capitol Hill


Washington pols can be a perv as they want to be - no rules prohibit harassment


Rep. Vance McAllister (R-La.) hasn't been seen in Washington this week since news broke that he'd been caught on camera apparently kissing a staffer, a district scheduler, who has since left his office. House Speaker John A. Boehner (R-Ohio) finally heard from McAllister on Thursday morning and gave reporters his assessment of McAllister's situation: "He's got decisions he's got to make." Neither McAllister nor the aide has spoken publicly about the specifics of the incident or their relationship, and there have been no suggestions to date that the incident caught on video amounted to harassment. But his silence has fed assumptions and rumors, and the case of "the kissing congressman" — as McAllister has become known on Capitol Hill and social media — has served as a reminder that even though Congress writes laws that apply across the country, they aren't always enforced the same way on Capitol Hill. Congress and its roughly 30,000 employees operate under different rules than the rest of the federal government when it comes to sexual harassment and other employment laws. Unlike federal agencies and most of the private sector, there is no blanket policy requiring sexual harassment training for new House and Senate employees. There are no placards posted in common areas reminding workers of the rules. Some staffers fear the repercussions of filing formal complaints. And few House and Senate aides this week could recall sexual harassment policies being discussed in the office.


Washington Times


Just when you thought it could not get any worse for Republicans


Virginia Republican Bob Marshall stands by remarks that raise eyebrows...Democrats see an easy victory
Delegate Robert G. Marshall has said that disabled children can be God's vengeance against women who have had abortions. He has described incest as sometimes voluntary, and he has questioned the sexuality of a Supreme Court justice who has favored marriage equality. But unlike W. Todd Akin, whose offhanded reference to "legitimate rape" cost the GOP a winnable Senate seat from Missouri in 2012, Mr. Marshall is unbowed over his history of controversial rhetoric as he seeks a seat in Congress representing Northern Virginia. "I don't care. I mean, if I say something in public, I say it in public," Mr. Marshall said Thursday. Democrats, who have built dossiers aggregating the delegate's more outrageous statements from recent years, have been salivating at the prospect of his emergence from a GOP primary field this month seeking to replace retiring Rep. Frank R. Wolf. Unlike Mr. Akin, who appeared to be speaking extemporaneously when he said women's bodies know how to "shut down" pregnancies in cases of "legitimate rape," Mr. Marshall's comments aren't gaffes. Speaking before a pro-life group last year, Mr. Marshall offered a long and detailed argument that Justice Anthony M. Kennedy's majority opinion in the U.S. Supreme Court's ruling on same-sex marriage was unsympathetic to social conservatives. But it was the statement with which he capped his remarks that stood out. "For all I know, Kennedy's a homosexual," he said. "You can't be doing some of these things without this kind of conclusion." Like many of his other comments, Mr. Marshall stands by it. Mr. Marshall's predilection for inflammatory rhetoric isn't new. The author of a 1989 Boston Globe column asked him about his opposition to all abortion — even in cases of rape, incest, and to save the life of the mother. Mr. Marshall, then the research director for the American Life League, posed a baffling question of his own in response. "What if incest is voluntary?" Mr. Marshall said. "Sometimes it is." Mr. Marshall also has introduced some of the General Assembly's most conservative bills on social issues.


Washington Post


Odds are Vance McAllister won't survive smoochgate
The ultimate question swirling around Rep. Vance McAllister is whether his four-month congressional career is doomed after a video caught him snogging a married staff scheduler. But what are the chances he is still in office next year? Not great, according to a Post analysis of 37 scandals since 1974. Just 38 percent of officeholders won re-election after coming under scrutiny for sexual harassment, affairs or prostitution, while the rest chose not to run, resigned or lost. With 2012 re-election rates at 82 percent for House members and 81 percent for senators (with retirements included), suffering a public personal scandal cuts an officeholder's re-election chances in half. In all, politicians hang onto their jobs for a median of 2 years following significant reports of a personal scandal. Still worse for McAllister, the survival rate has plummeted since President Bill Clinton's presidency. In 14 scandals since 2000, just two officeholders (or 14 percent) facing personal scandals have won re-election. Several resigned in short order, including Reps. Anthony Weiner (lewd twitter messages), David Wu (untoward sexual advances plus a tiger costume) and Chris Lee (sharing a topless photo with a Craigslist contact). Sen. David Vitter (phone number on "D.C. Madam's" list) is still serving; former Rep. Stephen LaTourette left office in 2013 (affair with a staffer*). In the 1990s, 5 of 8 scandal-ridden politicians won re-election, including Bill Clinton and some of his chief Republican antagonists. Congressional officeholders faced similar odds in the 1970s, and fared a bit worse in the 1980s, but none lost their jobs as consistently as in the past decade and a half. About equal numbers of Democrats and Republicans have been caught up in such scandals (17 Dem, 20 Rep), but Democrats have been twice as likely to win their next re-election contest as Republicans, 53 to 25 percent. At least part of the disparity owes to recency, with 10 of 14 sexual or adulterous scandals since 2000 involving Republicans, not including McAllister.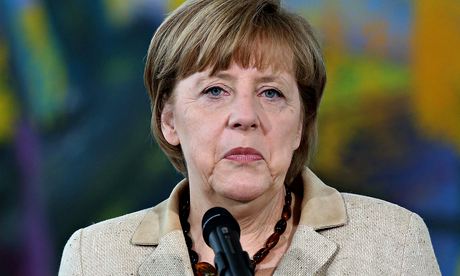 The Guardian
Angela Merkel denied access to her NSA file
The US government has refused to grant Angela Merkel access to her NSA file, adding to the growing frustration with Washington over its failure to clear up remaining questions about the monitoring of the German chancellor's phone. The latest information emerged in response to a parliamentary query by Green MP Omid Nouripour, who asked if the German chancellor had requested the release of paperwork relating to US intelligence agents' surveillance of her phone calls. In its response, a spokesperson for the German interior ministry confirmed that Merkel's government had submitted an official request on 24 October 2013, but that the US government "had not supplied information in this regard". Nouripour, who is the Green party's spokesperson on foreign affairs, said he intended to make further inquiries with the government and would seek to clarify if Merkel had asked for her NSA file to be destroyed. The news comes amid growing German frustration with the US and UK governments' failure to yield basic information about their surveillance activities. Earlier this week, interior minister Thomas de Maizière told Der Spiegel that the US response to the affair remained "inadequate". The US government's refusal to allow Merkel access to her own file contrasts with the relative ease with which German citizens are able to access files relating to the surveillance activities of the East German secret service, the Stasi.


Los Angeles Times


Fraud appears to be the cornerstone of government run healthcare
Release of Medicare doctor payments shows some huge payouts
Ending decades of secrecy, Medicare is showing what the giant healthcare program for seniors pays individual doctors, and the figures reveal that more than a dozen physicians received in excess of $10 million each in 2012. The Obama administration is releasing a detailed account Wednesday of $77 billion in government payouts to more than 880,000 healthcare providers nationwide that year. The release of payment records involving doctors has been legally blocked since 1979, but recent court rulings removed those obstacles. No personal information on patients is disclosed. The two highest-paid doctors listed in the Medicare data are already under government review because of suspected improper billing. They include an ophthalmologist in the retiree haven of West Palm Beach, Fla., who topped the list by taking in more than $26 million to treat fewer than 900 patients. That is 61 times the average Medicare payout of $430,000 for an ophthalmologist. A Florida cardiologist received $23 million in Medicare payments in 2012, nearly 80 times the average amount for that specialty. One California doctor was in the top 10 nationwide: a Newport Beach oncologist who was paid $11 million that year.


Los Angeles Times
Data compilers' secret scores have consumers pegged — fairly or not


Consumers cannot review these scores or correct errors in the data, which are used by employers, utilities, banks and others


Consumers won access to their credit scores more than a decade ago, after advocates voiced concerns over errors and lending bias. But most people remain in the dark about hundreds of other data-collection programs still being used to size up consumers and market to them. The secret scores and data are used by employers, utilities, banks, healthcare providers, debt collectors and a host of other enterprises. Consumers have no way to review them or correct factual errors, say advocates of consumer access to the reports. They argue that the consumer protections applying to credit reports need to be extended to all consumer scores — particularly when they are used for identity checks, fraud prevention, medical histories and profitability predictions. Some of the scores are used to screen for fraud or to determine whether to grant or deny consumers' requests for goods and services. But defenders of the practices say most of the data crunching simply helps match consumers to goods and services they want. The Direct Marketing Assn., a trade group for data brokers, has calculated that the industry generates $156 billion in annual revenue, 70% of it involving companies sharing their records on consumers and groups of individuals with other enterprises. The brokers' computer programs, which crunch data from public records and private databases, can involve hundreds and even thousands of factors, experts say, acknowledging that the complexities can appear threatening. Privacy advocates say these self-imposed protections are inadequate. There's no way to tell, they say, whether the marketing data are used to deny consumers a product or service based on, for instance, the neighborhood where they live.


New York Times


China tells the US how its going to go down
U.S. and China Clash Over Contested Islands
The United States and China clashed over Japan on Tuesday, as the Chinese defense minister asserted that Beijing had "indisputable sovereignty" over a group of islands in the East China Sea and that his country's military stood ready to protect its interests in territorial disputes. The minister, Gen. Chang Wanquan, affirmed that China would not be first to launch an attack over the territorial dispute. But he accused Japan of "confusing the right with the wrong" in its assertion of control over the disputed islands in the East China Sea, which are known as the Senkaku in Japan and as the Diaoyu in China. "China has indisputable sovereignty over the Diaoyu Islands," General Chang said. He added that on the issue of what he called "territorial sovereignty," China would "make no compromise, no concession, no treaty." He continued, "The Chinese military can assemble as soon as summoned, fight any battle and win."


Politico


Obama's challenge: Don't blow it
Now he's faced with a tougher task: not blowing it. Obama's got a history of watching his victories slip away before fully capitalizing on them. Last year alone, his reelection bump disappeared into a triple whammy of low-grade spring scandals. Then, all the goodwill he had coming out of the government shutdown was eclipsed by the devastating HealthCare.gov rollout. Not only does this give him a chance to show that he and his party actually can be trusted to run government and a shot at reclaiming the narrative of his presidency, it comes just in time for the midterm elections that will determine his party's fate in 2014 — and his own over the next three years. Neera Tanden, president of the Center for American Progress and an informal adviser on White House strategy, said she never bought the larger questions about Obama's competence that the website problems raised, and still doesn't think the fall elections will be won primarily on Obamacare. Nonetheless, Tanden said, "it's definitely good not to hear the argument anymore." White House allies are reluctant to talk openly about Obama regaining his footing, wary of acknowledging how much regaining there is to do, but many acknowledge the sentiment. For Democrats on the Hill and campaign strategists beyond, that starts with getting more vocal and aggressive on Obamacare than White House aides say they're willing to.care-affordable-care-act-challenge-105397.html#ixzz2yDA1w4TK


Politico


Buck McKeon: Immigration won't go in defense bill
Grand Old Party (of Racists) reminds us again of who they really are
House Armed Services Committee Chairman Buck McKeon said Friday that a proposal offering legal status to young undocumented immigrants who serve in the military will not be included in this year's National Defense Authorization Act. In recent days, Rep. Jeff Denham (R-Calif.) pushed to include the language in the annual measure that sets the nation's defense policy. But in the last 24 hours, he encountered a flurry of criticism from a circle of conservatives who see the policy as amnesty and oppose including it in the defense authorization bill. Some House conservatives have mounted a furious pushback against Denham's effort since it became public Wednesday evening. On Friday, Denham sharply criticized his fellow Republicans for their opposition. "It is very frustrating to see controversy on an issue from members that have never served our country and don't understand the impact that immigrants have had on our freedoms and securing our national security," Denham told reporters at the Capitol. The intraparty rhetorical battle is a small illustration of the difficulties of moving immigration reform through the Republican-led House. While the Democratic-led Senate passed a sweeping reform bill last June, the House has not taken up its own legislation on an issue that was once a top priority item for the 113th Congress. Still, Denham promised on Friday to attach his proposal as an amendment to the defense authorization measure on the House floor. The defense bill must first be approved in committee, which should happen next month. Though there have been jurisdictional disputes, Denham said his legislation was under the Armed Services Committee's authority because it deals with military code, not immigration statutes.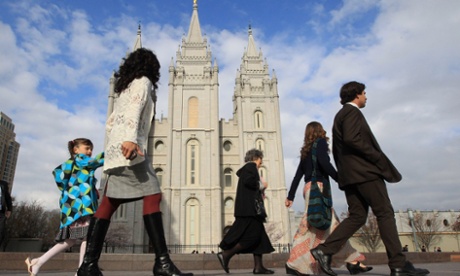 The Guardian


Hate the sin, hate the sinner...


Mormon leader reiterates church's opposition to same-sex marriage
Neil L Andersen, of The Church of Jesus Christ of Latter-day Saints' Quorum of the Twelve, said during the church's biannual general conference in Salt Lake City: "While many governments and well-meaning individuals have redefined marriage, the Lord has not. "He designated the purpose of marriage to go far beyond the personal satisfaction and fulfilment of adults, to more importantly, advancing the ideal setting for children to be born, reared and nurtured." After a June 2013 US supreme court ruling struck down parts of the federal Defence of Marriage Act, gay marriage has become legal in 17 states and the District of Columbia. Federal judges have also struck down bans in Michigan, Utah, Texas, Oklahoma and Virginia, and ordered Kentucky and Tennessee to recognise out-of-state gay marriages, though stays have been issued pending appeals. On Friday, a judge in Ohio said he would order the state to recognise same-sex marriages from other states. The Mormon church's message on homosexuality has softened in recent years, but this marks the second consecutive conference in which leaders have talked about their opposition to gay marriage. In 2012, Dallin H Oaks of the Quorum said human laws cannot "make moral what God has declared immoral". Utah's same-sex marriage ban was overturned by a federal judge in December. The state has an appeal pending before a federal court. On Saturday, Andersen encouraged church members not to buckle under the pressure of a growing movement on social media and elsewhere by advocates who want to make gay marriage legal.


Los Angeles Times


NSA Rat Boss retires...pats himself on the back for doing a great job
Alexander's legacy is shaped by big data, for better and worse
In nearly nine years as head of the nation's largest intelligence agency, Gen. Keith presided over a vast expansion of digital spying, acquiring information in a volume his predecessors would have found unimaginable. But something else seems likely to shape the legacy of the NSA's longest-serving director, who retired Friday: something that Alexander failed to anticipate, did not prepare for and even now has trouble understanding. Thanks to Edward Snowden, a former NSA contractor, the world came to know many of the agency's most carefully guarded secrets. Ten months after the disclosures began, Alexander remains disturbed, and somewhat baffled, by the intensity of the public reaction. When Snowden's disclosures began, Alexander and his deputies knew they were in for a storm. But they felt sure the American public would be comforted when they learned of the agency's internal controls and the layers of oversight by Congress, the White House and a federal court. Instead, polls show, many Americans believe that the NSA is reading their emails and listening to their phone calls. A libertarian group put an advertisement in the Washington transit system calling Alexander, a 62-year-old career military officer, a liar. U.S. technology companies are crying betrayal. The ease with which Snowden removed top-secret documents also embarrassed an agency that is supposed to be the first line of defense against cyberattacks.



Reuters


NSA infiltrated RSA security more deeply than thought - study


NSA had paid RSA $10 million to make a now-discredited cryptography system the default in software used by a wide range of Internet and computer security programs


Security industry pioneer RSA adopted not just one but two encryption tools developed by the U.S. National Security Agency, greatly increasing the spy agency's ability to eavesdrop on some Internet communications, according to a team of academic researchers. The NSA had paid RSA $10 million to make a now-discredited cryptography system the default in software used by a wide range of Internet and computer security programs. The system, called Dual Elliptic Curve, was a random number generator, but it had a deliberate flaw - or "back door" - that allowed the NSA to crack the encryption. A group of professors from Johns Hopkins, the University of Wisconsin, the University of Illinois and elsewhere now say they have discovered that a second NSA tool exacerbated the RSA software's vulnerability. The professors found that the tool, known as the "Extended Random" extension for secure websites, could help crack a version of RSA's Dual Elliptic Curve software tens of thousands of times faster, according to an advance copy of their research shared with Reuters. The new research sheds light on how the NSA extended the reach of its surveillance under cover of advising companies on protection. RSA, now owned by EMC Corp, did not dispute the research when contacted by Reuters for comment. The company said it had not intentionally weakened security on any product and noted that Extended Random did not prove popular and had been removed from RSA's protection software in the last six months. "We could have been more skeptical of NSA's intentions," RSA Chief Technologist Sam Curry told Reuters. "We trusted them because they are charged with security for the U.S. government and U.S. critical infrastructure."


Washington Post


Putin intends to save the world from the West...he has started with Crimea


Russia is remaking itself as the leader of the anti-Western world
"This is not another Cold War that we're entering into," President Obama said Wednesday in Brussels, presenting the post-Crimea world order as he sees it after consultations with other NATO leaders. "After all, unlike the Soviet Union, Russia leads no bloc of nations, no global ideology." President Vladimir Putin would surely beg to differ. Over the past two years, a new ideology has taken shape at the Kremlin. Insistently pushed out over the airwaves of state-controlled television, it has taken hold as Russia's national idea — and is the driving force behind its newly aggressive international posture. Russia is remaking itself as the leader of the anti-Western world. During his annual state-of-the-federation address to parliament in December, Putin articulated this ideology. This in itself was novel: For his preceding 13 years at the helm, Putin had stuck to the pragmatic in his speeches. Now he was putting forth a vision for which many Russians had longed in the nearly quarter-century since the Soviet Union collapsed, leaving a giant hole where its citizens' identities used to be. In his December speech, Putin said that Russia had no superpower ambitions in the sense of "a claim to global or regional hegemony." Yet, he said, "We will strive to be leaders."


Reuters


Investing for your retirement? On Wall Street, you don't have a chance


U.S. stock markets are rigged, says author Michael Lewis
The U.S. stock market is rigged in favor of high-speed electronic trading firms, which use their advantages to extract billions from investors, according to Michael Lewis, author of a new book on the topic, "Flash Boys: A Wall Street Revolt." High-frequency trading (HFT) is a practice carried out by many banks and proprietary trading firms using sophisticated computer programs to send gobs of orders into the market, executing a small portion of them when opportunities arise to capitalize on price imbalances, or to make markets. HFT makes up more than half of all U.S. trading volume. The trading methods and technology that make HFT possible are all legal, and the stock exchanges HFT firms trade on are highly regulated. But Lewis said these firms are using their speed advantage to profit at the expense of other market participants to the tune of tens of billions of dollars. "They are able to identify your desire to buy shares in Microsoft and buy them in front of you and sell them back to you at a higher price," Lewis, whose book is available on Monday, said on the television program "60 Minutes" on Sunday. "This speed advantage that the faster traders have is milliseconds, some of it is fractions of milliseconds," said Lewis, whose books include "The Big Short" and "Moneyball." Those milliseconds can be valuable, making it possible to send around 10,000 orders in the blink of an eye. Darting in and out of trades, HFT firms make just fractions of a penny per trade, but the sheer speed and volume of their trading activity allows those that are successful to make significant profits.


Washington Post


The GOP's death spiral accelerates as Jeb Bush-bots clamor for power
Influential Republicans working to draft Jeb Bush into 2016 presidential race
Many of the Republican Party's most powerful insiders and financiers have begun a behind-the-scenes campaign to draft former Florida governor Jeb Bush into the 2016 presidential race, courting him and his intimates and starting talks on fundraising strategy. Concerned that the George Washington Bridge traffic scandal has damaged New Jersey Gov. Chris Christie's political standing and alarmed by the steady rise of Sen. Rand Paul (Ky.), prominent donors, conservative leaders and longtime operatives say they consider Bush the GOP's brightest hope to win back the White House. Over the past few weeks, Bush has traveled the country delivering policy speeches, campaigning for Republicans ahead of the fall midterm elections, honing messages on income inequality and foreign policy, and cultivating ties with wealthy benefactors — all signals that he is considering a run. Many if not most of 2012 GOP nominee Mitt Romney's major donors are reaching out to Bush and his confidants with phone calls, e-mails and invitations to meet, according to interviews with 30 senior Republicans. One bundler estimated that the "vast majority" of Romney's top 100 donors would back Bush in a competitive nomination fight.


Washington Post


Gingrich to rich donors: Give us the money but keep your mouths shut
Newt Gingrich says wealthy donors have too much influence
Former House speaker Newt Gingrich (R), whose 2012 presidential bid was boosted by $15 million spent by casino magnate Sheldon Adelson and his wife, on Friday decried the outsize influence that the wealthy have on the political process. The answer? Candidates should be able to raise the kind of massive sums that super PACs can, Gingrich told the National Journal. The former speaker made the remarks in response to a question about the number of potential 2016 candidates who are in Las Vegas this week to meet with Adelson during a multi-day conclave held by the Republican Jewish Coalition. "Whether it's the Koch brothers or [George] Soros on the left or Sheldon," Gingrich said, "if you're going to have an election process that radically favors billionaires and is discriminating against the middle class—which we now have—then billionaires are going to get a lot of attention." "The truth is, we desperately need an election reform which allows candidates to receive the same amount of money as super PACs," he added. "Sheldon's a generous guy and he can attract a lot of players who want to come and hang out with him, and then they collectively attract a number of potential candidates," he told the National Journal.


Washington Post


Pols and CEO's continue to do great
Dismantling CEOs' golden parachutes
Robert Marcus, who's been the CEO of Time Warner Cable since only Jan. 1 of this year, stands to receive nearly $80 million if the company's purchase by Comcast closes and he leaves his job, according to a regulatory filing issued last week. If Marcus ultimately receives the payout, it would be among the largest "golden parachute" benefits awarded since 2011, according to an analysis by executive compensation research firm Equilar. It's been several years since the financial crisis ignited public outrage over CEO compensation and the SEC adopted rules from the Dodd-Frank Wall Street Reform and Consumer Protection Act that grant investors the right to vote on executive pay. But such eye-popping numbers beg the question, how much have CEO safety nets actually changed? The short answer is: some, but not enough to fundamentally let the air out of those parachutes.


Politico
Ukraine bills clear House, Senate


No more unemployment for Americans, but millions of taxpayer dollars available for thugs in Ukraine


The House and Senate easily passed measures that would provide aid to Ukraine and impose sanctions on Russia, edging Congress closer to sending a comprehensive package to the White House to respond to the crisis in Eastern Europe. The House approved the legislation in a 399-19 vote while the Senate simply cleared it in a voice vote. The two chambers have differing legislation, though the variances are minor after Senate Majority Leader Harry Reid (D-Nev.) agreed to drop a provision to reform the International Monetary Fund that Republicans opposed. House and Senate leaders will have to reconcile the remaining differences before sending a bill to President Barack Obama for his signature. The House plans to take up and clear the Senate-passed legislation by unanimous consent by the end of this week, lawmakers and aides said. Separately, the House and Senate will swiftly clear a measure that would boost U.S. international broadcasting into eastern Ukraine and Crimea — a move that its backers say is needed to battle against Russian propaganda.


Washington Examiner
Company stumbles have Energy Dept., Capitol Hill worried about $450 million nuclear program
Concern is growing at the Energy Department and on Capitol Hill about a combined $450 million of commitments made to two companies building next-generation nuclear reactors. The Energy Department entered into separate, five-year cost-share agreements with Charlotte, N.C.-based Babcock and Wilcox and Portland, Ore.-based NuScale last year in hopes of getting their designs for a new type of reactor licensed by the Nuclear Regulatory Commission. But last month, Babcock and Wilcox notified investors it couldn't find a majority stakeholder for the project, known as Generation mPower, three months after saying it wanted to reduce its role from majority owner to a 10 to 20 percent share. The company said it is now considering scaling back funding for the reactor, which is slated to operate at the Tennessee Valley Authority's Clinch River site in Roane County, Tenn. That was a red flag for the Energy Department. The House Energy and Commerce Committee is looking into Babcock and Wilcox's struggles. Senate appropriators are paying attention as well. The Obama administration has touted the technology, which it sees as a way to reduce carbon emissions that contribute to climate change. It also contends the $450 million program -- Congress appropriated $113 million of it in fiscal 2014, $43 million above President Obama's request -- will help U.S. companies get a head start on the international market.


Washington Examiner


Cristie: I investigated myself and found myself to be clean


Investigation commissioned by Chris Christie absolves governor of wrongdoing in Bridgegate
An investigation commissioned by New Jersey Gov. Chris Christie and carried out by attorneys close to the governor has absolved Christie of wrongdoing in the "Bridgegate" scandal, finding that he had no prior knowledge of lane closings ordered by one of his senior aides. A report published Thursday by the law firm Gibson, Dunn & Crutcher, which summarizes findings from more than 250,000 documents and interviews with more than 70 people, concluded Christie "did not know of the lane realignment beforehand and had no involvement in the decision to realign the lanes." Instead, the report lays full blame for the lanes closures, which were apparently carried out for political retribution and affected access to the George Washington Bridge for drivers coming from Fort Lee, N.J., for four days in September, on Christie's Deputy Chief of Staff Bridget Kelly and a New Jersey Port Authority official, David Wildstein. Another Port Authority official, Bill Baroni, and Christie's former campaign manager Bill Stepien, knew about the plan in advance but did not know of the reasoning behind it, the report said.



Washington Post


Mike Rogers to retire, launch national radio show
Rep. Mike Rogers (R-Mich.), the chairman of the House Intelligence Committee, plans to retire from Congress after his current term to host a national radio show syndicated by Cumulus Media, he announced Friday. Rogers, 50, made the announcement in a statement and during interviews on Michigan radio stations Friday morning. Lew Dickey, the CEO of Cumulus, said, "We are thrilled to have Chairman Rogers join our team. He has been instrumental helping to shape many of the most important issues and events of our time and will play a significant role in our expanding content platform." umulus own 460 radio stations nationwide and syndicates its programming to thousands more. In joining Cumulus, Rogers will work for a radio network that already syndicates programs from some of the medium's biggest draws, including Don Imus, Mark Levin, Carson Daly, Michael Savage and Mike Huckabee. Rogers has served in Congress since 2001 and is a former FBI agent who had been mentioned as a possible nominee to lead the FBI or CIA. In recent years he's been a regular guest on Sunday morning political talk shows and last year topped the list of lawmakers who appear most frequently on those programs. He has served as a critic of President Obama but more recently has been a defender of the National Security Agency following reports by The Washington Post and other news organizations about the scope of the agency's surveillance programs.


Daily News


Trigger happy cops coming to an airport near you
TSA wants more law enforcement officers at airport ticket counters in wake of LAX shooting
In a report released Wednesday in response to the November shootings at LAX, the Transportation Security Administration calls for the nation's airports to station more law enforcement officers at ticket counters and security checkpoints during peak hours. The report comes nearly five months after a gunman entered Terminal 3 at Los Angeles International Airport and opened fire near a TSA checkpoint, killing one screener and seriously wounding two others as well as a passenger. Los Angeles World Airports police responded quickly and chased suspect Paul Ciancia, before confronting and shooting him. But it soon became known that the officers had not been present when the gunfire began, and some questioned whether police officers should return to every screening area. TSA's suggestions apply to all airports, but they were created as a direct result of the Nov. 1 shooting at LAX. Other guidelines call for the TSA to strengthen employee training for responding to active shooter scenarios and to improve emergency communications systems at airports so screeners can immediately summon help. The TSA also wants first responders to be better trained to enter dangerous situations to provide medical aid. Nico Melendez, a Southern California-based spokesman for the TSA, said the agency will not comment until Friday, when the House Committee on Homeland Security's Subcommittee on Transportation Security will hold a field hearing at LAX. In a statement, TSA administrator John Pistole, who is scheduled to testify on Friday, said: "The report released today outlines the actions TSA took immediately following the shooting and new procedures to enhance the safety and security of TSA employees nationwide, especially those who work on the front lines each and every day to protect the traveling public.


Washington Post


Just another bunch of DC screw-ups...


Secret Service incident in Netherlands was on heels of car wreck during Obama's Miami trip
As the U.S. Secret Service arrived in the Netherlands last weekend for a presidential trip, managers were already on high alert to avoid any further em­barrassing incidents involving agents. The agency's director had admonished supervisors after two counter-sniper officers suspected of drinking were involved in a March 7 car accident during a presidential visit to Miami, according to several people with knowledge of the incident. The driver passed a field sobriety test and was not arrested. So in Amsterdam on Saturday night, Secret Service supervisor George Hartford had the Miami incident in mind when he issued a warning to a group of agents gathered for dinner: Go out if you want, but stay out of trouble. By the next morning, Hartford was pounding on the hotel door of a 34-year-old junior agent who had passed out drunk in a hallway and later had to be lifted into his room by several hotel employees, according to a hotel spokesman and two other people familiar with the incident. The agent claimed to have no memory of the events. That night on the town has created another highly public embarrassment for the elite Secret Service, which is still attempting to recover from a tawdry drinking-and-prostitution scandal two years ago during a presidential trip to Cartagena, Colombia.


New York Times
Military Cuts Render NATO Less Formidable as Deterrent to Russia
President Obama and European leaders pledged Wednesday to bolster the NATO alliance and vowed that Russia would not be allowed to run roughshod over its neighbors. But the military reality on the ground in Europe tells a different story. The United States, by far the most powerful NATO member, has drastically cut back its European forces from a decade ago. European countries, which have always lagged far behind the United States in military might, have struggled and largely failed to come up with additional military spending at a time of economic anemia and budget cuts. During the height of the Cold War, United States troops in Europe numbered around 400,000, a combat-ready force designed to quickly deploy and defend Western Europe — particularly what was then West Germany — against a potential Soviet advance. Today there are about 67,000 American troops in Europe, including 40,000 in Germany, with the rest scattered mostly in Italy and Britain. The Air Force has some 130 fighter jets, 12 refueling planes and 30 cargo aircraft. At the end of the Cold War in the early 1990s, it had 800 aircraft in Europe.



Los Angeles Times
Conservative justices seem poised to deal blow to Obamacare
Hobby Lobby contraceptives case could open the door to an array of new religious freedom claims
The Supreme Court's conservative majority sounded poised Tuesday to deal a blow to President Obama's healthcare law and rule that business owners may invoke their religious beliefs to opt out of a new federal requirement that they pay for birth control for female employees. Such a decision could open the door to an array of new religious freedom claims from those who object to other laws mandating such things as equal treatment for gays and lesbians or non-discrimination in hiring. A decision is expected by late June. Two years ago, the court stopped just short of striking down the Affordable Care Act as unconstitutional in a 5-4 vote. On Tuesday, the five conservative justices gave a sympathetic hearing to a pair of family-run businesses that refused to pay for contraceptives, such as so-called morning-after pills or intrauterine devices, despite a provision that all new health plans offer such coverage. The owners, devout Christians, said they believe that such drugs and devices can effectively abort a fertilized egg and that the rule requiring them to pay for the coverage violates their religious beliefs.


S

uch a ruling by the Supreme Court in the Hobby Lobby contraceptives case could open the door to an array of new religious freedom claims.
New York Times


They screw up again...


Secret Service Pulls Agents From Detail for Drinking
The Secret Service has sent home three of its agents who were in the Netherlands to provide security for President Obama's trip there, according to senior law enforcement officials, citing "disciplinary reasons" in connection with the agents' drinking. One of the agents who was sent home was found passed out in a hallway, the officials said, adding that the agents were caught drinking before Mr. Obama arrived there this week for meetings with European allies. A spokesman for the Secret Service declined to provide further details about the episode. The disclosure is the latest embarrassment for an agency whose agents' behavior has been under scrutiny since April 2012. when several were caught with prostitutes in their hotel rooms during a presidential trip to Cartagena, Colombia.


Washington Post


Rich guys lining up behind the GOP
Billionaire mogul Sheldon Adelson looks for mainstream Republican who can win in 2016
Casino magnate Sheldon Adelson, who along with his wife plowed more than $92 million into efforts to help mostly losing candidates in the 2012 elections, is undertaking a new strategy for 2016 — to tap his fortune on behalf of a more mainstream Republican with a clear shot to win the White House, according to people familiar with his thinking. In 2012, Sheldon and Miriam Adelson spent so much of their money on long-shot candidate Newt Gingrich that they helped extend an ugly intraparty fight that left the eventual nominee, Mitt Romney, severely bruised by the time he faced President Obama in the general election. This time, the Adelsons are plotting their investments based not on personal loyalty, but on a much more strategic aim: to help select a Republican nominee they believe will have broad appeal to an increasingly diverse national electorate. The change in attitude comes amid early jockeying by a lengthy list of aspiring Republican presidential contenders to win the affections of the billionaire, who is in the beginning stages of assessing the field.


The Hill


Washington elites cashing in on the back of taxpayers and the unemployed


Dodd-Frank army skips to K Street
More than two dozen federal officials who helped enact new rules for Wall Street have decamped from government for lucrative jobs in the private sector. Many of the officials who were foot soldiers in the Dodd-Frank effort have moved on to law firms, with several now advising clients on how to comply with the complex rules that they themselves had helped to write. Critics of the "revolving door" between government and the private sector bemoan the trend, arguing it helps financial institutions move the levers of federal policy. "We're seeing the revolving door much more frequently in the financial services sector, more so than any other industry I've seen," said Craig Holman, a government affairs lobbyist for Public Citizen.



New York Times


Obama to Call for End to N.S.A.'s Bulk Data Collection
The Obama administration is preparing to unveil a legislative proposal for a far-reaching overhaul of the National Security Agency's once-secret bulk phone records program in a way that — if approved by Congress — would end the aspect that has most alarmed privacy advocates since its existence was leaked last year, according to senior administration officials. Under the proposal, they said, the N.S.A. would end its systematic collection of data about Americans' calling habits. The bulk records would stay in the hands of phone companies, which would not be required to retain the data for any longer than they normally would. And the N.S.A. could obtain specific records only with permission from a judge, using a new kind of court order. As part of the proposal, the administration has decided to ask the Foreign Intelligence Surveillance Court to renew the program as it exists for at least one more 90-day cycle, senior administration officials said. But under the plan the administration has developed and now advocates, the officials said, it would later undergo major changes. The new type of surveillance court orders envisioned by the administration would require phone companies to swiftly provide records in a technologically compatible data format, including making available, on a continuing basis, data about any new calls placed or received after the order is received, the officials said. The N.S.A. now retains the phone data for five years. But the administration considered and rejected imposing a mandate on phone companies that they hold on to their customers' calling records for a period longer than the 18 months that federal regulations already generally require — a burden that the companies had resisted shouldering and that was seen as a major obstacle to keeping the data in their hands.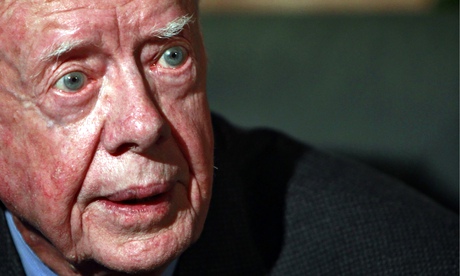 The Guardian


Rather than actually doing something constructive...


Jimmy Carter rails against worldwide 'abuse of women and girls' in new book
Jimmy Carter is making a "call to action" over discrimination and violence against women, addressing issues from female genital mutilation to child marriage in a new book out in the US this week. The 39th US president writes in A Call to Action of his belief that "the most serious and unaddressed worldwide challenge is the deprivation and abuse of women and girls", which he says is "largely caused by a false interpretation of carefully selected religious texts and a growing tolerance of violence and warfare, unfortunately following the example set during my lifetime by the United States". Out tomorrow from Simon & Schuster in the US, the book is already drawing positive reviews: the Pittsburgh Post Gazette said that it "should not only be required reading in America, but should also serve as the template for a complete reinterpretation of the religious views behind our treatment of each other". The St Louis Post-Dispatch said it "reinforces [Carter's] dedication to wiping out injustice – and his ability to move others to join his cause". Simon & Schuster said that Carter, who, with his wife Rosalynn, has visited 145 countries, his charity The Carter Centre active in more than half of them, was "encouraged to write this book by a wide coalition of leaders of all faiths". The book will see Carter point out "that women are treated more equally in some countries that are atheistic or where governments are strictly separated from religion".


New York Times


Reports of accidental poisonings, notably among children, are soaring
Selling a Poison by the Barrel: Liquid Nicotine for E-Cigarettes
A dangerous new form of a powerful stimulant is hitting markets nationwide, for sale by the vial, the gallon and even the barrel. The drug is nicotine, in its potent, liquid form — extracted from tobacco and tinctured with a cocktail of flavorings, colorings and assorted chemicals to feed the fast-growing electronic cigarette industry. These "e-liquids," the key ingredients in e-cigarettes, are powerful neurotoxins. Tiny amounts, whether ingested or absorbed through the skin, can cause vomiting and seizures and even be lethal. A teaspoon of even highly diluted e-liquid can kill a small child. But, like e-cigarettes, e-liquids are not regulated by federal authorities. They are mixed on factory floors and in the back rooms of shops, and sold legally in stores and online in small bottles that are kept casually around the house for regular refilling of e-cigarettes. Evidence of the potential dangers is already emerging. Toxicologists warn that e-liquids pose a significant risk to public health, particularly to children, who may be drawn to their bright colors and fragrant flavorings like cherry, chocolate and bubble gum.


Washington Post


Dying Republicans - Hate Isn't Working For Them Any Longer


Eric Cantor attempts to remake the House GOP brand, and his own
Every week, Eric Cantor huddles in a Capitol Hill basement meeting room with House conservatives, seeking their advice and input on legislation. As House majority leader, Cantor has been a trusted liaison between conservative activists and the Republican leadership. Yet in recent days, Cantor (R-Va.) has begun laying out a far more centrist agenda than the one espoused by the core conservatives who have long formed his power base. Putting aside his past emphasis on sweeping cuts to federal programs, Cantor has become an advocate for research on pediatric cancer, passing legislation to boost funding at the National Institutes of Health. He has begun talking about urban poverty, visiting charter schools to explore education reforms, and has sought alliances with African American lawmakers, traveling to Mississippi to appear at a civil rights event and honor Rep. John Lewis (D-Ga.). And he has maneuvered behind the scenes to push House Republicans toward an eventual floor vote on a plan to legalize certain illegal immigrants who were brought to the United States as children. The shift, which has rankled some House conservatives, underscores the political quandary confronting Cantor in the lead-up to this year's midterm elections. Even as he strives to repair the GOP's battered image with voters and hold together a fractious conference, Cantor, 50, is also trying to remain the heir apparent to Speaker John A. Boehner (R-Ohio). Each move and gesture seems designed to nudge conservatives toward a more even-tempered message, but Cantor resists challenging his party's ideology or platform, knowing he can only go so far and remain the presumptive favorite among House Republicans for the speaker's gavel, should Boehner, 64, decide to retire in the coming years.


New York Times


Courts Continue to Rebuke Marriage Gestapo
Wave of Appeals Expected to Turn the Tide on Same-Sex Marriage Bans
With a slew of cases barreling toward federal appeals courts, almost certainly including the decision Friday that overturned Michigan's restrictive marriage amendment, the legal battle over same-sex marriage is entering a new and climactic phase. Decisions in the coming months will resonate beyond individual states across entire regions and may impel the Supreme Court to revisit the issue sooner than it wished. Legal experts say the country is entering what one called a "marriage spring" and predict that several of the circuit courts, which hold sway over a group of states, will rule that state laws limiting marriage to a man and a woman are unconstitutional. Enforcement of decisions may well be delayed while the Supreme Court takes one or more of them for review, with a decision then possible by June 2015. Since June, when the Supreme Court required the federal government to recognize married same-sex couples and suggested that discriminatory laws were rooted in nothing but prejudice, rights advocates have won an uninterrupted series of decisions in federal district courts. Restrictive amendments or laws have been declared unconstitutional in Utah, Oklahoma, Virginia, Texas and Michigan, and partial decisions, requiring states to recognize out-of-state marriages, have been handed down in Kentucky, Ohio and Tennessee. But most of these decisions have been stayed pending appeals, and the next chapter promises to be more momentous. Several of the appeals are on a fast track in circuit courts.


New York Times


America: A Government Built on Hypocrisy


N.S.A. Breached Chinese Servers Seen as Security Threat
American officials have long considered Huawei, the Chinese telecommunications giant, a security threat, blocking it from business deals in the United States for fear that the company would create "back doors" in its equipment that could allow the Chinese military or Beijing-backed hackers to steal corporate and government secrets. But even as the United States made a public case about the dangers of buying from Huawei, classified documents show that the National Security Agency was creating its own back doors — directly into Huawei's networks. The agency pried its way into the servers in Huawei's sealed headquarters in Shenzhen, China's industrial heart, according to N.S.A. documents provided by the former contractor Edward J. Snowden. It obtained information about the workings of the giant routers and complex digital switches that Huawei boasts connect a third of the world's population, and monitored communications of the company's top executives.


New York Times


Revelations of N.S.A. Spying Cost U.S. Tech Companies
Microsoft has lost customers, including the government of Brazil. IBM is spending more than a billion dollars to build data centers overseas to reassure foreign customers that their information is safe from prying eyes in the United States government. And tech companies abroad, from Europe to South America, say they are gaining customers that are shunning United States providers, suspicious because of the revelations by Edward J. Snowden that tied these providers to the National Security Agency's vast surveillance program. Even as Washington grapples with the diplomatic and political fallout of Mr. Snowden's leaks, the more urgent issue, companies and analysts say, is economic. Technology executives, including Mark Zuckerberg of Facebook, raised the issue when they went to the White House on Friday for a meeting with President Obama.



Los Angeles Times


Will the GOP's blatant racism be their undoing?
Upbeat signs for GOP before midterm vote may mask its Latino problem
The makeup of the electorate in the midterm election should help Republicans, but growing Latino clout could mean trouble in 2016
For Republicans roaring into the midterm election, the last few weeks have brought a wave of good news. President Obama's poll numbers continue to hover in the 40s. Democrats' hopes of holding the Senate look slimmer by the day. And the GOP heralded last week's win in Florida's special congressional election as evidence that their anti-Obamacare strategy is working. But some Republican strategists and donors fear that buoyant mood spells trouble for the party down the road — by masking the long-term problems that were so evident after the 2012 election. Chief among them: the GOP's abysmal performance among Latinos and the growing influence of minority voters in battleground states that will create a steeper climb to the presidency for Republicans with each passing year. In the short term, Republicans have a reprieve: The makeup of the electorate in November is expected to favor the GOP, because nonpresidential elections draw lower concentrations of the kinds of voters that they have struggled to win over. But that is a very different reality from the one Republicans will face in November 2016. Absent any movement on that front — and despite frustration over increasing deportations under Obama — Latinos gave Democrats far higher marks in a survey released by the Pew Research Center's Hispanic Trends Project in December. In the survey, about 72% of Latinos said the Democratic Party cared about the issues facing their community, compared with 39% who said Republicans did. The sentiments were shared by Asians, whose voting strength is also burgeoning.

Mercury News


On privacy, Silicon Valley needs to step up
Another privacy bomb was dropped on Silicon Valley last week with Bloomberg's revelation about the Heartbleed software bug, dealing yet another blow to the U.S. technology industry's reputation and its ability to compete abroad. It's hard to say what's more stunning: That Bloomberg reports that the NSA knew about the bug two years ago but didn't tell anyone, leaving American consumers at the mercy of hackers -- including, some believe, the NSA itself? Or that Washington's tech geeks seem to be ahead of the Valley at every turn? When did government outdo Silicon Valley in its awareness of sophisticated technology.



Dana Milbank


Republicans kiss votes from women goodbye
This was not the way Republican leaders had planned to observe Equal Pay Day. On the eve of Tuesday's commemoration — the day symbolizing how far into 2014 women must work to catch up to the wages men earned in 2013 — a small newspaper in Louisiana, the Ouachita Citizen, reported that its congressman, Republican Rep. Vance McAllister, had been videotaped making out with a low-paid staffer. McAllister, called the "Duck Dynasty" congressman because of his defense of the Robertson family's Christian values, issued a statement asking for forgiveness from God, his family, his staff and constituents, and he declared that he still plans to run for reelection. And the woman, a part-timer paid less than $22,000 a year who also received $300 from McAllister to clean out his campaign office? She was terminated as the story broke, the congressman's chief of staff told another Louisiana paper. It takes chutzpah to observe Equal Pay Day by sacking the low-wage employee you've been snogging.



Jonah Goldberg


What principles rule the GOP?


Pro-business or pro-market: Republicans politicians can't have it both ways anymore


For years, Republicans benefited from economic growth. So did pretty much everyone else, of course. But I have something specific in mind. Politically, when the economy is booming — or merely improving at a satisfactory clip — the distinction between being pro-business and pro-market is blurry. The distinction is also fuzzy when the economy is shrinking or imploding. But when the economy is simply limping along — not good, not disastrous — like it is now, the line is easier to see. And GOP politicians typically don't want to admit they see it. A big test will be on the Export-Import Bank, which is up for reauthorization this year. A bank in name only, the taxpayer-backed agency rewards big businesses in the name of maximizing exports that often don't need the help (hence its nickname, "Boeing's Bank"). In 2008, even then-Sen. Barack Obama said it was "little more than a fund for corporate welfare." The bank, however, has thrived on Obama's watch. It's even subsidizing the sale of private jets. Remember when Obama hated tax breaks for corporate jets? Friends of the Ex-Im Bank are screaming bloody murder. That's nothing new. What is new is that the free market is on line two.



Dan Morain


Having the temerity to challenge Washington gridlock
As it obliterated yet another restriction on campaign spending, the U.S. Supreme Court last week made a point of claiming that there is full and fast public disclosure of campaign donations. "With modern technology, disclosure now offers a particularly effective means of arming the voting public with information," Chief Justice John G. Roberts Jr. wrote in McCutcheon v. Federal Election Commission. "Databases," Roberts wrote, "are available on the FEC's website almost immediately after they are filed" and on private sites. Do they really think we believe that? A few blocks from the Supreme Court, the Federal Election Commission, the entity most directly responsible for compelling disclosure, was mired in gridlock. California's own Ann Ravel had the temerity to describe the dysfunction at the FEC like she saw it, in a very public way. "The Federal Election Commission is failing to enforce the nation's campaign finance laws. I'm in a position to know. I'm the vice chairwoman of the commission," Ravel wrote an op-ed in The New York Times the day after the high court issued its ruling. That sent Ravel's Republican colleagues into orbit.



Raoul Lowery Contreras


Cesar Chavez ... Who?
Hollywood has finally discovered Mexican Americans and turned its attention to Cesar Chavez as if all Mexican Americans adore Chavez. A movie partly based on fact will open this week in 400 theaters. I predict it will fail at the box office. Why? Fact: only 5 percent of all American Hispanics are rural, thus 95 percent are city people who could care less about Mexican or Mexican American farm workers. The movie will fail despite Chavez' March 31 birthday being a California state holiday because few care about him or his union; except, of course, aging "Chicanos" of which there weren't many to begin with.



Mercury News


FDA needs to restrict e-cigarettes
The Food and Drug Administration won the power to regulate smoking-related products in 2009. It has announced it will regulate e-cigarettes. So why is it dragging its feet? At the very least, while the agency studies the products, it should hold electronic vapor inhalers to the same federal regulations in place for tobacco products -- including outlawing their sale to minors, who apparently are a prime target market.



David Byrne


The NSA is burning down the web, but what if we rebuilt a spy-proof internet?
What will life be like after the internet? Thanks to the mass surveillance undertaken by the National Security Agency and the general creepiness of companies like Google and Facebook, I've found myself considering this question. I mean, nothing lasts forever, right? There's a broad tech backlash going on right now; I wonder just how deep the disillusionment runs. I get the feeling that there are folks out there who would relish putting the internet behind us sooner rather than later. Imagine that: even the internet could be a thing of the past one day. What would that be like? No Facebook. No Google. No government nerds looking through your webcam. But could we become more secure without abandoning the internet? What if there's a third way? One that doesn't involve either passive resignation to being exploited or a Luddite smash-the-looms fantasy. What if we began to develop and encourage the adoption of machines and a network that are actually secure – through which neither thieves, corporations, nor the NSA could track us – and what if these could be configured by us, to really do what we want them to do? To stop the spying, stealing and monitoring, but to allow other things to continue. What would that look like?



PAUL WALDMAN


America's tough guys, sounding awfully weak
If only those lily-livered voters had the courage of Bill Kristol, to never stop yearning for the glory of war! Sure, it'll always be a war fought by others, but still.



L. GORDON CROVITZ


America's Internet Surrender
The Internet is often described as a miracle of self-regulation, which is almost true. The exception is that the United States government has had ultimate control from the beginning. Washington has used this oversight only to ensure that the Internet runs efficiently and openly, without political pressure from any country. This was the happy state of affairs until last Friday.



Thomas L. Friedman


The Three Faces of President Obama
The most important thing we could do to improve the prospects of democracy in the world "is to fix our democracy at home," said Larry Diamond, a democracy specialist at Stanford University. "The narrative of American decline and democratic dysfunction damages the luster of democracy in the world and the decisions of people to feel it is a model worth emulating. That is in our power to change. If we don't reform and repair democracy in the United States, it is going to be in trouble globally."



Daily News


Feinstein's zero tolerance for snooping should extend to NSA
The California senator who chairs the powerful Senate Intelligence Committee has been unapologetic in her support for the National Security Agency's spying on Americans. But now we find she has zero tolerance for the CIA's alleged hacking into her committee's computers and possibly removing documents pertinent to an investigation. Yes, the CIA's shenanigans should be investigated. But Feinstein should show the same level of concern for other Americans' privacy rights as she demands for her committee's.



Wall Street Journal


Warnings From the Ukraine Crisis
The most obvious Ukraine point has to do with American foreign policy in the sixth year of the Obama era. Not being George W. Bush is not a foreign policy. Not invading countries is not a foreign policy. Wishing to demonstrate your sophistication by announcing you are unencumbered by the false historical narratives of the past is not a foreign policy. Assuming the world will be nice if we're not militarist is not a foreign policy. What is our foreign policy? Disliking global warming?



Corey Johnson and Tim Boersma


Russia's advantage
America's energy resources can't meet Ukraine's needs, and the notion that Europe and Ukraine could somehow become independent of Russian energy resources is unrealistic.



Eugene Robinson


The CIA is out of line
We now have even more proof that our burgeoning intelligence agencies, which were given unprecedented latitude to wage war against terrorists, are dangerously out of control.



DANIEL R. LEVINSON and ERIKA T. BROADHURSTMARCH


Why Aren't Doctors Drug Tested?
People go to hospitals to get well. We all know that medical care involves risks, but what patients don't expect is that the doctors, nurses and other staff members charged with their care may deliberately cause them harm. As an important recent case demonstrates, that's exactly what can happen without stronger controls.



San Francisco Chronicle


Military sex assaults should be prosecuted by lawyers
Congress has taken big steps over the past year to reform the military's antiquated judicial process regarding rape and other sexual assault charges. Some of those changes have been major and long overdue. All of these changes help to move the military further toward a modern system of justice. But they don't go nearly far enough. Last week, after a bruising legislative battle, the Senate blocked a bill that would have shifted authority to prosecute or prevent charges on cases of rape and other serious offenses from commanders to military lawyers outside of the chain of command.



Grant David Gillham


Tax and regulate budding e-cig market at the state level
Electronic cigarettes are being marketed for one reason: to re-capture the market share of nicotine users in the US and Europe that has been steadily shrinking since the advent of aggressive government-sponsored smoking cessation and litigation efforts.



Charles Krauthammer


The wages of weakness
Vladimir Putin is a lucky man. And he's got three more years of luck to come. He takes Crimea, and President Obama says it's not in Russia's interest, not even strategically clever. Indeed, it's a sign of weakness. Really? Crimea belonged to Moscow for 200 years. Russia annexed it 20 years before Jefferson acquired Louisiana. Lost it in the humiliation of the 1990s. Putin got it back in about three days without firing a shot. Now Russia looms over the rest of eastern and southern Ukraine. Putin can take that anytime he wants — if he wants. He has already destabilized the nationalist government in Kiev. Ukraine is now truncated and on the life support of U.S. and European money (much of which — cash for gas — will end up in Putin's treasury anyway).



New York Times


Making Russia Pay? It's Not So Simple
President Obama has warned Russia that "there will be costs" for a military intervention in Ukraine. But the United States has few palatable options for imposing such costs, and recent history has shown that when it considers its interests at stake, Russia has been willing to pay the price.



Ross Douthat


The Terms of Our Surrender
It now seems certain that before too many years elapse, the Supreme Court will be forced to acknowledge the logic of its own jurisprudence on same-sex marriage and redefine marriage to include gay couples in all 50 states. Once this happens, the national debate essentially will be finished, but the country will remain divided, with a substantial minority of Americans, most of them religious, still committed to the older view of marriage. So what then?



Judith Resnik


Renting Judges for Secret Rulings
Should wealthy litigants be able to rent state judges and courthouses to decide cases in private and keep the results secret? The answer should be an easy no, but if the judges of Delaware's Chancery Court persuade the United States Supreme Court to take their case and reverse lower federal court rulings outlawing that practice, corporations will, in Delaware, be able to do just that. The state has long been a magnet for corporate litigation because of its welcoming tax structures and the court's business expertise. Yet the State Legislature became concerned that Delaware was losing its "pre-eminence" in corporate litigation to a growing market in private dispute resolution. To compete, Delaware passed a law in 2009 offering new privileges to well-heeled businesses. If litigants had at least $1 million at stake and were willing to pay $12,000 in filing fees and $6,000 a day thereafter, they could use Delaware's chancery judges and courtrooms for what was called an "arbitration" that produced enforceable legal judgments. Instead of open proceedings, filings would not be docketed, the courtroom would be closed to the public and the outcome would be secret. The Delaware Supreme Court could review judgments, but that court has not indicated whether appeals would also be confidential. The Delaware legislation is a dramatic example of rich litigants using their resources to close court systems that taxpayers support and constitutions require. But the problem goes beyond Delaware. To honor constitutional commitments that "all courts shall be open," the court should refuse the Delaware judges' request, and Congress should restore rights to public courts for consumer and employment disputes.



John Fund


Three Cups of Tea


The Tea Party still holds the high ground this year for its third national election


The Tea Party turns five years old this week, and the mainstream media are filled with stories saying it has lost clout and influence. Certainly the unfair assaults on it as racist and extremist have taken a toll, but in terms of where the political landscape is right now, I'd easily take the Tea Party's tactical position over that of its liberal critics.



Dustin Volz


What Jan Brewer's Gay Bill Veto Means for Arizona—and the Country
By choosing to veto, Brewer has helped restore part of the state's reputation and delivered a loud warning shot to social conservatives.



Los Angeles Times


Opening the door to warrantless searches


A Supreme Court decision needlessly weakens 4th Amendment protections


When an occupant of a home refuses to allow police to search the premises, officers should keep their distance until they obtain a warrant based on probable cause. In a case from Los Angeles, the Supreme Court on Tuesday needlessly weakened that important 4th Amendment principle. The 6-3 decision eviscerated a 2006 ruling in which the court ruled that police must respect "a physically present inhabitant's express refusal of consent to a police search" even if a spouse or roommate gives consent. Ironically, as Justice Ruth Bader Ginsburg pointed out in her dissent, the LAPD "could readily have obtained a warrant to search the shared residence." By blessing the warrantless search, the majority not only undermined its previous ruling but also sent a message that police can skirt the 4th Amendment and not be punished for it by the courts.



Harold Meyerson


Arizona uses religion as a shield for bigotry
As patriotism can be the last refuge of scoundrels, so religion can be the last refuge of bigots.



Grant David Gillham


What Soft Drink Taxes Are Really About
Throughout history, governments always want money, lots of it. Our modern day elected officials are no exception. They toil relentlessly to help make your life better. That's expensive. When they run out of money, the easiest way for them to get lots more quickly is to target a group that is out of favor politically for a big tax hike. The idea that "We're doing this for their own good" is a great straw man to legitimize an unfair tax that, if imposed on everyone, would be universally hated. The current debate about taxing soft-drinks is a perfect example.



Adrian Bonenberger


Why the Army should fire generals and promote captains
As Army leadership ponders who and what to cut from its budget, the first groups in the crosshairs are the junior and mid-level officers. This is a logical step: To wage counterinsurgencies in Iraq and Afghanistan, the Army expanded its fighting force, and now it's time to draw down. What isn't logical is that other ranks will largely get a free pass. The Army, and the military overall, would be better served by retiring some of the generals, colonels and senior lieutenant colonels, and promoting the best captains, majors and junior lieutenant colonels into those roles.



Eugene Robinson


I'm black, don't shoot me
Sometimes, when I'm in my car, I crank up the music pretty loud. All you Michael Dunns out there, please don't shoot me. Please don't shoot my sons, either, or my brothers-in-law, nephews, nephews-in-law or other male relatives. I have quite a few friends and acquaintances who also happen to be black men, and I'd appreciate your not shooting them as well, even if the value you place on their lives is approximately zero. I know I shouldn't have to ask, but nothing else has worked.



Charles Krauthammer


The myth of 'settled science'
I repeat: I'm not a global warming believer. I'm not a global warming denier. I've long believed that it cannot be good for humanity to be spewing tons of carbon dioxide into the atmosphere. I also believe that those scientists who pretend to know exactly what this will cause in 20, 30 or 50 years are white-coated propagandists. "The debate is settled," asserted propagandist in chief Barack Obama in his latest State of the Union address. "Climate change is a fact." Really? There is nothing more anti-scientific than the very idea that science is settled, static, impervious to challenge. Take a non-climate example. It was long assumed that mammograms help reduce breast cancer deaths. This fact was so settled that Obamacare requires every insurance plan to offer mammograms (for free, no less) or be subject to termination. Now we learn from a massive randomized study — 90,000 women followed for 25 years — that mammograms may have no effect on breast cancer deaths. Indeed, one out of five of those diagnosed by mammogram receives unnecessary radiation, chemo or surgery. So much for settledness. And climate is less well understood than breast cancer. If climate science is settled, why do its predictions keep changing? And how is it that the great physicist Freeman Dyson, who did some climate research in the late 1970s, thinks today's climate-change Cassandras are hopelessly mistaken?



Matthew Kaminski


Eva Moskowitz: Teachers Union Enemy No. 1
For several months running, the Bill and Eva Show has been the talk of New York City politics. He is the new mayor, Bill de Blasio, an unapologetic old-school liberal Democrat, scourge of the rich and of public charter schools. She is Eva Moskowitz, fellow Democrat and educational-reform champion who runs the city's largest charter network. How did Ms. Moskowitz, a hero to thousands of New Yorkers of modest means whose children have been able to get a better education than their local public schools offered, end up becoming public enemy No. 1? She is the city's most prominent, and vocal, advocate for charter schools, and therefore a threat to the powerful teachers union that had been counting the days until the de Blasio administration took over last month from the charter-friendly Mayor Michael Bloomberg. Assailed by Mayor de Blasio and union leaders, Ms. Moskowitz is fighting back with typically sharp elbows. "A progressive Democrat should be embracing charters, not rejecting them," she says. "It's just wacky."