Instant updates as the news happens!!!



See CalNews.com's updates on Facebook 24/7




You can also follow us on Twitter!




Tweet us your news scoops today!!!
Washington Post
America's foreign policy disaster continues
Crimea solidifies ties with Russia ahead of referendum on leaving Ukraine
Russia and Crimea moved to solidify ties Friday as pro-Russia parties in Crimea planned campaigns for a referendum on splitting from Ukraine and Moscow enthusiastically greeted a visiting Crimean delegation. Russia announced it will send a mission to observe the March 16 referendum, and the Foreign Ministry said the "NATO factor" was a dangerous element that was stoking tension over Ukraine. Crimean authorities blocked airwaves used by a television station broadcasting from the Ukrainian capital, Kiev, and replaced it with a Russian station. In Moscow, a Crimean delegation led by Volodymyr Konstantynov, head of Crimea's regional parliament, was applauded by Russian parliamentarians, a day after Crimean lawmakers voted to join Russia and validate the decision in a referendum. Konstantynov said the autonomous republic will hold an "honest and transparent" referendum on its status in the presence of observers from Russia and other countries. Valentina Matviyenko, chairman of the Federation Council, the upper house of the Russian legislature, assured the delegation that Crimea has Russia's support. "The Federation Council will support the Crimean parliament's ruling on the referendum, and that ruling will be legitimate," Matviyenko said.



Reuters


Putin rebuffs Obama as Ukraine crisis escalates
President Vladimir Putin rebuffed a warning from U.S. President Barack Obama over Moscow's military intervention in Crimea, saying on Friday that Russia could not ignore calls for help from Russian speakers in Ukraine. After an hour-long telephone call, Putin said in a statement that Moscow and Washington were still far apart on the situation in the former Soviet republic, where he said the new authorities had taken "absolutely illegitimate decisions on the eastern, southeastern and Crimea regions. "Russia cannot ignore calls for help and it acts accordingly, in full compliance with international law," Putin said. Ukraine's border guards said Moscow had poured troops into the southern peninsula where Russian forces have seized control. Serhiy Astakhov, an aide to the border guards' commander, said there were now 30,000 Russian soldiers in Crimea, compared to 11,000 permanently based with the Russian Black Sea fleet in the port of Sevastopol before the crisis.



The Atlantic


Obama Is Complicit in Suppressing the Truth About Torture
On his watch, the CIA has been permitted to keep secret a report on its own misconduct, even as misleading information was released to the public
President Obama is complicit in suppressing the truth about CIA torture of
prisoners. That's clear from the fact that the Senate intelligence committee's $40 million, 6,000-page torture report is still being suppressed 15 months after being adopted. It is made clearer still by a scathing letter that one member of the committee, Senator Mark Udall, sent the White House on Tuesday. Its claims are jaw-dropping. Senator Udall wants the torture report released to the public as fully and quickly as possible. He is also interested in a separate CIA report about torture of prisoners. His letter makes all of the following charges: Lots of information already given to the public about the CIA's torture program, its management, and its effectiveness "is misleading and inaccurate." The Obama Administration itself has declassified and publicly released torture information that "contains inaccurate characterizations of CIA programs." The CIA's internal review of its torture program contradicts what it told the oversight committee. The CIA is erecting "impediments and obstacles" to its overseers. Finally, and perhaps most alarmingly, Udall cryptically writes to Obama, "As you are aware, the CIA has recently taken unprecedented action against the Committee in relation to the internal CIA review, and I find these actions to be incredibly troubling for the Committee's oversight responsibilities and for our democracy."



Reuters


World powers responsible for failing to stop Syria war crimes: U.N.


The world yawns as atrocities continue in Syria


All sides in Syria's civil war are using shelling and siege tactics to punish civilians and big powers bear responsibility for allowing such war crimes to persist, U.N. human rights investigators said on Wednesday. In their latest report documenting atrocities in Syria, they called again on the U.N. Security Council to refer grave violations of the rules of war to the International Criminal Court (ICC) for prosecution. Divided world powers have supported both sides in Syria's three-year-old conflict and a diplomatic deadlock has exacerbated the bloodshed. The independent investigators, led by Brazilian expert Paulo Pinheiro, said that fighters and their commanders may be held accountable for crimes, but also states which transfer weapons to Syria. Syrian government forces under President Bashar al-Assad have besieged towns including the Old City of Homs, shelling relentlessly and depriving them of food as part of a "starvation until submission" campaign, the report said. It said the Syrian air force had dropped barrel bombs on Aleppo with "shocking intensity", killing hundreds of civilians and injuring many more. Insurgents fighting to topple Assad, especially foreign Islamic fighters including the al-Qaeda affiliated ISIS, have stepped up attacks on civilians, taken hostages, executed prisoners and set off car bombs to spread terror, it said. The 75-page report, covering July 15-January 20, is the seventh by the United Nations since the inquiry was set up in September 2011, six months after the anti-Assad revolt began.



Daily News


Business leaders to America - we got ours so screw you
CEOs are being paid more — a lot more — and the gap is widening
"We're in the money. We're in the money. We've got a lot of what it takes to get along!" That line from the Broadway musical "42nd Street" could well describe the mood of the world's richest people. But it certainly wouldn't
resonate with many others, and a recent report shows why. Oxfam International's study, "Working for the Few," reveals that the 85 richest people have as much wealth as the bottom half of the world's population. Donald Bren, chairman of the Irvine Co. and the wealthiest real estate developer in the U.S., is among those 85, according to Forbes magazine's latest ranking of the world's billionaires. The Newport Beach resident is ranked the 69th richest person in the world, with a net worth of $14.4 billion. He is tied at No. 69 with Ray Dalio, a hedge fund manager from Greenwich, Conn. The ranking was released Monday. Other notable billionaires living in Southern California include Patrick Soon-Shiong (No. 122), a Los Angeles pharmaceutical entrepreneur with a net worth of $10 billion (he's tied with hedge fund manager David Tepper); Los Angeles entrepreneur Elon Musk (No. 158), founder of Tesla Motors and SpaceX, with a net worth $8.4 billion (Musk is tied with Hong Kong real estate developer Joseph Lau); and Edward Roski Jr. (No. 466), president and chairman of Majestic Realty Co. in Industry, with a net worth of $3.4 billion. Roski is tied at No. 466 with 16 other billionaires including Hollywood director Steven Spielberg. The pay disparity that separates these extremely wealthy people from virtually everyone else has carried over into corporate America. The gap between what CEOs and rank-and-file workers at large corporations earn is big enough to fly a fleet of Boeing 747s through. Nearly four years after Congress ordered public companies to reveal their CEO-to-worker pay ratios under the Dodd-Frank Act, the numbers still aren't public. But some general calculations have been made that clearly show a widening pay discrepancy.



Los Angeles Times


Whack-jobs with guns: Nearly 1 in 5 had mental illness before enlisting in Army


The study raises questions about the military's screening of recruits


Nearly 1 in 5 U.S. soldiers had a common mental illness, such as depression, panic disorder or ADHD, before enlisting in the Army, according to a new study that raises questions about the military's assessment and screening of recruits. More than 8% of soldiers had thought about killing themselves and 1.1% had a past suicide attempt, researchers found from confidential surveys and interviews with 5,428 soldiers at Army installations across the country. The findings, published online Monday in two papers in JAMA Psychiatry, point to a weakness in the recruiting process, experts said. Applicants are asked about their psychiatric histories, and those with certain disorders or past suicide attempts are generally barred from service. "The question becomes, 'How did these guys get in the Army?'" said Ronald Kessler, a Harvard University sociologist who led one of the studies.



Reuters


Ukraine mobilizes after Putin's 'declaration of war'
Ukraine mobilized for war on Sunday, after Russian President Vladimir Putin declared he had the right to invade, creating the biggest confrontation between Moscow and the West since the Cold War. Putin obtained permission from his parliament on Saturday to use military force to protect Russian citizens in Ukraine, spurning Western pleas not intervene. Russian forces have already bloodlessly seized Crimea - an isolated Black Sea
peninsula where Moscow has a naval base. On Sunday they surrounded several small Ukrainian military outposts there and demanded the Ukrainian troops disarm. Some refused, although no shots were fired. Russia has staged war games with 150,000 troops along the land border, but so far they have not crossed. However, pro-Russian demonstrators have marched in the east of the country and have raised Russian flags over government buildings in several cities, in what Kiev says is a move orchestrated by Moscow to justify a wider invasion. Ukraine's security council ordered the general staff to immediately put all armed forces on highest alert, the council's secretary Andriy Parubiy announced. The Defense Ministry was ordered to conduct a call-up of reserves - theoretically all men up to 40 in a country with universal male conscription, though Ukraine would struggle to find extra guns or uniforms for significant numbers of them. Putin's declaration that he has the right to invade his neighbor - for which he quickly received the unanimous approval of his senate - brought the prospect of war to a country of 46 million people on the ramparts of central Europe. Ukraine's tiny armed forces would be no match against the might of its superpower neighbor. Britain's International Institute of Strategic Studies estimates Kiev has fewer than 130,000 troops under arms, with planes barely ready to fly and few spare parts for a single submarine. Russia, by contrast, has spent billions under Putin to upgrade and modernize the capabilities of forces that were dilapidated after the breakup of the Soviet Union. Moscow's special units are now seen as equals of the best in the world.


Associated Press
Kerry's hollow threat unlikely to stop Putin


Secretary of State's remarks about Ukraine demonstrate just how weak US foreign policy is


Secretary of State John Kerry calls Russia's military incursion into Ukraine `an incredible act of aggression" and says President Vladimir Putin has made "a stunning, willful" choice to invade another country. Kerry says Russia should respect the democratic process through which the Ukrainian people ousted their pro-Russian president and assembled a new government. Kerry is raising the possibility of boycotting the June meeting of the Group of Eight leading industrialized countries in Sochi, Russia. He's also discussing visa bans, asset freezes, and trade and investment penalties. Kerry said he spoke with foreign ministers for G-8 and other nations on Saturday, and says everyone is prepared "to go to the hilt" to isolate Russia. President Barack Obama and his Russian counterpart, President Vladimir Putin, strongly disagree over what's at stake in the Ukraine crisis. Those differing views were made clear in a 90-minute phone call and could make it difficult to find a resolution to the crisis in Ukraine. In the Saturday call, Obama called Russia's actions "a clear violation of Ukrainian sovereignty" and called for Russia to pull its forces back to bases in Ukraine's Crimean region and de-escalate tensions. President Putin responded that the turmoil in Ukraine posed real threats to the life and health of Russian citizens living in Ukraine and that Russia has the right to protect them.



Mercury News


Look up: The commercial drone market is about to take off
As the Federal Aviation Administration prepares new guidelines for the use of unmanned aerial vehicles, or UAVs, an entire industry-in-the-making is champing at the bit to start using drones for commercial ventures, from selling real estate to dusting crops to baby-sitting oil rigs. "This market's going to be huge," said Ken Loo, a Sunnyvale mechanical engineer who used a 3-D printer to create his own UAV and hopes to one day become a drone consultant. "The possibilities are endless; I know so many people getting into this field now so that they can pounce once the FAA comes up with its rules." And there's the rub. With laws essentially banning the commercial use of drones in this country, the FAA is negotiating a political and technical minefield to figure out how to regulate this booming and controversial technology, with a resolution expected as early as this year. Until then, UAV businesses in the United States either must sell their services to clients in foreign countries -- such as Australia, where the rules are more lax -- or spin their wheels, fine-tuning their products until this great tech land rush finally gets underway.


Wall Street Journal


Putin to the West: Russia will decide the fate of the Crimea
Russia Extends Reach in Crimea with Calls for Troops in Ukrainian Region
Russian President Vladimir Putin moved to officially deploy Russian troops in Ukraine Saturday, defying warnings not to intervene issued a day earlier by his U.S. and other western counterparts. Though a major escalation in the openness of Russia's commitment, Saturday's move comes as Russian troops and their local allies have already largely taken control of Crimea, a restive province of Ukraine that belonged to Russia until 1954 and remains predominantly pro-Russian. Heavily armed troops, many from Russia's Black Sea Fleet, which is based in the Crimean port of Sevastopol, surrounded key facilities across the region in the last day. The newly installed pro-Russian leader of Crimea Saturday formally asked Russia to deploy its troops to help secure the region. Sergei Aksyonov, who was appointed prime minster of Crimea after armed men took over the regional parliament this week, said troops from Russia's Black Sea Fleet are guarding vital facilities in the region and helping with patrols to ensure public order. Mr. Aksyonov, who is pro-Russian, said he was taking command of the peninsula's police and army. Russia's Foreign Ministry on Saturday accused the government in Kiev of trying to destabilize the region and directing gunmen to capture Crimea's ministry of internal affairs building overnight. It said the attack, which couldn't be verified, was averted with "decisive action."A top Russian official said the country might send a "limited contingent" of additional military forces to Crimea to protect its citizens and Black Sea Fleet there. Limited contingent is a phrase with special significance in Russia, since it was the term the Soviet government used when it sent troops into Afghanistan in 1979.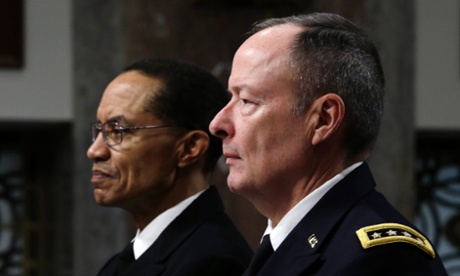 The Guardian


A "breathtaking lack of respect for privacy and civil liberties"


Senators to investigate NSA role in GCHQ 'Optic Nerve' webcam spying


Wyden, Udall and Heinrich are planning to investigate any role the National Security Agency played in its British partner's mass collection of Yahoo webcam images


Reacting to the Guardian's revelation on Thursday that UK surveillance agency GCHQ swept up millions of Yahoo users' webcam chats, senators Ron Wyden, Mark Udall and Martin Heinrich said in a joint statement that "any involvement of US agencies in the alleged activities reported today will need to be closely scrutinized". The senators described the interception as a "breathtaking lack of respect for privacy and civil liberties". On Friday, the Internet Association – a trade body representing internet giants including Google, Amazon, eBay, Netflix, AOL and Twitter – joined the chorus of condemnation, issuing a statement expressing alarm at the latest GCHQ revelations, and calling for reform. According to documents provided to the Guardian by NSA whistleblower Edward Snowden, the GCHQ program codenamed Optic Nerve fed screengrabs of webcam chats and associated metadata into NSA tools such as Xkeyscore. NSA research, the documents indicate, also contributed to the creation of Optic Nerve, which attempted to use facial recognition technology to identify intelligence targets, particularly those using multiple anonymous internet IDs. Neither NSA nor GCHQ addressed the Guardian's questions about US access to the images themselves. Outgoing NSA director Keith Alexander walked away from a reporter on Thursday who asked the army four-star general about the NSA's role in Optic Nerve. Wyden, Udall and Heinrich are all members of the Senate intelligence committee. They said they were "extremely troubled" by Optic Nerve and planned to investigate it during the committee's announced omnibus inquiry into the scope of US surveillance activities revealed over the nine months since the Guardian and other news outlets began reporting the Snowden disclosures.


Washington Post
Deputy mayor says fire cadet who failed to help dying man had appropriate training


Feckless firefighters leave heart attack victim to die, then blame everybody else for screwing up


A newly hired D.C. firefighter who failed to help a dying man last month was properly trained, the District's deputy mayor for public safety said Friday, countering the cadet's assertion he didn't know what to do when people sought help at his fire station. The deputy mayor, Paul A. Quander Jr., said the rookie — along with others in the station that day — should have known he could have responded. "He may have been under extreme pressure when things were happening," Quander said. The mistreatment of 77-year-old Medric Cecil Mills Jr. has become the latest incident to dog a fire department reeling from a year of missteps over getting help quickly to patients. It has raised questions over training and prompted critics, including the firefighters union and two council members, to label the department an institutional failure while calling for the ouster of Fire Chief Kenneth B. Ellerbe. The deputy mayor puts the blame on five firefighters with Truck 15, calling Mills's death a failure of individual moral character. Quander said that if the cadet, 19-year-old Remy Jones, was, indeed, ignorant about what was expected of him, it means the lieutenant in charge of the firehouse failed her duties as well. He said cadets are on probation for 18 months because they need be able to handle life-and-death emergencies "without thinking, but knowing what to do when the pressure comes." Jones, who was at the station's watch desk Jan. 25, turned away at least two bystanders who sought help for Mills when he collapsed from a heart attack across the street from a fire station on Rhode Island Avenue in Northeast Washington. Mills died at a hospital. A report issued last week by the fire department said Jones told people that he could not respond until someone called 911. The report said he twice requested help from the lieutenant in charge, but she did not respond to announcements made over the intercom. Jones did tell another firefighter, who passed the request on to the lieutenant, but no effort was made to respond, the report said. Instead, a firefighter retired to his bunk to study for a promotional exam, the report concluded. Compounding the mistakes, a fire engine and ambulance that were eventually dispatched were sent to the wrong address, in Northwest Washington instead of Northeast. A 911 tape indicates a caller correcting an operator, but her note never got through to the dispatcher. Mills got help only after a D.C. police officer flagged down a passing ambulance.

The Telegraph
Ukraine pleads for Britain and US to come to its rescue as Russia accused of 'invasion'
Deeply worried politicians inside Ukraine's parliament have pleaded with Britain and the United States to come to their rescue, after Russia was accused of launching a series of raids in the Crimea region. The two Western
powers signed an agreement with Ukraine in 1994, which Kiev's parliament wants enforcing now. The Budapest Memorandum, signed by Bill Clinton, John Major, Boris Yeltsin and Leonid Kuchma – the then-rulers of the USA, UK, Russia and Ukraine – promises to uphold the territorial integrity of Ukraine, in return for Ukraine giving up its nuclear weapons. And Kiev is now claiming that their country's borders are not being respected. Oleksandr Turchynov, the interim president, also told agitated MPs on Friday morning that he was convening the country's security and defence chiefs for an emergency meeting over the unfolding crisis. Arsen Avakov, who was named interior minister on Thursday, said that the international airport in Sebastopol had been blocked by Russian forces. Sebastopol has for the past 230 years been home to Russia's Black Sea fleet – a key strategic hub for Moscow, as ships and submarines based there are just north of Turkey and can reach the Mediterranean to influence the Middle East and the Balkans. Mr Avakov said Russia's actions amounted to "a military invasion and occupation". Moscow has not commented on the accusations that it is fomenting the rising tensions in Crimea.


MCV


The revelation is a nightmare for Microsoft


GCHQ identified Xbox camera as possible snooping tool
Xbox 360's Kinect camera was identified by British spy agency GCHQ as a possible tool for snooping on the public. As part of new documents revealing that webcam images of Yahoo users have been captured by governments, The Guardian also reveals that one of GCHQ's presentations "discusses with interest the potential and capabilities of the Xbox 360's Kinect camera, saying it generated 'fairly normal webcam traffic' and was being evaluated as part of a wider program". The plans were part of a surveillance program entitled Optic Nerve that worked to capture imagery of internet users via in-built hardware camera tech. It is not yet known whether GCHQ actually recorded and stored images captured via Kinect The revelation is a nightmare for Microsoft, which has already had to fight against the security backlash that erupted when it transpired that Xbox One would ship with a new always-on Kinect camera. "Microsoft has never heard of this program," a spokesperson told MCV. "However, we're concerned about any reports of governments surreptitiously collecting private customer data. That's why in December we initiated a broad effort to expand encryption across our services and are advocating for legal reforms."



The Hill


Dem senators push IRS to cap political activity
A group of Democratic senators urged the Obama administration on Thursday to cap the amount of political activity that tax-exempt 501(c)(4) groups can engage in at 5 to 15 percent. The 15 senators, in public comments on a proposed regulation change that grew out of the IRS targeting controversy, said that the rules need to ensure that 501(c)(4)s can't use their tax-exempt status to go around campaign finance rules. "You will undoubtedly receive complaints from certain corners that these proposed rules will infringe on First Amendment speech rights," Sens. Charles Schumer (D-N.Y.), Sheldon Whitehouse (D-R.I.) and the other senators wrote to the Treasury Department and the IRS. "Such complaints are without merit: these rules would not restrict anyone's right to speak, or to spend money to influence elections," the senators added. "If implemented properly, the rules will only close a loophole that has until now allowed donors to evade campaign finance law disclosure requirements." Treasury and the IRS rolled out the new rules last November, months after the IRS acknowledged and apologized for singling out Tea Party groups. The public comment period on the regulations ends Thursday, with more than 120,000 comments having already been lodged. Top Republicans have said that the new rules would infringe on First Amendment rights by essentially codifying the IRS's extra scrutiny of conservative groups. The proposed regulations would apply to tax-exempt groups across the ideological spectrum. Tea Party groups are coming out hard against the proposed rules, and are fighting alongside the nation's largest business lobby. The U.S. Chamber of Commerce on Thursday raised a slew of objections, arguing the administration is seeking to create a "no speech zone" through "breathtaking overreach." "This unworkable proposal demonstrates the obvious: the IRS has neither the expertise nor the authority to regulate First Amendment political speech, and should not be used by the administration for political ends," said Lily Fu Claffee, the Chamber's general counsel and chief legal officer.


New York Times
Mt. Gox Files for Bankruptcy
Mt. Gox, the troubled exchange for the virtual currency Bitcoin, filed for bankruptcy protection on Friday and said that it might have lost 750,000 of its customers' coins, essentially all of them, in a hacking attack. The Tokyo-based exchange, which warned this month of a software flaw that may have allowed hackers to defraud it of Bitcoins, had halted all trading this week. Mark Karpeles, the company's chief executive, wearing a suit instead of his usual T-shirt, bowed in contrition and apologized in Japanese at a press conference in Tokyo. "There were weaknesses in the system," he said. "I'm truly sorry to have caused inconvenience." He said that the exchange had most likely lost 750,000 of its customers' Bitcoin holdings and more than 100,000 of its own coins, or more than $450 million worth. Mt. Gox had said on its website on Wednesday that it was still "working very hard" toward a resolution. Investors in the exchange had said they did not expect to recover their money stashed on the Mt. Gox platform, which once accounted for four-fifths of the world's Bitcoin trading. But Mt. Gox's bankruptcy, filed with the Tokyo District Court under Japan's Civil Rehabilitation Law, which is similar to Chapter 11 in the United States, will mean that a bankruptcy supervisor is set to develop a restructuring plan, and will also be responsible for handling any payment of claim distributions to its creditors. That process could take form several months to several years.



New York Times


Spy Rats looking at naked pictures of you!
British Spies Said to Have Intercepted Yahoo Webcam Images
A British intelligence agency collected video webcam images — many of them sexually explicit — from millions of Yahoo users, regardless of whether they were suspected of illegal activity, according to accounts of documents leaked by Edward J. Snowden. The surveillance effort operated by Britain's Government Communications Headquarters, or GCHQ, was code-named Optic Nerve. Images from Yahoo webcam chats were captured in bulk through the agency's fiber-optic cable taps and saved to a GCHQ database, where they could be queried by search tool provided by the National Security Agency called XKeyscore, according to a report on Thursday by The Guardian. The report did not indicate whether the agency also collected webcam images from similar services, such as Google Hangouts or Microsoft's Skype. The Guardian did say the British intelligence agency was studying the possibilities of using the cameras in Microsoft's Kinect devices, which are used with its Xbox game consoles, to spy on users. Microsoft had no immediate comment on the report. Yahoo, which was named in GCHQ documents, said in a statement on Thursday that it was not aware of the program and expressed outrage at published reports. "This report, if true, represents a whole new level of violation of our users' privacy that is completely unacceptable and we strongly call on the world's governments to reform surveillance law consistent with the principles we outlined in December," the company said in a statement. "We are committed to preserving our users' trust and security and continue our efforts to expand encryption across all of our services."


New York Times
Arizona Bill Allowing Refusal of Service to Gays Stirred Alarm in the G.O.P.
When Gov. Rick Scott of Florida was asked early Wednesday whether he supported Arizona legislation that would make it easier for business owners to refuse service to gay people on religious grounds, he demurred, saying he was unfamiliar with the bill. By afternoon, his office issued a statement saying the measure was divisive and should be vetoed. With that, Mr. Scott joined a contingent of establishment Republicans — among them, Mitt Romney, the party's presidential standard-bearer in 2012, and Gov. Jan Brewer of Arizona — who are vocal opponents of same-sex marriage but came out against a bill that had become a rallying point among conservatives in the Arizona State House and across the country. Ms. Brewer vetoed the measure. The decision by members of the Republican establishment to join gay activists in opposing the bill reflected the alarm the Arizona battle stirred among party leaders, who worried about identifying their party with polarizing social issues at a time when Republicans see the prospect of big gains in Congressional elections on economic issues.



New York Times


Federal Judge Strikes Down Texas' Ban on Same-Sex Marriage
A federal judge in Texas struck down the state's ban on same-sex marriage on Wednesday, ruling that the laws restricting marriage to a man and a woman violated the United States Constitution and handing gay-rights advocates a major legal victory in one of the nation's biggest and most conservative states. The judge wrote that the amendment to the state Constitution that Texas voters approved in 2005 defining marriage as between a man and a woman — and two similar laws passed in 1997 and 2003 — denied gay couples the right to marry and demeaned their dignity "for no legitimate reason." "Without a rational relation to a legitimate governmental purpose, state-imposed inequality can find no refuge in our United States Constitution," wrote Judge Orlando L. Garcia of United States District Court for the Western District of Texas, in San Antonio. While significant, Judge Garcia's ruling will have no immediate effect on gay and lesbian couples wishing to marry in Texas. The judge issued a stay on his decision while the state appealed to the United States Court of Appeals for the Fifth Circuit, in New Orleans.


Los Angeles Times


Killer cops patrolling the border - they make up reasons to murder people


Border Patrol's use of deadly force criticized in report
Border Patrol agents have deliberately stepped in the path of cars apparently to justify shooting at the drivers and have fired in frustration at people throwing rocks from the Mexican side of the border, according to an independent review of 67 cases that resulted in 19 deaths. The report by law enforcement experts criticized the Border Patrol for "lack of diligence" in investigating U.S. agents who had fired their weapons. It also said it was unclear whether the agency "consistently and thoroughly reviews" use-of-deadly-force incidents. U.S. Customs and Border Protection, which had commissioned the review, has tried to prevent the scathing 21-page report from coming to light. House and Senate oversight committees requested copies last fall but received only a summary that omitted the most controversial findings — that some border agents stood in front of moving vehicles as a pretext to open fire and that agents could have moved away from rock throwers instead of shooting at them. The Times obtained the full report and the agency's internal response, which runs 23 pages. The response rejects the two major recommendations: barring border agents from shooting at vehicles unless its occupants are trying to kill them, and barring agents from shooting people who throw things that can't cause serious physical injury.


Los Angeles Times
Google ordered to take anti-Muslim video off its platforms
In a ruling that a dissenting judge called "unprecedented," a federal appeals court ordered Google Inc. on Wednesday to take down an anti-Muslim video that an actress said forced her to leave her home because of death threats. Google said it would appeal the ruling, but removed the video, "Innocence of Muslims," from YouTube and other platforms. The video has incited violent Muslim protests and has been banned by several Muslim countries. The 2 to 1 decision by the 9th U.S. Circuit Court of Appeals said the actress who appeared in the film never consented to being in it and her performance may be protected by copyright law. "While answering a casting call for a low-budget amateur film doesn't often lead to stardom, it also rarely turns an aspiring actress into the subject of a fatwa," Chief Judge Alex Kozinski wrote for the majority. "But that's exactly what happened to Cindy Lee Garcia when she agreed to act in a film with the working title 'Desert Warrior.' " "Desert Warrior," which was supposed to be an adventure film, never materialized. But the performance Garcia gave for it was included in "Innocence of Muslims." Garcia said her voice was dubbed over to make an anti-Muslim remark, and she has had to hide because of continuing threats on her life.



Reuters


Putin puts Russian troops on alert
Russian president makes it clear to the world he'll decide what happens in Ukraine
President Vladimir Putin put Russian combat troops on high alert for a drill on Wednesday, the Kremlin's most powerful gesture yet after days of sabre rattling since its ally Viktor Yanukovich was toppled as president of
Ukraine. Thousands of ethnic Russians, who form the majority in Ukraine's Crimea region, demonstrated for independence for the peninsula that hosts part of Moscow's Black Sea Fleet. They scuffled with rival demonstrators, mainly from the Tatar minority, who support the new authorities in Kiev. With the political turmoil hammering Ukraine's economy, the hryvnia currency tumbled 4 percent on Wednesday, with ripples spreading to Russia where the rouble fell to five-year lows and bank shares took a hit. Ukraine's central bank, which has been rapidly burning its hard currency reserves to protect the hryvnia, said it has abandoned a managed exchange rate policy in favor of a flexible currency, a senior official told CNBC TV. Moscow also denounced what it described as the rise of "nationalist and neo-fascist sentiment" in the country's mainly Ukrainian-speaking western areas, where it said Russian speakers were being deprived of rights. It has repeatedly expressed concern for the safety of Russian citizens in Ukraine. "In accordance with an order from the president of the Russian Federation, forces of the Western Military District were put on alert at 1400 (0500 ET) today," Interfax news agency quoted Russian Defence Minister Sergei Shoigu as saying.



Bloomberg News


Delta Joining Apple as Opposition to Anti-Gay Law Increases
Delta, Marriott International Inc., Apple (AAPL:US) Inc. and American Airlines Group Inc. (AAL:US) are among several U.S. corporations that have urged Arizona Governor Jan Brewer to veto a bill allowing businesses to refuse service to gays and lesbians on religious grounds. The companies all said the law, if enacted, would run counter to their internal policies aimed at ensuring an equal workplace. They also said the law could prompt companies to relocate outside Arizona, which is already struggling economically. After years of not taking a stand on social issues, hundreds of large corporations joined the fray by signing a brief last year in favor of overturning the 1996 federal Defense of Marriage Act. In Indiana, Eli Lilly & Co. and Cummins Inc. donated $100,000 apiece to a campaign opposed to a proposed amendment banning gay unions. With Americans' attitudes toward gays and same-sex marriage changing rapidly, companies are determined not to alienate paying customers or end up on the wrong side of history. "It is exceedingly difficult for us to sell Arizona as a destination against a backdrop of negative attention suggesting certain travelers or conference attendees would not be welcome here -- as a matter of law," Steve Hart, Marriott's Arizona area vice president, said in a letter to Brewer. Companies' growing activism has put on notice a handful of other states including Kansas, Ohio and Missouri looking to enact legislation similar to the Arizona measure. Increasingly, companies prefer to do business in states where the law doesn't conflict with non-discrimination policies seen as crucial to attracting talented workers. Eighty-eight percent of Fortune 500 companies have policies that prohibit discrimination on the basis of sexual orientation and 62 percent provide domestic partner health insurance to their employees, according to the Human Rights Campaign, a gay-rights advocacy group based in Washington. The National Organization for Marriage, a conservative group based in Washington, has sent e-mails to members in Kansas and Arizona urging them to contact their legislators and let them know they support the bills being proposed there.


Wall Street Journal


Putin Cashes In Again: EU, U.S. Rush to Stabilize Ukraine After Ouster
The Obama administration worked Sunday with the European Union to forge a much-needed financial bailout of Ukraine, but also extended an olive branch to Russia by inviting it to join the effort. The U.S. response to the removal of Ukrainian President Viktor Yanukovych drove home the delicate balance the White House is seeking to strike as it tries to cement Ukraine's future with the West without provoking a Russian intervention in a country it has long considered a strategic ally. Although the Ukrainian opposition's success in ousting Mr. Yanukovych suggests the West has gained the upper hand for now, the West has studiously avoided a declaration of victory out of recognition that doing so could fuel Russian President Vladimir Putin's determination to bring about a reversal. Mr. Obama and other senior U.S. officials held extensive discussions with Mr. Putin and his top aides over the weekend in an effort to support a peaceful political transition away from Mr. Yanukovych, a close Putin ally, according to senior administration officials. U.S. officials, in particular, sought to work with Moscow to fashion a multibillion-dollar International Monetary Fund rescue package for Ukraine. European governments, in joining the U.S. in responding to the fast-moving events in Ukraine, revived plans to offer a large aid package to the country, but continued to insist funds would come only with pledges of a major economic overhaul.


Reuters


America's nation building in Iraq a windfall for Iran


Iraq signs deal to buy arms, ammunition from Iran
Iran has signed a deal to sell Iraq arms and ammunition worth $195 million - a move that would break a U.N. embargo on weapons sales by Tehran. The agreement was reached at the end of November, documents showed, just weeks after Iraq's Prime Minister Nouri al-Maliki returned from Washington, where he lobbied the Obama administration for extra weapons to fight al Qaeda-linked militants. Some in Washington are nervous about providing sensitive U.S. military equipment to a country they worry is becoming too close to Iran. Several Iraqi lawmakers said Maliki had made the deal because he was fed up with delays to U.S. arms deliveries. A spokesman for the Iraqi prime minister would not confirm or deny the sale, but said such a deal would be understandable given Iraq's current security troubles. The Iranian government denied any knowledge of a deal to sell arms to Iraq. It would be the first official arms deal between Shi'ite Iran and Iraq's Shi'ite-led government and highlight the growing bond between them in the two years since the departure of U.S. troops from Iraq. One U.S. official, told of Reuters' findings, said such a deal could further complicate Washington's approach to negotiating with Iran on easing international sanctions over its nuclear program, which the West suspects is aimed at producing bombs. Iran says its aims are purely peaceful. "If true, this would raise serious concerns," the U.S. official said. "Any transfer of arms from Iran to a third country is in direct violation of Iran's obligations under UNSCR 1747." The official documents seen by Reuters showed that six of eight contracts were signed with Iran's Defense Industries Organization to supply Iraq with light and medium arms, mortar launchers, ammunition for tanks as well as artillery and mortars. A final two contracts were agreed to with the state-owned Iran Electronic Industries for night vision goggles, communications equipment and mortar guiding devices.


Daily News
Christie lays low during National Governors Association meeting in D.C.
Chris Christie stayed out of the limelight during a D.C. gathering of governors this weekend, giving ambitious Republicans a chance to nab some attention in his stead. State leaders flocked to the nation's capital Friday for the winter National Governors Association meeting - and though Christie heads the Republican Governors Association, he and his wife, Mary Pat, kept to themselves. He attended closed door RGA meetings and NGA sessions but skipped the NGA opening press conference on Saturday and did not join fellow governors at a black tie White House affair Sunday night. He will not attend the RGA's meeting with Obama on Monday. He returned home Sunday for his daughter's 18th birthday party and will spend Monday in New Jersey to prepare for a budget address Tuesday. In his place, Republicans like Gov. Bobby Jindal (Louisiana) and Gov. Rick Perry (Texas) were among the GOP leaders soaking up the spotlight on the Sunday morning shows. After the group meets with the President on Monday, the RGA will hold a press conference with Jindal, RGA's vice chairman, Gov. Nikki Haley (South Carolina), Gov. Bill Haslam (Tennessee) and Gov. Perry speaking on behalf of the organization.



Bay Guardian


Big Brother meeting in San Francisco....
Speakers boycotting security conference to protest collaboration with NSA
On Feb. 24, the world's largest computer security conference, RSA, will commence at San Francisco's Moscone Center. It's a huge deal: Speakers will include Former U.S. Secretary of State Condoleezza Rice, and closing remarks will be given by comedian Stephen Colbert. Started in 1991, the RSA Conference has grown exponentially. But this year, 13 digital security
experts have canceled their scheduled talks in protest of recent revelations that RSA cooperated with the National Security Agency to use a flawed tool for safeguarding sensitive information. Speakers who are boycotting include technology experts from Google and various security firms. They're concerned about allegations that RSA, a pioneer in the security software industry, agreed to incorporate a flawed encryption formula into a widely used security product in accordance with a secret $10 million NSA contract. "In my opinion, RSA has a serious trust issue," said Jeffrey Carr, CEO of a security firm called Taia Global Inc. and one of the speakers who has decided to cancel his talk and boycott the conference. "I think they'll just let it die down. There's been little uproar, even among the security people," he added. Carr authored a blog post explaining his decision. He also organized a "town hall" debate, part of an event series called Suits and Spooks, to be held at the Ritz Carlton in San Francisco on Feb. 27 featuring commentary from security industry representatives as well as insiders from the national intelligence community. RSA used the encryption algorithm as a default for its security products, meaning users would have had to actively switch to a different formula to avoid exposure to the security threat. According to a Reuters article published in December, the NSA arranged the contract as part of a campaign to embed breakable encryption software into security products that are widely used to safeguard personal devices. Previous reporting by the New York Times, based on documents leaked by former NSA contractor Edward Snowden, showed that the NSA had generated the weak encryption formula to create a "backdoor."



The Hill


Heritage attacks 'friends of big business'
Schism between business and conservative groups is now playing out on the campaign trail
Another shot has been fired in the war between business and conservative groups — this time by the Heritage Foundation. On Thursday, Genevieve Wood, a senior contributor to The Foundry, the conservative think tank's blog, aired a litany of complaints against the U.S. Chamber of Commerce and other prominent trade associations. "Increasingly, the Chamber and the
Business Roundtable are proving to be friends first of big business, not struggling American workers or would-be entrepreneurs. From the Gang of Eight Amnesty bill to the failed stimulus, to subsidies for Solyndra-style green energy programs, the Chamber and others in the business lobbying community increasingly support legislation that does those very things," Wood wrote. Wood questioned the wisdom behind businesses' support for immigration reform, President Obama's stimulus package, an Internet sales tax bill and reauthorization of the U.S. Export-Import Bank's charter. Business groups brushed off the criticism from Heritage and said they have more pressing issues to deal with. "We don't have a reaction. We're focused on the important work ahead," said Blair Latoff Holmes, a Chamber spokeswoman. In the blog post, the Heritage official also charged that business groups are no longer working to repeal the Affordable Care Act but are instead trying to manage the law's new rules. "What about one of the largest invasions into the private sector in the country's history, the Affordable Care Act, aka Obamacare? Who is fighting the good fight there? The Business Roundtable? The Chamber? No, if recent statements by the heads of both are any indicator, they have given up," Wood wrote. Heritage and other conservative-leaning groups have taken their knocks from GOP leaders in Congress. In December, Speaker John Boehner (R-Ohio) said organizations like Heritage Action had "lost all credibility" after opposing Rep. Paul Ryan (R-Wis.) and Sen. Patty Murray's (D-Wash.) budget proposal before it was released. That move won plaudits from business groups, who cheered Boehner.


Houston Chronicle


Idiot Republican Ted Nugent in the news again...
Perry condemns Ted Nugent's remark about Obama
Texas Gov. Rick Perry on Thursday condemned inflammatory remarks by Ted Nugent that resurfaced when the outspoken rocker this week joined Republican Greg Abbott's gubernatorial campaign. Nugent was quoted in an interview with Guns.com last month as calling President Barack Obama a "subhuman mongrel." He appeared with Abbott during two campaign stops Tuesday, a decision that Democratic opponent Wendy Davis called "repulsive." Perry said on CNN's "Situation Room" that Nugent making outrageous comments shouldn't surprise anyone. But he condemned his language about Obama. "I got a problem calling the president a mongrel. I do have a problem with that," said Perry, who is not running for re-election. "That is an inappropriate thing to say." Perry spokesman Lucy Nashed told The Associated Press that his comments on the program speak for themselves. She said Perry was not available for an interview. Abbott this week sidestepped questions about some of Nugent's most divisive comments in the past, including Nugent suggesting that immigrants who aren't in the country legally should be treated like "indentured servants" until they earn citizenship.


Politico
Stockman proves to be to stupid for even the Tea Party
Tea party activists hoped to oust Texas Sen. John Cornyn this year in an early-March contest that could have burnished their credibility heading into the midterms. Instead, Cornyn's best-known challenger, Rep. Steve Stockman, has gone missing on the campaign trail, dogged by unflattering stories about his past and his ethics. It's a disappointment for many national political watchers who had pulled out the popcorn for this race. Stockman has a penchant for making inflammatory statements — one of his bumper stickers read: "If babies had guns they wouldn't be aborted." In December, he tweeted a picture of a can of "liberal tears," calling it the "best gun lubricant around." While that kind of rhetoric resonates with a corner of the GOP base, establishment Republicans trying to avoid intraparty warfare are relieved to see Stockman's campaign founder. And as Cornyn sails toward the nomination and back to the Senate, even the most ardent Texas tea party activists are distancing themselves from the firebrand congressman — and wishing he would quit saying he's one of them. Tea party leaders say there are other candidates who show promise in the seven-way primary contest, set for March 4. But they acknowledge it's unlikely that any of the contenders could topple Cornyn — though they are hoping for the long-shot prospect of a runoff. Cornyn is well-funded and has strong name recognition in the massive Lone Star State, a place with 20 media markets, where running statewide is astronomically expensive. The senator also has a team with close ties to conservative activists, and he has made overtures to the grass roots as well.



Arizona Republic


Arizona Legislature approves "right to discriminate" bill
The Legislature has given final approval to a controversial religion bill that's spurring intense debate at the Legislature and across the country. The legislation, written by the conservative advocacy group Center for Arizona Policy and the Christian legal organization Alliance Defending Freedom, would allow individuals to use religious beliefs as a defense against a lawsuit. Opponents have dubbed it the "right to discriminate" bill, and say it could prompt an economic backlash against the state, similar to what they say occurred when the state passed the controversial immigration law Senate Bill 1070 in 2010. Proponents argue the bill is simply a tweak to existing state religious freedom laws to better assure individuals and businesses are not forced to do something that goes against their beliefs. The bill will be sent to Gov. Jan Brewer, who has five days to sign it into law, veto the bill or do nothing and allow it to become law. Specifically, the legislation proposes to: Expand the state's definition of the exercise of religion to include both the practice and observance of religion; Allow someone to assert a legal claim of free exercise of religion regardless of whether the government is a party to the proceedings; Expand those protected under the state's free exercise of religion law to "any individual, association, partnership, corporation, church, religious assembly or institution or other business organization."


Reuters
China urges Obama to cancel meeting with Dalai Lama


Foreign leaders who meet the Dalai Lama should "pay a price" for it


China urged the United States on Friday to scrap plans for President Barack Obama to meet exiled Tibetan spiritual leader the Dalai Lama later in the day, warning it would "seriously damage" ties between the two countries. The White House National Security Council said Obama would meet the Dalai Lama, a Nobel Peace Prize laureate, at the White House on Friday in a show of concern about China's human rights practices. China calls the Dalai Lama a "wolf in sheep's clothing" who seeks to use violent methods to establish an independent Tibet. The Dalai Lama, who fled to India after a failed uprising in 1959, maintains he only wants genuine autonomy for Tibet and denies advocating violence. "The United States' arrangement for its leader to meet the Dalai would be a gross interference in China's internal affairs and is a serious violation of the norms of international relations," Chinese Foreign Ministry spokeswoman Hua Chunying said in a statement. "It will seriously damage Sino-U.S. relations. We urge the United States to take seriously China's concerns, immediately cancel plans for the U.S. leader to meet the Dalai, do not facilitate and provide a platform for Dalai's anti-China separatist activities in the United States," she added. The announcement comes at a delicate time for Sino-U.S. relations. The United States has expressed concern about China's increasingly assertive behavior in the East China Sea and South China Sea and Obama's U.S. strategic pivot, or rebalancing, toward Asia, is seen as a reaction to the growing clout of China. A senior Chinese official vowed this week to ignore foreign pressure on human rights, and said foreign leaders who meet the Dalai Lama should "pay a price" for it.


Washington Post


Report: Deadly drone strike in Yemen failed to comply with Obama's rules to protect civilians
Drones Gone Wild...the government can't even get killing terrorists right
A U.S. drone strike in December that killed at least a dozen people in Yemen failed to comply with rules imposed by President Obama last year to protect civilians, according to an investigation by a human rights organization released Thursday. The report by Human Rights Watch concluded that the strike, which was carried out by the U.S. military's Joint Special Operations Command, targeted a line of vehicles that were part of a wedding procession, and that evidence indicates "some, if not all those killed and wounded were civilians." The findings contradict assertions by U.S. officials that only militants were killed in the operation, although the report acknowledged that members of al-Qaeda in the Arabian Peninsula, the terrorist network's affiliate in Yemen, may have been among the dead. Overall, Human Rights Watch "found that the operations did not comply with the targeted killing policies that President Obama outlined" in a speech in May, the report said, citing in particular Obama's requirement of "near-certainty" that no civilians would be harmed. The report represents the most detailed independent examination to date of a strike that has focused attention on the administration's struggles to tighten the rules for targeted killing, provide more information about such operations to the public and gradually shift full control of the drone campaign from the CIA to the Pentagon. Caitlin Hayden, a spokeswoman for the National Security Council, declined to comment on the report or the Dec. 12 strike. The investigation by Human Rights Watch, a group that has been consistently critical of the targeted killing program, concluded that the attack killed 12 men, ages 20 to 65, and wounded 15 others, citing accounts from survivors, relatives of the dead, local officials and news media reports.


Washington Post


Government Nazis want to ratchet up spying on law abiding citizens
Homeland Security is seeking a national license plate tracking system
The Department of Homeland Security wants a private company to provide a national license-plate tracking system that would give the agency access to vast amounts of information from commercial and law enforcement tag readers, according to a government proposal that does not specify what privacy safeguards would be put in place. The national license-plate recognition database, which would draw data from readers that scan the tags of every vehicle crossing their paths, would help catch fugitive illegal immigrants, according to a DHS solicitation. But the database could easily contain more than 1 billion records and could be shared with other law enforcement agencies, raising concerns that the movements of ordinary citizens who are under no criminal suspicion could be scrutinized. Civil liberties groups are not assuaged. "Ultimately, you're creating a national database of location information," said Jennifer Lynch, a staff attorney with the Electronic Frontier Foundation. "When all that data is compiled and aggregated, you can track somebody as they're going through their life." ICE issued a notice last week seeking bids from companies to compile the database from a variety of sources, including law ­enforcement agencies and car-
repossession services.


New York Times


Clashes Leave 25 Dead as Protesters Cling to Kiev Square
Protesters in Kiev stoked what they are calling a "ring of fire" separating themselves from the riot police in a desperate final effort on Wednesday to defend a stage on Independence Square that has been a focal point of their protests and keep their three-month-old movement alive. Men staggering with exhaustion dismantled the tents and field kitchens from the movement's earlier and more peaceful phase and hauled their remnants onto the fires. They piled on mattresses, sleeping bags, tent frames, foam pads and whatever else looked flammable, burning their own encampment in a final act of defiance. Ukraine's Health Ministry said on Wednesday that 25 people, including police officers, protesters and a journalist found dead on a side street near the square, had been killed after hundreds of riot police officers advanced on the antigovernment demonstrators Tuesday and in subsequent fighting on streets in the government district of the Ukrainian capital. The Health Ministry said that 241 people had been injured and that nine of the dead were police officers. The Interior Ministry said all the police officers had died from gunshot wounds, although witnesses said it appeared that several officers had been trapped in a burning armored vehicle. As the scope of the violence became clear, Russia, President Viktor F. Yanukovych's ally in the crisis, released a blistering statement blaming the "criminal activities of radical opposition forces" for causing the bloodshed and denouncing European countries for refusing to acknowledge that. When the protests began late last year, they opposed the government's rejection of a trade agreement with the European Union. The statement on Wednesday from the Foreign Ministry described the violence as an attempted coup and even used the phrase "brown revolution," an allusion to the Nazi rise to power in Germany in 1933. The ministry said Russia would use "all our influence to restore peace and calm."



New York Times


Politics to Shadow Obama's Trade Talks in Mexico
President Obama travels to Mexico on Wednesday for a brief but politically fraught visit aimed at forging closer trade ties with America's two closest neighbors even as his party's leaders back home have vowed to undercut his efforts. Mr. Obama will meet with the leaders of Mexico and Canada in the rapidly growing city of Toluca, to the west of Mexico City, the capital, at what his advisers consider a critical juncture in his efforts to negotiate a broad Asian-Pacific trade pact that would encompass roughly 40 percent of the global economy across a dozen nations. Both Mexico and Canada have joined the negotiations in the last two years. The whirlwind visit — he will return to Washington on Wednesday evening without staying the night — will offer Mr. Obama a chance to reassure his counterparts about his capacity to deliver at a time when he faces significant hurdles at home. Senator Harry Reid of Nevada and Representative Nancy Pelosi of California, the Democratic leaders in Congress, oppose legislation giving him authority similar to that of his predecessors to negotiate trade deals.


Washington Post


Terrorists at it again...
Slaying tourists signals turn in Egypt's Islamist insurgency
An explosion ripped through a bus carrying South Korean tourists in Egypt's Sinai Peninsula on Sunday and killed three people, the deadliest attack on vacationers here in years, signaling a potential escalation in the fight by Islamist militants against the Egyptian government. The insurgency that sprouted last summer had previously confined itself to targeting Egyptian military and police forces. But as the government continues its broad repression of Islamists in the wake of the military's removal of Islamist President Mohamed Morsi in July, the attacks could turn into a much bloodier ­guerrilla-style conflict, analysts say.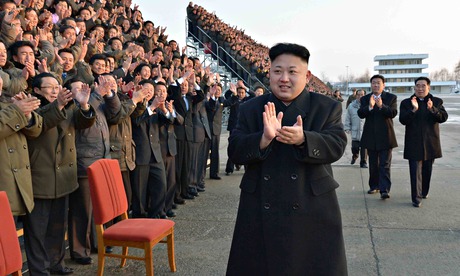 The Guardian
North Korean human rights abuses systematic and unparalleled, says UN
North Korea's leadership is committing systematic and appalling human rights abuses against its own citizens on a scale unparalleled in the modern world, including crimes against humanity, a United Nations report has concluded. The UN's commission of inquiry on human rights in North Korea has been gathering evidence for almost a year – including in an unprecedented series of public hearings in four cities around the world, which heard sometimes harrowing testimony from North Korean escapees. Its report cited the country's system of secret prison camps, deliberate starvation and a complete lack of free thought as among probable crimes against humanity. The inquiry chairman has personally written to North Korea's leader, Kim Jong-un, to warn that he could face trial at the international criminal court (ICC) in The Hague, saying that as head of state and overall commander of the country's military Kim bears personal culpability. The commission's near 400-page main report says there is overwhelming evidence that crimes against humanity have been, and are still being, committed within the hermetic nation. North Korea, which refused to participate in the investigation and refused to give permission for the commission to visit, immediately rejected the findings, calling them "a product of politicisation of human rights on the part of EU and Japan in alliance with the US hostile policy".



Washington Post


Outside the Olympics, pressure on gay Russians grows
Nearly every day here at the Winter Games, some official or another guarantees that gay people will encounter no discrimination. The Olympic charter prohibits it, they say, and even if it didn't, the Russian constitution does. The evidence, activists argue, suggests otherwise. The Games have conferred a kind of immunity for sexual minorities within the well-defended boundaries of the Olympic grounds. Over the weekend, Vladimir Luxuria, an Italian transgender activist, said she was briefly detained after showing a "Gay Is Okay" banner at the Games. On Monday, police denied that the incident had ever happened. But across Russia such official declarations sound like mocking platitudes to gays who have been feeling the wrath of a repressive new law. Officials decline to comment on individual cases, but they follow the lead of Putin, who in public seems to equate homosexuality with pedophilia and appears to suggest that homosexual behavior is taught, contradicting what scientists say is evidence that it results from developmental differences. Last month, in a visit to Sochi, Putin said gays had nothing to fear at the Games. "Just leave kids alone, please," he said. Then Deputy Prime Minister Dmitry Kozak, assigned to supervise the Olympic project for the government, said the same. "Please do not touch the kids; that is the only thing," he said. "That is prohibited by law in all countries no matter whether you are straight or gay."



New York Times


NSA trashes attorney-client privilege while spying on Americans
Spying by N.S.A. Ally Entangled U.S. Law Firm
The list of those caught up in the global surveillance net cast by the National Security Agency and its overseas partners, from social media users to foreign heads of state, now includes another entry: American lawyers. A top-secret document, obtained by the former N.S.A. contractor Edward J. Snowden, shows that an American law firm was monitored while representing a foreign government in trade disputes with the United States. The disclosure offers a rare glimpse of a specific instance in which Americans were ensnared by the eavesdroppers, and is of particular interest because lawyers in the United States with clients overseas have expressed growing concern that their confidential communications could be compromised by such surveillance.


Washington Post


Russia tiring of U.S. and Western Lib-tards trashing their country


In Russia, World War II is suddenly everywhere again
The pageant of Russian history presented in the Olympic Opening Ceremonies passed over the Soviet victory in World War II to the consternation of more than a few patriots. But the war seems to be making the news these days more than ever nonetheless. Russian sacrifices in the fight against the Nazis 70 years ago were stupendous, and feelings still run deep. Every family paid a price, and the war haunts everyday life here in a way that short-memory Americans would find startling. But there's another side to its legacy: For decades after the war, Soviet leaders sought to reinforce their legitimacy by exploiting the memory of the titanic struggle. And today the Russian government appears to be turning in the same direction. President Vladimir Putin's Kremlin has portrayed Russia as being under ideological attack. The West, it says, wants to impose a different and alien value system on the Russian people. Critics say Putin has been warning against demons abroad as a way of shoring up his own standing during uncertain times. And there could be no more potent denunciation of the West's alleged motives than to compare them to those of Nazi Germany.

Charles Krauthammer


The wages of weakness
Vladimir Putin is a lucky man. And he's got three more years of luck to come. He takes Crimea, and President Obama says it's not in Russia's interest, not even strategically clever. Indeed, it's a sign of weakness. Really? Crimea belonged to Moscow for 200 years. Russia annexed it 20 years before Jefferson acquired Louisiana. Lost it in the humiliation of the 1990s. Putin got it back in about three days without firing a shot. Now Russia looms over the rest of eastern and southern Ukraine. Putin can take that anytime he wants — if he wants. He has already destabilized the nationalist government in Kiev. Ukraine is now truncated and on the life support of U.S. and European money (much of which — cash for gas — will end up in Putin's treasury anyway).



New York Times


Making Russia Pay? It's Not So Simple
President Obama has warned Russia that "there will be costs" for a military intervention in Ukraine. But the United States has few palatable options for imposing such costs, and recent history has shown that when it considers its interests at stake, Russia has been willing to pay the price.



Ross Douthat


The Terms of Our Surrender
It now seems certain that before too many years elapse, the Supreme Court will be forced to acknowledge the logic of its own jurisprudence on same-sex marriage and redefine marriage to include gay couples in all 50 states. Once this happens, the national debate essentially will be finished, but the country will remain divided, with a substantial minority of Americans, most of them religious, still committed to the older view of marriage. So what then?



Judith Resnik


Renting Judges for Secret Rulings
Should wealthy litigants be able to rent state judges and courthouses to decide cases in private and keep the results secret? The answer should be an easy no, but if the judges of Delaware's Chancery Court persuade the United States Supreme Court to take their case and reverse lower federal court rulings outlawing that practice, corporations will, in Delaware, be able to do just that. The state has long been a magnet for corporate litigation because of its welcoming tax structures and the court's business expertise. Yet the State Legislature became concerned that Delaware was losing its "pre-eminence" in corporate litigation to a growing market in private dispute resolution. To compete, Delaware passed a law in 2009 offering new privileges to well-heeled businesses. If litigants had at least $1 million at stake and were willing to pay $12,000 in filing fees and $6,000 a day thereafter, they could use Delaware's chancery judges and courtrooms for what was called an "arbitration" that produced enforceable legal judgments. Instead of open proceedings, filings would not be docketed, the courtroom would be closed to the public and the outcome would be secret. The Delaware Supreme Court could review judgments, but that court has not indicated whether appeals would also be confidential. The Delaware legislation is a dramatic example of rich litigants using their resources to close court systems that taxpayers support and constitutions require. But the problem goes beyond Delaware. To honor constitutional commitments that "all courts shall be open," the court should refuse the Delaware judges' request, and Congress should restore rights to public courts for consumer and employment disputes.



John Fund


Three Cups of Tea


The Tea Party still holds the high ground this year for its third national election


The Tea Party turns five years old this week, and the mainstream media are filled with stories saying it has lost clout and influence. Certainly the unfair assaults on it as racist and extremist have taken a toll, but in terms of where the political landscape is right now, I'd easily take the Tea Party's tactical position over that of its liberal critics.



Dustin Volz


What Jan Brewer's Gay Bill Veto Means for Arizona—and the Country
By choosing to veto, Brewer has helped restore part of the state's reputation and delivered a loud warning shot to social conservatives.



Los Angeles Times


Opening the door to warrantless searches


A Supreme Court decision needlessly weakens 4th Amendment protections


When an occupant of a home refuses to allow police to search the premises, officers should keep their distance until they obtain a warrant based on probable cause. In a case from Los Angeles, the Supreme Court on Tuesday needlessly weakened that important 4th Amendment principle. The 6-3 decision eviscerated a 2006 ruling in which the court ruled that police must respect "a physically present inhabitant's express refusal of consent to a police search" even if a spouse or roommate gives consent. Ironically, as Justice Ruth Bader Ginsburg pointed out in her dissent, the LAPD "could readily have obtained a warrant to search the shared residence." By blessing the warrantless search, the majority not only undermined its previous ruling but also sent a message that police can skirt the 4th Amendment and not be punished for it by the courts.



Harold Meyerson


Arizona uses religion as a shield for bigotry
As patriotism can be the last refuge of scoundrels, so religion can be the last refuge of bigots.



Grant David Gillham


What Soft Drink Taxes Are Really About
Throughout history, governments always want money, lots of it. Our modern day elected officials are no exception. They toil relentlessly to help make your life better. That's expensive. When they run out of money, the easiest way for them to get lots more quickly is to target a group that is out of favor politically for a big tax hike. The idea that "We're doing this for their own good" is a great straw man to legitimize an unfair tax that, if imposed on everyone, would be universally hated. The current debate about taxing soft-drinks is a perfect example.



Adrian Bonenberger


Why the Army should fire generals and promote captains
As Army leadership ponders who and what to cut from its budget, the first groups in the crosshairs are the junior and mid-level officers. This is a logical step: To wage counterinsurgencies in Iraq and Afghanistan, the Army expanded its fighting force, and now it's time to draw down. What isn't logical is that other ranks will largely get a free pass. The Army, and the military overall, would be better served by retiring some of the generals, colonels and senior lieutenant colonels, and promoting the best captains, majors and junior lieutenant colonels into those roles.



Eugene Robinson


I'm black, don't shoot me
Sometimes, when I'm in my car, I crank up the music pretty loud. All you Michael Dunns out there, please don't shoot me. Please don't shoot my sons, either, or my brothers-in-law, nephews, nephews-in-law or other male relatives. I have quite a few friends and acquaintances who also happen to be black men, and I'd appreciate your not shooting them as well, even if the value you place on their lives is approximately zero. I know I shouldn't have to ask, but nothing else has worked.



Charles Krauthammer


The myth of 'settled science'
I repeat: I'm not a global warming believer. I'm not a global warming denier. I've long believed that it cannot be good for humanity to be spewing tons of carbon dioxide into the atmosphere. I also believe that those scientists who pretend to know exactly what this will cause in 20, 30 or 50 years are white-coated propagandists. "The debate is settled," asserted propagandist in chief Barack Obama in his latest State of the Union address. "Climate change is a fact." Really? There is nothing more anti-scientific than the very idea that science is settled, static, impervious to challenge. Take a non-climate example. It was long assumed that mammograms help reduce breast cancer deaths. This fact was so settled that Obamacare requires every insurance plan to offer mammograms (for free, no less) or be subject to termination. Now we learn from a massive randomized study — 90,000 women followed for 25 years — that mammograms may have no effect on breast cancer deaths. Indeed, one out of five of those diagnosed by mammogram receives unnecessary radiation, chemo or surgery. So much for settledness. And climate is less well understood than breast cancer. If climate science is settled, why do its predictions keep changing? And how is it that the great physicist Freeman Dyson, who did some climate research in the late 1970s, thinks today's climate-change Cassandras are hopelessly mistaken?



Matthew Kaminski


Eva Moskowitz: Teachers Union Enemy No. 1
For several months running, the Bill and Eva Show has been the talk of New York City politics. He is the new mayor, Bill de Blasio, an unapologetic old-school liberal Democrat, scourge of the rich and of public charter schools. She is Eva Moskowitz, fellow Democrat and educational-reform champion who runs the city's largest charter network. How did Ms. Moskowitz, a hero to thousands of New Yorkers of modest means whose children have been able to get a better education than their local public schools offered, end up becoming public enemy No. 1? She is the city's most prominent, and vocal, advocate for charter schools, and therefore a threat to the powerful teachers union that had been counting the days until the de Blasio administration took over last month from the charter-friendly Mayor Michael Bloomberg. Assailed by Mayor de Blasio and union leaders, Ms. Moskowitz is fighting back with typically sharp elbows. "A progressive Democrat should be embracing charters, not rejecting them," she says. "It's just wacky."



New York Times


Next Move on Press Freedom
It is too late to erase the damage stemming from the Risen case and other egregious attacks on a free press on Mr. Holder's watch. But reducing the stain on Mr. Holder's legacy, and building a better legacy, begins with dropping the demand that Mr. Risen testify about his sources.



Ronald Brownstein


What This Chevy Commercial Could Teach the GOP
With its "The New Us" commercial, Chevrolet (like Coca-Cola and Cheerios in similarly themed recent ads) acknowledged it is competing in a changing America. The GOP's recent actions suggest it still hasn't crossed that threshold.



George F. Will


Why immigration reform matters
Distilled to their discouraging essence, Republicans' reasons for retreating from immigration reform reflect waning confidence in American culture and in the political mission only Republicans can perform — restoring U.S. economic vigor. Without this, the nation will have a dismal future only Democrats can relish: government growing in order to allocate scarce opportunity. Many Republicans say addressing immigration will distract from a winning focus on Obamacare. But a mature party avoids monomania, and Obamacare's manifold defects are obvious enough that voters will not require nine more months of reminders.



Charles Krauthammer


Obamacare's war on jobs
In the ongoing saga of the Affordable Care Act, oddly referred to by Democrats as the law of the land even as it is amended at will by presidential fiat, we are beginning to understand the extent of its war on jobs.



Steven Greenhut


Government Money Is No Answer to California Drought
There's little that will help Californians right now other than some downpours such as the one last weekend. But the sooner the state comes up with a better way to impose market discipline on its precious water resources, the better it will be able to withstand the many "worst ever" droughts of the future.



Sacramento Bee


A bipartisan U.S. Senate displays its arrogance
On Friday, the vast majority of the United States senators, in a bipartisan display of arrogance, proved once more how little they think of the people who elect them. Most senators, including the ones who face re-election in 2014, failed to file their public campaign finance reports online with the Federal Election Commission, again. Candidates for House seats, for the presidency, and for most state legislatures long ago began filing their campaign reports electronically, posting them on the Internet for any interested voter to see. But not the U.S. Senate. They get away with ignoring the Internet because they make their own rules. Acting like emperors, they have collectively decided that the identities of their donors and how they spend their campaign money are nobody's business.



John W. Suthers


A 'veto' attorneys general shouldn't wield
Recently, attorneys general in Virginia, Pennsylvania and California have given in to the temptation to abuse the power entrusted to our position by refusing to defend their states' bans on same-sex marriage in court. Depending on one's view of the laws in question, such a "litigation veto" may, in the short term, be a terrific thing; an unpopular law is defanged and the attorney general can take credit — indeed, he can be the hero to his political base and keep his political ambitions intact. But in the longer term, this practice corrodes our system of checks and balances, public belief in the power of democracy and ultimately the moral and legal authority on which attorneys general must depend.



Washington Examiner


Congressman Michael Grimm is literally indebted to K Street giant Patton Boggs
Rep. Michael Grimm, R-N.Y., speaks at a news conference on Capitol Hill in Washington in May...
Congressional candidates and congressmen need lawyers. In D.C., law firms are often lobbying firms. That can create interesting dynamics. For instance: Rep. Michael Grimm, R-N.Y., recently famous for threatening violence against a reporter, is under scrutiny for campaign finance matters. His recent campaign finance filings show he owes more than $416,000 in legal fees to a law firm (h/t Dave Levinthal). That firm happens to be K Street kingpin Patton Boggs. Grimm sits on the Financial Services Committee. The firm to which he is indebted represents Citigroup, Visa, AIG, Prudential, Goldman Sachs, and many others under his committee's jurisdiction.



Daily News


Little hope for action in divided Washington
State of the Union addresses are more about political theater than implementing public policy. They are oratorical smorgasbords brimming with grandiose ideas that have little chance of advancement, especially in the current political climate of the nation's capital. President Barack Obama's fifth State of the Union address delivered before Congress on Tuesday night was just such an address. Although the oratory was impressive, it remains that 2014 is a congressional election year and that little reality usually does not bode well for bold initiatives or grandiose ideas, regardless of how skillfully they are presented.



Richard Cohen


In Afghanistan, a war that has lost its purpose
While watching the utterly gripping movie "Lone Survivor" recently, I comforted myself by noting that the four Navy SEALs engaged in a desperate firefight with the Afghan Taliban were all volunteers. They asked for this, I told myself. They were not draftees yanked out of civilian life and compelled to fight a war they could neither understand nor win. They had asked for this, I insisted, but I knew all the time that this was a lie. They had volunteered, but certainly not to die and certainly for no purpose.



Steven Rattner


The Myth of Industrial Rebound
With metronomic regularity, gauzy accounts extol the return of manufacturing jobs to the United States. One day, it's Master Lock bringing combination lock fabrication back to Milwaukee from China. Another, it's Element Electronics commencing assembly of television sets — a function long gone from the United States — in a factory near Detroit. Breathless headlines in recent months about a "new industrial revolution" and "the promise of a 'Made in America' era" suggest it's a renaissance. This week, when President Obama gives his State of the Union address, he will most likely yet again stress his plans to strengthen our manufacturing base. But we need to get real about the so-called renaissance, which has in reality been a trickle of jobs, often dependent on huge public subsidies. Most important, in order to compete with China and other low-wage countries, these new jobs offer less in health care, pension and benefits than industrial workers historically received.



George F. Will


Judicial activism isn't a bad thing
Disabusing the Republican Party of a cherished dogma, thereby requiring it to forgo a favorite rhetorical trope, will not win Clark M. Neily III the gratitude of conservatives who relish denouncing "judicial activism." However, he and his colleagues at the libertarian Institute for Justice believe the United States would be more just if judges were less deferential to legislatures.



Los Angeles Times


No warrant, no search of your cellphone


The framers of the Constitution couldn't have foreseen today's technology


Forty years ago, when the Supreme Court expanded the right of police to search people they took into custody as well as the possessions they were carrying, the smartphone was the stuff of science fiction. But now that phones contain vast amounts of personal information, the court should rule that cellphone searches require a warrant. Police long have been allowed to conduct warrantless searches of people they arrest because of the possibility that a suspect might have a concealed weapon or try to destroy evidence. But in 1973, the Supreme Court unjustifiably held that such searches were legal even when there was no probability that weapons or evidence would be found. The invasion of privacy permitted by that ruling multiplies exponentially when the object searched is a smartphone. When the framers of the Constitution wrote of the "right of the people to be secure in their persons, houses, papers, and effects against unreasonable searches," they couldn't have foreseen that "papers and effects" would be housed in a palm-sized device. But the court should rule that the principle of privacy is the same.



Wall Street Journal


The President Inhales


He ought to change federal drug law rather than refuse to enforce it


To the delight of dorm rooms everywhere, President Obama has all but endorsed marijuana legalization. Mr. Obama also muses to an admiring David Remnick that while pot is "a bad habit and a vice" and not something he would encourage his daughters to try, "I don't think it is more dangerous than alcohol." He called the Colorado and Washington legalization experiments "important for society," while offering no comment on the federal Controlled Substances Act that he has an obligation to enforce equally across the country. If the President believes that marijuana prohibition is an injustice, he has an obligation to propose his own legislative reforms, instead of unilaterally suspending the enforcement of federal drug laws that don't fit his political agenda. Why not start with the State of the Union address? Whatever Mr. Obama's personal views on marijuana, his picking and choosing from the U.S. code is far more corrosive to the rule of law and trust in government.



Mercury News


Net neutrality must remain a core Internet principle
The success of the Internet is largely due to the fact that, since its inception, users have been able to pick and choose from all the material on it, regardless of the carrier used to access it. This model has led to one of the greatest technological revolutions of all time. It is now in jeopardy because of a U.S. appeals court ruling last week that threw out the Federal Communications Commission's 2010 rules requiring broadband providers to treat all Internet traffic equally -- the concept known as net neutrality.



New York Times


What's Happening With the Air Force?
If the Air Force cheating scandal disclosed last week were a singular event, it would be easier to accept Pentagon assurances that America's nuclear deterrence and military readiness have not been compromised. But it is the latest in a series of breaches that have raised alarms about discipline and competency in the Air Force.



Dana Milbank


Read the bill? Oh, never mind.
It was a rallying cry of the tea party in 2010 and of Republicans bitter about a 906-page health-care law that few proponents had read. Republicans made a "read the bill" pledge and vowed that they would put the text of bills online at least 72 hours before votes. A very different Republican Party rushed a massive spending bill through the House on Wednesday, just 44 hours after it was posted. The bill was 1,582 pages and accompanying explanatory statements added 1,278 more, which means lawmakers had less than a minute to read each page, even if they didn't sleep.



Mercury News


Obama's NSA reform speech neglects Silicon Valley
President Obama took a step in the right direction Friday with his announcement of modest changes in the National Security Agency's surveillance tactics. But conspicuously absent from his address was any mention of the NSA's hacking of American technology companies. For most of the country, this is a footnote to the security vs. privacy debate. But to Silicon Valley, it is economic life and death.



New York Times


The President on Mass Surveillance
The president was right to acknowledge that leaders can no longer say, "Trust us, we won't abuse the data we collect." But to earn back that trust, he should be forthright about what led Americans to be nervous about their own intelligence agencies, and he should build stronger protections to end those fears.



Los Angeles Times


Back to the drawing board on 'net neutrality' rules
Although a court rejected the latest FCC effort, broadband providers should join the agency in trying to preserve an open platform for innovation and expression.



Aaron Blake and Sean Sullivan


Congratulations on your budget, Congress -- America still hates you
One month after a divided Congress came together to pass a bipartisan budget plan for the first time since the mid-1980s, the American people have rewarded their kumbaya moment by ... hating the two parties about as much as they did before.



Sacramento Bee


Big banks return to business as usual
Raking in record profits and still paying extravagant compensation to executives, the nation's largest banks treat billion-dollar fines as the cost of doing business. Little has changed since the Wall Street-fueled financial meltdown and taxpayer-financed bailout.



Andrew J. Bacevich


The misuse of American might, and the price it pays
The U.S. military is like the highly skilled, gadget-toting contractor who promises to give your kitchen a nifty makeover in no time whatsoever. Here's the guy you can count on to get the job done. Just look at those references! Yet by the time he drives off months later, the kitchen's a shambles and you're stuck with a bill several times larger than the initial estimate. Turns out the job was more complicated than it seemed. But what say we take a crack at remodeling the master bath? That pretty much summarizes the American experience with war since the end of the Cold War. By common consent, when it comes to skills and gadgets, U.S. forces are in a league of their own. Yet when it comes to finishing the job on schedule and on budget, their performance has been woeful.



George F. Will


Liberalism by gesture
The era of Gesture Liberalism is at hand. It may be more amusing than consequential. Americans who exercise consumer sovereignty wherever Barack Obama still tolerates it are constantly disappointing him. For generations they persisted in buying what he calls "substandard" policies from what he calls "bad apple" health insurers. They stopped only when he forced them to stop — when he rescued them from their ignorance by banning their benighted preferences. Have consumers thanked him for trying to wean them from their desire to drive large, useful, comfortable, safe vehicles that he thinks threaten their habitat, Earth? The 2013 numbers tell the tale of their ingratitude. In 2013, for the 32nd consecutive year, the best-selling vehicle was Ford's F-Series pickups. This supremacy began, fittingly, in the first year of Ronald Reagan's deregulatory presidency. Today's consumers, who cannot get it through their thick heads that they are supposed to want wee vehicles such as Chevrolet's Volt, bought 763,402 F-Series trucks. That is 740,308 more than the number of Volts General Motors sold.