Instant updates as the news happens!!!



See CalNews.com's updates on Facebook 24/7




You can also follow us on Twitter!


Tweet us your news scoops today!!!
San Francisco Chronicle
Domestic violence rocks NFL image, threatens brand
56 domestic abuse allegations against NFL players since Goodell became commissioner
Barely one month after Roger Goodell took over as NFL commissioner in September 2006, he sat in a suite at Candlestick Park during a 49ers-Raiders game. Goodell had a long talk with sociologist Harry Edwards, who warned him that players' personal conduct would become the defining issue of his tenure. Eight years later, those words ring disturbingly true. Domestic violence, specifically, threatens Goodell's leadership of the most popular spectator sport in the United States. The explosive video released last week - showing Baltimore running back Ray Rice viciously punching Janay Palmer, then his fiancee and now his wife - shined a bright light on the NFL's domestic abuse problem. This stretches beyond Rice and 49ers defensive tackle Ray McDonald, who was arrested on suspicion of felony domestic violence Aug. 31 in San Jose. One recent report detailed 56 domestic abuse allegations against NFL players since Goodell became commissioner. Another report, on the ESPN-affiliated website FiveThirtyEight, noted that the NFL arrest rate relative to the national average, since 2000, is higher in domestic violence (55.4 percent) than any other category. League arrest rates remain well below the national average, the report said, but the relative rate for domestic violence is more than four times higher than the rate for all offenses. As former NFL linebacker Scott Fujita tweeted last week, "This isn't a one-person problem at all. It's a systemic issue dating back many, many years."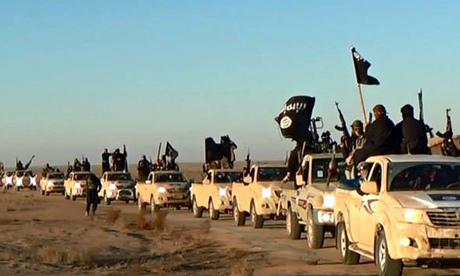 Los Angeles Times


"Even if everything goes right we are looking at a long and difficult campaign that probably won't destroy the threat"
U.S. operation may only halt, not destroy, Islamic State, officers say
The military offensive ordered by President Obama against marauding Islamic State militants barely resembles the grinding ground war that the United States waged in Iraq from 2003 to 2011, but may prove just as tough to win. Rather than U.S. combat troops fighting street by street in Iraqi cities and towns, the new strategy is based on an escalation in U.S. bombing and on at least 1,600 American military advisors and others working with the Iraqi army, Kurdish fighters and sectarian militias to drive the extremists from Iraq, and eventually defeat them in neighboring Syria. In his prime-time speech Wednesday, Obama compared his plan to U.S. counter-terrorism operations in Yemen and Somalia, where the CIA and Pentagon have carried out drone strikes, special operations raids and other missions against extremist groups while training and advising government troops. Shabab in Somalia and Al Qaeda in the Arabian Peninsula in Yemen remain lethal and ambitious, but officials contend that the U.S. efforts have helped keep the threat contained while periodically knocking off key leaders. That may be all Obama can realistically expect using airstrikes and proxy ground forces against an enemy as resilient and fanatical as the Sunni Muslim fighters who swept out of Syria last year and have captured about a third of Iraq, according to current and former military officers with experience in Iraq.



New York Times


Arabs Give Tepid Support to U.S. Fight Against ISIS
Many Arab governments grumbled quietly in 2011 as the United States left Iraq, fearful it might fall deeper into chaos or Iranian influence. Now, the United States is back and getting a less than enthusiastic welcome, with leading allies like Egypt, Jordan and Turkey all finding ways on Thursday to avoid specific commitments to President Obama's expanded military campaign against Sunni extremists. As the prospect of the first American strikes inside Syria crackled through the region, the mixed reactions underscored the challenges of a new military intervention in the Middle East, where 13 years of chaos, from Sept. 11 through the Arab Spring revolts, have deepened political and sectarian divisions and increased mistrust of the United States on all sides. The tepid support could further complicate the already complex task Mr. Obama has laid out for himself in fighting the extremist Islamic State in Iraq and Syria: He must try to confront the group without aiding Syria's president, Bashar al-Assad, or appearing to side with Mr. Assad's Shiite allies, Iran and the militant group Hezbollah, against discontented Sunnis across the Arab world.


Los Angeles Times
Ferguson plan for police oversight board is derided as 'insulting'
A proposal for greater citizen oversight of the Ferguson Police Department has been criticized as "weak" and "insulting" by police experts and St. Louis-area officials who examined the plan Thursday, while others say it is a positive step forward that needs more work. The Ferguson, Mo., City Council this week emerged from a month of quiet after the fatal police shooting of 18-year-old Michael Brown with a proposal to create a new citizens' review board for the town's predominantly white Police Department, which has become reviled by Ferguson's predominantly black residents. Many community members and the St. Louis County branch of the NAACP demanded the creation of such a board after weeks of unrest and citizen anger over police use of force, traffic stops and militarized crowd-control tactics during mostly peaceful demonstrations over the shooting of the unarmed Brown. The New York and Los Angeles police departments have civilian oversight boards, as do departments in larger Missouri cities including Kansas City, Springfield and Columbia. More than 100 such boards exist around the country, according to a 2013 tally by researchers at Cal State Fullerton. "The overall goal of these changes is to improve trust within the community and increase transparency, particularly within Ferguson's courts and police department," council member Mark Byrne said in a statement announcing the proposal. However, several experts and St. Louis-area officials say there's a problem: The text of the bill does not appear to give explicit authority to the review board to receive and review citizen complaints against Ferguson police officers. The ability to independently investigate or review complaints is a key feature of many police oversight boards around the country, where high-profile controversies involving the use of force have typically led to their creation, experts said.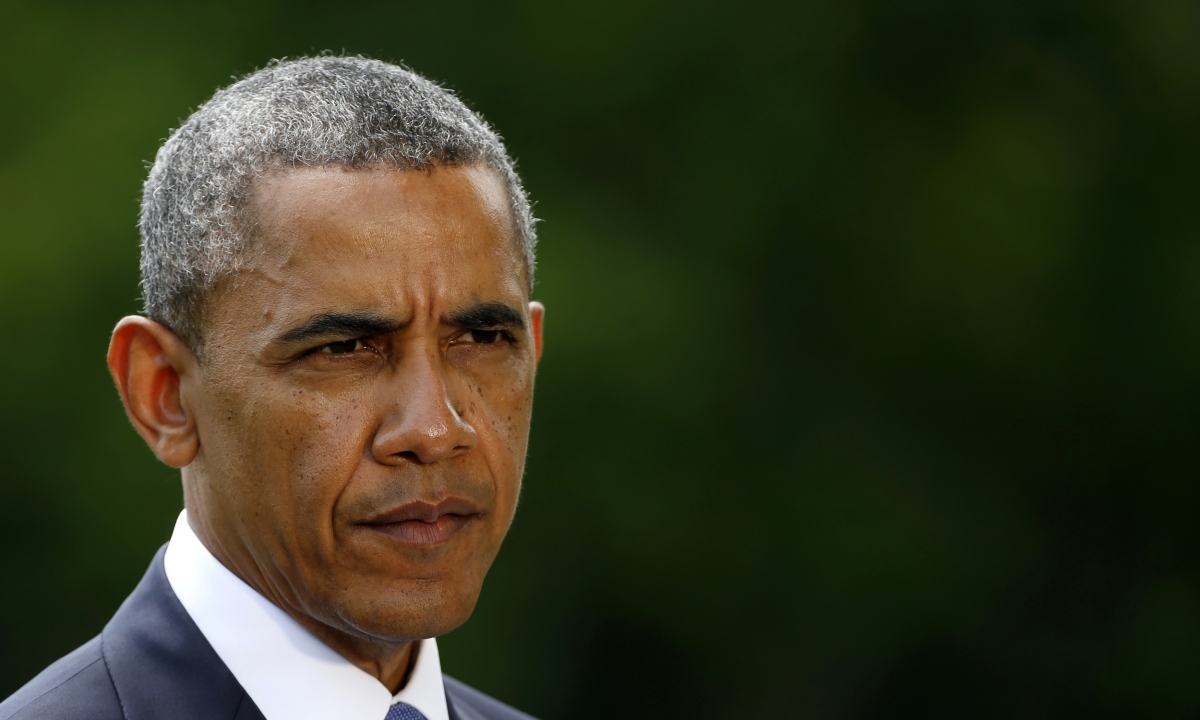 Los Angeles Times


WAR! Obama says U.S. will destroy Islamic State
President Obama declared Wednesday that he would go on the offense and pursue Islamic State fighters in Iraq and Syria, outlining a detailed, long-term strategy to counter the militants who have captured large swaths of the region and pulled the U.S. into a fresh conflict in the Middle East. Nearly six years after he was elected on a promise to end America's years-long wars, Obama used a rare prime-time address to describe a military campaign broader than any other he has launched. Obama said the U.S. would use air power to target the Sunni Muslim extremists "wherever they exist," expanding the aerial assault he launched in Iraq a month ago. He ordered an additional 475 U.S. service members to assist the beleaguered Iraqi and Kurdish forces and asked Congress to move quickly to approve hundreds of millions of dollars to increase funding for training and equipping Syrian fighters. "America will lead a broad coalition to roll back this terrorist threat," Obama said, speaking for less than 15 minutes. "Our objective is clear: We will degrade and ultimately destroy ISIL through a comprehensive and sustained counter-terrorism strategy," he said, using one common acronym for the group. The president's plans represented a dramatic escalation of a campaign that just weeks ago he declared would be narrowly focused and limited to protecting U.S. citizens in Iraq and assisting Iraqis who fled the Islamic State as it rapidly marched across that country this summer. The expanded campaign will provide air support to Iraqi troops who will "go on offense," aided by training, intelligence and equipment supplied by U.S. service members. The rare, high-profile unveiling of Obama's counter-terrorism program came as part of a White House effort to bolster the president's image on foreign policy and answer critics who pummeled him when he acknowledged two weeks ago that his administration had no strategy yet for dealing with Islamic State militants in Syria.


San Francisco Chronicle


Strong solar storm heading to Earth
A strong solar flare is blasting its way to Earth, but the worst of its power looks like it will barely skim above the planet and not cause many problems. It has been several years since Earth has had a solar storm of this size coming from sunspots smack in the middle of the sun, said Tom Berger, director of the Space Weather Prediction Center in Boulder, Colorado. The flare on the sun barely hits the "extreme" on forecasters' scale, but with its worst effects missing Earth it is only looking "potentially strong" at most when it arrives at Earth as a solar storm, he said. New calculations from satellite data show that the worst of the energetic particles streaming from the sun likely will go north or above Earth this time, Berger said late Wednesday. So while the power grid may see fluctuations because the storm will cause changes in Earth's magnetic field, it won't knock power systems off line, Berger said. It may cause slight disturbances in satellites and radio transmissions but nothing major. "We're not scared of this one," Berger said.


Oakland Tribune


"This is a wake-up call to the NFL, the 49ers, both Harbaugh brothers"
49ers face wrath of domestic violence community who call for McDonald's suspension
Domestic abuse scandals dogging the NFL from Baltimore to San Francisco reached a feverish pitch Tuesday as women's support groups across the Bay Area demanded the 49ers suspend starting defensive lineman Ray McDonald over his felony domestic violence arrest. Pressure has been mounting on the 49ers since Baltimore Ravens' running back Ray Rice was cut from the team and suspended indefinitely by the NFL after a shocking video surfaced of the star player knocking out his then-fiancee in a casino elevator. "The world is watching the 49ers," said Beverly Upton, director of the San Francisco Domestic Violence Coalition, whose advocacy group has started a Twitter campaign with the same message. One San Jose nonprofit called out 49ers coach Jim Harbaugh as a hypocrite for declaring "zero tolerance" for domestic abuse and still allowing McDonald to play, while another anti-abuse group in Sacramento reached out to the 49ers, the Oakland Raiders and the San Diego Chargers to offer violence-prevention programs in the locker room. At the same time, San Francisco Supervisor London Breed said Tuesday she plans to introduce a resolution denouncing the 49ers. While Rice had been charged with domestic violence months ago and was suspended for two games in the wake of his arrest for the incident, the harsher penalty didn't come until the video became public Monday.

Raoul Lowery Contreras
Can a Mexican-American governor save the GOP?
By negotiating a colossal deal with California-based Tesla Motors for it to build a massive battery factory close to Nevada's state capital, cowboy-booted, tailored suit-wearing Mexican-American Republican Gov. Brian Sandoval has demonstrated he has the tools, brains and sense to lead the GOP out of Obama-inflicted doldrums. The very fact that left and right-wing groups are protesting the billion dollar deal he constructed — without raiding the state treasury or raising taxes — proves that at worst it is a middle-of-the-road deal and at best an economic bonanza for Nevada. Assuming Sandoval can bring the legislature along, Tesla Nevada will operate in 2017. No wonder Elon Musk told reporters: "This was not the biggest incentive package. It wasn't just about the incentives ... What the people of Nevada have created is a state where ... you can do things quickly and get things done. It's a real get-things-done state." Republican Gov. Brian Sandoval — the highest-ranking elected Hispanic in American government — did well; very, very well.


Sandoval's Tesla triumph demonstrates his ability to lead and makes him a a bright spot in an otherwise bleak GOP future.
New York Times
A President Whose Assurances Have Come Back to Haunt Him


The Harsh Glare of Hindsight Looks Out of Kilter With the Changed Reality


When President Obama addresses the nation on Wednesday to explain his plan to defeat Islamic extremists in Iraq and Syria, it is a fair bet he will not call them the "JV team." Nor does he seem likely to describe Iraq as "sovereign, stable and self-reliant" with a "representative government." And presumably he will not assert after more than a decade of conflict that "the tide of war is receding." As he seeks to rally Americans behind a new military campaign in the Middle East, Mr. Obama finds his own past statements coming back to haunt him. Time and again, he has expressed assessments of the world that in the harsh glare of hindsight look out of kilter with the changed reality he now confronts.



Los Angeles Times


The NBA's other racist jerk owner
Atlanta Hawks owner stepping aside over racially charged email
Nearly a month after Donald Sterling was stripped of his ownership of the Los Angeles Clippers, ending a contentious legal battle sparked by his remarks about blacks, his comments have created fallout in another corner of the National Basketball Assn. Atlanta Hawks controlling owner Bruce Levenson informed the NBA late Saturday he was selling his interest in the team because of an email he sent to team President Danny Ferry in August 2012 that said the crowds at Philips Arena were too heavily African American. "My theory is that the black crowd scared away the whites and there are simply not enough affluent black fans to build a significant season ticket base," Levenson wrote. Levenson, 64, informed the NBA of the email in July during the height of the league's attempt to remove Sterling as owner of the Clippers. NBA Commissioner Adam Silver on Sunday condemned Levenson's views in a statement but commended the owner for providing the email and cooperating with the league's investigation. Levenson said he was stepping down immediately and will likely avoid any sanctions by the league. He appointed Hawks Chief Executive Steve Koonin to run team operations. Together with Sterling's ouster, Levenson's departure could prompt other owners to review potentially insensitive comments they may have made. Levenson wrote in his email, discussing ways the Hawks might improve attendance, that he noticed the crowds at home games were 70% black, the cheerleaders were black, and the music was hip-hop. Levenson apologized for his comments Sunday in a statement released by the Hawks, calling them "inappropriate and offensive."


Hawk's racist jerk boss finally leaving - good riddance!




New York Post


Judge signs off on $41M 'Central Park Five' settlement
Police forced false confessions through threats and beatings, and hid key DNA evidence
The city's longstanding legal fight with the so-called "Central Park Five" is finally history. A Manhattan federal judge on Friday formally signed off on a $41 million settlement with the five black and Hispanic men wrongfully convicted in the notorious 1989 rape of a Central Park jogger. Under the deal approved by Magistrate Judge Ronald Ellis, plaintiffs Antron McCray, Kevin Richardson, Yusef Salaam and Raymond Santana will each pocket $7.125 million while Kharey Wise will collect $12.25 million. It resolves a $250 million civil rights lawsuit the men filed in 2003, charging they were wrongly convicted and imprisoned in the case. Jonathan Moore, a lawyer for the Central Park Five, called the settlement a "significant sum of money" but added, "It's been our position all along that no amount of money can make up for the pain and suffering these men and their families have had to endure over the past 25 years." The five men were found guilty at trial — with Wise spending 13 years in prison and the others doing roughly six to seven years each — but their convictions were tossed in 2002 after a career criminal confessed to the attack. The settlement also calls for the city to pay off an additional $285,000 in legal fees for the plaintiffs, but allows it to save some face by not admitting any wrongdoing in the case. Police forced false confessions through threats and beatings, and that key DNA evidence, which would have cleared them, was deliberately ignored. They were all convicted of the beating and rape of an investment banker near the park's reservoir. Mayor Bill de Blasio had vowed to settle the case after taking office this year and put an end to a lurid chapter in New York history. The Central Park Five, now in their late 30s or early 40s, were 14 to 16 when arrested. De Blasio's push to settle the case was in stark contrast to the Bloomberg administration's opposition to a deal.


Police forced false confessions through threats and beatings...De Blasio's push to settle the case was in stark contrast to the Bloomberg administration's opposition to a deal.
Washington Post


Rights? You have no rights!


Rat cops take hundreds of millions of dollars from motorists not charged with crimes
After the terror attacks on Sept. 11, 2001, the government called on police to become the eyes and ears of homeland security on America's highways. Local officers, county deputies and state troopers were encouraged to act more aggressively in searching for suspicious people, drugs and other contraband. The departments of Homeland Security and Justice spent millions on police training. The effort succeeded, but it had an impact that has been largely hidden from public view: the spread of an aggressive brand of policing that has spurred the seizure of hundreds of millions of dollars in cash from motorists and others not charged with crimes, a Washington Post investigation found. Thousands of people have been forced to fight legal battles that can last more than a year to get their money back. Behind the rise in seizures is a little-known cottage industry of private police-training firms that teach the techniques of "highway interdiction" to departments across the country. One of those firms created a private intelligence network known as Black Asphalt Electronic Networking & Notification System that enabled police nationwide to share detailed reports about American motorists — criminals and the innocent alike — including their Social Security numbers, addresses and identifying tattoos, as well as hunches about which drivers to stop. Many of the reports have been funneled to federal agencies and fusion centers as part of the government's burgeoning law enforcement intelligence systems — despite warnings from state and federal authorities that the information could violate privacy and constitutional protections. A thriving subculture of road officers on the network now competes to see who can seize the most cash and contraband, describing their exploits in the network's chat rooms and sharing "trophy shots" of money and drugs. Some police advocate highway interdiction as a way of raising revenue for cash-strapped municipalities. "All of our home towns are sitting on a tax-liberating gold mine," Deputy Ron Hain of Kane County, Ill., wrote in a self-published book under a pseudonym. Hain is a marketing specialist for Desert Snow, a leading interdiction training firm based in Guthrie, Okla., whose founders also created Black Asphalt.


Washington Post


Bush taught Obama how to shred the Constitution


Legal memos released on Bush-era justification for warrantless wiretapping
The Justice Department released two decade-old memos Friday night, offering the fullest public airing to date of the Bush administration's legal justification for the warrantless wiretapping of Americans' phone calls and e-mails — a program that began in secret after the 2001 terrorist attacks. The broad outlines of the argument — that the president has inherent constitutional power to monitor Americans' communications without a warrant in a time of war — were known, but the sweep of the reasoning becomes even clearer in the memos written by then-Assistant Attorney General Jack Goldsmith, who was head of President George W. Bush's Office of Legal Counsel. "We conclude only that when the nation has been thrust into an armed conflict by a foreign attack on the United States and the president determines in his role as commander in chief . . . that it is essential for defense against a further foreign attack to use the [wiretapping] capabilities of the [National Security Agency] within the United States, he has inherent constitutional authority" to order warrantless wiretapping — "an authority that Congress cannot curtail," Goldsmith wrote in a redacted 108-page memo dated May 6, 2004. The program, code-named Stellar Wind, enabled the NSA to collect communications on U.S. soil when at least one party was believed to be a member of al-Qaeda or an al-Qaeda affiliate, and at least one end of the communication was overseas. "What these memos show is that nearly three years after President Bush authorized the warrantless wiretapping of Americans' e-mails and phone calls, government lawyers were still struggling to put the program on sound legal footing," said Patrick Toomey, staff attorney for the American Civil Liberties Union, which obtained the memos through a Freedom of Information Act lawsuit. The memos were also obtained by the Electronic Privacy Information Center. "Their conclusions are deeply disturbing," he said. "They suggest that the president's power to monitor the communications of Americans is virtually unlimited — by the Constitution, or by Congress — when it comes to foreign intelligence." Goldsmith argued that Congress's 2001 Authorization for the Use of Military Force passed shortly after the al-Qaeda attacks on the United States provided "express authority" for the warrantless program. "In authorizing 'all necessary and appropriate force,' " he reasoned, the AUMF necessarily applied to electronic surveillance, including domestically.


New York Times


Tough talk about a war with no soldiers


Obama to Present Case for Broader U.S. Mission Against Militants


President Obama will speak to the nation on Wednesday to make his case for expanding the United States-led offensive against ISIS


President Obama will use a speech to the nation on Wednesday to make his case for launching a United States-led offensive against Sunni militants gaining ground in the Middle East, seeking to rally support for a broad military mission while reassuring the public he is not plunging American forces into another Iraq war. "I'm preparing the country to make sure that we deal with a threat from" the Islamic State in Iraq and Syria, or ISIS, Mr. Obama said in an interview broadcast Sunday on NBC's "Meet the Press." "What I want people to understand," he said, "is that over the course of months, we are going to be able to not just blunt the momentum" of the militants. "We are going to systematically degrade their capabilities; we're going to shrink the territory that they control; and, ultimately, we're going to defeat them," he added. The planned speech suggests that the president may be moving closer to a decision on whether to expand the month-old air campaign against ISIS in Iraq into Syria, and it is Mr. Obama's latest attempt to answer critics who charge that he lacks a viable plan or the fortitude to go after the group. The president was adamant that he had no intention of sending American combat troops to go after ISIS, repeating no fewer than three times during the interview that he would not do so, and calling the idea of putting United States boots on the ground "a profound mistake." "This is not going to be an announcement about U.S. ground troops," Mr. Obama said. "This is not the equivalent of the Iraq war." The president's plans for a major address came just days after he returned from a NATO summit meeting in Wales, where he and top members of his administration worked on the sidelines to rally international support for a coalition to confront ISIS in Iraq and Syria. And the "Meet the Press" interview was broadcast hours after American warplanes carried out a new round of attacks on ISIS targets near a major hydroelectric dam in Iraq. The speech is set for the day before the 13th anniversary of the Sept. 11, 2001, terrorist attacks, which touched off a broad military campaign to defeat the terrorist group Al Qaeda and, ultimately, to protracted American-led wars in Afghanistan and Iraq. Opposition to those wars and a vow to end them responsibly helped propel Mr. Obama to the White House.


New York Times


Want to be a terrorist? Move to Minneapolis


For Jihad Recruits, a Pipeline From Minnesota to Militancy
To law enforcement officials and community leaders here, the pathway for many recruits remains murky and difficult to uncover, but the latest wave of volunteers is a chilling replay of recent history. Beginning in 2007, over 20 men, mostly of Somali origin, left Minnesota to join the Shabab militants who seized territory across Somalia and besieged the capital, Mogadishu. The radicalization of the men prompted federal investigations and brought enormous scrutiny to the Somali population in Minneapolis, the largest in America. (Estimates put Minnesota's Somali population around 30,000.) As Shabab forces withdrew from Mogadishu under pressure from African forces supported by the United States, people here held anti-Shabab rallies, and prosecutors eventually won convictions against eight local men on charges stemming from the flow of money and recruits to the militants. But now, leaders in the Somali community say they worry they are losing a battle to keep another round of young people from turning to another Internet-savvy and brutal group, ISIS. Community leaders say several families have reported that their children have vanished. "We need to open our eyes," said Ahmed Hirsi, a banker who has led youth groups in the Twin Cities. "This is not going to stop." Officials say ISIS is not specifically targeting Somalis but is instead using social media, chat rooms and jihadist forums to recruit men and women susceptible to its message — a target audience that includes Somalis in Minneapolis. Community activists and a friend said one Somali was Mr. Muhumed, whom they described as a mostly secular man in his late 20s or early 30s whose family had emigrated from Mogadishu. He always seemed more interested in working out and basketball than in religion, acquaintances said. "He would talk about LeBron James and Kobe Bryant, and then, the next thing you know — pfft! — he's gone," Mr. Hirsi said.


Los Angeles Times


Yuck! Ex-USC professor pleads guilty to having sex with boys overseas
A former USC professor once on the FBI's 10 Most Wanted fugitives list pleaded guilty Friday to flying to the Philippines and having sex with several underage boys he groomed online. Walter Lee Williams, 65, admitted engaging in illegal sexual contact with minors in foreign places, entering the plea during a brief appearance before U.S. District Judge Phillip S. Gutierrez. As part of a plea, federal prosecutors agreed to recommend that the onetime eminent professor of gender and sexuality studies serve no more than five years in a federal prison. He also would be subject to 10 years supervision upon release and must pay $25,000 in restitution to his seven victims. Williams will be sentenced Dec. 15. He was apprehended within a day of making the FBI's Most Wanted List in June 2013 after he was indicted on sex crimes involving two 14-year-old boys in the Philippines. He was captured in the Mexican coastal town of Playa del Carmen after a resident recognized his photo from a newspaper. Los Angeles Police Department Deputy Chief Michel Moore said Williams' conduct came to light three years ago when a person concerned about the safety of children contacted authorities. Williams taught anthropology, gender studies and history at USC for about two decades until he quit in 2011. Under the guise of academic research on sexuality in the Southeast Asia/Pacific region, he repeatedly traveled to the area. Federal prosecutors alleged that the author and Fulbright Award winner used those trips to have sex with underage boys. Investigators believe he has at least 10 victims across Southeast Asia, aged 9 to 17. Williams engaged in webcam sex sessions with two boys, aged 13 and 14, in the Philippines in 2010. The next year, he traveled to the country and had sex with both boys and a 15-year-old boy, according to the plea agreement. He was 62 at the time. While there, he also had sexual contact with three other 16-year-old boys, records show. When he returned to Los Angeles International Airport on Feb. 11, 2011, he was "intercepted," and child pornography was found on him. The professor fled Los Angeles a week after being interviewed by the FBI.


New York Times


Shameful Democrats throw Latino families overboard to save themselves


Obama Delays Immigration Action, Yielding to Democratic Concerns
President Obama has delayed action to reshape the nation's immigration system without congressional approval until after the November elections, bowing to the concerns of Senate Democrats on the ballots, White House officials said on Saturday. The decision is a striking reversal of Mr. Obama's vow to take action on immigration soon after summer's end. The president made that promise on June 30, standing in the Rose Garden, where he angrily denounced Republican obstruction and said he would use the power of his office to protect immigrant families from the threat of deportation. White House aides began calling elected officials and immigration advocates Saturday morning to inform them that the president had decided not to act before the election. The president is expected to talk about the issue during an interview with NBC's "Meet the Press" to be broadcast on Sunday. The delay is certain to frustrate Hispanic activists who have been pressing Mr. Obama for months to sidestep Congress. Leaders of several immigration groups said their members would be furious with the president for raising — and then dashing — their hopes. Mr. Obama's advisers appear to have persuaded the president that he will be able to win back the support of immigrant activists, and create a personal legacy, if he waits until after the midterm elections to announce the sweeping executive actions. The announcement's timing has developed into a political problem for Mr. Obama. By saying that he would act on his own, the president heightened expectations among Hispanics that he would finally address the deportation fears of 11 million illegal immigrants, many of whom have been in the United States for decades. As the election draws closer, nervous Senate Democrats in Arkansas, Louisiana, North Carolina and Alaska have told White House officials that Mr. Obama's actions could cost them victory at the polls. Those conversations culminated in the decision to delay immigration action.


Oakland Tribune


"I taught him that police are not your friends"
Scary, open secret --- parents of black sons believe troubles seek their boys
It's the time of year when hundreds of thousands of American parents are shipping their children off to college for the first time. For most, it's a time of celebration. But for the black parents of college-bound sons, the rite of passage has long come with a quiet, unique sense of dread. These parents grapple with a scary open secret: Young black males -- more than any other demographic group -- are haunted by cultural stereotypes that foster fear, discrimination and police harassment. Sending sons away to other parts of the country greatly magnifies those fears, particularly in the wake of last month's fatal shooting of Michael Brown by a white police officer in Ferguson, Missouri. The uneasy preparation for life as a young African-American male often begins when black males are in their early teens and goes on for years. Black parents simply call it "The Talk." "I taught him to keep his hands where cops can see them," said Amelia Ashley-Ward, a San Francisco mom whose son, Evan, says he has been stopped three times by police for no apparent reason in the Tennessee town where he attends college. "I taught him that police are not your friends and that every traffic stop can lead to damage that can never be undone." Some black parents, ironically, point to the 2008 election of the nation's first African-American president as the reason behind some of the racial animus. Many hoped a "post-racial" peace would ensue. Instead, African-Americans largely believe the election relit old hatreds and set off unapologetic venom in politics.


Los Angeles Times
New Republican pitch to female voters: Over-the-counter birth control


Will religious conservatives go berserk?


In at least four hot races across the nation, Republican candidates have adopted a new approach to birth control: It should be available over the counter. "More rights, more freedom," Republican Cory Gardner says in a new TV ad airing in Colorado, where he is locked in a tight race with first-term Democratic incumbent Sen. Mark Udall. The strategy is particularly notable because some of the
candidates have in the past not exactly been supportive of ready access to birth control. Gardner has been slapped around for months by Udall and his allies for his past support of "personhood" ballot measures that would have legally established life as beginning at the point of conception. Only this year, when he entered the Senate race, did Gardner renounce the measures, saying that he had belatedly learned that they could restrict some forms of birth control. Republican Thom Tillis, running against first-term Democrat Kay Hagan for a Senate seat in North Carolina, had previously said that it was within the state's rights to ban birth control altogether -- although he would not say whether he supported such a move. Still, in a debate on Wednesday night, he declared that birth control pills should be available over the counter. "First, I believe contraception should be available -- and probably more broadly than it is today," said Tillis, the speaker of the state House, adding that "I think over-the-counter oral contraception should be available without a prescription. If you do those kinds of things, you will actually increase the access and reduce the barriers for having more options for women for contraception." Previously coming to the same conclusion were Republican Senate candidates Ed Gillespie in Virginia, who made his announcement in a July debate with Democrat Mark Warner, and Mike McFadden, seeking the Senate seat now held by Al Franken in Minnesota. The moves, which bear the strong scent of election-year choreography, appear intended to blunt criticisms from Democrats that the GOP is engaged in a war on women, as demonstrated by party efforts to, among other things, strip contraceptive coverage from Obamacare and defund Planned Parenthood facilities that offer birth control as part of their services. Women, not incidentally, are among the most targeted voter groups in the fall midterm elections -- particularly single women, many of whom who have more than a passing familiarity with birth control.


New York Times
Tired of Getting Sand Kicked in Their Faces, U.S. and Allies Form Coalition With Intent to Destroy ISIS
The Obama administration said Friday that the United States and its allies had formed a coalition to fight Sunni militants of the Islamic State in Iraq and Syria, unveiling a military and political campaign that officials said could serve as a model for combating extremist groups around the world. In a hastily organized meeting on the sidelines of the NATO summit meeting here, diplomats and defense officials from the United States, Britain, France, Australia, Canada, Germany, Turkey, Italy, Poland and Denmark conferred on what they called a two-pronged strategy: working to bolster allies on the ground in Iraq and Syria, while attacking Sunni militants from the air. They said the goal was to destroy the Islamist militant group, not to contain it. "There is no containment policy for ISIL," Secretary of State John Kerry said at the beginning of the meeting, using an alternate acronym for ISIS. "They're an ambitious, avowed, genocidal, territorial-grabbing, caliphate-desiring quasi state with an irregular army, and leaving them in some capacity intact anywhere would leave a cancer in place that will ultimately come back to haunt us." But he and other officials present made clear that at the moment, any ground combat troops would come from either Iraqi security forces or Kurdish pesh merga fighters on the ground in Iraq, or from moderate Syrian rebels opposed to the government of President Bashar al-Assad in Syria. "Obviously I think that's a red line for everybody here: no boots on the ground," Mr. Kerry said. For President Obama, assembling a coalition to fight ISIS is critical. The president is loath to be viewed as going it alone in Iraq now that the United States has been dragged back into a combat role there. And even as Mr. Obama weighs expanding airstrikes into Syria, both he and his administration have been questioning what might happen after launching those strikes, especially as targeting ISIS in Syria would help the government of Mr. Assad, who President Obama has said must yield power. American officials are hoping to expand the coalition against ISIS to include as many countries as possible, particularly in the region. Obama administration officials said privately that in addition to the countries that attended the meeting Friday morning, the United States was hoping to get quiet intelligence help about the Sunni militants from Jordan, whose leader, King Abdullah, was participating in the NATO summit.


NBC News


Justice Department to Investigate Ferguson, Missouri, Police
The Justice Department intends to launch a civil rights investigation of the entire Ferguson, Missouri, Police Department, according to administration officials. An announcement of the investigation is planned for Thursday. With the help of the FBI, the Justice Department's Civil Rights Division has been investigating last month's fatal shooting of an unarmed teenager, Michael Brown, who was wounded several times by a Ferguson police officer. The shooting touched off several days of sometimes violent protest. But this new investigation would be much broader, looking at the conduct of the entire Ferguson Police Department over the past several years. The Justice Department will also look at the practices of the county police department, but that will be a more cooperative investigation, an administration official said. Since 1994, the Justice Department has had the legal authority to investigate whether a law enforcement organization is engaging in a "pattern or practice" of civil rights violations. Some investigations end with agreements to improve conduct. Others end up in federal court for a resolution. In the past five years, the department has launched 20 investigations of police departments nationwide — more than twice as many as were opened in the preceding five years. Police officers in Ferguson have been the subject of a handful of lawsuits filed in recent years claiming that excessive force was used. In one case, four police officers were accused of beating a man, then charging him with damaging government property — by getting blood on their uniforms. Many black residents of Ferguson have accused their city's police department of failing to represent the racial diversity of the St. Louis suburb. While Ferguson is about 65 percent black, roughly eleven percent of the city's police officers are black.


San Francisco Chronicle
Mysterious Fake Cellphone Towers Are Intercepting Calls All Over The US
Seventeen fake cellphone towers were discovered across the U.S. last week, according to a report in Popular Science. Rather than offering you cellphone service, the towers appear to be connecting to nearby phones, bypassing their encryption, and either tapping calls or reading texts. Les Goldsmith, the CEO of ESD America, used ESD's CryptoPhone 500 to detect 17 bogus cellphone towers. ESD is a leading American defense and law enforcement technology provider based in Las Vegas. With most phones, these fake communication towers are undetectable. But not for the CryptoPhone 500, a customized Android device that is disguised as a Samsung Galaxy S III but has highly advanced encryption. Goldsmith told Popular Science: "Interceptor use in the U.S. is much higher than people had anticipated. One of our customers took a road trip from Florida to North Carolina and he found eight different interceptors on that trip. We even found one at South Point Casino in Las Vegas." The towers were found in July, but the report implied that there may have been more out there. Although it is unclear who owns the towers, ESD found that several of them were located near U.S. military bases. "Whose interceptor is it? Who are they, that's listening to calls around military bases? Is it just the U.S. military, or are they foreign governments doing it? The point is: we don't really know whose they are," Goldsmith said to Popular Science. In an amazing coincidence, police departments in a handful of U.S. cities have been operating "Stingray" or "Hailstorm" towers, which — you guessed it — conduct surveillance on mobile phone activity. They do that by jamming mobile phone signals, forcing phones to drop down from 4G and 3G network bands to the older, more insecure 2G band.



Los Angeles Times


Obama: Video of slain journalist is authentic
Unlike some nations, the U.S. does not negotiate with terrorists
U.S. intelligence officials have verified the authenticity of a video showing the beheading of American journalist Steven Sotloff, President Obama said Wednesday as he declared the U.S. would "not be intimidated" by the Islamic State militants' acts of "barbarism." "Whatever these murderers think they'll achieve by killing innocent Americans like Steven, they have already failed," Obama said. "We will not forget, and our reach is long and justice will be served." The Sunni militant group released the video Tuesday purportedly showing Sotloff shortly before and after his death. In the video, a black-clad militant declares that Sotloff's killing was retaliation for the U.S. airstrike Obama has ordered on Islamic State targets in northern Iraq. "Just as your missiles continue to strike our people, our knife will continue to strike the necks of your people," the man says. Sotloff, a 31-year-old freelance journalist who wrote for such outlets as Time magazine and Foreign Policy, was kidnapped shortly after crossing into Syria in August 2013. Two weeks ago, he appeared in video showing the beheading of fellow American journalist James Foley. In that video, a militant in a similar black mask and speaking English with British accent threatened that Sotloff would be next. Obama has continued the air campaign against the group despite the threats. The Islamic State has seized large pieces of northern and western Iraq in its campaign to establish a caliphate across the region. Unlike some nations, the U.S. does not negotiate or pay ransom for hostages, officials say. Earlier this summer, Obama authorized a raid on an Islamic State camp in Syria in an attempt to rescue Sotloff, Foley and others believed to be to held by the group, but no hostages were found at the site.


San Francisco Chronicle


Pessimism reigns about economic 'recovery'
Economic growth is not being reflected in higher wages
Perhaps the most telling finding in the latest survey of America's post-Great Recession mood is this: Seven in 10 believe the U.S. economy has changed permanently - for the worse. That comes from the John J. Heldrich Center for Workforce Development at Rutgers University in a survey published Thursday, titled "Unhappy, worried and pessimistic." Indeed, it makes for depressing - but not really surprising - reading. Five years into the economic "recovery" (the survey of 1,153 Americans was conducted between July 24 and Aug. 3), the vast majority don't believe the economy has gotten any better, despite reassurances to the contrary. They believe their children are going to have it even harder - and think there's nothing the federal government can do about it. Sorry to be a drag on the eve of Labor Day weekend, but other reports this month tell much the same story, in contrast to the roaring stock market and growth in employment and gross domestic product. The Economic Policy Institute finds that hourly wages in real terms in the first half of 2014 were lower than in the same period last year, "even for those with a bachelor's or advanced degree." A major reason, says the institute: Economic growth is not being reflected in higher wages. New post-Great Recession jobs - the majority of them in low-wage sectors - "pay an average 23 percent less than the jobs lost during the recession," according to a U.S. Conference of Mayors report. Gallup's Economic Confidence Index is a little rosier, though not by much. More than a third of those surveyed as of Aug. 24 describe the economy as "poor," while 56 percent think it's getting worse, not better. "Americans' economic confidence thus far in 2014 has (not) been boosted by positive economic signs," says Gallup. "There is reason to believe that economic confidence is in a holding pattern that may persist for the remainder of 2014."


New York Daily News
Brutal cops reigned in: Ferguson cops start wearing body cameras


After massive public backlash, police in the St. Louis suburb where a white officer shot and killed an unarmed 18-year-old have started wearing body cameras


Police in the St. Louis suburb where a white officer shot and killed an unarmed 18-year-old have started wearing body cameras. Ferguson police began wearing the cameras Saturday. Ferguson Police Chief Tom Jackson said officers had the devices on during a protest march Saturday. The march marked the Aug. 9 shooting death of Michael Brown by Ferguson officer Darren Wilson. Demonstrators protest outside the Ferguson Police Department during the National March on Ferguson on Saturday.Demonstrators protest outside the Ferguson Police Department during the National March on Ferguson on Saturday.PreviousNextDemonstrators protest outside the Ferguson Police Department during the National March on Ferguson on Saturday. Jackson said the department was given about 50 body cameras by two companies about a week ago. Company representatives offered training to officers Saturday on using the devices that attach to their uniforms and record video and audio. Jackson said each officer will get one to use.


Washington Post
Wall Street takes care of one of its own...
Eric Cantor joins Wall Street investment firm, will open Washington office
Former House majority leader Eric Cantor is joining a Wall Street investment bank as vice chairman and managing director, the firm announced this morning. The firm, Moelis & Co., said Cantor will be based in the New York office of the global company and will soon open an office in Washington. Moelis, with 500 employees, is known as a fast-growing "boutique" firm that advises companies and investors on mergers, acquisitions and risk. It will use Cantor, 51, to help it compete for business, according to the Wall Street Journal, which broke the story. He will also advise corporate clients on takeovers and "other deals," the Journal reported. Cantor, a lawyer, does not have a Wall Street background, though he was considered a friend of Wall Street in Congress. According to data compiled by the Center for Responsive Politics, individuals and committees associated with the securities and investment business were the leading donors among industries to Cantor's reelection bid, giving a combined total of about $1.4 million during the primary election cycle in 2013 and 2014. The figure is not unusual for a member of the Republican leadership in Congress. Nor is it unusual for a former member or outgoing high-ranking official in an administration to go to work for a Wall Street firm or to represent banking interests in Washington law firms.


New York Times


Putin to US/NATO...Go ahead, make my day...


Russia to Revise Military Doctrine in Response to NATO
With NATO leaders expected to endorse a rapid-reaction force of 4,000 troops for Eastern Europe this week, a senior Russian military official said on Tuesday that Moscow would revise its military doctrine to account for "changing military dangers and military threats." In an interview with the Russian state news agency RIA Novosti, the official, Mikhail Popov, deputy secretary of Russia's military Security Council, called the expansion of NATO "one of the leading military dangers for the Russian Federation." Mr. Popov said Russia expected that leaders of NATO would seek to strengthen the alliance's long-term military presence in Eastern Europe by establishing new military bases in the region and by deploying tanks in Estonia, a member of NATO that borders Russia. "We believe that the defining factor in our relationship with NATO remains the unacceptability for Russia of plans to move military infrastructures of the alliance to our borders, including by means of expanding the bloc," Mr. Popov said. Russian foreign policy has long focused on NATO as a threat. Speaking at a news conference in Moscow on Tuesday, the Russian foreign minister, Sergey V. Lavrov, said a recent initiative by the Ukrainian government to shed its nonaligned status and to join NATO could scuttle efforts to negotiate a peace settlement between Kiev and separatists in southeast Ukraine. Before a NATO summit meeting begins in Wales on Thursday, President Obama is expected to visit Estonia to highlight the United States' commitment to the military alliance and the alliance's determination to protect all 28 members from aggression — from Moscow or elsewhere.


New York Times
Germany to Arm Kurds Battling ISIS
Chancellor Angela Merkel told lawmakers on Monday that her government had decided to break with a taboo on delivering weapons to conflict zones because Germany and all of Europe faced a security threat from the extremists of the Islamic State in Iraq and Syria. Ms. Merkel and top ministers decided Sunday to deliver thousands of machine guns, as well as antitank missiles and armored vehicles, to Kurdish forces battling ISIS in northern Iraq. The deliveries — from existing German Army stocks, and worth an estimated 70 million euros, or almost $92 million — will take place in stages in the coming weeks, the Defense Ministry said. Ms. Merkel went before Parliament on Monday to justify the arms decision. She evoked scenes of mass terrorism and killings in the Middle East, and said of ISIS, "Anything which does not conform to their view of the world they simply expunge from the scene." In sum, she said, "A religion is being abused in the most terrible way." She added, "The far-reaching destabilization of a whole region affects Germany, and Europe."


Washington Examiner
Electricity prices rise most since 2009
Electricity prices for the first half of this year increased the most in a year-over-year basis since 2009, according the Energy Department's statistics arm. United States power prices are up 3.2 percent, according to the U.S. Energy Information Administration. Prices rose everywhere except for the Pacific census region, which includes Alaska, California, Hawaii, Oregon and Washington, where they dropped 2.5 percent. New England led much of the spike, as prices there jumped 11.8 percent. The region faced a brutal winter, leading to a natural gas supply crunch that caused prices to soar. Many electricity customers there live in competitive power markets — unlike the regulated utility monopolies that dominate much of the country — relying on third-party providers for their power. When the cold came in, wholesale prices skyrocketed 45 percent, which the EIA called "the primary driver of the recent increase in New England retail rates." Some Southern states fared better than the national average. A region of interior Southeastern states that includes Kentucky, Tennessee, Alabama and Mississippi experienced a 3.1 percent hike. A clutch of states that includes Louisiana, Texas, Oklahoma and Arkansas saw a 2.4 percent increase. Other power prices increases included: 6.7 percent in the Mid-Atlantic; 4.5 percent in the Mountain region; 4 percent in the South Atlantic, which is bounded by Maryland to the north and Florida in the south; 3.7 percent in part of the Midwest that stretches from Wisconsin to Ohio; and 1.8 percent in a group of states anchored by North Dakota in the northwest and Missouri in the southeast.


Los Angeles Times


Funny Money? After reaching $433,000, donations for Ferguson cop halt mysteriously
After raising more than $400,000 for the police officer who killed an unarmed black 18-year-old in Ferguson, Mo., two online donation pages appear to have been shut down by their organizers without explanation this weekend. On the crowdsourced fundraising site GoFundMe, "Support Officer Darren Wilson" and "Support Officer Wilson" -- two separate pages with similar names -- have raised $235,750 and $197,620, respectively, for the Ferguson police officer who shot Michael Brown on Aug. 9. A similar page for Brown's family, run by the family's attorney, Benjamin Crump, had raised $314,099 as of Sunday afternoon. The shooting triggered weeks of unrest and demonstrations against the overwhelmingly white police force in mostly black Ferguson, sending Wilson into hiding as local and federal investigations seek to determine whether he wrongfully killed Brown. The online donation campaigns have generated some controversy for defending Wilson, especially after some visitors left racially offensive remarks in at least one of the comment sections, which have since been removed. Both pages appear to have stopped taking donations around the same time on Saturday, and the pages' organizers did not explain why.


Washington Post


"We cannot ignore the inequities that persist in our justice system"


Nobody really noticed, but Hillary Clinton has made the boldest comments on Ferguson and race
Dogged for weeks by progressives for not speaking out on Ferguson, Hillary Clinton finally spoke, and her remarks were bold. Progressives really, really, really wanted to hear from Hillary Clinton on the events in Ferguson, Mo., where an unarmed black teenager was shot and killed by a white police officer on Aug. 9, sparking days of unrest in that small city outside St. Louis and elsewhere. Al Sharpton said he wanted to smoke Clinton out on Ferguson and suggested that if she ran in 2016, he would be a thorn in her side on civil rights issues. MSNBC host Chris Hayes thought it was "bizarre" that Clinton hadn't at least weighed in with a statement on the incident, even though she hasn't made a habit of offering up opinions on much of anything outside of formal interviews and speeches. Well, she finally addressed Ferguson during a prepared speech, and it turns out that her comments were among the most substantive compared to what other political leaders have said. Whereas most Democrats and Republicans, and eventually President Obama, addressed the militarization of the police, Clinton actually went there on an issue that most avoided: racism and the criminal justice system. And then she did what few of her prominent fellow white Democrats have done in the context of Ferguson–she acknowledged the well-known statistics that show that blacks get treated differently than whites when it comes to everything from traffic stops to sentencing. But rather than just listing the statistics, she got personal by asking whites to put themselves in the shoes of black Americans: Her statements in many ways echo those of Sen. Rand Paul's who also imagined himself as Michael Brown, mouthing off at a cop as a teen, but with a very different outcome based on race. Both Paul and Clinton went further in their statements than Sen. Elizabeth Warren and Obama, who in his third statement on Ferguson, touched on black crime rates, and only allowed that there might be sentencing disparities and differential treatment for blacks in the criminal justice system.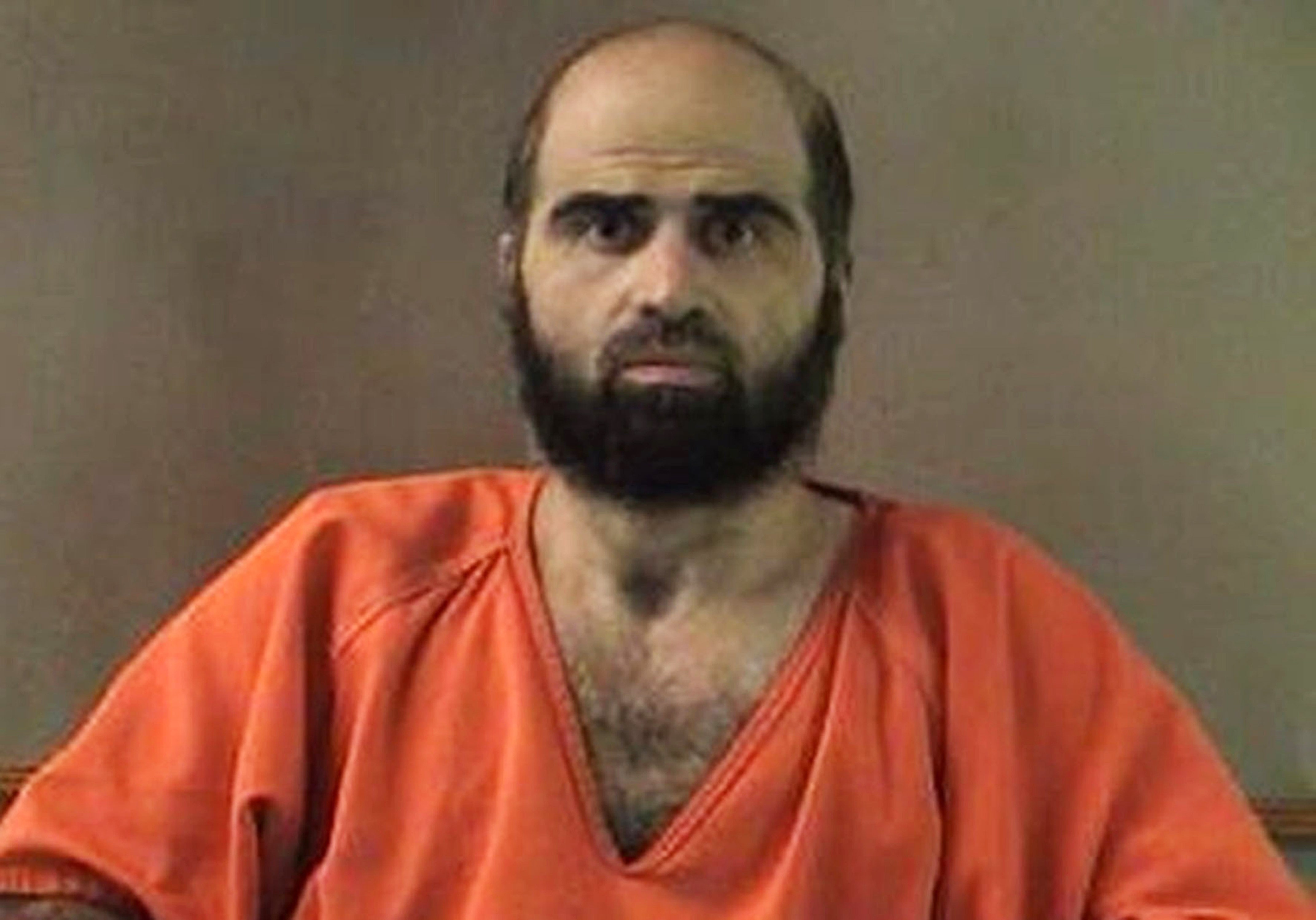 Los Angeles Times
From death row, Ft. Hood shooter requests to join Islamic State
In a letter to Islamic State, Nidal Hasan requests to become a 'citizen soldier'
The former U.S. Army psychiatrist sentenced to die for the 2009 Ft. Hood shooting that killed 13 and wounded dozens more has released a letter saying he wants to become a citizen of the militant group Islamic State, according to a letter. Nidal Malik Hasan addressed a handwritten letter to Islamic State leader Abu Bakr Baghdadi, requesting citizenship with the group, according to Fox News, which obtained a copy of the letter this week. "It would be an honor for any believer to be an obedient citizen soldier," Hasan wrote in the letter, verified for the Los Angeles Times by attorney John Galligan on Saturday. The group that Hasan named in his letter, Islamic State, also known as ISIS or ISIL, has gained momentum, seizing territory in Iraq and Syria in order to establish a Muslim caliphate governed by fundamentalist interpretations of Islam. As Islamic State gains prominence in the Middle East, its propaganda efforts have begun to attract recruits from Western nations. The group released a video earlier this month showing members beheading American journalist James Foley, and have been prolific in documenting their victories via video and social media.


Washington Post


More spin from racist mayor covering up for racist cops
Ferguson mayor on four-hour delay: 'It was a crime scene'
The mayor of St. Louis suburb on Thursday said he has "not had an opportunity" to apologize to the family of a black teenager whose body was left in the street for hours after he was fatally shot by a police officer earlier this month. Ferguson Mayor James Knowles III said that Michael Brown's body lay exposed on Canfield Drive after the Aug. 9 shooting because authorities wanted to avoid the appearance of an improper cover-up or investigation. "It was a crime scene that had to be investigated by a third party," he said, explaining the hours-long delay in removing the 18-year-old's body. Knowles spoke at a St. Louis Public Radio forum in a Ferguson church that was attended by residents from across the area, many of whom told him they felt disrespected by authorities, and disapproved of law enforcement tactics in the days that followed the shooting. Brown's death sparked protests in the St. Louis region, and police responded to the demonstrations with tear gas and military-grade equipment. Funeral services for Brown were held earlier this week. Knowles said that the police department has received a batch of body cameras for officers, which will be used in patrols going forward. A Ferguson officer who said he was watching the church's parking lot to make sure cars weren't being broken into was wearing a camera Thursday night.


New York Times


Relentless Democrats Keep Pressure on Hapless Christie
Committee on Shut Lanes Subpoenas Cellphone Records of a Top Christie Aide
The New Jersey legislative committee investigating the mysterious closing of access lanes to the George Washington Bridge last September has subpoenaed a cellphone carrier in an effort to uncover text messages exchanged by Gov. Chris Christie and a top aide as the governor's administration sought to contain the fallout from the ensuing scandal. The aide, Regina Egea, told the panel
last month that she texted the governor in December after a legislative hearing at which employees of the Port Authority of New York and New Jersey, which controls the bridge, first rebutted the administration's assertion that the lanes had been closed as part of a traffic study. The authority workers also said during the hearing that Mr. Christie's staff at the agency had instructed them not to give notice of the lane closings to the police or public officials in Fort Lee, N.J., the town shut down for four days by the resulting traffic snarl. The town's mayor maintains that the closings were political retribution for his refusal to endorse the governor for re-election. In the subpoena released on Wednesday, the committee asks AT&T to produce records of all calls and texts to and from the cellphone of Ms. Egea, the governor's liaison to the authority, during December. The Democrats leading the panel, the New Jersey Legislative Select Committee on Investigation, have accused the governor's office of withholding documents in response to their previous subpoenas. During her appearance before the committee last month, Ms. Egea was asked specifically by legislators why neither she nor Mr. Christie's office had submitted the text in response to subpoenas for all records of communications related to the lane closings.


New York Times
Lawmakers Want Congress to Decide on Military Action Against ISIS
A bipartisan group of lawmakers on Wednesday called for Congress to debate and vote on whether to authorize President Obama to take military action against Sunni militants in Iraq and Syria. In a letter to Speaker John A. Boehner, the lawmakers — Representatives Barbara Lee of California and James McGovern of Massachusetts, both Democrats, and Walter B. Jones, Republican of North Carolina — said it was time for Congress to weigh in on whether to give Mr. Obama the power to broaden what began as a limited military mission in Iraq. The number of American troops and airstrikes in Iraq has "increased significantly" while lawmakers have been on their August break, the three House members said, and the administration has begun weighing whether to expand the operation to Syria. "We all share concerns about the Islamic State's (IS) brutal tactics and further destabilization of the region," the lawmakers wrote, adding that they also supported the Iraq mission that Mr. Obama announced on Aug. 7. "But current military operations now underway in Iraq appear to be beyond the scope of these limited purposes, and even greater expansion is under discussion. "These are serious matters that require congressional debate and a vote on whether to authorize them," the letter says.



Michael Hiltzik


Big business takes aim at corporate activists
"Shareholder democracy" long has been derided as an oxymoron, like "military intelligence" or "jumbo shrimp." Yes, corporate managements bow endlessly to the mandate that they act exclusively in the shareholders' interest, but in real life they treat the poor sap with a few hundred shares as hardly more important than the night janitor. So it's proper to ask why Big Business has been aiming its heavy artillery at a small clutch of shareholders who have the temerity to try to obtain for their fellows the right to vote at annual meetings on issues that might affect the value of their stock. Issues such as the structure of their companies' boards of directors, oversight of their chief executives' actions, the right to call special meetings — of shareholders — and so on. The shareholders include John Chevedden, 68, a former employee of Honeywell and Hughes Aircraft who lives modestly in Redondo Beach and submits about 20 or 30 shareholder resolutions for annual meetings per year; and James McRitchie, 66, a Sacramento-area small investor who sometimes teams up with Chevedden. In recent years, major corporations have started to file lawsuits, with limited success, to knock their resolutions off the agendas of their annual meetings. Recently the campaign seems to have stepped up. The conservative Manhattan Institute this year issued a lengthy report placing Chevedden, McRitchie and New York-based investor William Steiner among the leading "corporate gadflies" engaged in shareholder activism — calculating that the three are responsible for 70% of all shareholder proposals this year, and questioning their motives and success. (The Manhattan Institute's board of trustees comprises a pretty fair cross section of hedge fund and corporate aristocracy, starting with its chairman, the hedge fund executive Paul Singer.) The institute's report became the basis of an essay critical of the three last week in the New York Times by Steven Davidoff Solomon, a former corporate attorney now teaching law at UC Berkeley. His theme: "Corporate America is being held hostage by three people you have probably never heard of." This triumvirate is accused, implausibly, of holding multibillion-dollar corporations "hostage," causing big companies to be "irreparably harmed" (as EMC Corp. complained in a lawsuit against Chevedden and McRitchie this year), and acting out of "personal pique" (the Manhattan Institute). So it's only proper to place in perspective what they actually are doing and what they've achieved. "This is how companies are held accountable," Chevedden told me.


San Francisco Chronicle




After Hagel and Dempsey bleat like sheep about the danger of ISIS...


FBI: No credible threats to US from Islamic State
The FBI and Homeland Security Department say there are no specific or credible terror threats to the U.S. homeland from the Islamic State militant group. An intelligence bulletin, issued to state and local law enforcement, says while there's no credible threat to the U.S. as a result of recent American airstrikes in Iraq, officials remain concerned that Islamic State supporters could attack overseas targets with little warning. U.S. law enforcement has been trying to identify Islamic State sympathizers who could help export the group's brand of violent jihad to the United States. U.S. airstrikes against the Islamic State group intensified after militants beheaded American journalist James Foley. The group called Foley's killing revenge for previous strikes against militants in Iraq.



San Francisco Chronicle


Police often provoke protest violence
"Everything starts to turn bad when you see a police officer come out of an SUV and he's carrying an AR-15"
The violence that turns a small-town protest into a fiery national spectacle like the one that has played out this month in Missouri is often unwittingly provoked by police, according to researchers at UC Berkeley. The research team, which studied clashes between police and activists during the Occupy movement three years ago, found that protests tend to turn violent when officers use aggressive tactics, such as approaching demonstrators in riot gear or lining up in military-like formations. Recent events in Ferguson, Mo., are a good example, the study's lead researcher said. For nearly two weeks, activists angered by a white police officer's fatal shooting of an unarmed black teenager have ratcheted up their protests when confronted by heavily armed police forces. Some of the most contentious Occupy protests happened in Oakland, where the fallout is still being scrutinized.


Rambo cops the cause of rioting....? "Everything starts to turn bad when you see a police officer come out of an SUV and he's carrying an AR-15."




Los Angeles Times


Officer "I'll f**king kill you!" suspended indefinitely
Idiot cop a perfect example of why mentally ill people should not have guns
A police officer who pointed his assault rifle at a demonstrator in Ferguson, Mo., and threatened to shoot has been suspended indefinitely, authorities said Wednesday. The unidentified officer from the St. Ann Police Department pointed his weapon after he became involved in an argument Tuesday night with the protester, according to Officer Brian Schellman, a spokesman for the St. Louis County Police Department. Schellman said a supervising officer intervened, ordered the officer to lower his weapon and took him away from the area. "The unified command strongly feel these actions are inappropriate, and not indicative of the officers who have worked daily, to keep the peace," according to a statement from the St. Louis County Police Department. A video of the incident, which the Missouri chapter of the American Civil Liberties Union says is authentic, shows the officer pointing his rifle in several directions and shouting, "I'll ... kill you!" using an expletive, in response to comments made by a protester. Calls to St. Ann police officials seeking comment were not immediately returned.


Mentally ill people should not have access to guns. We should start by disarming this idiot cop.
Washington Post


School cops in L.A. side with NRA - But are they really arming themselves against us?


In Compton, school police can use semiautomatic weapons
It's a place that's been associated with gunfire at least since the release of N.W.A.'s "Straight Outta Compton" in 1988: Compton, Calif., a city of 100,000 south of downtown Los Angeles, and a site of 1992 riots following the Rodney King verdict. Now, California public radio station KPCC reports some school police in Compton will be permitted to carry semiautomatic AR-15 rifles — the same kind of rifle used in a recent Oregon school shooting – in schools. The reason? School shootings, the school board said. According to a new school board policy, the weapons are to be used "in response to situations that clearly evidence a need or potential need for superior firepower to be used against armed suspects." And: "Only those situations where the circumstances at hand are beyond the capabilities of the standard patrol sidearms (e.g., Long distances, suspects utilizing body armor, and/ or high powered, high capacity weapons) should be considered." Police said the heavy firepower was necessary. "This is our objective — save lives, bottom line," said Compton Unified School District Police Chief William Wu. Though the National Rifle Association called for "a good guy with a gun" in every school after the Sandy Hook school shooting in 2012, Wu said not just any gun would do. Some in the community weren't enthusiastic. "The school police has been very notorious in the community and in reality has never had to shoot anyone before," said Francisco Orozco, a recent graduate and founder of the Compton Democratic Club, told KPCC. "So this escalation of weapons we feel is very unnecessary."



Washington Post


Ferguson police officer Darren Wilson is nowhere to be found
For the past 12 days, he has been one of the most villainized men in the country. And he has virtually disappeared. It's a matter of safety, some say. Since his name was released last week, Darren Wilson, the Ferguson police officer who shot and killed 18-year-old Michael Brown on Aug. 9, has remained holed up. He hasn't been seen. He hasn't been heard from. And any social media accounts he once had have been deactivated, according to the St. Louis Post-Dispatch. One measly picture of him circulating around the Internet is an image released by the city of Ferguson. It shows a slightly-balding man in a blue police uniform apparently exiting a city-council meeting. "I can't remember any time in the last 10 years, at least, where somebody's completely gone into hiding, for fear of his life," Jonathan Bernstein, president of Bernstein Crisis Management in Los Angeles, told the Post-Dispatch. "Frankly, if I'd been advising his family, the first thing I would have said was, 'hide.' In the near term, saving his life is more important than anything else. … He's had some advice to dive down a hole and take cover for now."



The Hill


Report: ISIS demanded $100M ransom for Foley
Islamic extremists demanded millions of dollars in ransom before brutally executing captured American photojournalist James Foley, according to a report. The U.S., unlike some European nations that have paid millions in exchange for their citizens, would not pay the terrorists. The family of Foley, who freelanced for the Boston-based GlobalPost news service and went missing in Syria in November, 2012, reportedly received an email last week from the Islamic militants. But it did not include any demands, GlobalPost Chief Executive Philip S. Balboni said Wednesday, according to The Boston Globe. Some fellow hostages with Foley were released after ransoms were paid, Balboni added. GlobalPost spent "millions" in an attempt to get Foley, Balboni said, according to the Globe. "There were monetary challenges that were not going to be easy to overcome," he said. Balboni told The Wall Street Journal the original demand for Foley was $132.5 million (100 million euros) but did not discuss the company's reply. ISIS is holding three other Americans as well as some British citizens, according to the Times. The U.S. made an unsuccessful attempt at rescuing the hostages this past summer, administration officials said Wednesday.


Washington Post


Islamic State claims it executed American photojournalist James Foley
The Islamic State militant group claimed Tuesday to have beheaded an American photojournalist in retaliation for U.S. airstrikes in Iraq. A video posted on YouTube, later removed, purported to show the execution of James Foley after he recited a statement in which he called the U.S. government "my real killers." A second prisoner, said to be Steven Joel Sotloff, like Foley an American journalist who disappeared while covering Syria's civil war, then appears in the video. The masked executioner, speaking in English with what sounds like a British accent, identifies Sotloff and says that "the life of this American citizen, Obama, depends on your next decision." American intelligence officials believe the video is authentic but are continuing to evaluate it, senior U.S. officials said Wednesday morning. In a statement Tuesday, National Security Council spokeswoman Caitlin Hayden said of the video: "If genuine, we are appalled by the brutal murder of an innocent American journalist and we express our deepest condolences to his family and friends. We will provide more information when it is available." Foley, 40, was working in Syria for the Boston-based news Web site Global­Post when he disappeared on Thanksgiving in 2012.



St. Louis Post-Dispatch


Gov. Nixon bringing in National Guard to help restore order in Ferguson
Gov. Jay Nixon announced early Monday morning that he was activating the National Guard to help restore order in Ferguson after a week of protests that have resulted in looting and violence some nights. At his press conference after another night of violent clashes with protesters, Missouri Highway Patrol Capt. Ronald S. Johnson said new security steps were planned but declined to detail them. In response to one of the few questions that were allowed, he said those plans were still in flux but did not include bringing in National Guard troops. But Nixon announced a short time later he would bring in those troops. Johnson said the additional measures being put in place had been formulated in talks between himself, Nixon, St. Louis County Police Chief Jon Belmar, St. Louis Police Chief Sam Dotson and Replogle, who is in charge of the Highway Patrol. Johnson, who was put in control of security on the North County city's streets last week, blamed a small group of agitators for the night's violence that included shootings, molotov cocktails and lootings. He said he believed those who instigated the violence came to what had been a peaceful protest determined to "provoke a response." Larger and larger groups of protesters have been showing up on the streets of Ferguson since the fatal shooting last weekend of Michael Brown, 18, by a Ferguson police officer.



New York Times




"We want to make sure people understand what this case is about: This case is about a police officer executing a young unarmed man in broad daylight"


Autopsy Shows Michael Brown Was Struck at Least 6 Times
Michael Brown, the unarmed black teenager who was killed by a police officer, sparking protests around the nation, was shot at least six times, including twice in the head, a preliminary private autopsy performed on Sunday found. One of the bullets entered the top of Mr. Brown's skull, suggesting his head was bent forward when it struck him and caused a fatal injury, according to Dr. Michael M. Baden, the former chief medical examiner for the City of New York, who flew to Missouri on Sunday at the family's request to conduct the separate autopsy. It was likely the last of bullets to hit him, he said. Mr. Brown, 18, was also shot four times in the right arm, he said, adding that all the bullets were fired into his front. The preliminary autopsy results are the first time that some of the critical information resulting in Mr. Brown's death has been made public. Thousands of protesters demanding information and justice for what was widely viewed as a reckless shooting took to the streets here in rallies that ranged from peaceful to violent. "People have been asking: How many times was he shot? This information could have been released on Day 1," Dr. Baden said in an interview after performing the autopsy. "They don't do that, even as feelings built up among the citizenry that there was a cover-up. We are hoping to alleviate that." Dr. Baden said that while Mr. Brown was shot at least six times, only three bullets were recovered from his body. But he has not yet seen the X-rays showing where the bullets were found, which would clarify the autopsy results. Nor has he had access to witness and police statements.


St. Louis Post-Dispatch


Nationwide outrage forces Ferguson to release killer cop's name
Police immediately ramp-up "blame the dead victim" spin machine
Ferguson authorities have identified Darren Wilson as the police officer who shot and killed an unarmed teenager last Saturday. Documents released Friday also identify the teen, Michael Brown, as a suspect in a robbery at a convenience store a short time before the shooting. Ferguson Chief Tom Jackson released the officer's name Friday morning. Wilson is an 6-year veteran of the force. Brown, 18, was shot multiple times Saturday afternoon in the 2900 block of Canfield Drive. In his press conference, Jackson did not say Brown was a suspect in the robbery and did not say how that information connects to the Brown shooting investigation. The documents he released do name Brown and Johnson as suspects. He said he had been in touch with a contact for Brown's family before releasing the information. Some citizens attended the press conference and were upset Jackson spoke about a robbery. Chants of "No justice, no peace," broke out from some. "I am incensed," said Laura Keys, 50, of St. Louis. "I can't believe this is the tactic they are using, bringing up a robbery to make the victim look like he was the person who created this whole mess. Where's the footage?" Thursday Gov. Jay Nixon put the Missouri Highway Patrol in charge of the security in Ferguson and removed St. Louis County police. The change was dramatic and immediate, as Thursday night's police presence lacked gas masks, smoke bombs and military gear. Capt. Ronald S. Johnson, the patrol officer put in charge, walked and talked with protesters, exchanging hugs and answering questions.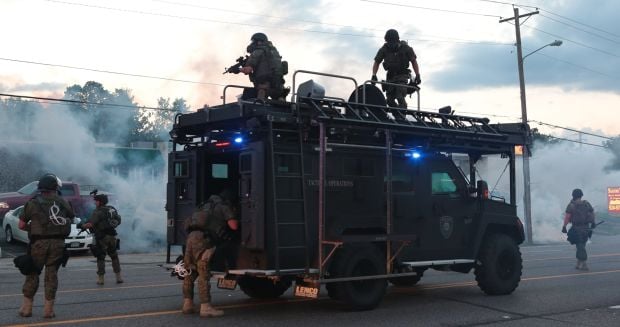 St. Louis Post-Dispatch


"In an American city, people are being tear-gassed and snipers are pointing rifles at them"
St. Louis alderman released from jail after arrest during Ferguson protest
St. Louis Alderman Antonio French emerged Thursday morning from a night in jail after his arrest at the Ferguson protests to say that the police officers' "heavy-handed" approach on the streets is making the situation worse. French said police dragged him from his car Wednesday night but gave him no documentation that says why he was arrested. He was released about 7 a.m. today without having to post any bail. No police spokesman was available to explain why French was arrested. French said he should never have been locked up, nor should the dozen or so others at the jail overnight. "Inside that jail is nothing but peacekeepers," he said. "They rounded up the wrong people ... reverends, young people organizing the peace effort." Police arrested about a dozen people Wednesday night, including French and Washington Post reporter Wesley Lowery and Huffington Post reporter Ryan Reilly. Police used tear gas and sonic cannons to disperse the crowds. Today, Missouri Gov. Jay Nixon is scheduled to visit Ferguson in the wake of the growing protests. When a reporter asked French today how he went from being in his car to being arrested, he said: "They open your door and drag you out." "They just rounded up anybody they could see," he said.


New York Times
Hackers drop a dime on killer cop...
Anger Simmers in Missouri; Hackers Claim to Name Officer
After a fifth night of unrest in this St. Louis suburb, a group identifying itself as Anonymous, the computer hacking collective, disclosed Thursday what it said was the name of the police officer who fatally shot an unarmed African-American teenager on Saturday. Writing on Twitter, the group said it would publish additional information about the officer — including his photograph — if it did not receive a response from the St. Louis County Police Department, which is overseeing one of the investigations into the death of Michael Brown, 18. Mr. Brown was shot Saturday afternoon while walking from a convenience store with a friend. The name of the officer released by Anonymous could not be immediately confirmed. Calls to the Ferguson police and the St. Louis County police were not returned Thursday morning. On Wednesday night, Ferguson was buffeted by another round of protests over the shooting, and selective release of information about the incident, and especially the anonymity granted to the officer, has stoked frustrations in this largely African-American community north of St. Louis, where residents describe increasingly tense relations with the police. The police chief, Thomas Jackson, has repeatedly declined to identify the officer, who has been put on administrative leave. Despite persistent and increasingly angry calls from the public to release the officer's name, Chief Jackson said the officer required protection after numerous death threats had been made. Computer hackers, saying they were outraged by police conduct, now have also joined the fray. On Wednesday, Anonymous, said on Twitter that it had broken into Ferguson's municipal computer system. It released details about city workers and posted photos of Jon Belmar, the chief of the St. Louis County police who is conducting the investigation into the shooting, as well as his wife, son and daughter. It also posted his address and phone number. The group threatened to bring down city, county and federal networks if the police overreacted to rallies and protests.
Washington Post
"Everybody in this city has been a victim of driving while black"
Even before Michael Brown's slaying in Ferguson, racial questions hung over police
When an unarmed black teenager and a police officer crossed paths here last weekend with fatal results, the incident cast a blinding spotlight on a small police department struggling for authority and relevance in a changing community. Since the shooting, the department has been criticized for how police have handled the response to the incident and for not disclosing key details, including the name of the officer involved. The department bears little demographic resemblance to the citizens of this St. Louis suburb, a mostly African American community whose suspicions of the law enforcement agency preceded Saturday afternoon's shooting of Michael Brown, an 18-year-old who this week had been headed to technical college. But while the racial disparity between the public here and its protectors has come to define the violent aftermath of Brown's death, the department's problems stretch back years and include questions about its officers' training and racial sensitivity. The office of Missouri's attorney general concluded in an annual report last year that Ferguson police were twice as likely to arrest African Americans during traffic stops as they were whites. And late last year, the state chapter of the NAACP filed a federal complaint against the St. Louis County police department, whose officers are now assisting Ferguson's force since the shooting, over racial disparities in traffic stops, arrests and other actions.
Los Angeles Times
Large employers see health costs rising 5% next year
"Rising healthcare costs remain a significant issue that needs to be constantly addressed"
Large employers expect their healthcare costs to jump 5% next year, and nearly a third of businesses will offer only higher-deductible plans to workers, a new survey shows. The annual report released Wednesday by the National Business Group on Health provides a good barometer of what employees at big companies can expect when health plan enrollment opens this fall. Overall, large employers estimate their health-benefit costs will rise by an average of 6.5% in 2015. But they anticipate holding increases to 5% after making changes to their coverage, such as shifting more medical costs to workers and expanding the use of high-deductible policies. Employers reported a similar 5% increase for 2014. Asked what's driving up medical spending, employers cited high-cost patients, specific diseases and an uptick in spending for specialty drugs. Only 7% said the cost of complying with the federal Affordable Care Act was a leading factor.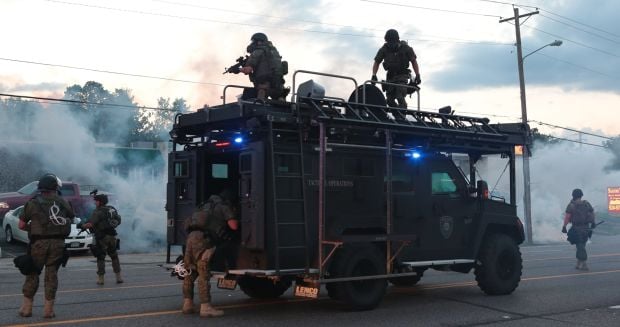 St. Louis Post-Dispatch


Rambo cops declare war on suburban St. Louis community
Police use tear gas in Ferguson, people jam church for moment of silence
Tension stayed high and raw Monday as the St. Louis region waited for answers in the fatal shooting of an unarmed teenager by a municipal police officer. In another day of fast-moving events, the FBI promised to investigate the killing of Michael Brown, 18, on Saturday by a Ferguson police officer. Brown's parents called for an end to the violence while strongly disputing the police version of their son's death. More than 1,000 people observed a moment of silence at a meeting called by the NAACP. Throughout the day, protesters continued to face off with police, and as the sun set, lines of police in riot gear fired tear gas to disperse protesters, telling them it was time to go home. By midnight, the situation was quiet. Two miles to the south, an overflow crowd observed a moment of silence at Murchison Tabernacle CME Church, 7629 Natural Bridge Road in Normandy. Cornell Brooks, the new national president of the NAACP, pleaded for calm as the community responds to the "unfolding drama." "Martin Luther King did not live and die so that we might steal in the name of justice in the middle of the night," said Brooks, who flew to St. Louis for the gathering, sponsored by the organization's St. Louis County branch. The shooting and rioting have drawn international attention.



The Hill


"A continuing pattern of the use of deadly force by police against unarmed African-Americans"
Black lawmakers want DOJ to expand probe of slain Missouri teen
Several black lawmakers say the Justice Department should expand its investigation into the shooting of an unarmed black teenager by a policeman in Ferguson, Mo. The shooting on Saturday of Michael Brown, 18, raises "potentially serious concerns," the lawmakers said in a letter to Attorney General Eric Holder. They said Brown's killing "may be part of a continuing pattern of the use of deadly force by police against unarmed African-Americans." The letter was signed by Rep. Marcia Fudge (D-Ohio), the head of the Congressional Black Caucus, and Reps. Lacy Clay (D-Mo.) and John Conyers (D-Mich.). The St. Louis County Police Department "may not be the most objective or credible body to investigate civil rights matters involving law enforcement given evidence of racial profiling by that department in the recent past," they said. "Only the federal government has the resources, the experience, and the full independence to give this case the close scrutiny that the citizens of Ferguson and the greater St. Louis area deserve." Brown, who was going to start college this week, was shot after a confrontation with police, who have said he attacked the officer. Police have not released the officer's name, and details about the incident remain unclear. Holder has already launched a federal probe. He said the Justice Department's civil rights division would work with FBI agents from the St. Louis field office and the U.S. Attorney's office on the investigation. Missouri Sens. Roy Blunt (R) and Claire McCaskill (D) had also called on the Justice Department to conduct a thorough review.


Washington Post
The calculated madness of the Islamic State's horrifying brutality


The glorification of extreme violence using social media is one of the defining aspects of the Islamic State


Last week, as the forces of the Islamic State crept within 40 miles of Irbil, fear settled over the urbane Kurdish capital. People had heard of the militants' brutality — of the crucifixions, the beheadings, the mass killings. They were understandably frightened, Kurdish journalist Namo Abdulla told The Washington Post. Some began to flee. Others made for the mountains. The killers were coming. In the last week, images of the Islamic State's savagery have been inescapable. News exploded yesterday of an image of a young boy, son to an Australian member of the Islamic State, hoisting a severed head beside his proud father. "This image, perhaps even an iconic photograph … really one of the most disturbing, stomach-turning, grotesque photographs ever displayed," Secretary of State John Kerry said on Tuesday morning. "A seven-year-old child holding a severed head, with pride and the support and encouragement of the parent, with brothers there. This is utterly disgraceful and underscores the degree to which [the Islamic State] is so far beyond the pale with respect to any standard by which we judge even terrorist groups." The glorification of extreme violence using social media is one of the defining aspects of the Islamic State. The Sunni militants wield savagery like a tool, analysts say. It's neither extemporaneous nor undisciplined. It's concerted. It's tactical. It's evil. And that's the point. "There's a strategic reason behind the executions," wrote the Washington Institute's Aaron Zelin. "And the gruesome pictures posted online for all to see."


The Guardian
Vatican calls on Muslim leaders to condemn Christian persecution in Iraq
The Vatican has called on Muslim leaders to denounce unambiguously the persecution of Christians and Yazidis in Iraq – and hinted that it is considering breaking off dialogue with Islamic representatives if they fail to do so. In a statement on Tuesday, the department in charge of inter-religious dialogue said: "The dramatic situation of the Christians, the Yazidis, and other minority religious and ethnic communities in Iraq demands that religious leaders, and above all Muslim religious leaders, people engaged in inter-religious dialogue and all people of good will take a clear and courageous stance. All must be unanimous in their unambiguous condemnation of these crimes and denounce the invoking of religion to justify them." In a departure from its customary language in the highly sensitive area of inter-faith relations, the Vatican statement asked: "Otherwise, what credibility will religions, their followers and their leaders, have? What credibility could the inter-religious dialogue [which has been] patiently pursued in recent years have?"


Politico


The fix is in...and this one is really blatant...consumers look pretty screwed


Comcast, Time Warner Cable help honor Mignon Clyburn amid merger review
Comcast and Time Warner Cable are sponsoring a dinner honoring FCC Commissioner Mignon Clyburn at a time when the agency is weighing whether to approve a multibillion-dollar merger between the two companies. Comcast will pay $110,000 to be a top-level "presenting sponsor" at the
Walter Kaitz Foundation's annual dinner in September, at which Clyburn is receiving the "diversity advocate" award, according to a foundation spokeswoman. Time Warner Cable paid $22,000 in May to the foundation for the same event, according to a Senate lobbying disclosure filed at the end of last month. The foundation supports diversity in the cable industry. There are no rules preventing businesses from helping to honor regulators in this way, and both companies say they have supported the foundation for years. "I think that the timing is curious," said Carrie Levine, research director at Citizens for Responsibility and Ethics in Washington, which noted the corporate sponsorships in a blog post Monday. "They're honoring an FCC commissioner at the exact same time they're trying to get approval for a merger. And that doesn't look so good." The contributions come as FCC and Justice Department officials review the $45 billion megadeal, which would give Comcast control of about 30 percent of U.S. pay-TV subscribers and about 40 percent of the country's broadband market. The two firms are pitching the deal as a way to increase investment in cable and Internet technology, but public interest groups oppose the deal because they say the combined company will have too much control over the market.


New York Times


U.S. Actions in Iraq Fueled Rise of a Rebel
So Much for Nation Building - Baghdadi of ISIS Pushes an Islamist Crusade
When American forces raided a home near Falluja during the turbulent 2004 offensive against the Iraqi Sunni insurgency, they got the hard-core militants they had been looking for. They also picked up an apparent hanger-on, an Iraqi man in his early 30s whom they knew nothing about. The Americans duly registered his name as they processed him and the others at the Camp Bucca detention center: Ibrahim Awad Ibrahim al-Badry. That once-peripheral figure has become known to the world now as Abu Bakr al-Baghdadi, the self-appointed caliph of the Islamic State in Iraq and Syria and the architect of its violent campaign to redraw the map of the Middle East. "He was a street thug when we picked him up in 2004," said a Pentagon official who spoke on the condition of anonymity to discuss intelligence matters. "It's hard to imagine we could have had a crystal ball then that would tell us he'd become head of ISIS."


Los Angeles Times


U.S. back to war in Iraq
Obama, hapless Reps just can't seem to get anything right in the Middle East
U.S. fighter jets bombed Sunni militant forces in northern Iraq Friday morning, launching the first major U.S. military action in the country since combat troops left three years ago. FA-18 Hornets dropped laser-guided bombs on artillery that had fired on Kurdish forces near Irbil, the Kurdish regional capitol. Militants of Islamic State, a breakaway Al Qaeda group, have been advancing toward the city in recent days. The attack occurred only hours after President Obama announced he had authorized air strikes to protect around 100 U.S. military advisors in Irbil and to halt the advance of the Islamist militants. Islamic State "was using this artillery to shell Kurdish forces defending Irbil where U.S. personnel are located," Kirby said. "As the president made clear, the United States military will continue to take direct action against ISIL when they threaten our personnel and facilities," Kirby said, referring to the militant group by an acronym. He did not say if the artillery had been destroyed.


Los Angeles Times
Peace not good enough for Hamas


Palestinian militants lobbing dozens of rockets into Israel


As a three-day truce expired, fighting again broke out in the Gaza Strip on Friday morning, with Palestinian militants lobbing dozens of rockets into Israel and the Israeli military firing back with fresh airstrikes. The Israeli army spokesman's office said in a statement that "terror sites" across Gaza had been targeted following the resumption of Palestinian rocket fire. At least two projectiles were intercepted by Israel's antimissile system, with others falling in open areas in southern Israel. In Gaza City, Israeli drones circled overhead, and the streets were empty by midmorning as most people stayed indoors, having hurried away from areas that were previously targeted. In southern Israel, authorities reimposed restrictions on large public gatherings in communities close to Gaza. "The renewed rocket attacks by terrorists at Israel are unacceptable, intolerable and shortsighted," said army spokesman Lt. Col. Peter Lerner after Israel resumed its strikes. He blamed "Hamas' bad decision to breach the cease-fire." Hamas and its allies have fired more than 3,300 rockets and missiles into Israel during the past month, and Israel has raked the seaside strip with airstrikes and artillery fire aimed at destroying rocket launchers and infiltration tunnels.
Meghan Daum


The new, tiresome culture of outrage


The very act of questioning someone's outrage is often taken as act of aggression


There's a scene in "A Piece of Work," the 2010 documentary about comedian Joan Rivers, who died last week, in which she shoots down a heckler while performing in a casino in northern Wisconsin. In so doing, she effectively explains the purpose of humor in society. After she delivers a throwaway joke about Helen Keller, a man in the audience shouts, "That's not funny if you have a deaf son!" Rivers' eyes flash with a combination of anger and boredom. "Yes it is!" she bellows. "Let me tell you what comedy is about," she continues. "Oh, please. You are so stupid! Comedy is to make everybody laugh at everything and deal with things!" As I read the many tributes to Rivers over the last week, I often found myself thinking about that heckler in "A Piece of Work." It's probably not even fair to call him a heckler; more likely he was just a humorless guy having a bad day. And Rivers seemed to know this. Later, in a "Fresh Air" interview, she said she sympathized with the man but ultimately had a responsibility to the rest of the audience. "It was a 4,000-seat house, and there were 3,999 people in the theater that I did not want to walk away not having a good time," she said.



Chris Cillizza


How President Obama mishandled immigration
President Obama's decision to delay any executive action regarding the millions of undocumented immigrants in the country until after the election represents both a bow to political reality and a yet another reminder for the beleaguered president of the dangers of setting self-imposed deadlines. This is a political crisis -- as it relates to the timing of a decision -- that is entirely Obama's own creation. What Obama and his senior aides failed to account for -- or underestimated -- was the blowback from within his own party to a major executive action by an unpopular president on an extremely hot-button issue. This disconnect between the long-term legacy building prized by Obama and the near-term political concerns of many within his party is not new but, quite clearly, became a major point of tension. Democrats trying desperately to hold on to Senate seats in places like Louisiana, Arkansas, Alaska and North Carolina and Democratic challengers trying to oust Republicans in places like Georgia and Kentucky expressed deep worries that Obama offering what their GOP opponents would cast as some form of "amnesty" to millions of undocumented immigrants could make the difference between a chance at retaining the Senate majority and, well, no chance.



Lee Rowland


There Is No 5-Second Rule for the First Amendment, Ferguson
Tear gas, rubber bullets, and assault weapons; free speech zones, gags, and press pens: This is the arsenal of the police state. Some of these tactics are physical. The other ones—all the more pernicious for their quiet coercion—impose a veil of silence over the actions of law enforcement. And each of these weapons has been unleashed on the people of Ferguson, Missouri, since the killing of Michael Brown. The message was clear: The public is the enemy. And as we the people started getting that message, Ferguson starting working harder to shoot the messengers.



Los Angeles Times


A first step in reining in the National Security Agency
Sen. Patrick Leahy (D-Vt.), the chairman of the Senate Judiciary Committee, has proposed a version of the bill that is significantly more protective of privacy than one passed by the House in May. Like the House bill, Leahy's proposal would end the NSA's bulk collection of telephone "metadata" — information about the source, destination and duration of phone calls that investigators can "query" in search of possible connections to foreign terrorism. For all its limitations, the USA Freedom Act is a testimony to the importance of informed public debate. Whatever one thinks of Snowden, his disclosures brought into the open a dramatic expansion of government power that had never been discussed openly by the people's representatives. As a result of his disclosures, liberal Democrats in Congress joined libertarian Republicans in pushing back against an overweening national security establishment. Even Obama was affected. Initially, he defended the phone records program, assuring Americans that "nobody is listening to your telephone calls." Eventually, however, he endorsed an end to the bulk collection program. His signature on the bill should be the beginning, but not the end, of an overdue recalibration of the balance between national security and personal privacy.



Doyle McManus


Make no mistake: We're back in an Iraq war
Every time Barack Obama thinks he has succeeded in establishing restraint as the central doctrine of his foreign policy, a new outburst of chaos in the Middle East draws him back in. Now it's Iraq, where the president thought he had disentangled the United States, only to see a new threat arise in the form of the terrorist army of the Islamic State. Obama has entered the United States in its fourth Iraq war. It won't be over quickly. As the president said, this is going to be a long-term project.



Lynn Vavreck


It's Not Too Late for Republicans to Win Latino Votes
The Republican Party can compete with Democrats for the votes of Latinos, even young Latinos, without alienating the majority of its voters. But to earn support from this fast-growing segment of the American population, these survey results suggest the party is going to need leaders and candidates strong enough to stand up to the few who have hijacked its policy on immigration.



Allan J. Lichtman


Who rules America?


"The public be damned!"


A shattering new study by two political science professors has found that ordinary Americans have virtually no impact whatsoever on the making of national policy in our country. The analysts found that rich individuals and business-controlled interest groups largely shape policy outcomes in the United States.



Jonah Goldberg


Prepare for a long war against the Islamic State
The hawks (including me) were wrong about a lot, but some got one thing right. It's going to be a long war. In the early days after 9/11, there was a lot of talk about a "clash of civilizations" and a long "existential struggle" facing the West. I once asked the late Christopher Hitchens what he felt on that terrible day and he said he felt no small amount of joy. Not for the suffering and death, but for the fact that the West finally had been awakened to the terrible but necessary struggle before us.



Adam Taylor


The one thing everyone in Israel seems to agree on: John Kerry blew it
Anyone who has made even a passing glance at the Israeli media in the past few days will have noticed the incredible chorus of criticism being directed at John Kerry right now. The secretary of state has been lambasted by all sides for his apparent failure in attempts to negotiate a cease-fire between Israel and Hamas.



New York Times


A Stronger Bill to Limit Surveillance
The Senate is about to begin debate on a bill that could, at long last, put an end to the indiscriminate bulk collection of Americans' telephone records and bring needed transparency to the abusive spying programs that have tarnished the nation's reputation. The bill, to be introduced on Tuesday by Senator Patrick Leahy of Vermont, chairman of the Judiciary Committee, is a significant improvement over the halfhearted measure passed by the House in May. That legislation was notable for putting even Republicans on the record in opposition to the broad domestic spying efforts of the intelligence agencies, but its final version was watered down at the insistence of the White House. Over all, the bill represents a breakthrough in the struggle against the growth of government surveillance power. The Senate should pass it without further dilution, putting pressure on the House to do the same.



Elmira Bayrasli


Sorry, Americans, but sometimes democracy simply can't bring peace
The United States has made this mistake over and over again. Americans keep prizing elections over reconciliation and peace. The result: It keeps leaving war zones paralyzed without any prospects for progress.



Steven Greenhut


Supreme Court passes on significant environmental case
Recent U.S. Supreme Court rulings have sparked boisterous national debates that touch on the role of religion in health care and the power of unions to claim dues payments from workers. But sometimes the court's refusal to rule on an issue also has a significant effect on public policy — although such "non-decisions" usually don't lead to big public debates.



David Sirota


Internet's future at risk if corporations stifle competition
The business lobby often demands that government get out of the way of private corporations, so that competition can flourish and high-quality services can be efficiently delivered to as many consumers as possible. Yet, in an epic fight over telecommunications policy, the paradigm is now being flipped on its head, with corporate forces demanding that government squelch competition and halt the expansion of those high-quality services. Whether and how federal officials act may ultimately shape the future of America's information economy.



Charles Krauthammer


Moral clarity in Gaza
Israel accepts an Egyptian-proposed Gaza cease-fire; Hamas keeps firing. Hamas deliberately aims rockets at civilians; Israel painstakingly tries to avoid them, actually telephoning civilians in the area and dropping warning charges, so-called roof knocking. "Here's the difference between us," explains the Israeli prime minister. "We're using missile defense to protect our civilians, and they're using their civilians to protect their missiles." Rarely does international politics present a moment of such moral clarity.



Geoffrey A. Fowler


Getting Rid of Cable TV: The Smartest Ways to Cut the Cord
Going without cable—or at least with considerably less of it—is easier than you think. Last week, I sliced my bill from $212 to $75 without giving up the stuff I really watch. Yes, cable and satellite companies lock away some content for subscribers. But you don't have to be an online pirate to see what you want. Broadcasters give away the most popular HD channels free over the air, and Internet video services like Hulu, "smart" TVs and streaming boxes make it possible to remain a full-fledged couch potato. None of this is as simple as clicking channel up and down on your cable remote. But for the app-savvy, Internet streaming wins not just because of price, but because of convenience. We should send Hollywood a message by voting with our credit cards for the content we want—delivered the way we want it.



Larry J. Sabato


Does the GOP need a FrankenCandidate?
Did you ever see the documentary A Perfect Candidate? It was about Oliver North's 1994 challenge to U.S. Sen. Charles S. Robb, a Democrat from Virginia. Despite the title, North turned out to be less than perfect; he lost to a scandal-wounded but resilient Robb despite a Republican tidal wave. There will never be a perfect candidate, unless brilliant genetic engineers assisted by Watson the computer decide to undertake the task in the distant future. Until then, parties are left with flawed human beings, those bundles of virtues and vices that get proctoscopic treatment during long campaigns.



Sonia Nazario


The Children of the Drug Wars
Children from Central America have been making that journey, often without their parents, for two decades. But lately something has changed, and the predictable flow has turned into an exodus. Three years ago, about 6,800 children were detained by United States immigration authorities and placed in federal custody; this year, as many as 90,000 children are expected to be picked up. Around a quarter come from Honduras — more than from anywhere else.



Dana Milbank


The tea party's embrace of martyrdom
Hiroo Onoda, the last imperial Japanese soldier to surrender after World War II, hid out in a jungle in the Philippines for 29 years, refusing to believe that the war was over. He finally turned himself in, wearing his sword, cap and patched uniform, in 1974. Onoda died this year at age 91, but his passion for lost causes lives on — in the person of Chris McDaniel, a failed Senate candidate in Mississippi. McDaniel gave an election-night speech with no concession. "There is something a bit unusual about a Republican primary that's decided by liberal Democrats," he declared, vowing that he was "not done fighting." Imperial Japan taught its soldiers that death was preferable to surrender. The tea party's code is similar.



Clemens Wergin


Is Obama's Foreign Policy Too European?
I have long been a critic of the German foreign policy debate — of its freeloading on the American security umbrella, coupled with moral grandstanding whenever the Americans did things their way; of too much analysis of past events and not enough thinking about how to get things right in the future; of its tendency to take words as a substitute for deeds. That's why I have usually given the Americans the benefit of the doubt: At least they took on problems nobody else was willing to tackle. But then, at the height of the Syria conflict and just after yet another of Barack Obama's speeches, I suddenly understood the problem with this American president and his foreign policy. He sounded just like a German politician: all moral outrage, but little else to help end one of the most devastating civil wars of our age. President Obama, I thought with a sigh, has become European.



Ruben Navarrette


Border kids issue tells us who we are as a nation
This Independence Day weekend, memory takes me back to something my father said during a Fourth of July celebration many years ago. Days earlier, authorities had made a gruesome discovery. Coldblooded smugglers had left dozens of migrants to die in a railroad car. My dad and I were at a public event and, at the end of "The Star-Spangled Banner," he pointed at Old Glory and said: "See that flag. That's why those people died, trying to get here -- because of freedom and the kind of country we are." It's a good time to ask once again, what kind of country are we? In between parades and barbeques, Americans can show their patriotism by being on their best behavior. This didn't happen the other day in Murrieta. In that city about 90 miles north of San Diego, an angry mob holding placards and shaking fists terrorized a busload of about 140 children and mothers, while chanting "USA, USA." The sickening images remind us of the stakes involved with the "border kids" -- the estimated 52,000 young castaways from Central America who entered the United States uninvited in the last year and the tens of thousands of others likely to follow. This debate isn't just about what will become of often-unaccompanied minors. It's about something more important: What kind of country we've become.



Bill Scher


How Obama's immigration push could hand the House to Democrats
Everyone assumes that Republicans will easily hold the House in November. The dominant storyline among the chattering classes centers instead on the possibility that Republicans could seize control of the Senate from Democrats. But the rapidly escalating immigration face-off between President Barack Obama and House Republicans raises the possibility that Democrats could win back the House — even if Republicans do take the Senate. How is that possible? It's simple: There are more competitive House races than Senate races in areas with significant Latino populations.



Ben Mattlin


Beware the rush to help people die
The Medical Society of New Jersey, the state's largest physicians group, opposed a recently tabled bill for physician-assisted suicide. But it is pushing an alternative that may be just as bad: the Practitioner's Orders for Life-Sustaining Treatment, or POLST. POLST is a legally binding form with medical instructions that other healthcare providers, such as paramedics and nursing home staff, must follow if the patient is unable to speak because of illness. It gives more specific instructions than a living will or advance directive, and is said to be more effective because it comes from — and is signed by — a medical authority, such as the patient's doctor. Ideally, the patient gives permission for the form, but if the patient is unable to, a designated proxy can do so. I'm simply leery of the push for a better death before we've done all we can to promote a better life for those of us on the fringe.



Aki Peritz


I watched all the terrorist beheadings for the U.S. government, and here's what I learned
ISIS's delight in its gruesome exploits indicates the way its leaders would run their self-declared "caliphate" across a broad swath of Iraq and Syria. But their bloodthirstiness may prove to be the group's downfall; after all, no other Iraqi insurgent organization or Sunni tribe subscribes to its fanatical agenda. It's hard to imagine that any permanent political settlement there could tolerate such stunts for very long. The Sunni tribes of Iraq will eventually turn on ISIS, as they have done in the past. But when that occurs, expect even more bloodletting — and more gruesome videos.



Terrence Mccoy


The war on terror didn't defeat al-Qaeda. But ISIS could
One of the great ironies of the current battle for Iraq is that for all the billions spent on the war on terror, all the bullets fired, all the lives lost, what may ultimately defeat al-Qaeda isn't the United States or another Western power — but a group from within the jihadist movement. It didn't take drones. Or the surge. It took a charismatic, emergent leader known as Abu Bakr al-Baghdadi, who recently threw off the yoke of al-Qaeda's command and decided he and his militant pals would do their own thing.



Raoul Lowery Contreras


A 3-year-old is not a criminal
Is a three-year-old Honduran kid a criminal if he is carried across the Rio Grande in South Texas by a teenager who himself isn't carrying a passport from his native country with an visitor's visa, an I-94 form, attached to it? If not, who is the criminal in the current crisis on the border?