Instant updates as the news happens!!!



See CalNews.com's updates on Facebook 24/7



You can also follow us on Twitter!





Tweet us your news scoops today!!!





Daily News


Ferguson grand jury papers full of inconsistencies
St. Louis County prosecutor continues to spin justification for killer cop
Bob McCulloch, the St. Louis County prosecutor, said the grand jury had to weigh testimony that conflicted with physical evidence and conflicting statements by witnesses as it decided whether Wilson should face charges. "Many witnesses to the shooting of Michael Brown made statements inconsistent with other statements they made and also conflicting with the physical evidence. Some were completely refuted by the physical evidence," McCulloch said. The decision Monday not to charge Wilson with any crime set off more violent protests in the St. Louis suburb of Ferguson and around the country, fueled by claims that the unarmed black 18-year-old was shot while surrendering to the white officer in the mostly African-American city. What people thought were facts about the Aug. 9 shooting have become intertwined with what many see as abuses of power and racial inequality in America. And media coverage of the shooting's aftermath made it into the grand jury proceedings. Before some witnesses testified, prosecutors showed jurors clips of the same people making statements on TV.


Politico


Is Rand Paul the ONLY Republican who gets it????


Rand Paul on Ferguson: Criminal justice reforms part of answer
Sen. Rand Paul, a potential 2016 presidential contender, made a renewed call for reforming the criminal-justice system after a Ferguson, Missouri, grand jury opted not to indict Officer Darren Wilson in the shooting death of Michael Brown. Paul said in an interview Tuesday that he didn't have "specific thoughts on the actual decision," which was announced Monday night. The news sparked protests, sometimes violent, across Missouri, and demonstrations in places like New York City, Los Angeles and Washington, D.C. But the Kentucky Republican did say the situation reflects an "undercurrent of unease out there related to poverty, related to drugs." He added, "I think part of the answer is trying to reform our criminal justice system." Paul's comments come more than a month after the senator traveled to Ferguson for a meeting with local African-American leaders as well as representatives with the NAACP, the Urban League and the Anti-Defamation League. He used his 45-minute "listening session" to encourage people unhappy with their government to elect officials who better represent their community. "My opinion is they have a great deal of power and if they wanted an African-American police chief they'd get it in one election if they just go vote for the mayor and register people," he said in an October interview after the event. Paul reaffirmed those beliefs during Tuesday's interview. "If you don't like your local government … you need to replace them," he said. And Paul reflected that he exited his October meeting in Ferguson with the feeling that participants had the "sense it was a good idea."


Reuters


Putin still winning...Europe feels sting in the tail of Russia sanctions
At a technology fair in Moscow last month, European executives faced the new reality of doing business in Russia since the West imposed sanctions: the number of companies at the international showcase had shrunk by half from a year ago. "The impact on business couldn't be clearer. Fewer stands, fewer companies," said Mark Bultinck, a sales executive for Belgian digital screen maker Barco, which had a booth at the annual expo for the audiovisual industry. The impact of the sanctions was already clear to Barco. The company lost Russia's biggest shipbuilder as a client when the United States and the European Union blacklisted United Shipbuilding Corporation in July, meaning Barco could no longer sell screens to the company for its vessel training simulators. Barco's experience shows how sanctions are having a broad impact not just on Russian companies but on European ones too and at a time when Europe's weak economy can ill afford it. The European Union and the United States imposed economic sanctions on Russia in late July, targeting the Russian energy, banking and defense sectors to punish Moscow's support for rebels in eastern Ukraine, the West's toughest steps yet. As EU governments consider blacklisting more Ukrainian separatists and potentially more Russians and companies over the crisis in Ukraine, anecdotal evidence and new EU data show the economic costs for Europe of pressuring the Kremlin.


New York Times
Security in Ferguson Is Tightened After Night of Unrest


Nixon invades, Wilson shows no remorse, cops remain clueless and brutal


Gov. Jay Nixon of Missouri said on Tuesday that he would increase the number of National Guard troops in this suburban St. Louis city and broadly expand their role in keeping the peace, after a night of arson, looting and rampaging demonstrators showed that weeks of preparation for a grand jury decision in the fatal shooting of Michael Brown had failed to prevent violence. In Washington, St. Louis and Ferguson itself, an array of public officials, community leaders and clergy were deeply critical of one another as they sought to explain how protests over the grand jury's decision not to indict the white police officer in the shooting had spun further out of control than the unrest that followed the death in August of Mr. Brown, who was black. Officials were unwilling to provide details about the number of troops when Mr. Nixon first called up the Missouri National Guard last week in advance of the grand jury announcement, but it was clear that he wished to send a precise and powerful message on Tuesday. More than 2,200 members of the Guard, he said, had been called for possible duty, and 1,200 were in and around the St. Louis region on Tuesday evening, protecting homes and businesses. A night earlier, 700 members of the Guard had been largely limited to protecting government buildings, including a police command post. In dozens of rallies across the country on Tuesday, including in Boston, Baltimore, Washington and New York, protesters blocked streets and railed against the decision not to indict Officer Wilson. In downtown Los Angeles on Tuesday evening, protesters blocked traffic in both directions of Highway 101. The police in Portland, Ore., used pepper spray and made several arrests. In Chicago, about 100 protesters, most in their 20s, gathered for a 28-hour sit-in outside Mayor Rahm Emanuel's office. Organizers said they had chosen the time frame based on a study that one black person was killed in the United States by the police or armed vigilantes every 28 hours.


Washington Post
How the Obama administration gives away military-grade weapons to local police


Ruthless cops routinely use weapons designated for counter-terrorism against the public


In the weeks after the death of Michael Brown in Ferguson, Mo., images of officers training rifles on crowds of protesters from the turrets of armored vehicles became a potent symbol of the distrust between law enforcement and citizens in Ferguson -- and elsewhere. Now, civil rights and civil liberties advocates are calling on the Obama administration to respond to the events in Ferguson by discouraging police from relying so heavily on military equipment and tactics. Several federal programs are helping local law enforcement to acquire heavy weapons, either by making funds available or by providing the equipment directly. One program at the Pentagon transferred surplus military equipment worth nearly half a billion dollars to local police last year. Grants provided by the Department of Homeland Security total another $1 billion, and Holder's department provides hundreds of millions more. "This equipment flowed to local police forces because they were increasingly being asked to assist in counterterrorism," said Attorney General Eric Holder in a statement when the review was initially reported. "But displays of force in response to mostly peaceful demonstrations can be counterproductive. It makes sense to take a look at whether military-style equipment is being acquired for the right purposes."



St. Louis Post-Dispatch


ANOTHER KILLER COP WALKS
Businesses burn, police cars torched as violence 'much worse' than August
The tally of damage mounted Tuesday morning in the wake of the grand jury decision not to indict Darren Wilson. At least 61 people were arrested, said St. Louis County Police Sgt. Brian Schellman. Charges ranged from burglary to trespassing to receiving stolen property. At least 10 businesses in and around Ferguson were damaged or destroyed by fire. Shortly after 2 a.m., at least five busloads of National Guard troops pulled up along South Florissant Road in the old town area of Ferguson. Shortly after 1 a.m., Governor Jay Nixon issued a press release saying he ordered more Missouri National Guardsmen to Ferguson. "The Guard is providing security at the Ferguson Police Department, which will allow additional law enforcement officers to protect the public," the statement said.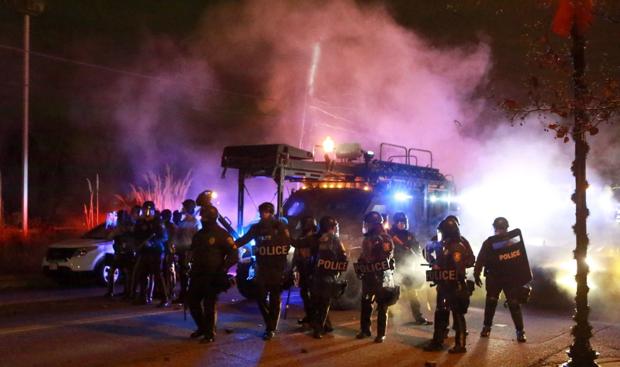 Thug cops continue to roust Ferguson residents.
New York Times
Missouri Governor to Send More Troops After Violence Flares in Ferguson


Nixon, police, declare war on Ferguson


With this St. Louis suburb reeling from a chaotic night of demonstrations that erupted in many fires, frequent bursts of gunshots, looting and waves of tear gas, Gov. Jay Nixon said early Tuesday that he would send additional National Guard troops to help quell the worst violence this battered city has seen since a white police officer shot and killed an unarmed black teenager in August. The hours of unrest followed the announcement on Monday evening that a grand jury had chosen not to indict the officer, Darren Wilson, for the death of Michael Brown. St. Louis County reported that 61 people had been arrested. "I really don't have any hesitation in telling you that I didn't see a lot of peaceful protest out there tonight, and I'm disappointed about that," Jon Belmar, the St. Louis County police chief, said early Tuesday at a news conference. "I'm not saying there weren't folks out there that were out there for the right reason — I'm not saying that wasn't the case — but I am saying that, unfortunately, this spun out of control." Chief Belmar said demonstrators had set fire to at least a dozen buildings in and around Ferguson, and estimated that he had heard about 150 gunshots. The police, he said, did not fire any live ammunition. Asked whether he would call the unrest that unfolded in Ferguson a riot, the chief replied, "Oh yeah, this fits."


New York Daily News


Ex-NBC employee claims Bill Cosby paid off women, invited young models to dressing room as he stood guard
Back when Bill Cosby was the king of network television, veteran NBC employee Frank Scotti served as the royal fixer. When Cosby invited young models into his Brooklyn dressing room, the megastar's pal stood watch outside the door. When the married Cosby sought a Queens apartment for another pretty face, Scotti arranged the deal. And when the man behind Fat Albert needed cash disbursed to his flock of single female friends — hey, hey, hey — Scotti became the conduit for payments of up to $2,000 a month. "He had everybody fooled," said Scotti in an exclusive interview with the Daily News. "Nobody suspected." Scotti came forward last week with his insider's look at Cosby's womanizing ways during the magical 1984-92 run of "The Cosby Show." The 90-year-old Scotti said he decided to speak as the drumbeat of sexual abuse allegations against Cosby, 77, grew steadily louder. "I felt sorry for the women," he told The News. The Emmy-winning Cosby, NBC's most bankable star at the time, used Scotti to deliver monthly payouts to eight different women in 1989-90 — including Shawn Thompson, whose daughter Autumn Jackson claimed the actor was her dad. Frank Scotti says he did "a lot of crazy things" for Bill Cosby, including being a coverup for the actor. Scotti, who lives in Lakewood, N.J., saved copies of money orders from the era detailing his payouts to four of the Cosby women. He recalled Cosby presenting him with "a satchel of money, all $100 bills," and pressing Scotti to distribute the payments using money orders in his own name.


New York Times


Obama Makes GOPer Hagel the Fall Guy


Hagel Said to Be Stepping Down as Defense Chief Under Pressure
Defense Secretary Chuck Hagel is stepping down under pressure, the first cabinet-level casualty of the collapse of President Obama's Democratic majority in the Senate and the struggles of his national security team amid an onslaught of global crises. The president, who is expected to announce Mr. Hagel's resignation in a Rose Garden appearance on Monday, made the decision to ask his defense secretary — the sole Republican on his national security team — to step down last Friday after a series of meetings over the past two weeks, senior administration officials said. The officials described Mr. Obama's decision to remove Mr. Hagel, 68, as a recognition that the threat from the Islamic State would require a different kind of skills than those that Mr. Hagel was brought on to employ. A Republican with military experience who was skeptical about the Iraq war, Mr. Hagel came in to manage the Afghanistan combat withdrawal and the shrinking Pentagon budget in the era of budget sequestration. But now "the next couple of years will demand a different kind of focus," one administration official said, speaking on the condition of anonymity. He insisted that Mr. Hagel was not fired, saying that he initiated discussions about his future two weeks ago with the president, and that the two men mutually agreed that it was time for him to leave. But Mr. Hagel's aides had maintained in recent weeks that he expected to serve the full four years as defense secretary. His removal appears to be an effort by the White House to show that it is sensitive to critics who have pointed to stumbles in the government's early response to several national security issues, including the Ebola crisis and the threat posed by the Islamic State.


Associated Press
Anxieties mount as Ferguson awaits jury decision


Cops, DA, Governor need more time to justify Michael Brown's murder


Despite preparations for a weekend decision in the Ferguson shooting case, the grand jurors apparently needed more time to deliberate, and the uncertainty just seemed to feed the anxiety and speculation Sunday in a city already on edge. More than 3½ months have passed since police Officer Darren Wilson, who is white, killed unarmed black 18-year-old Michael Brown after some sort of confrontation in the middle of a street in the St. Louis suburb. The shooting triggered riots and looting, and police responded with armored vehicles and tear gas. Many in the area thought a grand jury decision on whether to charge Wilson with a crime would be announced Sunday, based partly on a stepped-up police presence in the preceding days, including the setting up of barricades around the building where the panel was meeting. The grand jurors met Friday but apparently didn't reach a decision, and they were widely expected to reconvene on Monday, though there was no official confirmation of that. "People feel like it's been engineered, so that the results wouldn't come out until after the election and until the weather got cold, and it would be more difficult to protest," said Susan McGraugh, supervisor of the Criminal Defense Clinic at the Saint Louis University School of Law. "It's really adding fuel to the fire."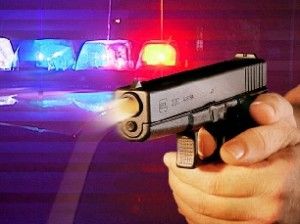 Associated Press


Cleveland cops gun down 12-year-old boy because his toy gun was not in compliance with the law
Police say a 12-year-old boy brandishing what turned out to be a fake gun at a Cleveland recreation center was shot and wounded by a responding officer. The boy is at a hospital with serious injuries. His mother says he's in surgery for a stomach wound. The shooting happened at about 3:30 p.m. at Cudell Rec Center after officers responded to reports of a male with a gun. Deputy Chief Ed Tomba tells the TV station the boy had the weapon in his waistband, pulled it out and one officer fired two shots. He says the boy didn't make any verbal threats or point the gun. WOIO reports the gun was a replica of semi-automatic pistol, and the orange safety indicator in the muzzle was missing.



UPI




Republicans go to court to try to cancel your healthcare


House GOP files Obamacare lawsuit against president
House Republicans filed a lawsuit against President Barack Obama in federal court Friday, making good on a promise from this spring to sue over executive actions. The lawsuit, which focuses on the administration's decision to delay the Affordable Care Act's employer mandates, was approved by the House at the end of July. "If this president can get away with making his own laws, future presidents will have the ability to as well," House Speaker John Boehner, R-Ohio, said in a statement. The House has an obligation to stand up for the Constitution, and that is exactly why we are pursuing this course of action." Filing of the lawsuit was delayed, at least in part, after two law firms withdrew from the case. Boehner brought George Washington University professor Jonathan Turley on earlier this week to take the case. The lawsuit comes as Obama moves on an executive order to give deportation relief to some 5 million undocumented immigrants. GOP lawmakers have unleashed a wave of criticism, accusing the president of exceeding his legal authority there as well. Already, some members of the House conference are considering pushing for a separate lawsuit over the immigration move. Legal experts are divided on whether the Republicans can prove their case against the president, or if the House even has the standing to sue the Executive Branch.


Republicans think your getting access to affordable health-care is a bad thing.
San Francisco Examiner


Uber continues to screw up a great thing:
Negative public relations seen as systemic problem
Local transit tech company Uber has driven straight into a media-relations storm, and new revelations have local public-relations experts shaking their heads at the cascading controversy. In its latest PR snafu, an Uber recruiting document leaked to Buzzfeed details the transit company's desire to "weaponize" facts to battle against taxi companies in a public relations war. "Once we have the research, we have to weaponize and disseminate it," the document notes. The aggressive tactics may have been in response to the taxi industry's national "Who's Driving You?" campaign, intended to promote the safety and reliability of traditional cabs over the tech ride upstarts. Dave Sutton, a spokesman for the campaign, told The San Francisco Examiner "taxi companies have nothing to fear. Licensed taxis have been following the law painstakingly." Uber's smartphone app connects riders with for-hire drivers in over 225 cities worldwide, but it is headquartered in South of Market here in The City. Recently an executive at Uber, Emil Michael, mentioned a plan to research and publicly smear a journalist. The comment created a country-wide public relations crisis. #DeleteUber is now a trending hashtag on Twitter as Uber users delete the app in growing numbers. Larry Kamer, a local public-relations crisis management expert, believes Uber's problem is about more than its public messaging. "There's a big communications problem here, but there seems to be actual behavioral issues at the company that need to be addressed," Kamer told The Examiner. "This whole attitude of arrogance, misogyny, whatever you want to call it."



Mercury News

Uber fallout: Does bad behavior really hurt business?

Silicon Valley seems to have more than its share of companies behaving badly. Among up-and-comers in the tech world, privacy abuses and executive gaffes have become viral sensations. But is all that bad behavior actually bad for business? Last week, Uber sparked controversy after a top executive suggested spending $1 million to dig up dirt on a journalist critical of the driver-on-demand company. It's only the latest time Uber has been called out, either for actions by its drivers or its corporate culture. The company also is investigating one of its New York employees for tracking another journalist's ride, which has raised fears that Uber is misusing customers' private location information. So far Uber's investors, which include Google Ventures and prominent venture capital firms that poured $1.2 billion into the company at its latest funding round, have remained quiet. So is Uber's much-criticized "bro culture" just part of the package, a reason even, for its meteoric rise and ability to go after smaller rivals and the taxi establishment? Or is it a liability for the company, its Ayn Rand-loving CEO and its backers? "I think it's going to alienate some potential customers but I doubt, given what's happened to date, that it's going to make a big difference," said Robert Hurley, director of the Consortium of Trustworthy Organizations at Fordham University in New York. So far, the controversies haven't put the brakes on Uber's skyrocketing valuation ($17 billion at last count, and reportedly heading to nearly double that), or its popularity among people who can use the app to hitch rides. There are calls to boycott the company on Twitter, and many have vowed to go to its smaller rival Lyft. But on Friday Uber was ranked 35th among the most popular free apps on iTunes -- up from 37th on Monday.



Daily News


More Bill Cosby performances canceled as women allege rape
Either all these women are liars...or #Bill Cosby is a major league sex offender...Which is it?
A number of upcoming performances by Bill Cosby have been canceled in the wake of numerous allegations of sexual abuse by the comedian. Performances by Bill Cosby in Las Vegas, Illinois, Arizona, South Carolina and Washington State have been canceled as more women come forward accusing the entertainer of sexually assaulting them many years ago. The director of The Broadway Center in Tacoma, Washington said Friday that it has canceled Cosby's April 18 appearance because it conflicts with the nonprofit organization's mission "to strengthen our community's social fabric by building empathy, furthering education and sharing joy." "We were not confident in our ability to meet those objectives by proceeding with Mr. Cosby's performance," David Fischer said. Cosby's lawyer has said claims by four women are untrue; a statement from Cosby on Sunday dismissed most of the others as "decade-old, discredited allegations." Officials at the Treasure Island hotel and casino on the Las Vegas strip said Friday they mutually agreed with the comedian to cancel his Nov. 28 performance. No reason was given by the Diamond Desert casino in Tucson, Arizona, for canceling his Feb. 15 show. Two other appearances, scheduled for April in Champaign, Illinois, also were called off Friday, as was a February show in Florence, South Carolina. Projects on NBC and Netflix have been canceled, and TV Land decided not to air reruns of "The Cosby Show" after recent allegations by more than six women that Cosby sexually assaulted them after giving them pills many years ago.



New York Times




U.S. State Department rat spied for Islamics...


Eavesdropping on Pakistani Official Led to Inquiry Into Former U.S. Diplomat
American investigators intercepted a conversation this year in which a Pakistani official suggested that his government was receiving American secrets from a prominent former State Department diplomat, officials said, setting off an espionage investigation that has stunned diplomatic circles here. That conversation led to months of secret surveillance on the former diplomat, Robin L. Raphel, and an F.B.I. raid last month at her home, where agents discovered classified information, the officials said. The investigation is an unexpected turn in a distinguished career that has spanned four decades. Ms. Raphel (pronounced RAY-full) rose to become one of the highest-ranking female diplomats and a fixture in foreign policy circles, serving as ambassador to Tunisia and as assistant secretary of state for South Asian affairs in the Clinton administration. Ms. Raphel, 67, considered one of the leading American experts on Pakistan, was stripped of her security clearances last month and no longer has access to the State Department building. Ms. Raphel has not been charged with a crime. The scope of the investigation is not known, and it is unclear exactly what the Pakistani official said in the intercepted conversation that led to suspicion about Ms. Raphel. It is also not clear whether the conversation was by telephone, email or some other form of communication. Ms. Raphel is among a generation of diplomats who rose through the ranks of the State Department at a time when Pakistan was among America's closest allies and a reliable bulwark against the Soviet Union. After retiring from the government in 2005, she lobbied on behalf of the Pakistani government before accepting a contract to work as a State Department adviser.


San Francisco Chronicle


Defying GOP, Obama to spare 5 million from deportation
President Obama defiantly made good on his promise to go it alone on immigration reform Thursday evening, shrugging aside the howls of Republicans to announce a plan that shields 5 million people from deportation, revises visa rules for high-tech workers and revamps a much-criticized program forcing local police to help immigration officials. "Are we a nation that tolerates the hypocrisy of a system where workers who pick our fruit and make our beds never have a chance to get right with the law?" the president asked during his 17-minute speech from the East Room of the White House. "Or are we a nation that gives them a chance to make amends, take responsibility and give their kids a better future?" Unwilling to wait any longer for Congress to act, Obama said he would defer deportation proceedings for three years for undocumented immigrants whose children are U.S. citizens or legal residents. Administration officials said 4.1 million people would be eligible to stay in this country under that program. None of the changes Obama announced is going to happen in a hurry. Applications for the deferrals won't be accepted until the middle of next year, and other programs that require new rules, such as changes to the H-1B visa program, could take 18 months, administration officials said. In a bow to GOP concerns, Obama also talked about strengthening border security by targeting both immigrants who commit serious crimes and the most recent border jumpers, those who have entered the country since Jan. 1.


San Francisco Examiner
Obama spurns GOP with expansive immigration orders
Spurning furious Republicans, President Barack Obama unveiled expansive executive actions on immigration Thursday night to spare nearly 5 million people in the U.S. illegally from deportation and refocus enforcement efforts on "felons, not families." The moves, affecting mostly parents and young people, marked the most sweeping changes to the nation's fractured immigration laws in nearly three decades and set off a fierce fight with Republicans over the limits of presidential powers. "To those members of Congress who question my authority to make our immigration system work better, or question the wisdom of me acting where Congress has failed, I have one answer: Pass a bill," Obama said, flexing his presidential powers just two weeks after his political standing was challenged in the midterm elections. The address marked the first step in the White House effort to promote the executive actions to the public. On Friday, Obama will speak at a campaign-style rally in Las Vegas. Despite Obama's challenge to Republicans to pass a broader immigration bill, his actions and the angry GOP response could largely stamp out those prospects for the remainder of his presidency, ensuring that the contentious debate will carry on into the 2016 elections. Republicans, emboldened by their sweeping victories in the midterms, are weighing responses to the president's actions that include lawsuits, a government shutdown, and in rare instances, even impeachment.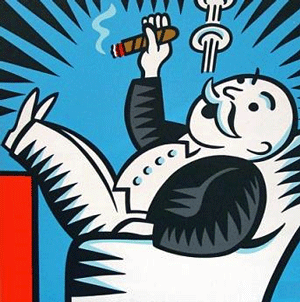 San Francisco Examiner


"Something about the culture of banking seems to make them more dishonest"


Study: Banking industry culture fosters cheating
The banking industry seems to bring out dishonesty in people, a new study suggests. A team of Swiss economists tested the honesty of bank employees in a lab game that would pay off in cash if they cheated. When workers at an unnamed bank were asked about their home life, they were about as honest as the general public. But employees who had just been asked about work at the bank cheated 16 percent more. "Bank employees are not more dishonest than others," said Ernst Fehr of the University of Zurich, author of the study published Wednesday by the journal Nature. But he said when reminded of their job they become more dishonest, so something about the culture of banking "seems to make them more dishonest." Outside experts in business ethics and psychology praised the study to various degrees. Duke University behavioral economics professor Dan Ariely, author of the book "The Honest Truth About Dishonesty," said he agreed with the study authors that one possible solution is an honesty oath for bankers, like doctors' Hippocratic oath.


Los Angeles Times


Judges question ATF stings that lure suspects into fictitious stickups
Rat cops troll for poor people, set them up, then bust them
Over a late breakfast at a Denny's by the freeway in Torrance, two gang members listened to an offer of a lifetime. A drug courier invited them to rob a house stashed with pure cocaine worth at least six, if not seven figures. There would be a couple of armed guards, the man said, but with the right crew and weapons, they could be overpowered. "It's like if one opportunity comes up ... man, this is it," he said. The gang members were the latest to receive an offer that's been made again and again across the country for more than a decade. In the Southland, at least 100 people have shown up for the job, equipped with guns, ski masks and zip ties. When they did, they were swarmed by federal agents and discovered that the courier was an undercover agent for the Bureau of Alcohol, Tobacco, Firearms and Explosives. The stash house, drugs and armed guards were part of a fictitious plot to nab potential robbery crews. Federal law enforcement officials hail the "reverse stings" as a reliable tool to crack down on violent drug robberies they say are seldom reported and difficult to investigate. But a growing number of judges across the country, including two in Los Angeles, have turned their attention from the hapless defendants to the ATF's tactics. Some of these judges have criticized the agency for casting a net so wide that it is likely to ensnare the poor rather than target those suspected of committing similar robberies. While some who take the bait are hardened criminals with robberies and other violent crimes on their rap sheets, others are petty thieves, vandals, or drunk drivers with tenuous gang affiliations. U.S. District Court judges in Los Angeles recently dismissed charges from so-called "stash-house stings" against six men in two cases — even though five of the defendants had already pleaded guilty. In each case, a judge made the rare ruling that the government's conduct was "outrageous." In the case that came out of the Torrance meeting, Judge Otis D. Wright II found that the agent "goaded" the defendants into acquiring weapons and became a partner rather than a passive observer in the crime. One of the concerns raised by judges is whether the agency's methods in selecting targets amount to trolling in poor, minority neighborhoods for people who would be hard-pressed to turn down the opportunity for quick cash.


Los Angeles Times
Obama's plan of action on immigration may derail Republican agenda


Tea Party and GOP about to go berserk....DC meltdown is on the way


Rising Republican hostility toward President Obama's impending immigration plan is as intense as has ever existed between the White House and the GOP. House Speaker John A. Boehner of Ohio says the president's executive action — expected to be announced Thursday — will "poison the well" for cooperation with the upcoming Republican-controlled Congress. Incoming Senate Majority Leader
Mitch McConnell of Kentucky compared it to "waving a red flag in front of a bull." Tea party conservatives have renewed talk of censuring or impeaching the president. But the strong reaction by Republican leaders has less to do with opposition to the nuts and bolts of the president's immigration policy and more to do with fear and anger that the issue will derail the agenda of the new Republican majority before the next Congress even convenes. Republican leaders who had hoped to focus on corporate tax reform, fast-track trade pacts, repealing the president's healthcare law and loosening environmental restrictions on coal are instead being dragged into an immigration skirmish that they've tried studiously to avoid for most of the last year. That's largely because the question of how to handle the estimated 11 million immigrants living illegally in the U.S. bitterly divides Republicans, and the party has been unable to agree on an alternative to the president's plan.


Los Angeles Times
TV Land pulls 'Cosby Show' reruns
NBC has dropped its planned Bill Cosby comedy pilot, and TV Land has removed "The Cosby Show" from its schedule after several women have come forward with accusations that the comedian raped or assaulted them. "We can confirm that the Cosby project is no longer in development," a source close to NBC said. The network declined to comment. The NBC project, which had been in early development, would have starred Cosby as the patriarch of a multigenerational family. Insiders said that a pilot script for the show had not been written and that the show had not been greenlighted. TV Land, a cable network that specializes in the broadcast of classic television shows, had no comment about yanking reruns of "The Cosby Show," which had been airing on weekends. The groundbreaking family series was one of the most popular comedies in TV history. It ran on NBC from 1984 to 1992. The moves came less than a day after Netflix's decision to postpone a scheduled stand-up special starring the comedian that was supposed to air in late November. That decision came just a few hours after former model and TV host Janice Dickinson said the comedian raped her in 1982.


San Francisco Chronicle


Netflix postpones launch of Cosby comedy special
Perv allegations prove too ominous for Internet giant
Netflix said it is postponing Bill Cosby's upcoming standup comedy special, a decision that followed a growing number of allegations that the famed entertainer sexually assaulted women. In a brief statement late Tuesday, the company said the scheduled Nov. 27 premiere of the special, "Bill Cosby 77," was being postponed but did not address why or when it might debut. The company had no further comment, a spokeswoman said. The move came within hours of an interview that "Entertainment Tonight" aired with Janice Dickinson, in which the model and TV host alleged that Cosby sexually assaulted her after a 1982 hotel dinner meeting in Lake Tahoe, California. It's the first indication that Cosby, who had enjoyed a robust comedy concert schedule and has been in talks with NBC for a new sitcom, may be seeing serious fallout from a dark chapter that appeared to be behind him. Cosby, who was never criminally charged in any case, settled a civil suit in 2006 with another woman over an alleged incident two years before. But in recent weeks a fellow comic, Hannibal Buress, called Cosby a "rapist" during a Philadelphia performance. Two other women emerged as accusers, including Barbara Bowman, who wrote an online Washington Post piece.


Los Angeles Times


Republicans side with the #PoliceState (like no one saw THAT coming!)


Senate GOP blocks bill limiting NSA access to phone records
Legislation to keep most Americans' phone records out of government hands was defeated in the Senate, dooming for now prospects of national security reforms that supporters said would protect the privacy of law-abiding citizens. A motion failed Tuesday to get the necessary 60 votes needed to cut off debate on the bill sponsored by Sen. Patrick J. Leahy (D-Vt.), with most Republicans voting against. The final vote was 58 to 42. After the Senate defeated a bill to limit National Security Agency access to telephone records, privacy advocates vowed to keep up the fight. One of its most outspoken foes was incoming Senate Majority Leader Mitch McConnell (R-Ky.), who said stopping the National Security
Agency from collecting telephone dialing records "would end one of our nation's critical capabilities to gather significant intelligence on terrorist threats." Citing the recent beheadings of U.S. citizens in Syria, McConnell said: "This is the worst possible time to be tying our hands behind our backs." Sen. Dianne Feinstein (D-Calif.), chairwoman of the Senate Intelligence Committee, announced just before the vote that she strongly supported the bill, dubbed the USA Freedom Act. Feinstein's support had been in doubt. "I supported the USA Freedom Act because it may be the best opportunity to reform the metadata collection program while maintaining the government's ability to use this tool to prevent terrorist attacks at home and abroad," she said. Born of Edward Snowden's revelations that the NSA was secretly archiving data from nearly every telephone call made in the United States, the Leahy bill would have required the NSA to request such records from telephone companies rather than collect and store the information itself.



Los Angeles Times


#PoliceState can't make sex offenders give authorities their Internet IDs


Hiding behind sex pervs won't work any longer for rat cops


A three-judge panel of the U.S. 9th Circuit Court of Appeals unanimously ruled that the Internet reporting requirements of Proposition 35, a 2012 measure designed to fight sex trafficking, infringed on free speech rights. Proposition 35 required registered sex offenders to report to law enforcement their email addresses and all names they use on the Internet and in instant messaging and social media. The law applied not only to chat rooms but also to posts reviewing products or seeking information from other users about a service or a product. The offenders had 24 hours to notify police in writing if they used a new name or Internet provider. In upholding a lower court's order, the 9th Circuit said registered offenders who have completed parole or probation were entitled to 1st Amendment protection and should not face major obstacles in engaging in online speech, either publicly or anonymously. A district judge in San Francisco blocked enforcement of the law shortly after voters passed the Californians Against Sexual Exploitation Act. The court said the law's reporting requirements were ambiguous and failed to ensure that offenders' Internet names would not be released to the public. The 24-hour notice requirements also were "onerous and overbroad," the ruling said.


Los Angeles Times


Islamics continue murdering hapless Americans - then have a party
In the most serious attack in Jerusalem in years, two men armed with axes, knives and firearms stormed a synagogue Tuesday, killing at least four worshipers and injuring others before a police officer shot and killed the assailants, authorities said. Israeli police told the Associated Press that three Americans and one British citizen, all of whom also held Israeli citizenship, were killed by the attackers. Palestinian media named the attackers as Udai Abu Jamal and Ghassan Abu Jamal, cousins from the Palestinian village of Jabel Mukabar in south Jerusalem. Fresh clashes broke out Tuesday as police arrived to arrest several of their relatives. According to eyewitnesses and initial Israeli news reports, the attackers burst into the four-story synagogue in the devoutly religious western Jerusalem neighborhood of Har Nof, attacking a crowd attending early morning prayers. Witnesses said worshipers were felled in mid-prayer, wrapped in their prayer shawls and lying on the floor in pools of blood. A prominent rabbi was among the victims. Prime Minister Benjamin Netanyahu was convening a special security meeting and said Israel would "respond harshly" to what he called "the cruel killing of Jews ... by despicable murderers." In the Gaza Strip, the attack was welcomed with celebratory gunfire and a statement from Hamas spokesman Sami Abu Zuhri, who called it a response to the "continuing crimes of the occupation." Another official, Hussam Badran, called it a "heroic act."


New York Times


U.S. Bishops Struggle to Follow Lead of Francis
Doing the Right Thing Has Always Been Difficult for US Catholic Fat-cats
Change is rattling the hierarchy of the Roman Catholic Church The change is reflected in Francis' call for the church to open discussion on sticky matters long considered settled, such as communion for the divorced and remarried, same-sex relationships, couples who live together without being married and even polygamists in Africa. Catholics worldwide are supposed to spend the next year leading to the next synod meeting in Rome in October 2015 discussing issues related to marriage and the family, and bishops are awaiting instructions from the Vatican about how to conduct the dialogue.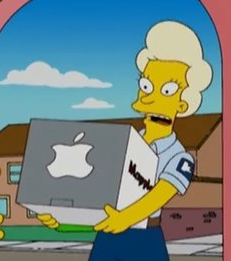 Washington Post


USPS continues to piss away billions of your tax dollars - and DC pols are totally OK with that


Postal Service lost $5.5 billion in 2014 despite more gains in operating revenue
The U.S. Postal Service lost $5.5 billion in fiscal 2014, marking another year of red ink despite a second year of growth in operating revenue and a 9 percent increase in the organization's shipping-and-packaging business. Operating revenue jumped by $569 million compared with last year, driven by a temporary postage-rate increase and the rise in package deliveries. But the agency shed $6.9 billion through expenses beyond its control, such as a congressionally mandated requirement to prefund retiree health benefits and an interest-rate adjustment for workers' compensation. The prefunding requirement cost the Postal Service $5.7 billion, while the interest-rate adjustment amounted to $1.2 billion, contributing to a net loss that was 10 percent higher than the previous fiscal year.


San Francisco Chronicle


Nancy Pelosi rails at sexism in questions about stepping down
House Minority Leader nails reporter on bull$hit question
To reporters asking why House Minority Leader Nancy Pelosi doesn't step aside to make way for younger leaders after three consecutive disappointing elections, the 74-year-old Democrat hurled back a question of her own Thursday: "What was the day that any of you said to Mitch McConnell, when they lost the Senate three times in a row, lost making progress in taking back the Senate three times in a row, 'Aren't you getting a little old, Mitch? Shouldn't you step aside?'" The reason it didn't come up, the San Francisco Democrat said, was that McConnell is a man. "It just is interesting as a woman to see how many times that question is asked of a woman and how many times that question is never asked of Mitch McConnell," Pelosi said. McConnell is the 72-year-old Kentucky Republican and Senate fixture who waited patiently through multiple GOP defeats, until the party started gaining seats in 2010. With this year's election victories, the GOP will take over the chamber in January, and on Thursday, his fellow Republicans selected McConnell as majority leader.


Los Angeles Times


Russia resuming Cold War-era bomber flights close to U.S. shores
President Vladimir Putin has repeatedly warned the U.S.
In response to NATO's "anti-Russia inclinations," the Kremlin will resume its Cold War-era practice of sending long-range bombers to patrol the western Atlantic and eastern Pacific, Russia's defense minister announced Wednesday. The flights, which will extend to the borders of U.S. territorial waters, follow a markedly more aggressive air defense posture by Russia in the eight months since it seized and annexed Ukraine's Crimea region in
March, according to European strategic analysts. Moscow's nuclear-capable strategic bombers regularly conducted flight operations near the U.S. maritime borders during the Soviet era but the long-range flights were sharply curtailed after the 1991 collapse of the Soviet Union and the division of its defense forces among its 15 republics, which became independent states. Defense Minister Sergei Shoigu announced the moves, intended to flex Russia's global military muscle, at a meeting of the national military council on Wednesday. He did not say whether the long-range operations were already underway or how frequently the bomber runs would be conducted. "In the current situation, we have to maintain military presence in the western Atlantic and eastern Pacific, as well as the Caribbean and the Gulf of Mexico," Shoigu told the council, which composed of the armed forces chiefs of staff, representatives of government security agencies and civilian defense officials. Russia has routinely denounced what it considers encroachment by NATO into the countries of Eastern Europe that were once part of the Soviet Union or dominated by the communist giant during the Cold War.


Mercury News
Chinese hackers own the U.S. government: NOAA breached by Chi-Com hackers...agency cover-up exposed
Hackers from China were able to breach government computer systems at the agency that oversees the National Weather Service, according to the chairman of a Congressional subcommittee that oversees the National Oceanic and Atmospheric Agency's budget. NOAA confirmed the hacking Wednesday, saying in a statement that four of its websites were "compromised by an Internet-sourced attack" in recent weeks. NOAA spokesman Scott Smullen declined comment on the source of the intrusion, however. NOAA operates a network of weather satellites and websites that distribute crucial information to public and private organizations, including forecasts for airlines and other transportation companies. In the statement, Smullen said the agency's staff "detected the attacks and incident response began immediately." The agency performed unscheduled maintenance "to mitigate the attacks," added Smullen, who said "all services have been full restored. These effects did not prevent us from delivering forecasts to the public." While Smullen declined to provide more detail, U.S. Rep. Frank Wolf, R-Virginia, told The Associated Press that NOAA officials told him the attack originated in China. He accused the agency of keeping quiet about the attacks until reporters from the Washington Post began asking about the maintenance. "I think they didn't want to say anything because they were embarrassed," he said of agency officials. Wolf chairs a House Appropriations subcommittee that oversees the NOAA budget. Word of the NOAA attack comes two days after the U.S. Postal Service disclosed that hackers were responsible for a data breach which compromised information from some of its customers and employees. Officials have not publicly discussed the source of that attack, but the Washington Post reported that Chinese hackers are also suspected in that episode.



Los Angeles Times


U.S. is now Ebola-free, and the panic is gone as well
Ebola scam has just about run its course...what will DC pols do now?
A few short weeks ago, Ebola was public enemy No. 1. About 1,000 people were being monitored by health officials. Several schools in Texas and Ohio shut down because of a single patient who boarded a plane. A cruise ship was refused permission to dock in Cozumel, off Mexico's Yucatan Peninsula. President Obama appointed an Ebola "czar." Polls showed a majority of Americans were concerned that Ebola would spread out of control in the U.S. On Tuesday, a fully recovered Dr. Craig Spencer was released from Bellevue Hospital Center in Manhattan. The U.S. was now Ebola-free for the first time since Sept. 5 — a milestone that barely seemed to register with a once-frenzied public. How did we get here from there? Angst and anxiety gave way to calm as the days ticked by and no new patients were diagnosed. Meanwhile, the Centers for Disease Control and Prevention and other health authorities upped their game after Thomas Eric Duncan's arrival at a Dallas emergency room revealed major gaps in the public health system. Ebola is suspected of killing nearly 5,000 people in West Africa, but so far, public health officials have made good on CDC Director Thomas Frieden's pledge to stop the virus dead in its tracks in the United States.Already a member? Log In


San Francisco Chronicle


Obama, Putin circle each other warily in China
Russian President uses China meeting as another venue to blow-off Obama
On the surface, President Barack Obama and Russian President Vladimir Putin were all niceties — a pat on the back here, a pleasantry there. But away from the cameras, the two leaders circled each other warily at a global summit in China, coming face to face while relations between their countries continue to deteriorate. The White House said Obama and Putin spoke three times Tuesday on the sidelines of an Asia-Pacific economic meeting, tackling some of the tough issues that have strained their relationship, including Russia's provocations in Ukraine and support for Syria's embattled government. They also discussed the fast-approaching deadline in nuclear talks with Iran, in which the U.S. and Russia find themselves on the same negotiating team. Unlike at some of their past meetings, Obama and Putin kept their deep-seated policy disagreements behind the scenes. But their public encounters suggested their relationship remains tense. For Obama and Putin, awkward encounters at international gatherings have become almost expected. But the optics have gained even greater attention as the Ukraine crisis has taken center stage.


New York Times


The Chemical Industry takes charge...


Republicans Vow to Fight E.P.A. and Approve Keystone Pipeline
The new Republican Congress is headed for a clash with the White House over two ambitious Environmental Protection Agency regulations that are the heart of President Obama's climate change agenda. Senator Mitch McConnell, the next majority leader, has already vowed to fight the rules, which could curb planet-warming carbon pollution but ultimately shut down coal-fired power plants in his native Kentucky. Mr. McConnell and other Republicans are, in the meantime, stepping up their demands that the president approve construction of the Keystone XL pipeline to carry petroleum from Canadian oil sands to refineries on the Gulf Coast.


Washington Post


Crooked cops continue their rage at America...every citizen the enemy


Highway seizure in Iowa fuels debate about asset-forfeiture laws
Iowa state troopers stop two California men in a rented car on April 15, 2013. The police stop, search of the car and seizure of more than $100,000 is at the center of a federal civil rights lawsuit in which the motorists claim their rights against unreasonable searches and seizures were violated. The two men in the rented red Nissan Altima were poker players traveling through Iowa on their way to Las Vegas. The police were state troopers on the hunt for criminals, contraband and cash. They intersected last year on a rural stretch of Interstate 80, in a seemingly routine traffic stop that would soon raise new questions about laws that allow police to take money and property from people not charged with crimes. By the time the encounter was over, the gamblers had been detained for more than two hours. Their car was searched without a warrant. And their cellphones, a computer and $100,020 of their gambling "bankroll" were seized under state civil asset-forfeiture laws. The troopers allowed them to leave, without their money, after issuing a traffic warning and a citation court records show. Months later, an attorney for the men obtained a video of the stop. It showed that the motorists were detained for a violation they did not commit — a failure to signal during a lane change — and authorities were compelled to return 90 percent of the money. Now the men are questioning the police tactics in an unusual federal civil rights lawsuit. In the suit, filed Sept. 29, William Barton Davis, 51, and John Newmer­zhycky, 43, both from Humboldt County, Calif., claim their constitutional rights against unreasonable searches and seizures were violated. They also contend the stop was part of a pattern connected to the teachings of a private police-training firm that promotes aggressive tactics. If allowed to proceed, the lawsuit could illuminate the widespread but little-known police practice known as "highway interdiction." The suit names Desert Snow, the Oklahoma-based training firm, and its founder, Joe David, court records show. It also names the two Iowa State Patrol troopers who participated in the traffic stop and were trained by Desert Snow. The case has created a stir in Iowa's political and law enforcement worlds. The Des Moines Register wrote about the lawsuit and called for legislative reforms in an Oct. 19 editorial that cited the I-80 seizure and a recent investigation by The Post, which found that police nationwide have seized $2.5 billion in cash from almost 62,000 people without warrants or indictments under federal civil asset-forfeiture laws since 2001. The laws allow police departments to keep up to 80 percent of the cash they seize. "As long as police agencies know that all or some of the cash they seize will be funneled back into them, the roadside shakedowns are going to continue," the Register's Oct. 19 editorial said.


Reuters


U.S. veterans sue greedy feckless rat banks, claim they should pay for Iraq attacks
Wounded U.S. veterans and family members of U.S. soldiers killed in Iraq sued five European banks on Monday, seeking to hold them responsible for shootings and roadside bombings because they allegedly processed Iranian money that paid for the attacks. The lawsuit filed in U.S. District Court in Brooklyn, New York, named Barclays Plc, Credit Suisse Group AG, HSBC Holdings Plc, Standard Chartered and Royal Bank of Scotland Group Plc. The banks did not immediately respond to requests for comment. The lawsuit was brought under the U.S. Anti-Terrorism Act, a 1992 law that permits victims to bring private suits against alleged financiers of militant operations. Brought on behalf of more than 200 veterans and family members, the lawsuit alleges the banks conspired with Iranian banks to mask wire transactions in order to evade U.S. sanctions. The Iranian banks then funneled more than $100 million to militant groups that operated in Iraq at Iran's direction, according to the suit. The militant groups included a Shi'ite militia in Iraq, Kataib Hezbollah, as well as Quds Force, the overseas arm of Iran's Islamic Revolutionary Guard Corps, the suit says. Patrick Farr, a California-based plaintiff whose son Clay was killed by a roadside bomb in February 2006, said the lawsuit has given him "a sense that I was able to do something, hold someone accountable for his death." The suit is the first case under the Anti-Terrorism Act in which former U.S. soldiers seek damages against international banks. It is also one of the first to be crafted as a conspiracy case.


Los Angeles Times


Many Latinos shun Obamacare for fear of getting relatives deported
Latinos know from experience that Obamacare is just another government deportation racket
With sign-ups set to resume Saturday, the 23-year-old Covina resident and her younger sister are hesitant to enroll because their parents are immigrants who are not citizens and therefore ineligible for benefits under the Affordable Care Act. Saldana, an after-school tutor, admits she could put the insurance to good use for a checkup, but she worries about putting her parents at risk or creating a rift at home. "We've always done things together as a family," she said. The Saldana sisters are among roughly 600,000 Latinos in California who remain uninsured — despite qualifying for subsidized coverage under the federal health law. Latinos outnumber whites and Asians among the 1.3 million Californians who are eligible for federal aid and lack private health coverage. California officials, sensing continued reluctance from people such as the Saldanas, are tackling the immigration fears directly for the first time in new TV ads. One commercial shows documents flying into a vault as a Latino man tells viewers their information is "confidential and private." This is part of $95 million the Covered California exchange will be spending on marketing and outreach in the months ahead. California accounted for 15% of enrollment nationwide during the initial launch, and the Obama administration is counting on the Golden State to deliver another big turnout. But it will be a hard sell to many Latino families of mixed immigration status. Despite repeated government assurances that no information is shared with immigration authorities, some Latinos are willing to gamble with their health rather than risk having their family torn apart.


Los Angeles Times
Election setbacks for Obama may embolden foreign adversaries
Presidents from Harry Truman to Bill Clinton have turned to foreign policy in their final months in office when their domestic agendas have been stymied. For Barack Obama, that overseas pivot may offer little relief. As he landed in Beijing on Monday morning as part of a weeklong trip to China, Myanmar and Australia, the stinging repudiation Obama suffered in last week's midterm elections is likely to dishearten friends and embolden foreign adversaries, analysts say. Come January, he will face a Republican-dominated Congress whose leaders appear determined to take foreign policy in a more hawkish, more interventionist direction. White House aides, in internal meetings, are mapping out plans to expand Obama's efforts abroad in his final two years in office. They say his authority as chief executive allows him to act without a specific congressional mandate in several sensitive areas, such as easing some sanctions on Iran. The White House has set challenging policy goals: sealing a nuclear deal with Iran, strengthening an unproven government in Afghanistan, mobilizing an international coalition against Islamic State militants, reaching regional trade deals in Asia and Europe, and turning Russia from adversary to ally. Foreign leaders, always keenly sensitive to the political strength of U.S. presidents, took note of the White House losses last week. Obama has evolved "from the president of hope to the president of disappointment," Alexei Pushkov, an ally of Russian President Vladimir Putin and chairman of the foreign affairs committee in the State Duma, or lower house of the parliament, told the Tass news agency. Putin, angry that the United States and Europe have imposed sanctions on Russia over Ukraine, has shown no sign of backing down. In recent weeks, Moscow has sent a series of provocative military flights into European airspace. The election setback also did not go unnoticed in Beijing, where Obama will meet this week with Chinese President Xi Jinping. The two leaders have sparred over cybersecurity, trade and China's growing military assertiveness in the South China Sea, and China has criticized Obama's efforts to boost America's military presence in the western Pacific in a "rebalance" of U.S. forces. The GOP success means "the lame-duck president will be further crippled," wrote the pro-government Global Times newspaper in Beijing. "U.S. public opinion has downgraded Obama."


Daily News
Cyber criminals unleash digital arsenal on federal workers and contractors


The federal government isn't required to publicize its own data losses


Workers scattered across more than a dozen agencies, from the Defense and Education departments to the National Weather Service, are responsible for at least half of the federal cyberincidents reported each year since 2010, according to an Associated Press analysis of records. They have clicked links in bogus phishing emails, opened malware-laden websites and been tricked by scammers into sharing information. One was redirected to a hostile site after connecting to a video of tennis star Serena Williams. A few act intentionally, most famously former National Security Agency contractor Edward Snowden, who downloaded and leaked documents revealing the government's collection of phone and email records. Then there was the contract worker who lost equipment containing the confidential information of millions of Americans, including Robert Curtis, of Monument, Colorado. "I was angry, because we as citizens trust the government to act on our behalf," he said. Curtis, according to court records, was besieged by identity thieves after someone stole data tapes that the contractor left in a car, exposing the health records of about 5 million current and former Pentagon employees and their families. At a time when intelligence officials say cybersecurity trumps terrorism as the No. 1 threat to the U.S. — and when breaches at businesses such as Home Depot and Target focus attention on data security — the federal government isn't required to publicize its own data losses. Last month, a breach of unclassified White House computers by hackers thought to be working for Russia was reported not by officials but The Washington Post. Congressional Republicans complained even they weren't alerted to the hack. To determine the extent of federal cyberincidents, the AP filed dozens of Freedom of Information Act requests, interviewed hackers, cybersecurity experts and government officials, and obtained documents describing digital cracks in the system. That review shows that 40 years and more than $100 billion after the first federal data protection law was enacted, the government is struggling to close holes without the knowledge, staff or systems to outwit an ever-evolving foe.


Los Angeles Times


Obama was 'tone deaf' on economic message, Democratic strategist says
President's emphasis on economic recovery conflicts with reality of voters' lives, Democratic strategist says
In the aftermath of their crushing defeats in Tuesday's election, Democratic elected officials and strategists have grown increasingly vocal in their complaints about President Obama. The latest salvo comes from Stan Greenberg, the prominent Democratic pollster who conducts surveys for, and is politically close to, the House Democratic leadership. On the central issue of the economy, Greenberg said, Obama was "out of touch" and "tone deaf" in his insistence on talking about a recovery that many voters don't feel. Middle-class and working-class voters, whose support the Democrats need, "are living in a different economy than he's speaking of," Greenberg said in a briefing for reporters on an election day poll he had conducted. "He isn't speaking to the main economic problem," Greenberg said, adding that the lack of an economic message directed at the anxieties of average families had contributed heavily to low turnout of Democratic voters. Obama's speeches on the economy always include a line about more progress being needed, but they tend to stress the progress the economy already has made. "The country as a whole has made real progress," he declared at a campaign event in Bridgeport, Conn., on Sunday, two days before the election -- a speech much like others he made in the last couple of months. Greenberg contends that remarks of that sort turn voters off. He made a similar critique in late 2011 and early 2012 when he thought Obama's insistence on talking about recovery was endangering the president's reelection.


San Francisco Examiner
Solid hiring provides little boost to wages -- yet


Rich people doing great...but you're still screwed


In the same week that voters signaled discontent with the U.S. economy, the government issued a report that showed employers have added at least 200,000 jobs for nine straight months -- the longest such stretch since 1995. Combine it with an unemployment rate that has slid to 5.8 percent -- the lowest since 2008 -- and the picture that emerged Friday was of a job market gaining increasing distance from the recession that officially ended nearly 5½ years ago. The job gain for October was a solid 214,000, on top of a combined 31,000 more in August and September than the government had previously estimated. The steady improvement contrasts with the struggles of economies overseas, a key reason the Federal Reserve is withdrawing its stimulus just as other central banks ramp up theirs. This week, for example, the European Central Bank opened the door wider for further help for a eurozone economy that may be on the brink of another recession. The U.S. job market is hardly without its own weaknesses. Americans' average hourly pay rose only slightly last month, a negative note in an otherwise solid report. Stagnant wages have been a chronic weakness in the job market since the recession ended. Voters listed the economy as their top concern in Tuesday's elections, and the sluggish pace of pay growth was a likely factor. Average hourly pay rose 3 cents in October to $24.57. That's just 2 percent above the average wage 12 months earlier and barely ahead of a 1.7 percent inflation rate.


Associated Press


More bad news for America...


George W. Bush gives 50-50 odds Jeb run in 2016
Former President George W. Bush is giving even odds about whether another Bush will try to occupy the White House. Brother Jeb, a former Florida governor, is "wrestling with the decision" of running for the Republican nomination for president in 2016, George W. Bush says. "I think it's 50-50," the former president told CBS' "Face the Nation." "He and I are very close. On the other hand, he's not here knocking on my door, you know, agonizing about the decision. He knows exactly, you know, the ramifications on family, for example. He's seen his dad and his brother go through the presidency. I'd give it a tossup." The former president was more conservative in his estimate than another family member. Jeb Bush's son George P. Bush said two weeks ago it was more likely than not that the former Florida governor would move forward. George W. Bush is promoting "41," a book about his father, former President George H.W. Bush.


Los Angeles Times


Cha Ching! Crony Capitalism is back!!
Republican control of Congress could mean more military spending
With Republican majorities now assured in both houses of Congress, Pentagon spending is likely to grow to cope with national security threats around the globe. The White House announced Friday that it would request $5.6 billion in additional funds from Congress for airstrikes and other operations against Islamic State fighters in Iraq and Syria. The total includes $1.6 billion to develop and train Iraqi security forces, which were routed by the Sunni militants last summer. But that figure may be dwarfed if Republican hawks follow through on promises to roll back mandatory defense spending cuts imposed by a government-wide budget cut known as sequestration. Pentagon officials certainly hope so. "We need Congress' support to get done so many of the things that we're trying to get done, not the least of which is taking sequestration off our backs," said Rear Adm. John Kirby, a Pentagon spokesman. The Republican sweep in Tuesday's election puts Sen. John McCain (R-Ariz.), a strong critic of defense cuts, on track to take over the powerful Senate Armed Services Committee. McCain already has called for stepping up the campaign against Islamic State, doing more to defeat Syrian President Bashar Assad and providing arms to Ukraine to fend off Russian forces, among other actions. That could mean federal funding will flow more freely to defense contractors in aerospace-rich places like Southern California, which suffered waves of layoffs over fears related to Pentagon spending cuts.


Politico


Republicans in charge: Say good-bye to your healthcare


John Boehner, Mitch McConnell vow to kill Obamacare
House Speaker John Boehner and incoming Senate Majority Leader Mitch McConnell, outlining their legislative vision for the last two years of Barack Obama's presidency, are vowing to try to repeal the Affordable Care Act. The leaders largely maintain their commitment to reaching legislative compromise and cutting through Washington paralysis. But the Republican House speaker from Ohio and incoming Senate majority leader from Kentucky noted that a commitment to creating jobs "means renewing our commitment to repeal Obamacare, which is hurting the job market along with Americans' health care." The ACA remains a politically divisive issue, and further attempts at repeal would surely be met with significant Democratic opposition and a White House veto.


Mercury News


#PoliceState goes global...


Underground drug marketplaces scramble after international crackdown
No sooner had authorities announced the shuttering of an alleged illegal online drug bazaar than another popped up claiming to take its place. Welcome to the "dark Web," an increasingly popular corner of the Internet where thousands of computer users from around the globe interact anonymously -- and, in many cases, illegally. On Thursday, the U.S. Department of Justice charged a 26-year-old San Francisco man with operating Silk Road 2.0, an anonymous website that authorities say rang up $8 million in monthly drug sales. On Friday, an underground website calling itself Silk Road 3.0 Reloaded claimed to be open for business on the TOR network, which is linked globally through special browsers that encrypt Internet traffic. Several other websites on the TOR network also claimed to be open for drug transactions. The dark Web poses new and formidable challenges for law enforcement agencies around the world that have been dealing for decades with more conventional international drug trafficking. The reach and anonymity of these 21st century Internet operations is difficult to penetrate. Silk Road and copycats on the TOR network are not readily visible through popular Internet search sites. The buyers and sellers don't exchange cash, dealing instead in often untraceable digital currencies, usually Bitcoin. So there are no banking records for investigators to subpoena. "As long as the dark Web exists, there will always be people who set up places to engage in wrongdoing," said Joseph DeMarco, a defense attorney and former federal prosecutor who headed the computer crimes section of the U.S. attorney's office in New York. DeMarco said he was skeptical that a single "global solution" would be found to stop illegal activity on the TOR network. "There will always be an arms race between the bad guys and law enforcement," DeMarco said.


Washington Post


Your tax dollars at work...


Federal workers will be eligible for sex-change operations next year
Aetna, which participates in the Federal Employee Health Benefits program, announced last month that it will cover gender-reassignment surgeries for federal employee members in all 50 states. About 121,000 federal workers used the insurance provider last year, according to a report from the nonpartisan Congressional Research Service. The decision to help pay for sex changes places Aetna among the first carriers in the federal employee health program to include such coverage. "Aetna has long been supportive of the LGBT (lesbian, gay, bisexual and transgender) community," the company said in a statement last month. Other providers covering transgender care include Kaiser, which enrolled 240,000 federal workers last year, and the Foreign Service Benefit plan, for members of the American Foreign Service Protective Association.


Los Angeles Times


Obama reportedly sought Khamenei's aid in fighting Islamic State
The White House declined to comment Thursday on a news report that President Obama has secretly written to Iranian supreme leader Ayatollah Ali Khamenei seeking his help in fighting the militant group Islamic State and in reaching a nuclear agreement. The report said that Obama wrote to Khamenei in mid-October, suggesting that any cooperation against the militant group would depend on whether Iran and six world powers reach a nuclear deal. If true, the news could alarm America's Arab allies and Israel, regional rivals of Tehran who worry that a U.S.-Iranian alliance would threaten their security. Josh Earnest, the White House press secretary, while not denying the report, said he could not comment on "any correspondence between President Obama and any world leader." He noted that U.S. officials are in talks with Iran about the nuclear deal, and that officials of the two countries have spoken on multiple occasions about the international effort to stop Islamic State militants in Syria and Iraq. Iranian officials declined to comment. The Obama administration has been cautious in discussing contacts with Iran, because of the sensitivity of Sunni Arab states, the Israelis and the Shiite Muslim-dominated government of Iraq. Almost every country in the region opposes the idea of a U.S.-Iranian entente. A nuclear deal is Obama's highest national security priority, according to presidential aides, who have said it could be as important to his legacy as the Obama healthcare act. Khamenei, who will cast the deciding vote on any deal, has authorized Iran's president, Hassan Rouhani, to try to negotiate a nuclear deal with six world powers this year. But in public statements, Khamenei has signaled that he is unwilling to make major concessions and has declared that nothing could be gained from talks with Americans.


San Francisco Chronicle
Jackson puts Silicon Valley on the hot seat - again...
Civil rights advocate Jesse Jackson brought his campaign for more diversity in Silicon Valley workforces to The Chronicle Editorial Board Wednesday, noting that the racial separation of 50 years ago wasn't as great as the inequality today. First Google, and then other Silicon Valley firms, released numbers depicting shockingly low racial and gender diversity in their workplaces, stories routinely reported in The Chronicle. The Rev. Jackson said Silicon Valley companies are operating outside the equal opportunity employment and anti-discrimination laws and should know better. These companies have been created long since those laws were passed, and well after cultural expectations of equal access to jobs had taken root. The most frequent defense from the companies is that these jobs are technically demanding and that there are few blacks or Latinos with the needed skills. "Then why not invest in a plan to produce the engineers you need?" Jackson asks. Jackson is promoting the idea that Silicon Valley firms, who have billions of dollars in offshore bank accounts that bypass U.S. taxes, could invest some of those funds in education and scholarships to train people of color as programmers and engineers. "Grow your own food, so to speak," he said. From Jackson's view, the workforce should represent the marketplace. If 12 to 20 percent of the technology marketplace is black or brown, then shouldn't 12 to 20 percent of the technology workforce be black or brown? The companies' bottom line would benefit from the added value of inclusion, he said.


Reuters
White punk was too drunk to carry out school attack plan
The 16-year-old Maryland boy who police allege planned a school shooting was too intoxicated to carry off the attack, according to charging documents released on Wednesday. Sash Nemphos, who told police he had been bullied for years, had planned to kill his parents, and then kill students and teachers at his school in a Baltimore suburb with a gun and bombs before committing suicide, according to documents filed with the District Court of Maryland. On Halloween, Nemphos, of Monkton, Maryland, had planned to kill his parents, drive to the George Washington Carver Center for Arts and Technology in Towson, shoot the school police officer, and then take the officer's gun to "kill as many teachers and students as he could," according to the court documents. Nemphos, a 10th-grade student, took the gun to school in a backpack on Friday but decided to hold off on his plans until Monday because he had been drinking whiskey before class and was too inebriated to carry off his plans, according to police. Nemphos was arrested at his home on Saturday during a separate theft investigation in which he revealed his attack plans, police said. Police found a suicide note and a journal detailing his plans for the thwarted attack. Police seized the journal, homemade bombs and a handgun from the boy's home.


San Francisco Chronicle


Democratic disaster casts shadow on Nancy Pelosi
Democrats lost at least 14 House seats Tuesday but her leadership looks secure
All but overlooked in the Republican Senate landslide is the double-digit loss of seats for Democrats in the House. The outcome casts a cloud on House Minority Leader Nancy Pelosi's future, potentially throwing the House out of reach for Democrats in 2016 and dashing Pelosi's dream of serving as House speaker with a President Hillary Rodham Clinton. Democrats lost at least 14 seats Tuesday, including the one held by first-term Rep. Ami Bera of Elk Grove (Sacramento County), who fell to Republican former Rep. Doug Ose in a race that attracted big spending by outside groups on both sides. Because gerrymandering has reduced the number of competitive House districts to roughly 50, or barely 10 percent of the 435 seats, the climb back for Democrats is going to be monumentally steep. Republicans now hold their biggest majority since Harry Truman was president in 1946, and if the numbers climb as final results come in, the party could break records going back to the 1930s. So big was the GOP wave that Michael Grimm, an indicted Republican congressman from Staten Island, was re-elected. All this comes on top of the Democratic landslide loss of 63 House seats in 2010 that toppled San Francisco's Pelosi, now 73, from the speakership. Pelosi defied tradition by staying on as minority leader despite the humiliating losses, determined, she said, to see the Affordable Care Act implemented, a legislative victory attributable to her as much as President Obama. A Democratic leadership aide said the blame will not fall on Pelosi. She raised more than $100 million for Democrats, a record amount that helped defend House Democrats who otherwise would have succumbed to the GOP wave, the aide argued. A seven-seat loss in the Senate should have translated to a 35 to 40-seat loss in the House and it did not because, he said, Pelosi helped build a firewall to protect vulnerable members.


New York Times


Crooked Cops Still Calling the Shots in New York City


Posing as Rikers Guard, Investigator Smuggled in Contraband, Inquiry Finds
Despite repeated promises by the Correction Department to tighten security at Rikers Island, a city investigator posing as a guard last month was able to smuggle in heroin, pills, marijuana, vodka and a razor blade, an inquiry by the Department of Investigation found. The city investigator carried the contraband — valued at over $22,000 — through six different security checkpoints used by jail employees, hiding the drugs in his cargo pants and holding a water bottle filled with vodka, the Department of Investigation said in a report released on Thursday. The revelations once again raised questions about the city's ability to address the widespread corruption and brutality at Rikers detailed in several critical reports by federal and local authorities as well as the news media. The Department of Investigation has been urging the Correction Department for years to improve screening of jail employees but to no avail. "Weapons and narcotics remain easily available to any inmate with funds to pay for them," the report said.


Seattle Times


Washington voters hand the #PoliceState a big win
Measure to expand checks for gun buyers approved
As voters Tuesday night approved a measure giving Washington one of the strictest gun-purchase background-check laws in the nation, both supporters and detractors were already preparing to keep fighting over Initiative 594. In Tuesday's vote count, nearly 60 percent of voters were supporting I-594, which would extend background checks in Washington state to private sales and transfers. The measure was winning in eight of the 10 largest counties in the state. A competing measure, Initiative 591, which would bar the state from enacting any background checks more extensive than federal law, was being rejected by 55 percent of voters in the initial count. Cheryl Stumbo, citizen sponsor of the initiative and a survivor of the 2006 Jewish Federation shooting in Seattle, said the I-594 campaign "has shown Americans that a citizen movement can act to reduce gun violence if our elected leaders won't." "This movement is here to stay," she told supporters at an election-night rally. The background-check campaign, headed by the Washington Alliance for Gun Responsibility, raised more than $10 million, including $3 million from former New York City Mayor Michael Bloomberg's advocacy group, Everytown for Gun Safety. Two of Washington's wealthiest couples — Bill and Melinda Gates, and Steve and Connie Ballmer — each donated more than $1 million to the campaign. Investor Nick Hanauer also donated more than $1 million. But even as they toasted the passage of I-594, supporters were anticipating legal challenges by gun-rights advocates. John Feinblatt, president of Everytown for Gun Safety, said his group would help defend I-594 against any challenges. "I think that the results in Washington tonight for 594 are overwhelming," Feinblatt said. "We made a major commitment to it, and we will see it through to the end."


New York Times
Republicans Extend House Control as Democratic Holdouts Fall


House Democrats get hammered just like their Senate counterparts


Republicans expanded their majority in the House of Representatives, riding a wave of dissatisfaction with President Obama to victories on Tuesday that will embolden Speaker John A. Boehner as he tries to manage a rebellious Tea Party caucus. Early Wednesday, it appeared that Republicans were on the verge of winning at least 10 additional seats — gains that would give them their largest majority since the 1940s. It was a dispiriting outcome for Democrats, who just a few months ago were optimistic that a badly damaged Republican brand would help them prevail in a handful of races. Some of the political casualties were the last holdouts of an era in which moderate and conservative Democrats could survive in states that were deeply Republican. Representative Nick J. Rahall II, West Virginia's last Democrat in the House, lost one of the most expensive races this election cycle. John Barrow of Georgia, the last white Democrat to represent the Deep South, also failed to hang on. Even with the Republican gains, the overall makeup of the House was expected to change little. It will remain a place that largely reflects the bases of both political parties rather than the increasingly diverse nation it represents. When the 114th Congress convenes in January, any changes along ideological, racial or gender lines will be only at the margins.


Politico
Sarah Palin: It wasn't a vote for the GOP
Sarah Palin took to Facebook early Wednesday morning to caution jubilant Republicans that voters cast ballots against Washington dysfunction, not necessarily for the GOP. "The Democrats got mauled today, deservedly so," Palin writes. "To prohibit that from happening to the GOP in 2016, it must learn the lesson from the last time Republicans held the Senate majority." She continued, "This time they must not retreat, and it's our responsibility to hold them accountable." While Palin congratulated the winners and said that the midterm elections sent a message to President Barack Obama that was "undeniably received," the former Alaskan governor and vice presidential candidate noted that Americans were voting against D.C, not for Republicans. "Now, new Republican Congressional majority in the House and Senate, please realize that Americans were not necessarily voting FOR any party; they were voting AGAINST the continued dysfunction and corruption in D.C.," her Facebook post reads. "We the People were saying 'enough is enough' to the scandals, crony capitalism, and utter lack of leadership in Washington."


Washington Examiner


GOP immidiately rejects its base as McConnell turns to deal-making


McConnell's promise: 'There is no possibility of a government shutdown'
No government shutdowns will occur on Mitch McConnell's watch, the likely Republican Senate majority leader said in some of his first post-election comments on his plans for the 114th Congress. "There is no possibility of a government shutdown. Remember me? I'm the guy that gets us out of government shutdowns," McConnell said in an interview published by Time Wednesday morning. The Kentucky senator, who was instrumental in cutting deals with President Obama in standoffs over the Bush tax cuts, the debt ceiling, and the 2012 "fiscal cliff," expressed deep confidence in his ability to avoid his party provoking another shutdown over disagreements with Obama. "I'm the one who's cut the deals that we've had," McConnell said.


Mercury News


Spy Rats recruiting Silicon Valley to help screw you harder
NSA chief: U.S. needs Silicon Valley's expertise
U.S. intelligence depends on Silicon Valley innovation for technologies that strengthen the Internet and staff to provide national cybersecurity, National Security Agency director Mike Rogers told Stanford University professors and students on Monday. While the federal government is never going to match Silicon Valley salaries, "we are going to give you the opportunity to do some neat stuff, things you probably aren't going to be able to do anywhere else," Rogers said. Rogers, who also heads up U.S. Cyber Command, said he visits the region at least every six months to tap into local talent and stay attuned to the latest innovations. During a question and answer session, Jennifer Granick, director of civil liberties at the Stanford Center for Internet and Society, asked Rogers how he can explain disclosures by former NSA contractor Edward Snowden that the agency secretly broke into communications on Yahoo and Google overseas. Rogers said his agency does not violate U.S. privacy laws here or abroad working with partner intelligence agencies. "I'm comfortable with what we do, with our partners," he said. Mark Jaycox, an Electronic Frontier Foundation legislative analyst who watched the speech versus a webstream, said Rogers, who was sworn in in April, has not addressed most privacy concerns raised in recent years. "Unfortunately, Admiral Rogers hasn't yet engaged on many of the NSA's more egregious activities like disrupting national standards for encryption or the NSA's hacking of American companies' internal databases."


New York Times


Euro Spy Rat wants to take over the Internet: "Privacy has never been an absolute right"


British Intelligence Official Says U.S. Tech Companies Offer Terrorists 'Networks of Choice'
One of Britain's highest-ranking intelligence officials on Tuesday castigated the giant American companies that dominate the Internet for providing the "command-and-control networks of choice for terrorists and criminals" and challenged the companies to find a better balance between privacy and security. Robert Hannigan, the newly appointed director of GCHQ, Britain's electronic eavesdropping agency, also said that young foreign jihadists in Syria and Iraq had benefited from leaks by the former American intelligence contractor Edward J. Snowden. Mr. Hannigan's harsh charges came in an opinion article published on Tuesday in The Financial Times, the British newspaper. GCHQ, which stands for Government Communications Headquarters, operates closely with the British domestic security service, MI5; the overseas intelligence service, MI6; and the National Security Agency in the United States. Mr. Hannigan's comments, calling for "a new deal between democratic governments and the technology companies in the area of protecting our citizens," seemed to urge a reappraisal of the balance between civil liberties and national security. "Privacy has never been an absolute right," he said, "and the debate about this should not become a reason for postponing urgent and difficult decisions."


Washington Post


What a bunch of a$$holes!!!


Verizon, AT&T tracking their users with 'supercookies'
Verizon and AT&T have been quietly tracking the Internet activity of more than 100 million cellular customers with what critics have dubbed "supercookies" — markers so powerful that it's difficult for even savvy users to escape them. The technology has allowed the companies to monitor which sites their customers visit. Consumers cannot erase these supercookies or evade them by using browser settings, such as the "private" or "incognito" modes that are popular among users wary of corporate or government surveillance. As word has spread about the supercookies in recent days, privacy advocates have reacted with alarm, saying the tracking could expose user Internet behavior to a wide range of outsiders — including intelligence services — and may also violate federal telecommunications and wiretapping laws. One civil liberties group, the Electronic Frontier Foundation, says it has raised its concerns with the Federal Communications Commission and is contemplating formal legal action to block Verizon. AT&T's program is not as advanced and, according to the company, is still in testing. The stakes are particularly high, privacy advocates say, because Verizon's experimentation with supercookies is almost certain to spur copycats eager to compete for a larger share of the multibillion-dollar advertising profits won by Google, Facebook and others. Those companies track their users and sell targeted advertising based on what they learn. Supercookies could allow cellular carriers and other Internet providers to do the same, potentially encircling ordinary users in a Web of tracking far more extensive than experienced today.


Mercury News


Cal Students side with terrorists, and against lib-tard


Bill Maher at Cal: He wants to speak; student promises protest at commencement
Bill Maher intends to speak at the Cal's December commencement, despite demands to disinvite him, an appearance his critics say they will protest. On his Friday night HBO show, "Real Time with Bill Maher," he dismissed the campaign against him as illogical and ironic, given the Berkeley Free Speech Movement's 50th anniversary this year. "I guess they don't teach irony in college anymore," he said. Last week, the student group that selected the provocative TV show host voted to disinvite Maher under pressure from students who were upset with the choice because of his statements about Islam. Then, on Wednesday, the campus administration announced the invitation would stand. Once the invitation was extended, said campus spokesman Dan Mogulof, "it became a matter of free speech." An online petition to disinvite Maher argues that he perpetuates bigotry against Muslims by linking their faith to violence, intolerance and oppression. It calls him "a blatant racist and a bigot," labels the comedian ridiculed on Friday. He said the petition signers were " ... a few thousand people online, who didn't have to do anything more than click a button, who didn't even go to Berkeley necessarily, wanted me to be disinvited as the commencement speaker -- because, you know, I'm a racist. Right, because Islam is a race," Maher said. "You know, this is the level of logic we're dealing with."


Los Angeles Times


Our Islamics are even more stupid than the terrorists...WTF was Washington thinking?


Why Iraqi army can't fight, despite $25 billion in U.S. aid, training
Can 1,400 U.S. advisors rebuild Iraq's military to repel Islamic State? Interviews with troops raise doubts. The military collapsed in Mosul even though Washington spent eight years and $25 billion to train, arm and equip Iraq's security forces. The United States has now deployed 1,400 advisors to try to rebuild the shattered military into a force that can repel Islamic State. American commanders say the Iraqi army won't be ready to mount operations to retake Islamic State-controlled cities such as Mosul for many months. Meanwhile, Iraq's government has turned to Shiite Muslim militias and Sunni Muslim tribesmen as it scrambles to keep the Sunni militants from advancing on Baghdad and its airport. The U.S. military has not explained how a few more months of "advise and assist" will create a functional army after years of training was followed by wholesale desertions in Mosul and in Anbar province to the west of Baghdad. Soldiers and police seeking to avoid mass executions if they were captured left behind weapons, ammunition, vehicles and other U.S.-supplied equipment now used by Islamic State to attack more government positions.

Los Angeles Times


No Wilson indictment -- yet no vindication for Ferguson police
There's understandable disappointment in many quarters over the decision by a Missouri grand jury not to indict Ferguson Police Officer Darren Wilson for the fatal shooting of Michael Brown. But just because Wilson will not face a trial does not mean that the Ferguson, Mo., Police Department has been vindicated or that no consequences will result from this episode. The department's nearly all-white force and its adoption of military-style equipment and tactics are reminiscent of a long-discredited Los Angeles Police Department, which learned the hard lessons of that combination in the early 1990s, when this city confronted its most notorious instance of police abuse, the beating of Rodney G. King. The provocations of the Ferguson police continued in the aftermath of Brown's death. In the end, the events in Ferguson are resonant not because they do or do not add up to a crime. Rather, they have stirred such anger because they remind the nation that the lessons so brutally inflicted on Los Angeles decades ago continue to require learning. The federal government can and should force Ferguson to learn them.



Raoul Lowery Contreras


Counting or guessing Hispanic votes
Hispanic votes are easy to quantify when analyzing votes in 100-percent Hispanic precincts and comparing those percentages to actual exit polling on Election Day. The further away from 100-percent Hispanic precincts, the less confidence in numbers.



Mark Morford


The disgrace of Bill Cosby, and what you can do about it
Thanks to the Internet, thanks to more women than ever coming forward, thanks to increased attention on issues of rampant sexism and rape culture, thanks to the fact that Cosby doesn't have the superstar power he once had, the story appears to be taking hold. What about the possibility that Cosby is innocent, and all those women are, for some reason, collectively out to get him, a strange and inexplicable conspiracy? It's possible. But also utterly baffling. As Ta-Nehesi Coates puts it in his thoughtful mea culpa over at the Atlantic, "A defense of Cosby requires that one believe that several women have decided to publicly accuse one of the most powerful men in recent Hollywood history of a crime they have no hope of seeing prosecuted, and for which they are seeking no damages." To what end?



Spencer Whitney


Bill Cosby is not Cliff Huxtable


For far too long, the responsibility has been put on the woman not to be raped


What's most disturbing about the allegations is not only the sheer number of women coming forward, but the eerie similarity of their stories about the sexual assault and being drugged. While many are quick to defend Cosby and the accusations against him, it's important to remember the power dynamic that is a common thread in several of the accusers stories. Many of these women were young and at vulnerable stages of their careers and sought guidance from Cosby. When people ask the victims "Why didn't you say something sooner?" they all question whether anyone would believe their story. There are countless instances of the victim being ignored in favor of celebrity privilege. This isn't a conspiracy. If anything, this says more about our expectations and demands from celebrities. What society constitutes as sexual assault has also changed over the years as well and while Cosby hasn't been convicted of anything, the public has acted as judge and jury. Perception is everything.



Michael Hiltzik


How the rise of Catholic hospitals is jeopardizing women's healthcare
The Affordable Care Act encourages and facilitates hospital mergers; many of these deals involve Catholic health systems as dominant partners. A joint study last December by the MergerWatch Project and the ACLU reported that 10 of the nation's largest hospital systems were Catholic-sponsored in 2011. From 2001 to 2011, the study found, the number of beds in Catholic hospitals rose by 13%, the largest such change of any category of hospital except the for-profit sector. In Washington state, one quarter of all hospitals are Catholic-affiliated, and in some communities around the country, patients have no other choice. None of this would matter if the church did not try to impose religious directives on the practice of medicine. But that's what it has been doing.



David Horsey


Politicians stoking Ebola fears are a bigger threat than the disease
Nurse Kaci Hickox is a true American hero, not only for risking her health and life by fighting the spread of Ebola in Sierra Leone, but also for pushing against the spread of unwarranted panic and political stupidity once she returned to the United States. Civil liberties and rationality do not seem to count for much to politicians and public authorities who refuse to believe medical science or simply want to enhance their own public standing.



Ronnie Ellis


Bruised and Battered in the Bluegrass State
Mitch McConnell has wanted only one thing all of his political life—to be Senate majority leader. Come Tuesday night, I suspect he will get it if—as many expect—enough Republicans win their races and McConnell maintains his own slim, but apparently growing, margin over his Democratic challenger. If he does, he will have done so by beating back attacks from the left and right. He probably would have even faced a challenge from the middle if such a thing still existed in American politics, because in Kentucky, the only politician more unpopular than Mitch McConnell is Barack Obama.



Karen Klein


How Ebola nurse Kaci Hickox sullied her heroine status
Maine officials are seeking court authority to give keep Kaci Hickox indoors after she refused to obey their imposition of a quarantine on her. In the meantime, though, she should stop acting like she's being forced to undergo two weeks of unconstitutional torture. Frankly, in matters Ebola, it's hard to find anyone who makes perfect sense. Hickox -- the nurse who served a noble tour of duty in Ebola-stricken Sierra Leone and gained public sympathy when she was quarantined under unfair and terrible conditions upon her arrival in New Jersey -- has a good point when she says that the science shows Ebola is not contagious until symptoms appear. She remains without symptoms. At the same time, home in Maine, she is violating quarantine, going out bicycling. Again, she's not going to sicken anyone on a bike. But neither is she entitled to write the rules of her quarantine.



Neil Irwin


Wall Street Might Know Something the Rest of Us Don't
By a lot of measures, the United States economy is looking pretty good right now. The unemployment rate has fallen below 6 percent for the first time in half a dozen years, and jobs are being added at the fastest rate since before the Great Recession. Things are looking better, that is, unless you turn your eye to Wall Street. There, the stock market's main gauge, the Standard & Poor's 500-stock index, fell 0.8 percent on Wednesday after a wild ride during the day. It is off 7.4 percent since mid-September. Moreover, longer-term interest rates are down sharply, which normally signals pessimism in the bond market about the nation's economic future. A measure of expected volatility hit its highest level since 2011 on Wednesday, signaling that more manic days could lie ahead.



Mark Morford


Poll: 50% of Americans still freaked out by gay sex
Pew Research! God bless 'em, and their semi-annual poll on religion in America, the latest of which informs us that fully 50 percent of Americans still believe that gay sex – can you guess? – is a sin. Isn't that fantastic? It's also, oddly enough, a 5% increase over last year, which means that a tiny fraction of Americans appear to have switched from thinking gay sex is pretty much OK with God, Jesus, Buddha and the angels in America, right back to believing that enjoying the pleasures of the flesh with someone of your own gender is an abomination against a very nervous, homophobic God no one really understands and far fewer realize has been completely wrong about pretty much everything all along. Seriously, what gives? Has support for the nefarious "gay agenda" actually leveled off? Not likely. Support for gay marriage is at a record-high 55%, and climbing. More tellingly, 8 in 10 young people think the gay thing is no big deal and wish the olds would just shut up about it already so they can get back to downloading fetish porn and pretending to be polyamorous on Tinder. America! We're all having gay sex now.



Pat Nolan


The many costs of the '94 crime bill
Twenty years ago this month, President Clinton signed into law the Omnibus Crime Bill, amid much self-congratulation by politicians. Today, however, most observers on the Left and Right are critical of many parts of the bill, and have concluded that the public didn't get as much public safety as $33 billion should have bought.



Meghan Daum


The new, tiresome culture of outrage


The very act of questioning someone's outrage is often taken as act of aggression


There's a scene in "A Piece of Work," the 2010 documentary about comedian Joan Rivers, who died last week, in which she shoots down a heckler while performing in a casino in northern Wisconsin. In so doing, she effectively explains the purpose of humor in society. After she delivers a throwaway joke about Helen Keller, a man in the audience shouts, "That's not funny if you have a deaf son!" Rivers' eyes flash with a combination of anger and boredom. "Yes it is!" she bellows. "Let me tell you what comedy is about," she continues. "Oh, please. You are so stupid! Comedy is to make everybody laugh at everything and deal with things!" As I read the many tributes to Rivers over the last week, I often found myself thinking about that heckler in "A Piece of Work." It's probably not even fair to call him a heckler; more likely he was just a humorless guy having a bad day. And Rivers seemed to know this. Later, in a "Fresh Air" interview, she said she sympathized with the man but ultimately had a responsibility to the rest of the audience. "It was a 4,000-seat house, and there were 3,999 people in the theater that I did not want to walk away not having a good time," she said.



Chris Cillizza


How President Obama mishandled immigration
President Obama's decision to delay any executive action regarding the millions of undocumented immigrants in the country until after the election represents both a bow to political reality and a yet another reminder for the beleaguered president of the dangers of setting self-imposed deadlines. This is a political crisis -- as it relates to the timing of a decision -- that is entirely Obama's own creation. What Obama and his senior aides failed to account for -- or underestimated -- was the blowback from within his own party to a major executive action by an unpopular president on an extremely hot-button issue. This disconnect between the long-term legacy building prized by Obama and the near-term political concerns of many within his party is not new but, quite clearly, became a major point of tension. Democrats trying desperately to hold on to Senate seats in places like Louisiana, Arkansas, Alaska and North Carolina and Democratic challengers trying to oust Republicans in places like Georgia and Kentucky expressed deep worries that Obama offering what their GOP opponents would cast as some form of "amnesty" to millions of undocumented immigrants could make the difference between a chance at retaining the Senate majority and, well, no chance.



Lee Rowland


There Is No 5-Second Rule for the First Amendment, Ferguson
Tear gas, rubber bullets, and assault weapons; free speech zones, gags, and press pens: This is the arsenal of the police state. Some of these tactics are physical. The other ones—all the more pernicious for their quiet coercion—impose a veil of silence over the actions of law enforcement. And each of these weapons has been unleashed on the people of Ferguson, Missouri, since the killing of Michael Brown. The message was clear: The public is the enemy. And as we the people started getting that message, Ferguson starting working harder to shoot the messengers.