Instant updates as the news happens!!!



See CalNews.com's updates on Facebook 24/7



You can also follow us on Twitter!





Tweet us your news scoops today!!!





Washington Post
West's prisons are terrorist factories...France, Britain, US flounder by coddling Islamics
French prisons, long hotbeds of radical Islam, get new scrutiny after Paris attacks
France's prisons have a reputation as factories for radical Islamists, taking in ordinary criminals and turning them out as far more dangerous people. Prime Minister Manuel Valls promised last week to flood his nation's prisons with 60 more Muslim chaplains, doubling their budget to try to combat radicalization. Authorities this week raided 80 prison cells of suspected radicals, saying they found cellphones, USB drives and other contraband. Hundreds of inmates in French prisons are a potential threat, authorities say. But critics say that these efforts are minuscule compared with the scope of the problem, with prisons so poorly controlled that a leaked French government report once described Osama bin Laden posters hanging on inmates' walls. The challenge may be compounded by the dozens of people sent to jail after the recent attacks, some for more than a year, under fast-track proceedings in which they were charged with verbal support for terrorism. Other nations, including the United States and Britain, have also struggled with radicalization in prisons. But the issue has proved especially volatile in France, where experts estimate that Muslims make up more than half of the country's 68,000 inmates even though they are only 5 to 10 percent of the general population. But there are only about 170 imams currently ministering inside prisons.


Los Angeles Times


Low fuel cost, same high ticket prices, American Airlines squeezes billions out of hapless customers
American Airlines, the world's largest carrier, took a big gamble in fuel buying last year — and it paid off in record profit. "This was the best year in the long, proud history of American Airlines," Chief Executive Doug Parker said Tuesday. The Fort Worth airline reported 2014 net income of $4.2 billion, up 115% from the previous year, thanks partly to huge savings in fuel costs. It was a good year for nearly every major airline because the cost of fuel, their biggest expense, plunged. It has fallen about 50%, from $2.97 a gallon at the end of 2013 to $1.48 a gallon Tuesday, according to the U.S. Energy Information Administration. For most airlines, fuel costs represent about 30% of total expenses. But for top carriers other than American — including Delta, United and Southwest — the savings could have been much better. That's because the airlines entered into fuel-buying contracts to protect themselves against spikes in fuel prices. It's a practice known in the industry as fuel hedging. American Airlines, which merged with US Airways, last year adopted that carrier's policy of not hedging, which allowed American to take full advantage of the steep plunge in fuel prices. The result was more than $600 million in fuel savings for American Airlines for 2014, with even bigger savings expected this year if fuel costs stay low. "We believe 2015 will be yet another record year, exceeding the earnings from 2014," Parker said.


Washington Post


First Lady to Islamics -- piss off!


Michelle Obama forgoes a headscarf and sparks a backlash in Saudi Arabia
Barack Obama was in Riyadh on Tuesday to pay his respects to the late Saudi King Abdullah. His visit, for which he cut short a much-hyped trip to India, underscores how important the U.S.-Saudi relationship remains to the American leadership. On social media, however, much of the attention has focused on something else: His wife's attire. As noted by the Associated Press, Michelle Obama did not wear a headscarf or veil Tuesday. In Saudi Arabia, that's unusual: The country is one of the few on Earth where women are expected to cover their heads, and many Saudi women wear niqabs. Exceptions are made for foreigners, however, and Michelle – who did wear loose clothing that fully covered her arms – appears to have been one of them. In photographs from the official events, other foreign female guests are also shown not wearing headscarves. More than 1,500 tweets using the hashtag #ميشيل_أوباما_سفور (roughly, #Michelle_Obama_unveiled) were sent Tuesday, many of which criticized the first lady. Some users pointed out that on a recent trip to Indonesia, Michelle had worn a headscarf. Why not in Saudi Arabia? The Obamas' trip to Saudi Arabia comes at a time of remarkable international criticism of Saudi Arabia's human rights record, prompted largely by the flogging of blogger Raif Badawi for insulting Islam. The trip was apparently designed to be apolitical – Obama has said he was "unlikely" to discuss Badawi's case with the new Saudi king. But in Saudi Arabia, the simple act of not covering your head can be political, intentionally or not.


Los Angeles Times


Google to police: Waze app can't 'track' officers' movements
The Police State takes a hit as Google fights back
In a Dec. 30 letter to Google, which acquired Waze in 2013, LAPD Chief Charlie Beck wrote that by pointing out police locations, the app compromises officer safety, according to a copy of the letter obtained by The Times. Beck noted that in the days before Ismaiiyl Brinsley killed New York Police Department Officers Rafael Ramos and Wenjian Liu on Dec. 20, he used the application to monitor police movements. But in a statement, Waze spokeswoman Julie Mossler said the app is actually welcomed by many law enforcement agencies and keeps citizens "safe." "We think very deeply about safety and security and work in partnership with the NYPD and other police and departments of transportation all over the world … to help municipalities better understand what's happening in their cities in real time. These relationships keep citizens safe, promote faster emergency response and help alleviate traffic congestion," Mossler said. "Police partners support Waze and its features, including reports of police presence, because most users tend to drive more carefully when they believe law enforcement is nearby." The police-spotting feature allows users to drop an icon on a map indicating the rough location an officer was spotted, but it cannot "track" them or give an exact location, she said. Beck voiced his concerns as resentment of law enforcement has spiked following the killings of unarmed black men in Ferguson, Mo., Cleveland, Los Angeles and New York City.


Los Angeles Times
Philanthropist Ladd latest Bill Cosby accuser
A philanthropist and former entertainment exec has become the latest in a string of alleged victims to accuse entertainer Bill Cosby of sexual assault. The accusation by Cindra Ladd, the wife of former 20th Century Fox President Alan Ladd Jr., came on the same day that the entertainer pulled out of another scheduled concert performance, this time in Bakersfield. Cosby has canceled several scheduled dates since the scandal broke late last year, and his Feb. 12 concert at the Fox Theatre would have been the closest appearance to Los Angeles since the controversy erupted. In an essay posted to the Huffington Post on Monday, Ladd wrote that she first met Cosby in 1969 in New York when she was a 21-year-old single woman working for the late film producer Ray Stark. She said Cosby at that time was a 32-year-old "nationally known performer, and "one of the most likeable and popular entertainers in the business." Ladd wrote that Cosby asked for her number, and she gave it to him. The two began hanging out, going to movies and eating snacks in her apartment with her roommate in their apartment. "He was married to his current wife and he acted like a perfect gentleman who didn't come on to either of us, which, I have to admit, made me wonder what his objective was," she wrote. She said she met him one night before a movie outing at an apartment that he said belonged to a friend of his. After she complained of a terrible headache, Cosby told her he had a "miracle cure" given to him by a doctor. He gave her a capsule, saying she could trust him. Ladd wrote that she doesn't recall exactly what happened because it remains "a blur." But she said she awoke the following morning nude in bed at the friend's apartment, and Cosby was wearing a white terry cloth bathrobe: "It was obvious that he had had sex with me." She said she never went to the police because it was a "different time and 'date rape' was a concept that did not exist."


Los Angeles Times


Islamics??? Drone landed on the grounds of the White House
A low-flying drone crashed on the White House grounds early Monday morning, a Secret Service spokesman confirmed. The device was spotted by an officer posted on the south grounds of the White House just after 3 a.m. It was approximately two feet in diameter and flying very low, spokesman Brian Leary said in a statement released Monday morning. Leary described the device as a "quad copter," typically a remote-controlled device that resembles a helicopter. The machine crashed on the southeast side of the White House grounds, he said. "There was an immediate alert and lockdown of the complex until the device was examined and cleared. An investigation is underway to determine the origin of this commercially available device, motive, and to identify suspects," Leary said. Asked about media reports on the device, White House spokesman Josh Earnest said earlier the device "doesn't pose any ongoing threat" to the Obama family.


Los Angeles Times
Under Islamic State, life in Mosul, Iraq, turns grim
Seven months into the takeover of Iraq's second-largest city by Islamist extremists, electricity, rice, flour and medical supplies are dwindling. The water is mucky. Religious minorities are confined to prison camps, and the overwhelmingly Muslim population of Mosul is subject to strict and increasingly arbitrary religious rules. Those who disobey Islamic State's fundamentalist edicts — including banning smoking or doing business during daily prayer times, and requiring women to cover their heads and faces — are whipped. Or worse. Late last month, two doctors were executed, according to ousted officials who continue to communicate by phone with Mosul residents, for having failed to save the life of an Islamic State leader wounded in an airstrike. Militants have instructed pregnant women that it is haram, or unholy, to give birth at a hospital, so they have had to use midwives at home. Those caught smoking, using a cellphone or doing business during five daily prayer times are punished in Islamic courts by untrained judges, usually with fines and whippings.



Mercury News


Sheriffs want Waze police-tracking feature disabled
Sheriffs are campaigning to pressure Google to turn off a feature on its Waze traffic software that warns drivers when police are nearby. They say one of the technology industry's most popular mobile apps could put officers' lives in danger from would-be police killers who can find where their targets are parked. Waze, which Google purchased for $966 million in 2013, is a combination of GPS navigation and social networking. Fifty million users in 200 countries turn to the free service for real-time traffic guidance and warnings about nearby congestion, car accidents, speed traps or traffic cameras, construction zones, potholes, stalled vehicles or unsafe weather conditions. Waze users mark police presence on maps without much distinction other than "visible" or "hidden." Users see a police icon, but it's not immediately clear whether police are there for a speed trap, a sobriety check or a lunch break. The police generally are operating in public spaces. A Waze spokeswoman, Julie Mossler, said the company thinks deeply about safety and security. She said Waze works with the New York Police Department and others around the world by sharing information.


San Francisco Chronicle


Islamics kill and kill and kill again
Abe 'speechless' after video claims IS hostage dead
Japan's prime minister said Sunday he was "speechless" after an online video purportedly showed that one of two Japanese hostages of the extremist Islamic State group had been killed, and he demanded the release of the other. Shinzo Abe told Japanese broadcaster NHK that the video was likely authentic, though he said the government is still reviewing it. Abe offered condolences to the family and friends of Haruna Yukawa, a 42-year-old adventurer taken hostage in Syria last year. He declined to comment on the message in the latest video, which demanded a prisoner exchange for the other hostage, journalist Kenji Goto. He said only that the government was still working on the situation, and reiterated that Japan condemns terrorism. "I am left speechless," he said, stressing he wants Goto released unharmed. "We strongly and totally criticize such acts." President Barack Obama condemned what he called "the brutal murder" of Yukawa, saying in a statement that the United States stands by Japan and calling for Goto's release. The Islamic State group had threatened on Tuesday to behead the men within 72 hours unless it received a $200 million ransom. Kyodo News agency reported that Saturday's video was emailed to Goto's wife.


New York Times
Jorge Ramos, Voice of Latino Voters on Univision, Sends Shiver Through G.O.P.
Jorge Ramos, the Univision and Fusion television anchor who is often called the Walter Cronkite of Latino America, was in his suburban Miami broadcast studio when he all but pounced on the chairman of the Republican Party, Reince Priebus, who was appearing from Washington. The Republicans' immigration policy is "deportations, deportations, deportations," Mr. Ramos said. "Why?" Mr. Priebus, who stared out from multiple screens in a control room here looking as if he would rather have been doing anything but talking to Mr. Ramos, insisted it was not so. But Mr. Ramos would not have it. "The message," he retorted, "is anti-immigrant." For years, Mr. Ramos largely aimed his ire at President Obama for breaking his 2008 campaign promise — made directly to Mr. Ramos — that he would propose an overhaul of the nation's immigration system in his first year in office, and for deporting two million people since. Even after Mr. Obama announced late last year that nearly half of the estimated 11 million undocumented immigrants could apply to work without fear of deportation, Mr. Ramos confronted him during a Nashville forum for having "destroyed many families" by not acting sooner. Mr. Ramos, who took aim at President Obama for breaking a vow to Latinos, is turning his focus on Republicans. But Mr. Ramos's focus has changed, he said in an interview here: "Now is the turn of Republicans."


Associated Press
Egypt shows the world how to defeat the Islamics
Supporters of Egypt's ousted Islamist President fought street battles with police in Cairo and other cities on Sunday, the fourth anniversary of country's 2011 uprising, as clashes left 13 people dead and dozens injured. Another two people died when an explosive device they were planting under a high-voltage tower in the Nile Delta exploded prematurely, security officials said. Most of the deaths took place in Cairo's eastern Matariyah district — a Islamist stronghold where police clashed with supporters of the outlawed Muslim Brotherhood group. Nine protesters and one police officer were killed in the clashes, security officials said. Two police officers were injured by shrapnel when a roadside bomb exploded in an eastern Cairo district and six more were wounded in the Matariyah clashes, according to the officials. The Interior Ministry, which is in charge of the police, said a total of 134 protesters were arrested Sunday nationwide. Cairo, a city of some 18 million people, appeared mostly deserted Sunday, with many residents staying home to avoid being caught up in any turmoil.


ABC News


Suspect at traffic stop has his hands up, thug cops kill him anyway
Cops who gunned down citizen were known to be brutal
A fatal shooting by police officers of a man who defied their orders by stepping out of a car during a traffic stop but had his hands raised has opened a new rift between residents and the police department in the struggling city. Jerame Reid's Dec. 30 death has received scrutiny from activist groups and community members since the Bridgeton Police Department released a video this week showing how it unfolded — as another black man died at the hands of police officers. While there have been protests, none has been violent. On Friday, leaders of the state NAACP joined city officials to call for patience and peace during an investigation into Reid's shooting death. Police Chief Mark Ott said Bridgeton, about 35 miles south of Philadelphia, has become more difficult to patrol as crime has risen and resources have shrunk. And some residents say police are too prone to violence. From 2012 through 2014, officers in Bridgeton filed more than 300 reports documenting uses of force, according to records obtained by The Associated Press through an open public records request. Most involved using pepper spray or a similar agent or compliance holds on suspects officers said were resisting arrest. The Cumberland County prosecutor's office is investigating the shooting. Legal experts say the key question is whether the officers reasonably believed they were in imminent danger when they shot Reid. Even though a gun had been taken out of the car, prosecutors could be considering whether the officers thought Reid had another weapon as he moved toward Days.


Los Angeles Times


Arizona must keep issuing driver's licenses to 'Dreamers'
A federal judge granted a permanent injunction Thursday affirming the ability of young immigrants protected from deportation to obtain an Arizona driver's license and declared they had won their case. U.S. District Judge David Campbell's ruling came one month after the so-called Dreamers began getting driver's licenses in Arizona for the first time. He had issued a preliminary injunction in December. On Thursday, Campbell issued a summary judgment in favor of the young immigrants, who are protected from deportation by President Obama's Deferred Action for Childhood Arrivals program, known as DACA. "The court finds that the denial of driver's licenses has caused plaintiffs irreparable harm," he wrote. He barred Arizona from refusing to accept documents issued under DACA as proof of authorization to be in the U.S. Arizona was one of the last states where officials refused to issue driver's licenses to Dreamers, young immigrants who were brought to the U.S. illegally as children but allowed to remain under the Obama administration program, instituted in 2012.


Los Angeles Times


E-cigarettes can produce more formaldehyde than regular cigarettes, study says
Electronic cigarettes can be dangerous, even if you don't smoke them...and the cigarette industry knows it
A preliminary study in the New England Journal of Medicine raises a new worry about electronic cigarettes – exposure to formaldehyde. Under certain conditions, taking 10 puffs from an e-cigarette would expose a user to about 2.5 times as much formaldehyde as he or she would get from smoking a single tobacco cigarette, according to the study. Formaldehyde is the pungent chemical that was used to preserve the frog you dissected in your high school biology class. It's used as an industrial disinfectant and as an ingredient in permanent-press fabrics, plywood, glues and other household products, according to the National Cancer Institute. It is also formed when the propylene glycol and glycerol in e-cigarette liquids and oxygen are heated together. The World Health Organization's International Agency for Research on Cancer says formaldehyde can cause leukemia and nasopharyngeal cancer. The U.S. Environmental Protection Agency considers the chemical a "probable human carcinogen."


Washington Post
Abortion bill dropped amid concerns of female GOP lawmakers
House Republican leaders abruptly dropped plans late Wednesday to vote on an anti-abortion bill amid a revolt by female GOP lawmakers concerned that the legislation's restrictive language would once again spoil the party's chances of broadening its appeal to women and younger voters. In recent days, as many as two dozen Republicans had raised concerns with the "Pain Capable Unborn Child Protection Act" that would ban abortions after the 20th week of a pregnancy. Sponsors said that exceptions would be allowed for a woman who is raped, but she could only get the abortion after reporting the rape to law enforcement. A vote had been scheduled for Thursday to coincide with the annual March for Life, a gathering that brings hundreds of thousands of anti-abortion activists to Washington to mark the anniversary of the Supreme Court's 1973 Roe v. Wade decision that legalized abortion. But Republican leaders dropped those plans after failing to win over a bloc of lawmakers, led by Reps. Rene Ellmers (R-N.C.) and Jackie Walorski (R-Ind.), who had raised concerns. Aides said that leaders were eager to avoid political fallout from a large number of female Republicans voting against an abortion bill in the early stages of the new GOP-controlled Congress. The dispute erupted into the open in recent days and once again demonstrated the changing contours of the expanded House Republican caucus. The 246-member caucus is seeing rifts on issues where it once had more unity. That's because there are now more moderate Republicans from swing districts who could face tough reelections in 2016 when more Democratic and independent voters are expected to vote in the presidential election. Already this month, a large bloc of moderate Republicans voted against a spending bill that would repeal President Obama's changes to immigration policy enacted by executive action. More than two dozen Republicans from metropolitan areas with large immigrant populations also voted against an amendment to the bill that would end temporary legal protections to the children of illegal immigrants. The abortion bill pulled Wednesday night was strongly opposed by Democrats and women's rights groups.


Washington Post


Only one difference between ISIS and Saudi Arabia - our feckless pols love the Saudis


How Saudi Arabia's harsh legal punishments compare to the Islamic State's
Following the lashing of blogger Raif Badawi and leaked footage that showed the public execution of a woman accused of beating her daughter, Saudi Arabia's harsh interpretation of sharia law and
its use of capital punishment have come under international scrutiny. For many, the Saudi justice system sounds not unlike that of the Islamic State, the extremist Islamist group which has struck fear in much of the Middle East. This week, Middle East Eye, a Web site that focuses on news from the region and is frequently critical of Saudi Arabia, contrasted a set of legal punishments recently announced by the Islamic State with the corresponding punishments in Saudi Arabia. While Saudi Arabia isn't particularly forthcoming about its use of capital punishment (and Middle East Eye doesn't cite its source) and accurate information from within the Islamic State's self-proclaimed caliphate is hard to ascertain, information from news sources and human rights organizations suggest the chart is at least broadly accurate.



San Jose Mercury News


Airlines to passengers - screw you!
Cheap fuel won't cut airfares - airlines plan to pocked windfall and keep ticket prices high
Airlines will save billions this year thanks to cheaper jet fuel, but they aren't likely to share the bounty with passengers -- not while so many flights are already full. Instead, the airlines will use their windfall to pay down debt and reward shareholders. Airline CEOs worry that oil prices could just as easily go higher. They hope consumers benefiting from cheaper gasoline will splurge on airline tickets. But the biggest reason airfares aren't falling: Planes are plenty full at current prices. Fuel is the biggest single expense at most airlines, and spot prices for jet fuel have tumbled by half since mid-September. If prices stay around these levels, U.S. airlines could save $20 billion this year by some estimates. Delta CEO Richard Anderson said Tuesday that his airline expects to save $2 billion this year on fuel. He said Delta will pay down debt and reward shareholders by buying back company shares, which raises the value of the remaining stock. As for passengers, he suggested that they can shop around. Travelers who expect airfares to drop when fuel becomes cheaper assume that airlines calculate ticket prices based on their costs. But Robert Mann, a former airline executive who now consults to the industry, said, "The industry is full at these prices. You couldn't stimulate additional revenue by cutting prices."


New York Times


Islamic psychopaths continue their world-wide killing rampage


Palestinian Stabs Up to a Dozen Israelis in Rush-Hour Attack in Tel Aviv
A Palestinian man stabbed and wounded up to a dozen Israelis as he rampaged through a bus in central Tel Aviv during the Wednesday morning rush hour and then fled through nearby streets, the police said. He was shot and wounded by security forces as he tried to escape. It was unclear whether all the stabbings took place on the bus. At least 15 Israelis were hospitalized, including several who were reported to be in serious condition. The assailant, a Palestinian man in his early 20s from the West Bank city of Tulkarm, was being treated in a hospital and questioned, the police said. The episode broke a period of relative calm that followed a spate of attacks against Israelis in October and November in Jerusalem, Tel Aviv and the West Bank that were carried out by Palestinians armed with knives, cleavers and guns, or using vehicles as weapons. Prime Minister Benjamin Netanyahu of Israel sought to link the violence to a wider political context, and to affix blame on the Palestinian leadership. He said in a statement that the stabbing attack was "the direct result of the poisonous incitement being disseminated by the Palestinian Authority against the Jews and their state."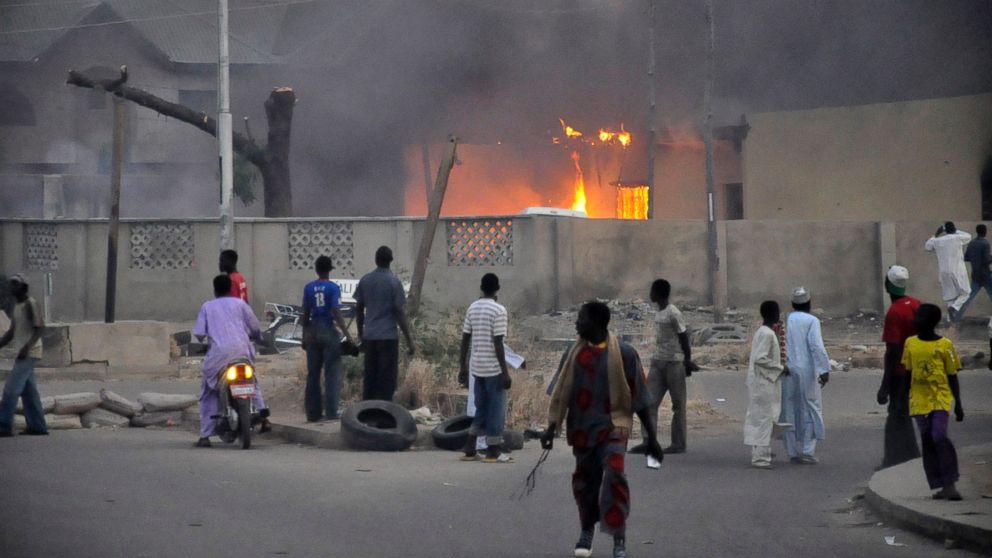 Washington Post


Need more proof Islamics are whack-jobs?


Boko Haram boasts of slaughter as it rampages in Cameroon and Nigeria
"We killed the people of Baga," Boko Haram leader Abubakar Shekau boasted in the video, first reported by Agence France-Presse. "We indeed killed them, as our Lord instructed us in His Book. … We will not stop. This is not much. You'll see." There's still no reliable count of the number killed around Jan. 3 in the Baga area of northeastern Nigeria, with estimates ranging from hundreds to 2,000. Amnesty International described it as "devastation of catastrophic proportions in two towns, one of which was almost wiped off the map in the space of four days." Boko Haram, in addition to killing scores of people razed the two towns, Baga and Doron Baga, damaging or destroying some 3,700 structures.


Associated Press
Crazed Islamics hold Yemen's president 'captive' at his house
Shiite rebels in control of Yemen's capital now hold the country's president "captive" at his home, his aides said Wednesday, putting in question who actually rules the Arab world's most-impoverished nation. Embattled Abed Rabbo Mansour Hadi — a top U.S. ally in the war against al-Qaida in Yemen — appears to have run out of options to continue governing the country, months after the Houthis began a blitz in September, seizing the capital and state institutions. The increasingly weakened leadership and power vacuum are setting stage for al-Qaida in Yemen, which claimed the recent attack on the French satirical newspaper Charlie Hebdo and failed assaults on the U.S. homeland, to grow more powerful in the chaos. Hadi "cannot leave his house" after Houthi rebels removed his guards and deployed their own fighters there Wednesday, one aide said. Another described the country being at the "point of no return." Hadi can't resign as president as the Houthis have threatened to prosecute him, that aide said. The two aides spoke on condition of anonymity as they weren't authorized to speak to journalists.



Los Angeles Times


"Death to France" - Brutal Islamics continue their war against freedom
Iranians march on French Embassy, denounce Charlie Hebdo
Hundreds of outraged Iranians marched outside the French Embassy in Tehran on Monday to protest what participants called anti-Islamic caricatures published in the French satirical newspaper Charlie Hebdo. Placards hoisted aloft read "Death to France," and some participants called for the expulsion of the French ambassador. The protest tied up traffic near the embassy in central Tehran. But the event was peaceful and well organized, in contrast to violent protests elsewhere in the Muslim world.


Islamics vent their hatred of France, the West, and freedom in Tehran.
New York Times


America's Nazi inspired animal research center


U.S. Research Lab Lets Livestock Suffer in Quest for Profit
At a remote research center on the Nebraska plains, scientists are using surgery and breeding techniques to re-engineer the farm animal to fit the needs of the 21st-century meat industry. The potential benefits are huge: animals that produce more offspring, yield more meat and cost less to raise. There are, however, some complications. "It's horrible," one veterinarian said, tossing the remains into a barrel to be dumped in a vast excavation called the dead pit. These experiments are not the work of a meat processor or rogue operation. They are conducted by a taxpayer-financed federal institution called the U.S. Meat Animal Research Center, a complex of laboratories and pastures that sprawls over 55 square miles in Clay Center, Neb. Little known outside the world of big agriculture, the center has one overarching mission: helping producers of beef, pork and lamb turn a higher profit as diets shift toward poultry, fish and produce. "They pay tons of attention to increasing animal production, and just a pebble-sized concern to animal welfare," said James Keen, a scientist and veterinarian who worked at the center for 24 years. "And it probably looks fine to them because they're not thinking about it, and they're not being held accountable. But most Americans and even livestock producers would be hard pressed to support some of the things that the center has done."


The Hill


Police State Update: Will the GOP OK more spying on you???


Republicans have a choice to make
In five months, key provisions of the Patriot Act are set to expire, potentially eliminating spying programs that intelligence officials say are critical to keeping the nation safe from terrorists. The battle over what changes should be made to that law — and whether it should be reauthorized at all — is likely to be an early test of Republican leaders' ability to keep their party unified while controlling both chambers of Congress. On June 1, key portions of the Patriot Act that update the 1978 Foreign Intelligence Surveillance Act (FISA) are set to expire. Among them is Section 215, which the National Security Agency (NSA) has used to authorize the collection of bulk records about millions of U.S. citizens' phone calls. The program — which collects only "metadata" about people's calls, such as which numbers were dialed and when, and not actual conversations — was the most controversial part of Edward Snowden's leaks about the NSA, and has become the prime focus of privacy advocates on Capitol Hill. After failing to get NSA reform legislation to President Obama's desk last year, advocates are eyeing the upcoming summer deadline as their best chance to significantly change the practices of the spy agency. But supporters of the NSA are fighting back, and say the debate over phone data has overshadowed the national security imperatives that led lawmakers to empower the agency in the first place.



Los Angeles Times


Islamic State issues photos of toddlers in gun training
"Lions cubs ... raised in the land of the Caliphate," the caption reads for the series of six photos shared online by supporters of the militant group, which controls large parts of Iraq and Syria. The pictures show small boys playing, rather grimly, with toy assault rifles. Two images depict a child somberly aiming down the sight of a mock M-16 from a kneeling and a prone stance. Another picture features a toddler, appearing to be no older than 3, cradling a gun with a forlorn expression on his face. According to the SITE Intelligence Group, which monitors militant groups, the photos were issued from the Islamic State stronghold of Raqqah, Syria. Islamic State has put a premium on the use of propaganda and has made savvy use of social media. It routinely uploads images and videos of children engaged in religious study or prayers. It has also shown children at play with the corpses of dead prisoners, using decapitated heads as soccer balls and shouting slogans supporting Islamic State. Human rights groups have accused Islamic State of using child soldiers. Residents of areas under its control claim the group sends its fighters to schools to recruit children. A video released Tuesday showed a boy who appeared to be about 12 using a gun to apparently execute two men who were identified as Russian prisoners of Islamic State.


Psychopath Islamics teach kids to kill...




Time Magazine


Need More Proof Cops Are Racists?
Florida Cops Used Mugshots of Black Men for Target Practice
A Florida woman discovered North Miami Beach Police had been using images of black men for target practice after recognizing her brother's mug shot at a shooting range. Sgt. Valerie Deant, a musician with the Florida Army National Guard's 13th Army Band, arrived at a shooting range with her fellow soldiers just after police snipers had been practicing on the same range last month. Deant was shocked to see her brother's photograph among the mug shots of black men apparently used as target practice by the police. Woody Deant was arrested in 2000 in connection with a deadly drag race when he was just 18 years old. "I was like why is my brother being used for target practice?" Deant told NBC Miami on Friday. "There were like gunshots there." "Nobody expects to come across their family member as a target at a shooting range," Andell Brown, an attorney for the Deant family, told TIME. "She was concerned about why he was there, and what that meant for his safety." Captain Jack Young, who oversees the shooting range, confirmed that the targets are selected by whoever is renting the range. Police chief J. Scott Dennis told NBC that the decision to use mugshots of black men was ill-considered, but that no rules had been broken. He said his department includes minority police officers, and said the use of actual photographs for target practice is very common. Requests for further comment from Dennis were not immediately returned. "These young men are literally being used for target practice," Brown said. "And if those in the leadership don't see anything wrong with that practice, then we have a very serious issue." Brown said that the family is weighing their legal options. Woody Deant, who spent four years in prison after his arrest, told NBC he was disturbed at his sister's discovery. "Now I'm being used as a target?" he said. "I'm not even living that life according to how they portrayed me as. I'm a father. I'm a husband. I'm a career man. I work 9-to-5."


Need more proof the police are racists....? Here you go.




Daily News




Don't kid yourselves...cops enjoy killing your pets...


New spcaLA class trains police officers in animal behavior in wake of 2013 Hawthorne dog shooting
When police officers arrive at a crime scene, training tells them project a commanding presence — stand tall, chest forward, yell commands — to establish physical and psychological authority. It works well with human suspects. But not so well with a pet dog that's in the way. In the wake of a 2013 police shooting of a Rottweiler named Max in Hawthorne, a new state-certified training class aims to train officers on how to deal with animals. Put together by the spcaLA, the course went live this month as all officers in the Hawthorne Police Department began going through the eight-hour classroom session. "This curriculum was designed using the latest science" in animal behavior, said Madeline Bernstein, president of spcaLA, at a news conference Friday at the Hawthorne police station. The nonprofit organization has been developing the curriculum over the past year, she said. Since getting it certified through POST (Police Officer Standards and Training) with the state of California, she said, there have been a "flood" of requests for the training from departments throughout the state.


Don't kid yourselves...the police enjoy killing your pets...it part of their mockery of you and your "rights".




New York Times




Islamic's Spin Machine Cranks Up by Laying a Guilt Trip on the Gullible French


Crisis in France Is Seen as Sign of Chronic Ills
In numerous interviews, community leaders and Muslims and North Africans who largely populate the banlieues expressed concern that last week's attacks in Paris would intensify an already explosive social and economic situation in the places where they live. On Tuesday, a French association that represents 120 mayors across France issued a statement warning that the banlieues were "on edge" amid the fallout from the attacks, and said there was an urgent need to address economic, social and educational shortfalls. Vaulx-en-Velin, a dreary Muslim-majority suburb of Lyon, is France's third-poorest city and representative of the problems. Many youths simply call it "a ghetto." It might also be called the Other France. Here, and in numerous other poor suburbs that ring French cities, joblessness runs around 20 percent, about double the national average. For young people, it can be as high as 40 percent. About half of residents do not have a high school diploma. Police harassment and profiling are taken for granted as the rule. In a time of budget cuts and austerity, conditions have only deteriorated despite years of pledges by successive governments, including President François Hollande's, to improve schools and create opportunity. The men who carried out the attacks — Saïd Kouachi and his brother Chérif, and Amedy Coulibaly, who seized the kosher market — grew up in the French banlieues and had failed to hold down a series of menial jobs in their youth. All were attracted to Islamic extremism by their teenage years, and many residents in the banlieues consider them bad seeds who were propelled toward the fringe. Yet the fallout from their attacks, and the response shown by the rest of France, has been Topic A along the gritty streets of many impoverished suburbs from Paris down through the south of France. Many worried that as Muslims, they would be lumped together with the killers. Others spoke of fears of retaliation against mosques and other Muslim symbols, as well as the specter of reprisals or even a crackdown by the police after officers were murdered in the terrorist attacks. Nearly everyone agreed that the fallout from the Charlie Hebdo attacks, including a heightened security response by France and its allies, was a distraction from a larger problem: a sense of increasing social and economic marginalization that many cited as a root cause of young people drifting toward extremism.


Washington Post


There are plenty of reasons to complain about the new Republican Congress...but this bill isn't one of them


The GOP's plan to legislate net neutrality is here...and Internet activists already hate it
Congressional Republicans are circulating the draft of a long-awaited, much-rumored bill that would clarify federal regulators' ability to enact strict rules governing broadband providers. The bill would enshrine into law key principles under net neutrality, the idea that all Web traffic should be treated equally by broadband companies. Specifically, it would prohibit Internet service providers from "speeding up or slowing down … some Internet traffic in relation to other Internet traffic over the consumer's broadband," according to the text, which is being circulated by the Senate Commerce Committee and the House Energy and Commerce Committee. In addition to banning what's called "paid prioritization," the draft legislation bans the blocking of Web traffic and requires Internet providers to publicly disclose their network policies. But crucially, the bill would also restrict the Federal Communication Commission's authority in several ways. Under the legislation, the agency would be expressly prohibited from trying to regulate broadband using the same legal tools it uses to police phone companies — something that President Obama and consumer groups have specifically asked for in the push for net neutrality. The bill would also restrict the FCC's ability to regulate broadband in the future even under its existing authority.



San Francisco Chronicle


While French leaders still cower, the French public mocks the hapless Islamics
New issue of Charlie Hebdo sells out quickly
Parisians lined up Wednesday to empty the newsstands of the first issue of Charlie Hebdo, a week after Islamic extremists attacked the satirical newspaper's office, and French justice officials began cracking down by arresting dozens of people who glorified terrorism or made racist or anti-Semitic remarks. The editors of the publication again put a caricature of the Prophet Muhammad on the cover, and it quickly sold out by early morning around the capital and elsewhere, with long lines and scuffles at kiosks. Disappointed buyers were told to come back Thursday when more of the increased print run of 5 million copies will be available. The new issue of Charlie Hebdo features the prophet, a tear rolling down his cheek, holding a placard that says "Je Suis Charlie." The saying has swept France and the world, with the irreverent newspaper being embraced as a symbol of freedom of speech. Defending his caricature of the prophet on the latest cover, cartoonist Renald Luzier argued that there should be no exceptions to freedom of expression.


Charlie Hebdo going to press with 5 million more copies.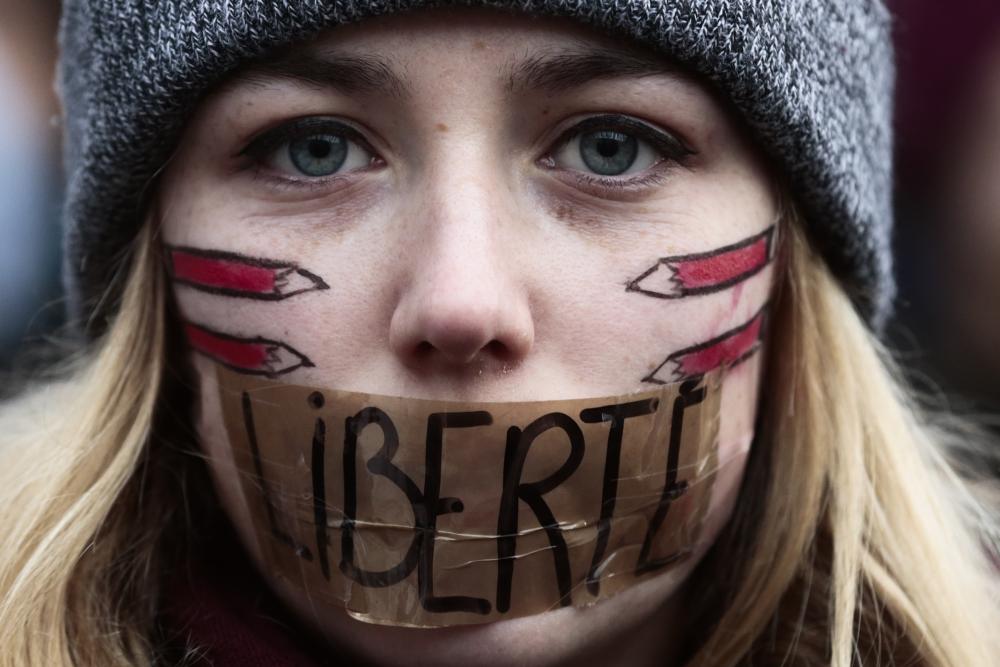 Los Angeles Times


Liberté

, égalité, fraternité...


France answers terorists by cracking down on everyone
French authorities tightened security Wednesday in response to last week's terrorist attacks, ordering a crackdown on hate speech that backs terrorism and deploying the aircraft carrier Charles de Gaulle to support U.S.-led airstrikes in the Middle East. French authorities issued an order to strictly enforce laws against voicing support for terrorist acts and disclosed that 54 people had been arrested for violating the prohibitions, initially adopted to deter and punish anti-Semitic remarks. In a message to prosecutors and judges, the Interior Ministry said it was concerned about speech that could incite violence, noting no one should be allowed to use religion to justify such speech. The order warned authorities to especially watch for comments that could lead to urban unrest or violence against police. Even as Parisians snapped up the latest issue of Charlie Hebdo and spoke of the importance of free speech, many also said they support expanding surveillance and screening of suspected terrorists. The French government also has deployed 10,000 soldiers and 120,000 security forces around France to protect airports, train stations, houses of worship and other high-traffic venues.


Daily News
Islamics continue to target France


19,000 French websites hacked since terror rampage


Hackers have targeted about 19,000 French websites since a rampage by Islamic extremists left 20 dead last week, France's cyberdefense official said Thursday, as the president tried to calm the nation's inflamed religious tensions. Calling it an unprecedented surge, Adm. Arnaud Coustilliere, head of cyberdefense for the French military, said about 19,000 French websites had faced cyberattacks in recent days, some carried out by well-known Islamic hacker groups. The attacks, mostly relatively minor denial-of-service attacks, hit sites as varied as military regiments to pizza shops but none appeared to have caused serious damage, he said. "What's new, what's important, is that this is 19,000 sites — that's never been seen before," Coustilliere said. "This is the first time that a country has been faced with such a large wave of cyber-contestation." Coustilliere called the attacks a response to the massive demonstrations against terrorism that drew 3.7 million people into the streets Sunday across France. He pointed to "more or less structured groups" that used tactics like posting symbols of jihadist groups on companies' Web sites.


Washington Post


Another whack-job white guy busted


Man who plotted to attack U.S. Capitol was 'fulfilling the directives of violent jihadists'
When 20-year-old Christopher Lee Cornell walked into the Point Blank Indoor Shooting Range & Gun Shop near Cincinnati on Wednesday morning, the store manager said he seemed shy, though there was "nothing really out of the ordinary about him." Dark eyes, full beard, long raven-colored hair, Cornell stood quietly at the counter. Then he bought two semiautomatic weapons and 600 rounds of ammunition, police said. It was the final piece in his alleged plot to build, plant and detonate bombs at the U.S. Capitol — then use firearms to finish off anyone who tried to escape. But FBI agents had been watching him for months and, moments after he purchased the weapons, the agency's Joint Terrorism Task Force took him into custody. During an undercover FBI investigation, Cornell had allegedly expressed support for the Islamic State, suggesting that by carrying out such an attack he would be "fulfilling the directives of violent jihadists," according to a criminal complaint filed on Wednesday in U.S. District Court for the Southern District of Ohio. "You wouldn't think Cincinnati, Ohio, and jihadist in the same sentence," gun store manager John Dean told WCPO-TV. "I'm just as surprised as everybody else." Until now, Cornell, a big time video-gamer who rarely left home, has lived with his folks in their apartment in Cincinnati. His parents called him a "momma's boy" and said "his best friend is his kitty cat."


New York Times


More Rat Cops Let Off the Hook


C.I.A. Officers Are Cleared in Senate Computer Search
The panel investigating the Central Intelligence Agency's search of a computer network used by the Senate Intelligence Committee found that five agency officers had acted in good faith during an episode marked by confusion and poor communication, and should not be punished. The accountability board, whose findings were made public on Wednesday, overturned the conclusions of the C.I.A. inspector general, who had determined last year that the five officers acted improperly when they searched files used by the Intelligence Committee during its investigation of C.I.A. torture. The computer search raised questions about the separation of powers and fractured relations between the C.I.A. and the Senate oversight panel, which last year released its scathing report about the agency's detention and interrogation program during the George W. Bush administration. John O. Brennan, the C.I.A. director, has enraged senators by refusing to answer questions from the Senate Intelligence Committee about who had authorized a computer intrusion. In its decision to clear the five officers of wrongdoing, a finding first reported last month by The New York Times, the accountability board said there had been no concrete understanding about the rules governing the computer network, which was housed at a C.I.A. facility but included a firewall to allow Senate staff members to do their work without agency monitoring.

San Francisco Chronicle
Hitler gets a free ride...
Anti-Islam ads back on San Francisco Muni buses
Ads splattered on the sides of Muni buses, purchased by blogger Pamela Geller's American Freedom Defense Initiative, are again all over San Francisco. This time, the ads equate Islam with Nazism. The newest round of vitriolic banners, 50 of which went up Jan. 9, feature an image of Adolf Hitler and Haj Amin al-Husseini, a 20th Century Palestinian Muslim leader who opposed Zionism, with the words, "Islamic Jew-Hatred: It's In The Quran." The ads are already attracting attention on social media. City leaders, including Mayor Ed Lee, District Attorney George Gascón and several supervisors, condemned those advertisements as racist and Islamophobic. Even so, they are protected by freedom of speech. So in years past, Muni the sent the ad revenue to the city's Human Rights Commission. In 2012, the American Freedom Defense Initiative unrolled an ad campaign saying, "In any war between the civilized man and the savage, support the civilized man. Support Israel. Defeat Jihad." Muni also gave the money from those ads to the Human Rights Commission.


Der Führer joins the war against the Islamics in San Francisco.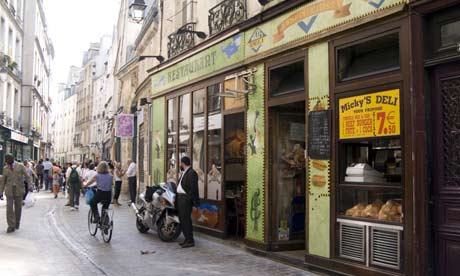 Los Angeles Times
Jews worry about their future in France after attack on kosher market
A pair of soldiers toting submachine guns patrolled Tuesday outside a Jewish school on Rue Pavee in Paris' Marais district, where shoppers and tourists mingled with black-clad, ultra-Orthodox men. Across the street, the owner of the Pitzman falafel shop eyed customers warily under gray skies and an occasional chilly drizzle in the city's traditional Jewish quarter. At the school day's end, parents sidestepped the beret-wearing French soldiers in body armor and combat boots to pick up their children in the midst of the bustling neighborhood. "I don't know if there will be a future for my children here in 10 years," said Joy Bengoussan, a mother of four, holding hands with two daughters, Haya, 4, and Rahal, 3, expressing a sentiment on the minds of many other Jewish people. "This didn't just start now. It has been going on for a while." "I've got my passport and valise ready to go," said a bearded and cheerful middle-age man in the Marais district who gave only his first name, Claude. He said he feared a day when he would no longer feel at home in France, adding in reference to Israel, "At least we have a place to go to."


New York Times


Heroes of Islam Celebrate Murders


Qaeda Group in Yemen Claims Responsibility for Charlie Hebdo Attack
Al Qaeda's branch in Yemen formally claimed responsibility on Wednesday for the deadly assault a week ago at the French satirical newspaper Charlie Hebdo that killed 12 people, saying that the target was chosen by the Qaeda leadership and referring to attackers as "two heroes of Islam." A statement by the official publication arm of Al Qaeda in the Arabian Peninsula, which is based in Yemen, indicated that the attack on Charlie Hebdo was in response to the publication's frequent caricatures lampooning the Prophet Muhammad. The attack was ordered by the Qaeda leader, Ayman al-Zawahri, in keeping with the wishes of his predecessor, Osama bin Laden, the document said. The Qaeda statement said that "the one who chose the target, laid the plan and financed the operation is the leadership of the organization." The claim of responsibility appeared in an Al Qaeda in the Arabian Peninsula video featuring one of the group's leaders and simultaneously in a print statement sent to reporters, which bore the insignia of group's publication arm, Al Malahem.


Los Angeles Times
India cracks down on Greenpeace, other environmental groups
The Indian government has launched a crackdown on Greenpeace and other U.S.-linked environmental groups after intelligence officials accused climate activists of harming the country's economic security. Authorities over the weekend barred a Greenpeace staff member from traveling to London to speak to British lawmakers about alleged legal and human rights violations in India by Essar, a British-registered energy company. The government last year blocked Greenpeace from accessing foreign funds, and Indian media reported this month that authorities had imposed similar restrictions on four U.S.-based environmental advocacy organizations. A representative of one of the groups has had his personal bank account frozen and been ordered to explain every deposit sent from the group's U.S. office since 2010, according to an individual familiar with the matter. Indian authorities have not officially explained the actions, but activists say the five groups are being targeted for campaigning against India's coal-based energy industry, the source of 80% of the country's domestic power production and a linchpin of the government's economic development plans.


Los Angeles Times


Chemical industry lying to consumers?
BPA and 'BPA-free' alternative linked to fetal brain changes
Fetal exposure to Bisphenol A, as well as to the widely marketed alternative Bisphenol S, may cause "real and measurable" changes in the development of a brain region that plays a key role in fear, impulse-control, obesity and early puberty. Canadian researchers have found in animal studies that low-level exposure to either Bisphenol A (BPA) or Bisphenol S (BPS) during the equivalent to a human fetus' second trimester altered the timetable and rate at which neurons inside the brain's hypothalamus developed. Such perturbations, they warned, can lead the developing brain to wire itself incorrectly, with potentially subtle but wide-ranging downstream behavioral results. The findings could shed light on the physiological mechanisms that link the growing use of endocrine-disrupting chemicals, such as BPA, in consumer products to increases in such childhood disorders as clinical anxiety and hyperactivity. The new research and nearly a dozen studies of BPA's physiological and behavioral effects in humans "begin to point to the prenatal period as a period of BPA vulnerability" and "suggest that pregnant mothers limit exposure to plastics and receipts" -- two classes of products in which BPA continues to be widely used. The study, published online Monday in the journal Proceedings of the National Academy of Sciences, also calls into serious question the safety of the chemical most widely used in products labeled "BPA-free," and therefore marketed as a safer alternative to BPA. A recent analysis of Americans' and Asians' urine samples confirmed previous work in finding that, while 93% had detectable levels of BPA, 81% had detectable levels of BPS. Despite a paucity of toxicology testing, BPS appears to have become the "primary replacement" for BPA, the authors wrote. But Bisphenol S "equally affects neurodevelopment," they concluded, adding that "a societal push to remove all bisphenols from our consumer goods is justified." Both chemicals appeared to act not just on estrogen receptors in the brain, but to androgen receptors as well, the researchers found.



New York Times


France to Debate Iraq Deployment as Attack Victims Are Mourned
As Israel solemnly buried the four Jews killed here on Friday and President François Hollande of France paid tribute to the three police officers who died in last week's terrorist attacks, the French Parliament was set on Tuesday to vote on renewing the mandate of its forces supporting the military campaign against Islamic extremists in Iraq. "This is a military operation like the military operations we conduct abroad," the defense minister, Jean-Yves Le Drian, said on Tuesday, and was directed at "the same enemy" as France is seeking to curb with the deployment of 3,000 troops against Islamic militants in northern Africa. "The threat level is very high, and today the new and serious element is that there is no dividing line between the external threat and the internal threat," Mr. Le Drian said.


Washington Post


Europe finally figuring out that Islamics are psychopaths?


Nationalist and populist movements are surging across the region
The wave of terror that left 17 people dead in and around Paris has ushered in a new sense of insecurity across Europe — but also what could be a defining moment for the anti-immigrant, anti-Islam forces of the far right. Nationalist and populist movements are surging across the region, most notably in France, where the National Front — a party once linked to former Nazi collaborators — has become the nation's third-largest political force. Yet now it appears that the far right sees an opening in the new atmosphere of angst that could help bolster its long-standing critiques of Islam and calls for tighter security and immigration caps. The terrorist violence is also fueling fears of a backlash against Muslims, particularly among France's community of 5 million, the largest in Europe. Muslim leaders say the days after last week's shootings have produced 54 "anti-Muslim attacks" – an unprecedented number that includes the beating of a Muslim boy after a moment of silence for last week's victims as well as multiple arson attacks on mosques. "I'm very scared of what the National Front is going to try to do," said Sarah Belhaddad, a 17-year-old French Muslim student in Paris. Amid the tragedy, Marine Le Pen — the leader of the National Front, who once compared Muslim immigration to France to the Nazi occupation — has been going nonstop, drilling home her message that the French must stop being "angels." Shunned by organizers of a historic national unity march Sunday in Paris, she opted to hold her own rally in the south of France. "This is a turning point for open debate," Le Pen said in an interview Monday at her office in a western suburb of Paris. "If, after these attacks, politicians shut down any ability to debate these issues, the victims will have died twice." She is not alone. In the days since the attack, from Spain to France to Germany, the far right has sought to leverage the events of last week. And it may be paying off.


New York Times


NYPD Thugs Routinely Ignore the Law and Get Away With Murder
New York Police Officers Are Quick to Resort to Chokeholds, Inspector General Finds
The first investigation by New York City's police inspector general includes the finding that in several cases where officers were found to have used a chokehold, the banned maneuver was the officer's initial physical response to verbal resistance. The 45-page report, released on Monday, follows the death in July of Eric Garner on Staten Island after an arresting officer placed him in a chokehold, a tactic that was banned by the Police Department two decades ago. The report looks at officers' ongoing use of chokeholds and the department's handling of such actions. The inspector general's office, created by the City Council over the objections of the Bloomberg administration, had been expected to release the report last month, but pushed back the date after two officers were fatally shot in their patrol car in Brooklyn on Dec. 20 by a man who was seeking to kill police officers and who killed himself minutes later. Headed by Philip K. Eure, who was hired in May, the inspector general's office examined the circumstances and the disciplinary actions that resulted in 10 confrontations between officers and suspects from 2009 to June 2014 in which a separate oversight agency verified that a chokehold had been used by an officer. In each instance, the agency, the Civilian Complaint Review Board, recommended stiff discipline. However, in the cases that have been decided so far, officers were given little or no punishment by the Police Department. "These are pretty serious cases," Mr. Eure said. "Obviously, we are going to be looking at a broader sample of cases to see if it's more systemic. But people should be troubled by the disconnect that we determined exists already in the disciplinary process." The same 10 cases were also analyzed in a report last year by the review board, which found the Police Department had, over time, eased its interpretation of its own blanket ban on chokeholds. The police inspector general is part of the Department of Investigation, and the commissioner, Mark G. Peters, said his agency has "enforcement powers that nobody else has."


Washington Post


"I wish to tell to all French and European Jews — Israel is your home"


After Paris attacks, Israel vows to welcome European Jews seeking to immigrate
Israeli leaders said Sunday that they would welcome with open arms French Jews who fear for their safety in the wake of attacks by Islamist extremists against the satirical newspaper Charlie Hebdo and shoppers at a kosher supermarket in Paris last week. Israeli Prime Minister Benjamin Netanyahu and members of his cabinet linked arms with French politicians on Sunday during a march in Paris to commemorate the 17 people killed in three days of bloodshed in France. Netanyahu said, "I wish to tell to all French and European Jews — Israel is your home." His office said the families of the four French Jews slain in the hostage standoff at the kosher grocery in Paris on Friday, which elicited round-the-clock media coverage in Israel, asked that their bodies be flown to Israel for burial. The funerals are tentatively scheduled for Tuesday. Netanyahu said he would convene a special committee to encourage Jewish immigration "from France and other countries in Europe that are suffering from terrible anti-Semitism." Israeli leaders pressed their case that Europe has allowed a dangerous rise of anti-Semitism and that Jews, even in the most developed countries on the continent, face not only hostility but also outright attack. Israel routinely makes the case for Jewish immigration — providing a haven for Jews in distress is, after all, one of the founding principles of the Jewish state. But in the aftermath of the Paris attacks, the pitch is being made in the blunt terms of survival. Yair Lapid, Netanyahu's former finance minister and the head of a centrist party, said at a gathering in Israel, "Jews are being murdered because they're Jews, and intellectuals are being murdered because they're intellectuals. The Europeans are starting to understand that there can be no compromise with terror, racism and anti-Semitism." Lapid said, "European Jewry must understand that there is just one place for Jews, and that is the state of Israel."


Washington Post
Police State Update: Fired Texas cop did 'nothing unreasonable' by using a stun gun on a 76-year-old, lawyer says
A Texas police officer fired for using a stun gun on a 76-year-old man during a traffic stop plans to appeal the police department's decision, his lawyer said. "There's nothing unreasonable at all about that level of force," former Victoria Police Department officer Nathanial Robinson's lawyer told the Victoria Advocate. An internal investigation found that Robinson violated multiple department policies when he pulled over Pete Vasquez for an expired inspection sticker. Vasquez was driving a car with dealer license plates, which are not legally required to have up-to-date inspection stickers. Dashcam video shows that after Vasquez leaves his car in the dealer lot to point out the sticker, a verbal dispute took place. The officer attempted to arrest Vasquez, tackling him and bringing him to the ground and eventually discharging his stun gun twice. "I told the officer, 'What in the hell are you doing?' This gentleman is 76 years old," Larry Urich, a sales manager at the dealership who witnessed the altercation, told the Advocate. "The cop told me to stand back, but I didn't shut up. I told him he was a [expletive] Nazi Stormtrooper." Robinson's lawyer, Greg Cagle, insists that from "a constitutional perspective," the officer's actions were justified. He said that the incident, which occurred in December at a time of heightened awareness to the use of force by law enforcement officers, simply came at a "bad time." "It came at a bad time in the country — the timing of it was bad, but clearly the stop was legal, the detention was lawful, the request for the guy to stand there was a lawful, legal request, and then his resistance was a basis for him to be arrested," Cagle said. Vasquez was taken to the hospital after the incident, but Cagle insisted that the man "wasn't injured. He scratched his elbow and hurt his feelings, but those aren't injuries in the constitutional sense." Cagle, who is a Texas Municipal Police Association lawyer hired to represent Robinson, said he plans to present evidence showing that the stop, arrest and detention were all constitutional.


San Francisco Chronicle


Maligned and banned: The American comeback of industrial hemp
Feckless Police State cops don't care if it's legal...they'll bust you for possession anyway
After serving nearly 80 years on narcotics charges, hemp is back, semi-legalized in the 2014 Farm Bill. Its new age is a chemical renaissance. Experimental medicines extracted from hemp seed oil will treat epilepsy, migraine headaches, glaucoma, and diabetic and other nerve pain; there may even be applications for multiple sclerosis and Parkinson's disease. The plant's rough outer bast fibers, formerly waste, can be used in super-capacitors to store energy for electronic devices; these cooked carbon nanosheets, at least as efficient as current materials including graphene, were unveiled at the annual exposition of the American Chemical Society, held last summer in San Francisco. More, its fibers and the cellulose-rich stem core are already producing high-impact car doors, higher-efficiency housing insulation and other building materials. And then there are cosmetics, soaps, oils, high-protein food and high omega-3 dietary supplements. But as brilliant and economically viable as its future might be, humankind's most ancient cultivated plant has never had an easy time in America, and there's no reason to believe that its return is going to be accompanied by a red carpet. It's back and it's legal, but chances are, as in Colorado, farmers can't legally get the seeds. You, as a citizen, can't legally grow it. It would be easier to grow medical marijuana, hemp's twin (same species, Cannabis sativa linnaeus). The Drug Enforcement Agency, a policing arm of the U.S. Department of Justice, remains an anti-hemp force to be reckoned with — despite federal rules (in the Farm Bill and the Dec. 9 Congressional budget bill that cut DOJ enforcement funding) that have purportedly removed it from hemp oversight. Nineteen states have declared hemp farming to be legal, but state officials can't guarantee there will be no federal raids. These contradictions are part of hemp's new world: The promise of a brilliant future amid political and regulatory uncertainty.


FOX5 San Diego
Mother demands border officials release video of son's death


Thug border cops kill man, then spin story that he went berserk and had it coming


Dozens of protestors in San Ysidro demanded more transparency from U.S. Customs and Border Protection Officers on Saturday. Last month, a man named Francisco Manuel Cesena was killed during a fight with officers at the San Ysidro Port of Entry. Now family and activists want to see the video leading up to his death. "What happened, I don't know. What happened in there for four hours?" asked the mother, Trinidad Cesena. It all started when the 40-year-old from El Cajon tried entering the U.S. through a pedestrian crossing on Christmas Eve, according to San Diego police. The father of three and grandfather was detained by border protection officers after they found he had an outstanding felony warrant. As officers tried to arrest him, police say Cesena jumped over a counter and attacked one of them. When officers couldn't restrain him, one fired a taser at him, according to authorities. Police say soon after, Cesena stopped breathing and was pronounced dead at a hospital later that night. Family and activists don't believe the story and want video evidence. "We know because of history with border control that they have lied many times. Show us that what you are saying is true, because the community doesn't believe you," said activist Marco Amaral.



Xinhua News




Chinese push back against Islamic's growing extremism


Xinjiang legislature approves burqa ban
The legislature of northwest China's Xinjiang Uygur Autonomous Region has approved a regulation banning the wearing of the burqa, an Islamic garment that covers women's faces, in public places in the regional capital of Urumqi. Burqas are not traditional dress for Uygur women, and wearing them in public places is banned in countries such as Belgium and France. The regional People's Congress told Xinhua Saturday the regulation will go into effect after being amended. It was drafted by the municipal legislature of Urumqi, capital of Xinjiang, last year. The regulation is seen as an effort to curb growing extremism that forced Uygur women to abandon their colorful traditional dress and wear black burqas. Enditem



New York Times




Germans Rejecting Liberalism, Embrace Nationalism


Anti-Immigration Movement in Germany Reignites Debate Over National Identity
The appearance of thousands of anti-immigrant marchers in Dresden has galvanized both sides of the immigration debate in Germany and reignited a discussion about national identity. Growing numbers of protesters have been marching in Dresden on Mondays against what they see as the damaging impact of foreigners, and Muslims in particular, on the nation's heritage. The movement, known as Pegida, an acronym for the German version of Patriotic Europeans Against Islamization of the West, attracted some 18,000 people on Monday. Anti-immigration and anti-Muslim sentiments have been simmering throughout Europe, as thousands of refugees continue to pour in at a time of economic weakness and amid growing fear created by the Islamic State and other militant Muslim groups. Despite its standing as the economic powerhouse of Europe, Germany has not been immune to the concerns raised by Pegida and others, who say the immigrants are a drain on public resources and raise questions about such matters as language, customs and religion — including, as some have argued, whether only those who speak German with native fluency can be considered truly German. This is not the first time that identity issues have surfaced in Germany. After the Nazis were defeated in World War II, millions of ethnic Germans were driven from parts of Eastern Europe. There was never any hesitation about taking them in because their heritage was provably German. More refugees are seeking asylum in Germany than in any other country, straining Germans' tolerance for foreigners and taxing the government's ability to find housing for them. Several marchers on Monday said they were demonstrating to preserve a Germany they know and recognize. Marchers spurned the news media, and few would be interviewed, but those who did expressed concerns that the country was being overrun by foreigners. It bothers them, some have said, to hand off a changed country to their children and grandchildren.


Protesters have been marching in Dresden on Mondays against what they see as the damaging impact of foreigners, and Muslims in particular, on the nation's heritage
.
Washington Post


GOP grapples with the problem of which rich white guy they want to be president


For Jeb Bush and Mitt Romney, a history of ambition fuels a possible 2016 collision
Jeb Bush and Mitt Romney have much in common. Both were pragmatic as governors, mild-mannered as candidates and more comfortable balancing budgets at their desks than clinking glasses at a political dinner. The two Republican leaders' personal rapport is cordial. But they are hardly chummy — and at moments their relationship has been strained, with each man's intertwined political network carrying some grievances with the other's. As Bush, 61, and Romney, 67, explore presidential campaigns in 2016, they are like boxers warming up for what could become a brutal bout, sizing each other up and mulling whether or when to step into the ring. Their early maneuvering reveals a level of competitiveness and snippiness that stems from a long history following similar career paths in business and politics prescribed by their dynastic families. Bush has been trying to consolidate support among establishment donors, leaders and operatives since announcing in December that he would begin laying the groundwork for a likely campaign. But on Friday, Romney sought to slam the brakes on Bush, telling about 30 powerful donors that he, too, was seriously considering a 2016 bid. "I want to be president," he said, adding that his wife, Ann, was supportive. Romney has begun methodically calling donors, staff members and endorsers from his two prior campaigns to measure how deep his reservoir of support would be if he runs for a third time, his advisers said. The entry of both Bush and Romney is far from certain, and Romney's dalliance is preliminary. But the prospect of two center-right heavyweights entering a 2016 field likely to be fluid, crowded and diverse forces other contenders and the party's stable of donors to adjust their thinking.


Newsweek


Why Does America Pimp for Saudi Arabia?
Sentenced for Insulting Islam, Saudi Blogger Gets First 50 of 1,000 Lashes
A Saudi Arabian blogger has been given the first 50 of 1,000 lashes after being convicted of cybercrime and insulting Islam. Raif Badawi, the founder of the Liberal Saudi Network, a now-defunct online forum for public debate that was ordered closed by a judge, received 50 lashes on Friday and will be flogged once a week until all 1,000 blows have been delivered, the BBC reports. It will take roughly 20 weeks. Badawi was arrested in 2012 and last May was sentenced to 10 years in prison and a fine of more than $260,000, in addition to the lashes. "The flogging of Raif Badawi is a vicious act of cruelty which is prohibited under international law," Said Boumedouha, deputy director for the Middle East and North Africa at Amnesty International, said in a statement. "By ignoring international calls to cancel the flogging, Saudi Arabia's authorities have demonstrated an abhorrent disregard for the most basic human rights principles," he said. Badawi's punishment was carried out despite condemnation from governments and human rights groups. On Thursday, U.S. State Department spokeswoman Jen Psaki urged Saudi Arabia to halt the lashing and review Badawi's case, but to no avail. Badawi had his charges read to him and was flogged outside a mosque in Jeddah, according to Agence France-Presse. While the size of the crowd that watched him is unknown, NPR reports that Badawi's hands and feet were shackled during his ordeal. Badawi was first imprisoned in 2012 for violating Saudi Arabia's information technology law and "insulting religious authorities through his online writings and hosting of those of others" on his website, according to Amnesty International. An appeals court overturned his conviction in December and sent it to Jeddah's Criminal Court for review. Badawi was originally charged with "apostasy," which carries the death penalty in Saudi Arabia, but was cleared of that charge in 2013, the BBC reports. The evidence against him included "liking" a Facebook page for Arab Christians, according to the BBC.


Red Rall


Feinstein's anti-marijuana stance shows she's too old school for California
It has been suggested -- by a majority of California voters -- that Dianne Feinstein has served long enough in the U.S. Senate. Some thought it was time for some new blood; others thought she is simply too old to keep in touch with one of the nation's most forward-looking, youth-oriented states. These days that latter opinion applies to Feinstein's continuing opposition to the legalization of marijuana, something that most Americans believe is inevitable, as does California Atty. Gen. Kamala Harris.



Sacramento Bee


Obama must face hard truths about Saudi Arabia
The House of Saud rules in concert with ultraconservative clerics whose teachings encourage extremists responsible for much of the world's terrorism. Officially, Saudi Arabia is part of the coalition confronting the Islamic State. In reality, rich Saudis are funneling cash to Sunni extremist groups that gave rise to the Islamic State. The kingdom's human rights record is abysmal. Public beheadings are routine. Its treatment of women is out of the Dark Ages. As for political dissidents, just consider the blogger whose sentence of 10 years in prison and 1,000 lashes – 50 a week for 20 weeks – is causing outrage around the world.



New York Times


Race and Voting Rights in Ferguson
For most people, Ferguson, Mo., will be remembered for one awful August afternoon, when a white police officer there shot and killed an unarmed black teenager, Michael Brown. But that incident was only a snapshot in the town's long and complicated racial history — a history characterized by entrenched segregation and economic inequality, as well as by familiar and systemic obstacles that have kept black residents from holding positions of political power.



Los Angeles Times


It's time for Congress to agree on a humane immigration solution
In this nation's never-ending debate over immigration, those who demand strict enforcement of existing laws are armed with a simple rejoinder: What, they ask, do you not understand about "illegal"? To them, the solution to illegal immigration is to identify those who are here illegally and deport them. It's a reasonable point. A law should be enforced. But the argument can't be isolated from the realities of immigration, which is propelled by regional economic imbalances, familial connections and the basic human desire to live a better, safer and richer life. Those are powerful forces, unlikely to be thwarted by stepped-up deportation. Instead, under those pressures, our immigration system has crumbled, and strict enforcement has become impractical, even impossible.



Jon Healey


With friends like these, who needed enemies in 2014?
In soccer it's called an "own goal," when a player inadvertently kicks the ball into his own net. In politics, it's called being Jonathan Gruber. Gruber, an economist at the Massachusetts Institute of Technology, did more than any other supporter of the 2010 healthcare law to increase its chances of being repealed. But he's hardly the only one whose words or deeds wound up hurting his own allies.



Sacramento Bee


E-cigarette boom among kids more than Feds' fault
Electronic cigarettes have surpassed traditional smoking in popularity among teens, the government's annual drug use survey finds. While federal and state policymakers apparently have taken a smoke break, e-cigarette use has boomed among kids. A government survey released last week confirmed the worst fears of public health officials. In the absence of meaningful regulation, vaping, as it is known, has seeped into the mainstream, surpassing regular cigarette smoking among adolescents. How could we have let this happen? Data have suggested for years that even in vapor form, nicotine is addictive and bad for children and that e-cigarettes and vape pens, with their candy flavorings, can act as a gateway to smoking for impressionable teens. But for a variety of reasons, some understandable, some suspect, the U.S. Food and Drug Administration is taking forever to craft e-cigarette regulations.



Tammerlin Drummond




The Fidel deathwatch was a Miami obsession


Change in Cuba policy long overdue
Dwight D. Eisenhower, John F. Kennedy, Lyndon B. Johnson, Richard Nixon, Gerald Ford, Jimmy Carter, Ronald Reagan, George H.W. Bush, Bill Clinton and George W. Bush. These are all the U.S. presidents whose administrations have come and gone since the U.S. imposed an economic embargo on Cuba in 1960 in an attempt to force Fidel Castro from power. Castro outlasted them all. Then in 2008, when he was becoming too old and sickly to govern, he made his brother Raul his successor. If 54 years later the Castro dictatorship is still firmly in control of the Caribbean island, what should that tell any reasonable person about U.S.-Cuba policy for the last half century? What more proof does one need that efforts to isolate Cuba through economic sanctions and a diplomatic deep freeze have been a total failure? Our Cuba policy has for the last 50 years been hijacked by anti-Castro Cuban exiles with a lot of political clout. Many of them reside in Florida, a state that also happens to be key in presidential electoral politics. Many younger Cubans and newer arrivals aren't as emotionally invested in the embargo. As demographics continue to shift, it's only a matter of time before the trade embargo is relegated to the dust heap where it belongs. Normalization is an important first step.



Christopher Ingraham


Colorado's neighbors say they're spending too much on minor pot offenses...so maybe they should stop prosecuting them
Nebraska and Oklahoma are suing Colorado to put an end to the state's recreational marijuana market. The 83-page lawsuit complains that "the State of Colorado has created a dangerous gap in the federal drug control system enacted by the United States Congress. Marijuana flows from this gap into neighboring states, undermining Plaintiff States' own marijuana bans, draining their treasuries, and placing stress on their criminal justice systems." Two central ideas animate the lawsuit. The first is that marijuana is still illegal under federal drug laws, and that the Supremacy Clause of the Constitution prohibits states from enacting local laws in violation of federal ones. The second, as Eugene Volokh notes, is that "the lawsuit is basically a public nuisance 'pot pollution' lawsuit." In other words, Colorado's weed is overflowing the state boundaries into Nebraska and Oklahoma, leaving those states with a mess to clean up. On a practical level, Nebraska and Oklahoma's nuisance argument is a stretch. This is the crux of the states' argument against Colorado: that their justice systems are being strained with the burden of dealing with low-level marijuana offenders coming out of Colorado. But if the states are concerned with the costs of arresting and prosecuting minor pot offenses, there is a simple solution already available to them: they could stop arresting and prosecuting minor pot offenders.



Daily News


Resetting Cuba policy the right move for U.S.
Diplomatic relations with Cuba should have been established 20 years or more ago, with the end of the Cold War and the demise of Cuba's patron, the Soviet Union. The Caribbean island had long functioned as the equivalent of a Soviet satellite in the Western Hemisphere, but this pernicious role ended with the unraveling of Moscow's empire. Old habits die hard, however, and even President Obama waited until halfway through his second term to pull the trigger on a policy he'd long favored: normalizing relations with Cuba. Someday the Cuban people will enjoy the democratic and human rights they deserve. Maybe the new U.S. policy will even nudge Cuba in that direction, but one thing is certain: The previous policy failed to do so.



Los Angeles Times


One thing the U.S. government doesn't count: How often police kill civilians
The federal government amasses statistics on a wide range of topics. Want to know how many people contracted botulism? How many kids participated in extracurricular activities? How many acres of corn are planted in a given year? It's all tracked. But one thing the government doesn't count, as was spotlighted this summer amid the fallout from Michael Brown's shooting death in Ferguson, Mo., is how often police kill civilians.



Los Angeles Times


Ignorance of the law isn't an acceptable defense, even for police
It's already too easy for police to stop motorists they consider suspicious using the pretext of a minor violation of traffic laws. Law enforcement will enjoy even more leeway under Monday's misguided Supreme Court decision upholding the legality of stops based on an officer's misunderstanding of the law. Ignorance of the law isn't an acceptable defense for ordinary citizens; neither should it be for the police.



Los Angeles Times


U.S. firms, consumers can't ignore abuses against Mexican farmworkers
It's taken years, but progress is finally being made on the garment workers front. Now it's time to do the same for contract farmworkers in Mexico, who also toil to make products for U.S. consumption.



Los Angeles Times


Police departments should reduce their military supplies
Do police departments really need all their military gear? Among the more jarring images to come out of the Ferguson fiasco were the photos of local police officers clad in military helmets, camouflage uniforms and other combat-style gear arrayed on the street in military formation, carrying M4 carbine assault rifles and backed up by an armored personnel carrier. As one critic put it, some American troops in Afghanistan weren't as well-supplied as the cops in Ferguson, Mo. That materiel didn't materialize overnight. The militarization of Ferguson's police is part of a broader evolution in American policing. The big question is why some of this equipment would ever be considered appropriate for local use. Shortly after a grand jury in Staten Island, New York, declined last week to indict the police officer accused of choking Eric Garner to death, Obama spoke of the need to bridge the dangerous divide between police and the communities they serve. He spoke, too, of the need to build civilian trust in law enforcement. Reducing the military profile of local police would be a good place to start.



Eric L. Adams


We Must Stop Police Abuse of Black Men
In order to finally bring this darkness into the light of day, our nation must address the foundation of this crisis. That starts with acknowledging that the training taught in police academies across the country is not being applied in communities of color. After six months in the police academy, that instruction is effectively wiped out by six days of being taught by veteran cops on the streets. I learned this myself firsthand. I didn't want any more children to go through what I endured, so I sought to make change from the inside by joining the police department. There is reluctance on the part of police leadership, which has long believed in the nightstick and quick-trigger-finger justice, to effectively deal with officers who have documented and substantiated records of abuse. These individuals need to be removed from the force. That is an essential component of the larger response we must have to address this history of abuse.