Instant updates as the news happens!!!



See CalNews.com's updates on Facebook 24/7




You can also follow us on Twitter!


Tweet us your news scoops today!!!
San Francisco Chronicle


Police often provoke protest violence
"Everything starts to turn bad when you see a police officer come out of an SUV and he's carrying an AR-15"
The violence that turns a small-town protest into a fiery national spectacle like the one that has played out this month in Missouri is often unwittingly provoked by police, according to researchers at UC Berkeley. The research team, which studied clashes between police and activists during the Occupy movement three years ago, found that protests tend to turn violent when officers use aggressive tactics, such as approaching demonstrators in riot gear or lining up in military-like formations. Recent events in Ferguson, Mo., are a good example, the study's lead researcher said. For nearly two weeks, activists angered by a white police officer's fatal shooting of an unarmed black teenager have ratcheted up their protests when confronted by heavily armed police forces. Some of the most contentious Occupy protests happened in Oakland, where the fallout is still being scrutinized.


Rambo cops the cause of rioting....? "Everything starts to turn bad when you see a police officer come out of an SUV and he's carrying an AR-15."




Los Angeles Times


Officer "I'll f**king kill you!" suspended indefinitely
Idiot cop a perfect example of why mentally ill people should not have guns
A police officer who pointed his assault rifle at a demonstrator in Ferguson, Mo., and threatened to shoot has been suspended indefinitely, authorities said Wednesday. The unidentified officer from the St. Ann Police Department pointed his weapon after he became involved in an argument Tuesday night with the protester, according to Officer Brian Schellman, a spokesman for the St. Louis County Police Department. Schellman said a supervising officer intervened, ordered the officer to lower his weapon and took him away from the area. "The unified command strongly feel these actions are inappropriate, and not indicative of the officers who have worked daily, to keep the peace," according to a statement from the St. Louis County Police Department. A video of the incident, which the Missouri chapter of the American Civil Liberties Union says is authentic, shows the officer pointing his rifle in several directions and shouting, "I'll ... kill you!" using an expletive, in response to comments made by a protester. Calls to St. Ann police officials seeking comment were not immediately returned.


Mentally ill people should not have access to guns. We should start by disarming this idiot cop.
Washington Post


School cops in L.A. side with NRA - But are they really arming themselves against us?


In Compton, school police can use semiautomatic weapons
It's a place that's been associated with gunfire at least since the release of N.W.A.'s "Straight Outta Compton" in 1988: Compton, Calif., a city of 100,000 south of downtown Los Angeles, and a site of 1992 riots following the Rodney King verdict. Now, California public radio station KPCC reports some school police in Compton will be permitted to carry semiautomatic AR-15 rifles — the same kind of rifle used in a recent Oregon school shooting – in schools. The reason? School shootings, the school board said. According to a new school board policy, the weapons are to be used "in response to situations that clearly evidence a need or potential need for superior firepower to be used against armed suspects." And: "Only those situations where the circumstances at hand are beyond the capabilities of the standard patrol sidearms (e.g., Long distances, suspects utilizing body armor, and/ or high powered, high capacity weapons) should be considered." Police said the heavy firepower was necessary. "This is our objective — save lives, bottom line," said Compton Unified School District Police Chief William Wu. Though the National Rifle Association called for "a good guy with a gun" in every school after the Sandy Hook school shooting in 2012, Wu said not just any gun would do. Some in the community weren't enthusiastic. "The school police has been very notorious in the community and in reality has never had to shoot anyone before," said Francisco Orozco, a recent graduate and founder of the Compton Democratic Club, told KPCC. "So this escalation of weapons we feel is very unnecessary."



Washington Post


Ferguson police officer Darren Wilson is nowhere to be found
For the past 12 days, he has been one of the most villainized men in the country. And he has virtually disappeared. It's a matter of safety, some say. Since his name was released last week, Darren Wilson, the Ferguson police officer who shot and killed 18-year-old Michael Brown on Aug. 9, has remained holed up. He hasn't been seen. He hasn't been heard from. And any social media accounts he once had have been deactivated, according to the St. Louis Post-Dispatch. One measly picture of him circulating around the Internet is an image released by the city of Ferguson. It shows a slightly-balding man in a blue police uniform apparently exiting a city-council meeting. "I can't remember any time in the last 10 years, at least, where somebody's completely gone into hiding, for fear of his life," Jonathan Bernstein, president of Bernstein Crisis Management in Los Angeles, told the Post-Dispatch. "Frankly, if I'd been advising his family, the first thing I would have said was, 'hide.' In the near term, saving his life is more important than anything else. … He's had some advice to dive down a hole and take cover for now."



The Hill


Report: ISIS demanded $100M ransom for Foley
Islamic extremists demanded millions of dollars in ransom before brutally executing captured American photojournalist James Foley, according to a report. The U.S., unlike some European nations that have paid millions in exchange for their citizens, would not pay the terrorists. The family of Foley, who freelanced for the Boston-based GlobalPost news service and went missing in Syria in November, 2012, reportedly received an email last week from the Islamic militants. But it did not include any demands, GlobalPost Chief Executive Philip S. Balboni said Wednesday, according to The Boston Globe. Some fellow hostages with Foley were released after ransoms were paid, Balboni added. GlobalPost spent "millions" in an attempt to get Foley, Balboni said, according to the Globe. "There were monetary challenges that were not going to be easy to overcome," he said. Balboni told The Wall Street Journal the original demand for Foley was $132.5 million (100 million euros) but did not discuss the company's reply. ISIS is holding three other Americans as well as some British citizens, according to the Times. The U.S. made an unsuccessful attempt at rescuing the hostages this past summer, administration officials said Wednesday.


Washington Post


Islamic State claims it executed American photojournalist James Foley
The Islamic State militant group claimed Tuesday to have beheaded an American photojournalist in retaliation for U.S. airstrikes in Iraq. A video posted on YouTube, later removed, purported to show the execution of James Foley after he recited a statement in which he called the U.S. government "my real killers." A second prisoner, said to be Steven Joel Sotloff, like Foley an American journalist who disappeared while covering Syria's civil war, then appears in the video. The masked executioner, speaking in English with what sounds like a British accent, identifies Sotloff and says that "the life of this American citizen, Obama, depends on your next decision." American intelligence officials believe the video is authentic but are continuing to evaluate it, senior U.S. officials said Wednesday morning. In a statement Tuesday, National Security Council spokeswoman Caitlin Hayden said of the video: "If genuine, we are appalled by the brutal murder of an innocent American journalist and we express our deepest condolences to his family and friends. We will provide more information when it is available." Foley, 40, was working in Syria for the Boston-based news Web site Global­Post when he disappeared on Thanksgiving in 2012.



St. Louis Post-Dispatch


Gov. Nixon bringing in National Guard to help restore order in Ferguson
Gov. Jay Nixon announced early Monday morning that he was activating the National Guard to help restore order in Ferguson after a week of protests that have resulted in looting and violence some nights. At his press conference after another night of violent clashes with protesters, Missouri Highway Patrol Capt. Ronald S. Johnson said new security steps were planned but declined to detail them. In response to one of the few questions that were allowed, he said those plans were still in flux but did not include bringing in National Guard troops. But Nixon announced a short time later he would bring in those troops. Johnson said the additional measures being put in place had been formulated in talks between himself, Nixon, St. Louis County Police Chief Jon Belmar, St. Louis Police Chief Sam Dotson and Replogle, who is in charge of the Highway Patrol. Johnson, who was put in control of security on the North County city's streets last week, blamed a small group of agitators for the night's violence that included shootings, molotov cocktails and lootings. He said he believed those who instigated the violence came to what had been a peaceful protest determined to "provoke a response." Larger and larger groups of protesters have been showing up on the streets of Ferguson since the fatal shooting last weekend of Michael Brown, 18, by a Ferguson police officer.



New York Times




"We want to make sure people understand what this case is about: This case is about a police officer executing a young unarmed man in broad daylight"


Autopsy Shows Michael Brown Was Struck at Least 6 Times
Michael Brown, the unarmed black teenager who was killed by a police officer, sparking protests around the nation, was shot at least six times, including twice in the head, a preliminary private autopsy performed on Sunday found. One of the bullets entered the top of Mr. Brown's skull, suggesting his head was bent forward when it struck him and caused a fatal injury, according to Dr. Michael M. Baden, the former chief medical examiner for the City of New York, who flew to Missouri on Sunday at the family's request to conduct the separate autopsy. It was likely the last of bullets to hit him, he said. Mr. Brown, 18, was also shot four times in the right arm, he said, adding that all the bullets were fired into his front. The preliminary autopsy results are the first time that some of the critical information resulting in Mr. Brown's death has been made public. Thousands of protesters demanding information and justice for what was widely viewed as a reckless shooting took to the streets here in rallies that ranged from peaceful to violent. "People have been asking: How many times was he shot? This information could have been released on Day 1," Dr. Baden said in an interview after performing the autopsy. "They don't do that, even as feelings built up among the citizenry that there was a cover-up. We are hoping to alleviate that." Dr. Baden said that while Mr. Brown was shot at least six times, only three bullets were recovered from his body. But he has not yet seen the X-rays showing where the bullets were found, which would clarify the autopsy results. Nor has he had access to witness and police statements.


St. Louis Post-Dispatch


Nationwide outrage forces Ferguson to release killer cop's name
Police immediately ramp-up "blame the dead victim" spin machine
Ferguson authorities have identified Darren Wilson as the police officer who shot and killed an unarmed teenager last Saturday. Documents released Friday also identify the teen, Michael Brown, as a suspect in a robbery at a convenience store a short time before the shooting. Ferguson Chief Tom Jackson released the officer's name Friday morning. Wilson is an 6-year veteran of the force. Brown, 18, was shot multiple times Saturday afternoon in the 2900 block of Canfield Drive. In his press conference, Jackson did not say Brown was a suspect in the robbery and did not say how that information connects to the Brown shooting investigation. The documents he released do name Brown and Johnson as suspects. He said he had been in touch with a contact for Brown's family before releasing the information. Some citizens attended the press conference and were upset Jackson spoke about a robbery. Chants of "No justice, no peace," broke out from some. "I am incensed," said Laura Keys, 50, of St. Louis. "I can't believe this is the tactic they are using, bringing up a robbery to make the victim look like he was the person who created this whole mess. Where's the footage?" Thursday Gov. Jay Nixon put the Missouri Highway Patrol in charge of the security in Ferguson and removed St. Louis County police. The change was dramatic and immediate, as Thursday night's police presence lacked gas masks, smoke bombs and military gear. Capt. Ronald S. Johnson, the patrol officer put in charge, walked and talked with protesters, exchanging hugs and answering questions.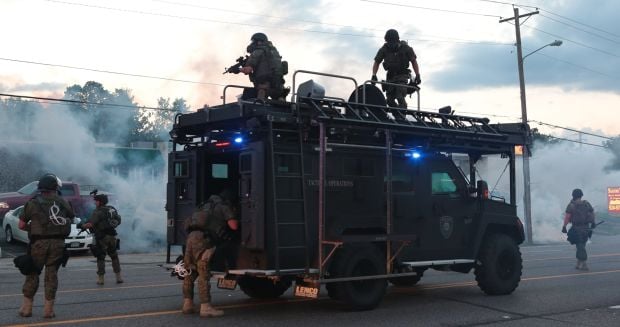 St. Louis Post-Dispatch


"In an American city, people are being tear-gassed and snipers are pointing rifles at them"
St. Louis alderman released from jail after arrest during Ferguson protest
St. Louis Alderman Antonio French emerged Thursday morning from a night in jail after his arrest at the Ferguson protests to say that the police officers' "heavy-handed" approach on the streets is making the situation worse. French said police dragged him from his car Wednesday night but gave him no documentation that says why he was arrested. He was released about 7 a.m. today without having to post any bail. No police spokesman was available to explain why French was arrested. French said he should never have been locked up, nor should the dozen or so others at the jail overnight. "Inside that jail is nothing but peacekeepers," he said. "They rounded up the wrong people ... reverends, young people organizing the peace effort." Police arrested about a dozen people Wednesday night, including French and Washington Post reporter Wesley Lowery and Huffington Post reporter Ryan Reilly. Police used tear gas and sonic cannons to disperse the crowds. Today, Missouri Gov. Jay Nixon is scheduled to visit Ferguson in the wake of the growing protests. When a reporter asked French today how he went from being in his car to being arrested, he said: "They open your door and drag you out." "They just rounded up anybody they could see," he said.


New York Times
Hackers drop a dime on killer cop...
Anger Simmers in Missouri; Hackers Claim to Name Officer
After a fifth night of unrest in this St. Louis suburb, a group identifying itself as Anonymous, the computer hacking collective, disclosed Thursday what it said was the name of the police officer who fatally shot an unarmed African-American teenager on Saturday. Writing on Twitter, the group said it would publish additional information about the officer — including his photograph — if it did not receive a response from the St. Louis County Police Department, which is overseeing one of the investigations into the death of Michael Brown, 18. Mr. Brown was shot Saturday afternoon while walking from a convenience store with a friend. The name of the officer released by Anonymous could not be immediately confirmed. Calls to the Ferguson police and the St. Louis County police were not returned Thursday morning. On Wednesday night, Ferguson was buffeted by another round of protests over the shooting, and selective release of information about the incident, and especially the anonymity granted to the officer, has stoked frustrations in this largely African-American community north of St. Louis, where residents describe increasingly tense relations with the police. The police chief, Thomas Jackson, has repeatedly declined to identify the officer, who has been put on administrative leave. Despite persistent and increasingly angry calls from the public to release the officer's name, Chief Jackson said the officer required protection after numerous death threats had been made. Computer hackers, saying they were outraged by police conduct, now have also joined the fray. On Wednesday, Anonymous, said on Twitter that it had broken into Ferguson's municipal computer system. It released details about city workers and posted photos of Jon Belmar, the chief of the St. Louis County police who is conducting the investigation into the shooting, as well as his wife, son and daughter. It also posted his address and phone number. The group threatened to bring down city, county and federal networks if the police overreacted to rallies and protests.
Washington Post
"Everybody in this city has been a victim of driving while black"
Even before Michael Brown's slaying in Ferguson, racial questions hung over police
When an unarmed black teenager and a police officer crossed paths here last weekend with fatal results, the incident cast a blinding spotlight on a small police department struggling for authority and relevance in a changing community. Since the shooting, the department has been criticized for how police have handled the response to the incident and for not disclosing key details, including the name of the officer involved. The department bears little demographic resemblance to the citizens of this St. Louis suburb, a mostly African American community whose suspicions of the law enforcement agency preceded Saturday afternoon's shooting of Michael Brown, an 18-year-old who this week had been headed to technical college. But while the racial disparity between the public here and its protectors has come to define the violent aftermath of Brown's death, the department's problems stretch back years and include questions about its officers' training and racial sensitivity. The office of Missouri's attorney general concluded in an annual report last year that Ferguson police were twice as likely to arrest African Americans during traffic stops as they were whites. And late last year, the state chapter of the NAACP filed a federal complaint against the St. Louis County police department, whose officers are now assisting Ferguson's force since the shooting, over racial disparities in traffic stops, arrests and other actions.
Los Angeles Times
Large employers see health costs rising 5% next year
"Rising healthcare costs remain a significant issue that needs to be constantly addressed"
Large employers expect their healthcare costs to jump 5% next year, and nearly a third of businesses will offer only higher-deductible plans to workers, a new survey shows. The annual report released Wednesday by the National Business Group on Health provides a good barometer of what employees at big companies can expect when health plan enrollment opens this fall. Overall, large employers estimate their health-benefit costs will rise by an average of 6.5% in 2015. But they anticipate holding increases to 5% after making changes to their coverage, such as shifting more medical costs to workers and expanding the use of high-deductible policies. Employers reported a similar 5% increase for 2014. Asked what's driving up medical spending, employers cited high-cost patients, specific diseases and an uptick in spending for specialty drugs. Only 7% said the cost of complying with the federal Affordable Care Act was a leading factor.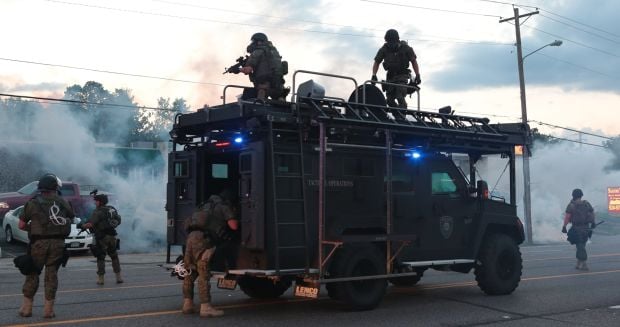 St. Louis Post-Dispatch


Rambo cops declare war on suburban St. Louis community
Police use tear gas in Ferguson, people jam church for moment of silence
Tension stayed high and raw Monday as the St. Louis region waited for answers in the fatal shooting of an unarmed teenager by a municipal police officer. In another day of fast-moving events, the FBI promised to investigate the killing of Michael Brown, 18, on Saturday by a Ferguson police officer. Brown's parents called for an end to the violence while strongly disputing the police version of their son's death. More than 1,000 people observed a moment of silence at a meeting called by the NAACP. Throughout the day, protesters continued to face off with police, and as the sun set, lines of police in riot gear fired tear gas to disperse protesters, telling them it was time to go home. By midnight, the situation was quiet. Two miles to the south, an overflow crowd observed a moment of silence at Murchison Tabernacle CME Church, 7629 Natural Bridge Road in Normandy. Cornell Brooks, the new national president of the NAACP, pleaded for calm as the community responds to the "unfolding drama." "Martin Luther King did not live and die so that we might steal in the name of justice in the middle of the night," said Brooks, who flew to St. Louis for the gathering, sponsored by the organization's St. Louis County branch. The shooting and rioting have drawn international attention.



The Hill


"A continuing pattern of the use of deadly force by police against unarmed African-Americans"
Black lawmakers want DOJ to expand probe of slain Missouri teen
Several black lawmakers say the Justice Department should expand its investigation into the shooting of an unarmed black teenager by a policeman in Ferguson, Mo. The shooting on Saturday of Michael Brown, 18, raises "potentially serious concerns," the lawmakers said in a letter to Attorney General Eric Holder. They said Brown's killing "may be part of a continuing pattern of the use of deadly force by police against unarmed African-Americans." The letter was signed by Rep. Marcia Fudge (D-Ohio), the head of the Congressional Black Caucus, and Reps. Lacy Clay (D-Mo.) and John Conyers (D-Mich.). The St. Louis County Police Department "may not be the most objective or credible body to investigate civil rights matters involving law enforcement given evidence of racial profiling by that department in the recent past," they said. "Only the federal government has the resources, the experience, and the full independence to give this case the close scrutiny that the citizens of Ferguson and the greater St. Louis area deserve." Brown, who was going to start college this week, was shot after a confrontation with police, who have said he attacked the officer. Police have not released the officer's name, and details about the incident remain unclear. Holder has already launched a federal probe. He said the Justice Department's civil rights division would work with FBI agents from the St. Louis field office and the U.S. Attorney's office on the investigation. Missouri Sens. Roy Blunt (R) and Claire McCaskill (D) had also called on the Justice Department to conduct a thorough review.


The St. Louis County Police Department "may not be the most objective or credible body to investigate civil rights matters involving law enforcement given evidence of racial profiling by that department in the recent past."
Washington Post
The calculated madness of the Islamic State's horrifying brutality


The glorification of extreme violence using social media is one of the defining aspects of the Islamic State


Last week, as the forces of the Islamic State crept within 40 miles of Irbil, fear settled over the urbane Kurdish capital. People had heard of the militants' brutality — of the crucifixions, the beheadings, the mass killings. They were understandably frightened, Kurdish journalist Namo Abdulla told The Washington Post. Some began to flee. Others made for the mountains. The killers were coming. In the last week, images of the Islamic State's savagery have been inescapable. News exploded yesterday of an image of a young boy, son to an Australian member of the Islamic State, hoisting a severed head beside his proud father. "This image, perhaps even an iconic photograph … really one of the most disturbing, stomach-turning, grotesque photographs ever displayed," Secretary of State John Kerry said on Tuesday morning. "A seven-year-old child holding a severed head, with pride and the support and encouragement of the parent, with brothers there. This is utterly disgraceful and underscores the degree to which [the Islamic State] is so far beyond the pale with respect to any standard by which we judge even terrorist groups." The glorification of extreme violence using social media is one of the defining aspects of the Islamic State. The Sunni militants wield savagery like a tool, analysts say. It's neither extemporaneous nor undisciplined. It's concerted. It's tactical. It's evil. And that's the point. "There's a strategic reason behind the executions," wrote the Washington Institute's Aaron Zelin. "And the gruesome pictures posted online for all to see."


The Guardian
Vatican calls on Muslim leaders to condemn Christian persecution in Iraq
The Vatican has called on Muslim leaders to denounce unambiguously the persecution of Christians and Yazidis in Iraq – and hinted that it is considering breaking off dialogue with Islamic representatives if they fail to do so. In a statement on Tuesday, the department in charge of inter-religious dialogue said: "The dramatic situation of the Christians, the Yazidis, and other minority religious and ethnic communities in Iraq demands that religious leaders, and above all Muslim religious leaders, people engaged in inter-religious dialogue and all people of good will take a clear and courageous stance. All must be unanimous in their unambiguous condemnation of these crimes and denounce the invoking of religion to justify them." In a departure from its customary language in the highly sensitive area of inter-faith relations, the Vatican statement asked: "Otherwise, what credibility will religions, their followers and their leaders, have? What credibility could the inter-religious dialogue [which has been] patiently pursued in recent years have?"


Politico


The fix is in...and this one is really blatant...consumers look pretty screwed


Comcast, Time Warner Cable help honor Mignon Clyburn amid merger review
Comcast and Time Warner Cable are sponsoring a dinner honoring FCC Commissioner Mignon Clyburn at a time when the agency is weighing whether to approve a multibillion-dollar merger between the two companies. Comcast will pay $110,000 to be a top-level "presenting sponsor" at the
Walter Kaitz Foundation's annual dinner in September, at which Clyburn is receiving the "diversity advocate" award, according to a foundation spokeswoman. Time Warner Cable paid $22,000 in May to the foundation for the same event, according to a Senate lobbying disclosure filed at the end of last month. The foundation supports diversity in the cable industry. There are no rules preventing businesses from helping to honor regulators in this way, and both companies say they have supported the foundation for years. "I think that the timing is curious," said Carrie Levine, research director at Citizens for Responsibility and Ethics in Washington, which noted the corporate sponsorships in a blog post Monday. "They're honoring an FCC commissioner at the exact same time they're trying to get approval for a merger. And that doesn't look so good." The contributions come as FCC and Justice Department officials review the $45 billion megadeal, which would give Comcast control of about 30 percent of U.S. pay-TV subscribers and about 40 percent of the country's broadband market. The two firms are pitching the deal as a way to increase investment in cable and Internet technology, but public interest groups oppose the deal because they say the combined company will have too much control over the market.


New York Times


U.S. Actions in Iraq Fueled Rise of a Rebel
So Much for Nation Building - Baghdadi of ISIS Pushes an Islamist Crusade
When American forces raided a home near Falluja during the turbulent 2004 offensive against the Iraqi Sunni insurgency, they got the hard-core militants they had been looking for. They also picked up an apparent hanger-on, an Iraqi man in his early 30s whom they knew nothing about. The Americans duly registered his name as they processed him and the others at the Camp Bucca detention center: Ibrahim Awad Ibrahim al-Badry. That once-peripheral figure has become known to the world now as Abu Bakr al-Baghdadi, the self-appointed caliph of the Islamic State in Iraq and Syria and the architect of its violent campaign to redraw the map of the Middle East. "He was a street thug when we picked him up in 2004," said a Pentagon official who spoke on the condition of anonymity to discuss intelligence matters. "It's hard to imagine we could have had a crystal ball then that would tell us he'd become head of ISIS."


Los Angeles Times


U.S. back to war in Iraq
Obama, hapless Reps just can't seem to get anything right in the Middle East
U.S. fighter jets bombed Sunni militant forces in northern Iraq Friday morning, launching the first major U.S. military action in the country since combat troops left three years ago. FA-18 Hornets dropped laser-guided bombs on artillery that had fired on Kurdish forces near Irbil, the Kurdish regional capitol. Militants of Islamic State, a breakaway Al Qaeda group, have been advancing toward the city in recent days. The attack occurred only hours after President Obama announced he had authorized air strikes to protect around 100 U.S. military advisors in Irbil and to halt the advance of the Islamist militants. Islamic State "was using this artillery to shell Kurdish forces defending Irbil where U.S. personnel are located," Kirby said. "As the president made clear, the United States military will continue to take direct action against ISIL when they threaten our personnel and facilities," Kirby said, referring to the militant group by an acronym. He did not say if the artillery had been destroyed.


Los Angeles Times
Peace not good enough for Hamas


Palestinian militants lobbing dozens of rockets into Israel


As a three-day truce expired, fighting again broke out in the Gaza Strip on Friday morning, with Palestinian militants lobbing dozens of rockets into Israel and the Israeli military firing back with fresh airstrikes. The Israeli army spokesman's office said in a statement that "terror sites" across Gaza had been targeted following the resumption of Palestinian rocket fire. At least two projectiles were intercepted by Israel's antimissile system, with others falling in open areas in southern Israel. In Gaza City, Israeli drones circled overhead, and the streets were empty by midmorning as most people stayed indoors, having hurried away from areas that were previously targeted. In southern Israel, authorities reimposed restrictions on large public gatherings in communities close to Gaza. "The renewed rocket attacks by terrorists at Israel are unacceptable, intolerable and shortsighted," said army spokesman Lt. Col. Peter Lerner after Israel resumed its strikes. He blamed "Hamas' bad decision to breach the cease-fire." Hamas and its allies have fired more than 3,300 rockets and missiles into Israel during the past month, and Israel has raked the seaside strip with airstrikes and artillery fire aimed at destroying rocket launchers and infiltration tunnels.


Sacramento Bee


Homeland Security official arrested in sting involving sordid Sacramento Craigslist ad
A Homeland Security employee has been arrested in connection with a sting that alleges he used a Craigslist ad in an effort to get a mother and an underage daughter to have sex with him. George Hristovski, 54, of Elverta, was booked into Sacramento County Jail on Monday after his arrest by the Federal Bureau of Investigation. His LinkedIn posting identifies him as an inspector for the U.S. Department of Homeland Security. A federal court filing requesting an arrest warrant for Hristovski said that Placer County Sheriff's Department detectives noticed an ad on Craigslist on July 14 in the "Casual Encounters" section of the Sacramento area part of the website. The person who placed the ad sought a mother who wanted a man to teach a daughter about sex. Detectives, posing as a mother and a 13-year-old daughter, corresponded via e-mails with the person who took out the ad. The correspondence from the man, later identified as Hristovski in the arrest warrant request, became increasingly lurid. During the course of the e-mails, the man switched to an e-mail address he would use many times.


New York Times


America's Nation Building Disaster Continues to Unfold in Iraq


ISIS Forces Appear to Capture Iraq's Largest Dam
Sunni militants appeared on Thursday to have captured the Mosul dam, the largest in Iraq, as their advances in the country's north created an onslaught of refugees and set off fearful rumors in Erbil, the Kurdish regional capital. An official in the office of Massoud Barzani, the president of the Kurdish regional government, said Thursday afternoon that Kurdish forces, or pesh merga, were still fighting for control of the dam. But several other sources, including residents of the area and a Kurdish security official, said it had already been captured by the Islamic State in Iraq and Syria, or ISIS, a potentially catastrophic development for Iraq's civilian population. The dam, which sits on the Tigris River and is about 30 miles northwest of the city of Mosul, provides electricity to Mosul and controls the water supply for a large amount of territory. A report published in 2007 by the United States government, which had been involved with work on the dam, warned that should it fail, a 65-foot wave of water could be unleashed across areas of northern Iraq. Atheel al-Nujaifi, the governor of Nineveh Province, whose capital is Mosul, said in a telephone interview from northern Iraq, where he has fled, that ISIS had secured the dam after what he called an "organized retreat" of the pesh merga. ISIS seized Mosul, which is Iraq's second-largest city, on June 10, and began its latest offensive this week. In a statement issued on a social media account believed to belong to the group, it claimed that it had captured the dam and vowed to continue its offensive northward as it consolidates control and continues to realize its goal of establishing an Islamic caliphate that bridges the borders of Syria and Iraq. "Our Islamic State forces are still fighting in all directions and we will not step down until the project of the caliphate is established, with the will of God," the statement said.


Washington Post
The world's largest Muslim country bans support for the Islamic State
Authorities in Indonesia this week condemned the Islamic State — the Sunni extremist militants who have taken over large chunks of territory in Iraq and Syria, killing hundreds of innocent civilians in the process — and ordered a ban on YouTube videos that in any way endorse the jihadists. Despite being home to the world's largest population of Muslims, Indonesia is a pluralistic state with myriad ethnic groups and religious minorities. Still, its government wrestles with the real fear of homegrown extremism. "The government rejects and bans the teachings of [the Islamic State] from growing in Indonesia. It is not in line with state ideology ... or the philosophy of [diversity] under the unitary state of the Republic of Indonesia," said Djoko Suyanto, a former commander in chief of the Indonesian military who now holds a senior cabinet post in the country's newly formed government, at a news conference Tuesday. The Southeast Asian archipelago nation may be thousands of miles away from the battlefields of Iraq and Syria, but it is no stranger to the call of global jihad. Government authorities believe there are about 30 Indonesians enlisted in the Islamic State's legion of foreign fighters, according to the Jakarta Post. A recent video uploaded on YouTube showed a jihadist named Abu Mohammed al-Indonesi urging fellow Indonesians to join the fight and flock to the Islamic State's self-declared Caliphate.


New York Times
$11 Billion Later, High-Speed Rail Is Inching Along
High-speed rail was supposed to be President Obama's signature transportation project, but despite the administration spending nearly $11 billion since 2009 to develop faster passenger trains, the projects have gone mostly nowhere and the United States still lags far behind Europe and China. While Republican opposition and community protests have slowed the projects here, transportation policy experts and members of both parties also place blame for the failures on missteps by the Obama administration — which in July asked Congress for nearly $10 billion more for high-speed initiatives. Instead of putting the $11 billion directly into those projects, critics say, the administration made the mistake of parceling out the money to upgrade existing Amtrak service, which will allow trains to go no faster than 110 miles per hour. None of the money originally went to service in the Northeast Corridor, the most likely place for high-speed rail. "The Obama administration's management of previously appropriated high-speed rail funding has been as clumsy as its superintending of the Affordable Care Act's rollout," said Frank N. Wilner, a former chief of staff at the Surface Transportation Board, a bipartisan body with oversight of the nation's railroads. When Mr. Obama first presented his vision for high-speed rail nearly four years ago, he described a future of sleek bullet trains hurtling passengers between far-flung American cities at more than 200 m.p.h. But as Mr. Obama's second term nears an end, some experts say the president's words were a fantasy.


New York Times


Obama yields to bigots, turns power of the US Government against immigrant children
As U.S. Speeds the Path to Deportation, Distress Fills New Family Detention Centers
After declaring the surge of Central American migrants crossing the border a humanitarian crisis, the Obama administration has shifted sharply to a strategy of deterrence, moving families to isolated facilities and placing them on a fast track for deportation to send a blunt message back home that those caught entering illegally will not be permitted to stay. In a far corner of the New Mexico desert, in the town of Artesia, more than 600 women and children are being held in an emergency detention center that opened in late June. On Friday, officials began filling up a new center in Karnes City, Tex., for up to 532 adults and children, and they are adding beds to a center for families in Pennsylvania that now holds about 95 people. "Our borders are not open to illegal immigration," said the Homeland Security secretary, Jeh Johnson, emphasizing his point when the Karnes City center started up last week. But the administration's plan has been complicated by the assertions of many migrants who say they are frightened of being sent back into deadly gang violence, setting off required reviews to determine if they have valid asylum claims. Some migrants have refused to sign travel documents required for deportations. At least two women and their children in Artesia were taken off deportation flights on the tarmac after they insisted they would face harm at home, according to legal advocates who visited the center.


Washington Post


Old gringos sucking up health care dollars....


Why immigrants are the best thing that happened to Medicare
America's growing immigrant population might not be all that bad for the country's health-care system. In fact, it's probably playing an important role in helping to keep it afloat. U.S. immigrants' net contribution to Medicare's Hospital Insurance Trust Fund, the program's core funding source, was $183 billion between 1996 and 2011. US-born Americans? Negative $69 billion, according to a new report by the Partnership for the New American Economy, an immigration advocacy group. That means that immigrants have been pumping a lot more money in than they take out, while the rest of the population has been doing just the opposite. On a per person basis, immigrants contributed $62 more per person to the trust fund than the U.S.-born, and claim $172 less in benefits. By the institute's estimates, the cash contributed by immigrants over the 16-year span was more than a mere inconsequential boost. "Our analysis indicates that non-citizen immigrants, a group that includes both authorized and unauthorized immigrants, played a particularly large role subsidizing the care of the U.S.-born population," the report says. The net $183 billion contribution was enough to ensure the prolonged buoyancy of Medicare trust fund, which according to the most recent projection will remain solvent through 2030. Immigrants' contributions alone have helped secure three extra years of hospital coverage for the roughly 52 million Medicaid beneficiaries living in the U.S..


New York Times


Bloody Hamas planning its next war against humanity


A Part of Hamas Negotiates, and Another May Fight Again
Battered by a month of Israeli assaults on its fighters, rockets and tunnels, the militant Palestinian group Hamas is turning its attention to surviving the peace. As both sides prepare for talks about extending a three-day truce, Israel is coming to the negotiating table emboldened to demand that Hamas surrender its weapons completely — what Israel calls the "demilitarization" of Hamas's stronghold, Gaza. Without disarmament, Israel says, it will not ease its blockade of the territory. Egypt, the broker of the talks and once a friendly face to Hamas, has now joined Israel in pushing to cripple the militant group. It favors putting Gaza under the control of a unified Palestinian government formed by a recent deal between Hamas and its secular rival faction, Fatah, in the hope that the new government could disarm Hamas. But Mousa Abu Marzook, a senior Hamas political leader, said during an interview in Cairo that Hamas would still come out ahead. He said the group welcomed the new coalition government but would keep its military wing distinct — and allow it to prepare for another potential war with Israel. Both Israel and Egypt, its two neighbors, have made clear that they are unwilling to loosen the border restrictions significantly as long as Hamas is looking across from the other side. But ostensible control of Gaza by the new reconciliation government — which has renounced violence, recognized Israel and embraced the peace process — could be more palatable.


New York Times


Global warming fanatics question your very right to exist


Reducing Carbon by Curbing Population
When population was growing at its fastest rate in human history in the decades after World War II, the sense that overpopulation was stunting economic development and stoking political instability took hold from New Delhi to the United Nations' headquarters in New York, sending policy makers on an urgent quest to stop it. In the 1970s the Indian government forcibly sterilized millions of women. Families in Bangladesh, Indonesia and elsewhere were forced to have fewer children. In 1974, the United Nations organized its first World Population Conference to debate population control. China rolled out its one-child policy in 1980. Then, almost as suddenly as it had begun, the demographic "crisis" was over. As fertility rates in most of the world dropped to around the replacement rate of 2.1 children per woman — with the one major exception of sub-Saharan Africa — population specialists and politicians turned to other issues. By 1994, when the U.N. held its last population conference, in Cairo, demographic targets had pretty much been abandoned, replaced by an agenda centered on empowering women, reducing infant mortality and increasing access to reproductive health. Well, concerns about population seem to be creeping back. As the threat of climate change has evolved from a fuzzy faraway concept to one of the central existential threats to humanity, scholars have noted that reducing the burning of fossil fuels might be easier if there were fewer of us consuming them.



Washington Post


To stupid to be parents: At least 17 children have been left to die in hot cars this year
A 10-month-old girl died after being left inside this car in Wichita. Police said her foster parents were inside, eating pizza, smoking pot and watching "Game of Thrones." Parents on their way to work sometimes do it. So do parents who are rushing to the restroom or tackling odds and ends around the house. Sometimes, drowsy parents nod off; sometimes, the parent (allegedly) smokes pot, eats pizza and watches HBO unaware of the looming tragedy. Sometimes, children climb into hot cars and become trapped. As many as 21 children have died in hot-car-related incidents this year.


Los Angeles Times


"Over the past decade or so we have observed and experienced a militarization of BLM's officers"
BLM, local law enforcement tensions near breaking point in the West
James Perkins sees the federal Bureau of Land Management more as a belligerent occupying army than a government agency serving U.S. citizens, including those like him in south-central Utah. Perkins is the sheriff of Garfield County, a rural bastion the size of Connecticut with only 5,500 residents, where 90% of the land is maintained by the BLM. The relationship between local law enforcement and often heavily armed federal officers has always been tense, and now threatens to reach a breaking point. He and others attribute the deteriorating relations to what he calls BLM's culture of elitism, which provoked Garfield County to join two other Utah counties this year to pass a resolution restricting or banning federal law enforcement within their borders. "I don't know any sheriff who doesn't want a good relationship with the BLM," he said. "We're a rural agency and we'd like a partnership, but it seems they have a hard time recognizing our authority. They'd rather be independent." The BLM has faced a string of challenges. In April, it called off a cattle roundup after rebellious Nevada rancher Cliven Bundy was backed by an armed citizen militia that stood its ground with semiautomatic weapons. The BLM looked, in turns, overzealous and ineffectual.


Los Angeles Times
No resolution for 'wrong turn' Marine who entered Mexico with guns
Andrew Tahmooressi, the former Marine who has been charged with violating Mexican gun laws, arrived at a federal courthouse here Monday morning in a dramatic, and slightly ironic, motorcade of armored vehicles, blaring sirens and black-clad men toting very big guns. Were Mexican police escorting him from El Hongo prison in Tecate expecting trouble? Maybe. After all, there was so much Fox News-whipped hysteria around Tahmooressi's arrest that his mother, Jill, had to finally ask folks to calm down and stop pushing idiotic ideas like breaking her son out of jail, a la SEAL Team Six.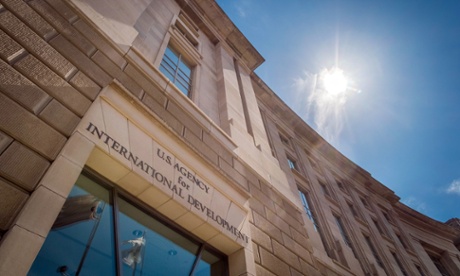 The Guardian




Why Latin America hates the U.S.


USAID program used young Latin Americans to incite Cuba rebellion
An Obama administration program secretly dispatched young Latin Americans to Cuba using the cover of health and civic programs to provoke political change, a clandestine operation that put those foreigners in danger even after a US contractor was sent to a Cuban jail. Beginning as early as October 2009, a project overseen by the US Agency for International Development (USAID) sent Venezuelan, Costa Rican and Peruvian young people to Cuba in hopes of ginning up rebellion. The travelers worked undercover, often posing as tourists, and traveled around the island scouting for people they could turn into political activists. In one case, the workers formed an HIV-prevention workshop that memos called "the perfect excuse" for the program's political goals – a gambit that could undermine America's efforts to improve health globally. But their efforts were fraught with incompetence and risk, an Associated Press investigation found. Cuban authorities questioned who was bankrolling the travelers. The young workers nearly blew their mission to "identify potential social-change actors". One said he got a paltry, 30-minute seminar on how to evade Cuban intelligence, and there appeared to be no safety net for the inexperienced workers if they were caught. The travelers program was launched when newly inaugurated President Barack Obama's administration was talking about a "new beginning" with Cuba after decades of mistrust, raising questions about whether the White House had a coherent policy toward the island nation.


Washington Post
How closely is Google really reading your e-mail?
Most users know that Google routinely uses software to scan the contents of e-mails, including images, to feed its advertising and to identify malware. But many may not have been aware that the company is also scanning users' accounts looking for illegal activity -- namely, matching images in e-mails against its known database of illegal and pornographic images of children. That bit of Google policy came to light last week, when a Houston man was arrested on charges of having and promoting child pornography after Google told the National Center for Missing and Exploited Children that he had the images in his Gmail account. The tipoff, according to a report from Houston television channel KHOU, led to the man's arrest. While it's hard to argue with the outcome of this particular case, the news did raise some alarm bells among researchers at the security firm Sophos, who questioned whether Google was stepping outside its place as a company and into the role of a pseudo law enforcement agency. Chester Wisniewski, a senior security researcher at Sophos, said that Google's "proactive" decision to tip off law enforcement makes "some of us wonder if they're crossing the line."



Washington Post


GOP in doghouse among women, nonwhites, young
A new Washington Post/ABC News poll is getting a bit of a bounce this morning because it finds that a record high number of Americans disapprove of their own Member of Congress — reflecting, once again, just how poorly this Congress is viewed. But the relative ratings of the Republican and Democratic parties are also noteworthy, particularly among key voter groups that GOP leaders have been hoping to improve their appeal among ever since the 2012 loss produced a round of soul searching about the party's future. The toplines are that among registered voters, 38 percent view the GOP favorably, versus 60 percent who view it favorably; among Dems those numbers are 51-46. Such findings are worth keeping an eye on for 2016 and the long term. On immigration, for instance, the current maneuvering has essentially locked Republicans into a position to the right of Mitt Romney's 2012 "self deportation" stance.



New York Times




Panicked Republicans flip-flop all over the place...


Democrats Seize on Social Issues as Attitudes Shift
Facing re-election, Gov. Scott Walker, Republican of Wisconsin, no longer talks about stopping same-sex marriage. "It's those on the left that are pushing" the issue, he says. Ed Gillespie, the Republican Senate candidate in Virginia, argued that Senator Mark Warner, the Democratic incumbent, was "making up my views" when Mr. Warner accused him of seeking to overturn abortion rights and ban some forms of contraception. In fact, Mr. Gillespie, a former Republican National Committee chairman, said in a recent debate, he wants contraceptives available (behind the counter) at pharmacies without a prescription.


Washington Post


You do the right thing, then you get screwed...
Water utilities charge more to offset low-flow toilets, faucets and shower heads
Federally mandated low-flow toilets, shower heads and faucets are taking a financial toll on the nation's water utilities, leaving customers to make up the shortfall with higher water rates and new fees that have left many paying more for less. Utility officials say they understand that charging more for water because demand has dropped might seem to violate a basic premise of Economics 101. But utilities that generally charge by the number of gallons used are beginning to feel the financial pinch of 20 years of environmentally friendly fixtures and appliances, as older bathrooms and kitchens have been remodeled, utility experts say. Federal laws aimed at conserving water limit toilets that once needed up to seven gallons per flush to 1.6 gallons. Shower heads that spewed up to eight gallons per minute are being replaced with sprays of about 2.5 gallons.


Washington Examiner
Firm running California federal charity drive misspent millions in donations, including buying a house
At least half of the $4 million in expenses claimed by the California arm of the federal government's workplace charity campaign was spent on inappropriate or unknown items, according to a government watchdog report. The Sacramento Metropolitan Arts Partnership received the contract to administer the Combined Federal Campaign in California for many years despite constant overruns, according to the Office of Personnel Management's inspector general. The board of federal employees overseeing it did not even meet for most of the year. Sacramento MAP charged the entire down payment on a house to one year's federal charity haul, and then charged the same program rent for the use of the house. The house was sold at a large profit shortly after Sacramento MAP's connection to the CFC was severed. The down payment and profit have not been returned to the CFC. In 2010, MAP spent $847,903 to raise $3.9 million for charity. In 2009, it spent $679,153 even though it only budgeted $518,475. It raised $4.4 million that year. In 2011, Sacramento MAP spent $32,317 on "conferences, conventions and meetings," $22,000 on "donor recognition awards" and $15,000 on "special events." Conference expenses included staying multiple days after the conferences ended and flight upgrades. Expenses were so high despite the fact Sacramento MAP didn't have to pay the salaries or benefits for the dozen federal employees known as "loaned executives" who staffed the CFC full-time for five months each year. Their compensation is covered by taxpayers. The IG report is the most recent of a growing list of examples of how the CFC has been transformed from a workplace charity appeal into a way for hundreds of government employees to be exempted from doing their jobs.


Los Angeles Times


Budgets raided to address border crisis amid Congress' inaction
Surveillance drones that hunt drug smugglers along the Mexican border could soon be grounded. Installation of pole-top cameras and ground sensors to intercept illegal crossings might be delayed. About $44 million has already been diverted from the government's health-related accounts, including the National Institutes of Health and the Centers for Disease Control and Prevention, to pay for food, beds, clothing and medical care for the crush of unaccompanied minors who have crossed the Southwestern border. With the expected failure of Congress to agree Thursday on emergency funds to cope with the border crisis, the Obama administration is shifting an additional $94 million from other government programs and accounts — some far removed from the immigration debate — to meet the swelling costs of caring for the children through the summer, according to congressional aides. Congress is scheduled to leave town Thursday for a five-week break without acting on the president's request for $3.7 billion in emergency funding or agreeing on an alternative. But border agencies say their existing budgets — sapped by added costs from overtime, detention and transportation for the children, more than 57,000 of whom have arrived since October — will start running dry before lawmakers get back in September.


Washington Post


The FBI's frighting incompetence and abuse of power...
Federal review stalled after finding forensic errors by FBI lab unit spanned two decades
Nearly every criminal case reviewed by the FBI and the Justice Department as part of a massive investigation started in 2012 of problems at the FBI lab has included flawed forensic testimony from the agency, government officials said. The findings troubled the bureau, and it stopped the review of convictions last August. Case reviews resumed this month at the order of the Justice Department, the officials said. U.S. officials began the inquiry after The Washington Post reported two years ago that flawed forensic evidence involving microscopic hair matches might have led to the convictions of hundreds of potentially innocent people. Most of those defendants never were told of the problems in their cases. The inquiry includes 2,600 convictions and 45 death-row cases from the 1980s and 1990s in which the FBI's hair and fiber unit reported a match to a crime-scene sample before DNA testing of hair became common. The FBI had reviewed about 160 cases before it stopped, officials said. The investigation resumed after the Justice Department's inspector general excoriated the department and the FBI for unacceptable delays and inadequate investigation in a separate inquiry from the mid-1990s. The inspector general found in that probe that three defendants were executed and a fourth died on death row in the five years it took officials to reexamine 60 death-row convictions that were potentially tainted by agent misconduct, mostly involving the same FBI hair and fiber analysis unit now under scrutiny.


The Guardian


Putin to the West: Screw You!


Russia takes defiant stance in face of tough EU and US sanctions
As the US and the European Union adopted tougher economic sanctions against Russia over the conflict in eastern Ukraine and downing of Malaysia Airlines flight MH17, Russian officials struck a defiant note, promising that Russia would localise production and emerge stronger than before. But analysts in sectors that could be affected by the sanctions – finance, defence and energy – predicted that they would suffer in isolation from the west. The EU reached a deal on Tuesday evening to cut off Russian state-owned banks from European capital markets and was quickly joined by the US, which denied the state-owned banks VTB Bank OAO, Bank of Moscow and the Russian Agricultural Bank access to the US economy. In addition, the EU banned any trade in arms or "related material" with Russia, and the US prohibited transactions with Russia's United Shipbuilding Corp, which it classified as a defence company. Both the EU and the US will also ban technology exports to Russia for deep-water, Arctic or shale oil drilling. The sanctions imposed by the EU, which does far more trade with Russia than the US, will be reviewed in three months.


Politico


Lib-topia's foreign policy nightmare...


Poll: Disapproval of mideast policy
A majority of Americans disapprove of President Barack Obama's handling of the Israel-Palestine conflict, a new poll says. According to a Washington Post/ABC News poll released Wednesday, 52 percent of Americans disapprove of the president's "handling of the situation between Israel and the Palestinians," compared with 39 percent who approve. Thirty-three percent said they strongly disapprove of the president's management of the issue. Half of Americans disapprove of Obama's handling of international affairs in general, compared with 46 percent who approve, the poll found. His approval numbers on international issues are up 5 points since the beginning of June. The poll comes as the Obama administration has struggled to facilitate an immediate ceasefire between Israel and Hamas. In recent weeks, reports have surfaced of tensions between Israeli Prime Minister Benjamin Netanyahu and Secretary of State John Kerry.


Los Angeles Times


Employer health insurance mandate a political orphan
Obamacare was never about getting you quality health care, it was always about making money for insurers
When President Obama signed the Affordable Care Act, its requirement that large employers provide health coverage or pay a penalty seemed to many supporters a key pillar of the effort to guarantee health coverage to Americans. Four years later and after repeated delays, the so-called employer mandate has become something of an orphan, reviled by the law's opponents and increasingly seen as unnecessary by many of its backers. Twice in the last two years, the Obama administration has put off the penalties, citing difficulties enforcing the mandate. House Republicans plan to sue the president, largely over his suspension of the mandate, saying he has broken the law by failing to enforce a requirement that they bitterly oppose. That's only one of the ironies in the debate over this part of the health law: The center of a potential constitutional clash between the House and the White House is a program that many in both parties would just as soon see go away. The House could vote to approve the lawsuit as early as this week. Backers of the Affordable Care Act list the employer mandate as among the provisions of the complex law that they hope could be revised when healthcare becomes less politically explosive. "A few years down the road, there may be opportunities to revisit parts of the ACA and improve them. That would be nice to contemplate," said Paul N. Van de Water, senior fellow at the Center on Budget and Policy Priorities, a left-leaning Washington think tank. "We are not there yet." The employer mandate is designed to prevent businesses from dropping health benefits now that the government provides subsidies to help low- and moderate-income Americans buy coverage. Democrats who wrote the law worried that companies would be tempted to stop offering coverage, shifting the cost to taxpayers. Large employers that do not provide insurance are supposed to pay a fine — called an employer responsibility payment — of $2,000 per employee above the first 30 employees. Employers may be subject to even bigger fines if their employees cannot afford the coverage offered at work and then qualify for government subsidies to buy coverage on their own. But over time, the mandate has drawn increasing criticism, even from the law's supporters.



Politico


Ted Cruz, Kirsten Gillibrand team up on Hamas
Sens. Ted Cruz and Kirsten Gillibrand united on Monday to push a resolution condemning Hamas in its war against Israel, building on their burgeoning bipartisan alliance. The resolution from the Texas Republican and New York Democrat strongly criticizes Hamas for using "innocent civilians as human shields," tags Hamas and other terrorist groups with the blame for thousands of rocket attacks on Israel launched from Gaza and demands that Palestine Liberation Organization chairman Mahmoud Abbas condemn Hamas's tactics. Israel has reported that Hamas is keeping civilians in areas marked for attack by Israel, an idea deemed "deplorable" by Gillibrand, who called on the global community to "stand up" to Hamas. "Hamas is undoubtedly guilty of violating international humanitarian law through its deliberate, repeated, and consistent use of civilians as human shields,"Cruz said. "The United States of America, along with the entire international community must expose and denounce Hamas' barbaric tactics and unequivocally support Israel's right to self-defense." Cruz and Gillibrand's resolution in the Senate is a companion to a House resolution introduced nearly two weeks ago by Reps. Ileana Ros-Lehtinen (R-Fla.) and Ted Deutch (D-Fla.).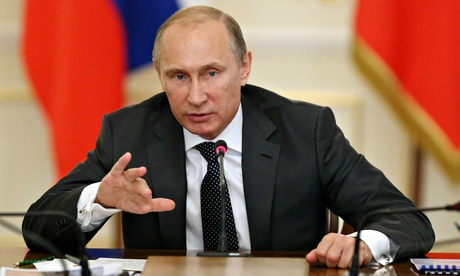 The Guardian


Putin stiff-arms Obama again...


Moscow may walk out of nuclear treaty after US accusations of breach


"Russia would be happy to leave this agreement, and I think Russia is using the Ukraine crisis to leave the agreement"


Russia may be on the point of walking out of a major cold war era arms-control treaty, Russian analysts have said, after President Obama accused Moscow of violating the accord by testing a cruise missile. There has been evidence at least since 2011 of Russian missile tests in violation of the 1987 intermediate range nuclear forces (INF) treaty, which banned US or Russian ground-launched cruise missiles with a 500 to 5,500-mile (805 to 8,851km) range. But the Obama administration has been hesitant until now of accusing Moscow of a violation in the hope that it could persuade Vladimir Putin, the Russian president, to stop the tests or at least not deploy the weapon in question, known as the Iskander, or R-500. Washington has also been reticent because of the technical differences in definition of what constitutes the range of a missile under the INF treaty. That ambiguity now seems to have dropped away. According to Pavel Felgenhauer, a defence analyst and columnist for the independent Russian newspaper Novaya Gazeta, Russia has indeed broken the treaty by testing the R-500 which has a range of more than 1,000km. Russian press reports have suggested the missile may even be in deployment, with state news agency RIA Novosti reporting in June that the "Russian army currently uses its Iskander-M and Iskander-K variants." Felgenhauer said he doesn't believe the missile has been deployed, although he said it's entirely possible that Russia will leave the treaty amid tensions with the US. Russian officials have previously criticised the 1987 treaty, including former defence minister Sergei Ivanov. In 2013, Ivanov, then presidential chief of staff, said of the treaty: "We are fulfilling it, but it can't last forever." According to Kremlin-linked analyst Sergei Markov, Russia has a far greater need for medium-range cruise missiles than the |US, because military rivals including China are located near its borders and because Moscow lacks the Americans' long-range bombing capabilities.


Washington Post
The middle class is 20 percent poorer than it was in 1984
Nostalgia is just about the only thing the middle class can still afford. That's because median wealth is about 20 percent lower today, in inflation-adjusted dollars, than it was in 1984. Yes, that's three lost decades. Now, as you might expect, the middle class has been hit particularly hard by the Great Recession and the not-so-great recovery. It's all about stocks and houses. The middle class doesn't have much of the former, but it does have a lot of the latter. And that's bad news, because, even though the crash decimated both, real estate hasn't come back nearly as much as equities have. So the top 1 percent, who hold more of their wealth in stocks, have made up more of the ground they lost. But, as the Russell Sage Foundation points out, the slow housing recovery means that, in 2013, median households were still 36 percent poorer than they were a decade earlier. In fact, the housing bust was big enough to erase all the gains the middle class had made the past 30 years—and then some. As you can see below, median households didn't add much wealth between 1984 and 2007. That's what happens when real wages don't increase, and the cost of a middle class lifestyle—housing, healthcare, and higher education—does. So, as Dean Baker points out, when the crisis did come, it devoured these meager gains and left the middle class with 20 percent less wealth than they had when it was "Morning in America."


Los Angeles Times


U.S. sees profound cultural shift on marijuana legalization
More than a third of adults have smoked it — including the last three presidents. Dozens of songs and movies have been made about it. Marijuana is no longer whispered about, nor hidden in back rooms and basements. It has come into the open in American life despite decades of prohibition and laws treating the drug as more dangerous than meth and cocaine. When the New York Times' editorial board called this weekend for the U.S. government to end its ban on weed — and let states decide how to regulate it — the newspaper reflected what a majority of Americans have told pollsters: Marijuana should be legal. The status quo, according to advocates and even the president, has resulted in the disproportionate arrests of minorities and the poor. "The social costs of the marijuana laws are vast," the editorial said. "There were 658,000 arrests for marijuana possession in 2012, according to FBI figures, compared with 256,000 for cocaine, heroin and their derivatives. Even worse, the result is racist, falling disproportionately on young black men, ruining their lives and creating new generations of career criminals." These are not new arguments. But this time they come from the New York Times, not High Times. Support for marijuana legalization has grown so rapidly within the last decade, and especially within the last two years, that some advocates and pollsters have compared it with the sudden collapse of opposition to same-sex marriage as a culture-redefining event. Gallup has found more popular support for legalizing marijuana than for legalizing same-sex marriage. In Gallup's most recent survey on the issue, in 2013, 58% of respondents said marijuana should be legal — up from 46% a year earlier and 31% in the early 2000s. This spring, 55% said gay and lesbian couples should be able to marry.


Politico
Empower the IRS? Not on GOP's watch


Republicans are in no mood to give the IRS any more authority


House Republicans, who've pounded the agency for more than a year, are now scoffing at calls to crack down on tax cheats. They're balking at a Senate plan to go after doctors who owe back taxes and another to make it easier to figure out if someone is overstating the mortgage interest deduction. They also won't accept an effort to cut the number of people wrongly claiming a child tax credit. That's a major change from just a few years ago, when Republicans led a bid to help the IRS clamp down on tax shelters and backed efforts to require foreign banks to help U.S. authorities catch Americans stashing income abroad and make it harder for people to misreport their capital gains. But that was before an inspector general report in May 2013 blasted the IRS for excessively scrutinizing tea party groups seeking tax breaks. More than 20 congressional hearings later, Republicans are in no mood to give the IRS any more authority. Before the tea party scandal hit, lawmakers had quietly agreed to raise tens of billions of dollars by improving tax collections. Wary of inconveniencing individual taxpayers, Congress often turned to banks, credit card companies and others to corroborate what people had claimed on their returns. That raised money because it not only made it easier for the IRS to detect errors, but because people are more likely to report accurate information if they know someone else will also be reporting on them.


New York Times


Taliban Making Military Gains in Afghanistan
Bush-Obama Foreign Policy Incompetence Nets Zero for the U.S.
Taliban fighters are scoring early gains in several strategic areas near the capital this summer, inflicting heavy casualties and casting new doubt on the ability of Afghan forces to contain the insurgency as the United States moves to complete its withdrawal of combat troops, according to Afghan officials and local elders. The Taliban have found success beyond their traditional strongholds in the rural south and are now dominating territory near crucial highways and cities that surround Kabul, the capital, in
strategic provinces like Kapisa and Nangarhar. Their advance has gone unreported because most American forces have left the field and officials in Kabul have largely refused to talk about it. The Afghan ministries have not released casualty statistics since an alarming rise in army and police deaths last year. At a time when an election crisis is threatening the stability of the government, the Taliban's increasingly aggressive campaign is threatening another crucial facet of the American withdrawal plan, full security by Afghan forces this year. "They are running a series of tests right now at the military level, seeing how people respond," one Western official said, describing a Taliban effort to gauge how quickly they could advance. "They are trying to figure out: Can they do it now, or will it have to wait" until after the American withdrawal, the official added, speaking on the condition of anonymity because the coalition has officially ceded security control. Interviews with local officials and residents in several strategic areas around the country suggest that, given the success of their attacks, the Taliban are growing bolder just two months into the fighting season, at great cost to Afghan military and police forces.


New York Daily News


Obamas are buying $4.25M desert home in California: report
Unidentified real estate sources: First Family is in escrow on the custom-built compound in ritzy Rancho Mirage
The Obamas are buying a $4.25 million hilltop hideaway near Palm Springs that boasts its own two-story waterfall and putting green, according to a published report. Unidentified real estate sources told the Los Angeles Times that the First Family is in escrow on the custom-built compound in the ritzy Thunderbird Heights community of Rancho Mirage, Calif. Frank Sinatra, Bob Hope and Bing Crosby once owned homes in the exclusive gated enclave. The centerpiece of the jaw-dropping desert property is a spacious, ultra-modern main house with four bedrooms, four and a half bathrooms and a "master retreat" complete with gym, tanning and spa rooms, the property's online Realtor.com listing says. A neighboring "casita" on the highly manicured, palm tree-dotted grounds offers three bedrooms and three baths. Nestled against a bighorn sheep preserve, the 8,232-square-foot estate covers 3.29 private acres. If the Obamas do eventually move in, they'll also enjoy elevators, two spas, a private rock-formed lagoon, stunning panoramic views and a misting system to help cope with the sweltering desert heat. And they would be following in the footsteps of former President Gerald R. Ford, who departed Washington for the same "playground of Presidents." Attempts to reach listing agents Marc Lange and Carl Blea of HOM Sotheby's International were not immediately successful.


Washington Post


A bad idea to mess with Israel...Palestinian death toll rises in Gaza fighting
The Palestinian death toll rose to more than 500 on Monday as Israel announced that it had prevented two more attempts by Hamas militants to infiltrate the nation via tunnels from the Gaza Strip. As international concern mounted over the growing casualties on both sides in the conflict, now in its 14th day, yet another diplomatic push was underway to bring about a cease-fire. U.S. Secretary of State John F. Kerry and U.N. Secretary General Ban Ki-moon were both expected in Cairo later Monday in hopes of finding a diplomatic resolution that has so far proved elusive. Over the past few hours, Israel reported intense rocket fire across its southern communities, reaching up to Tel Aviv, its second-largest city, where two rockets were intercepted by the Iron Dome missile-defense shield midmorning Monday. Prime Minister Benjamin Netanyahu, who held a security briefing in the south Monday morning with Defense Minister Moshe Yaalon and Benny Gantz, the military's chief of the general staff, said in a statement afterward that while the army had achieved some of its main goals, the "operation would be expanded in order to restore quiet to Israeli citizens."


Politico


Americans are recoiling from direct engagement overseas


Oppose U.S. involvement in Afghanistan, Iraq, Syria and Ukraine by large margins


Skeptical of the value of projecting U.S. power on foreign conflicts


Amid deepening violence across Eastern Europe and the Middle East, Americans are recoiling from direct engagement overseas and oppose U.S. involvement in Afghanistan, Iraq, Syria and Ukraine by large margins, according to a POLITICO poll of 2014 battleground voters. The survey provides a unique look at the foreign policy attitudes of voters who will decide the most competitive Senate and House races this fall. It shows an intensely skeptical view of American military intervention. Asked whether the U.S should do more to counter Russian aggression in Ukraine, just 17 percent answered in the affirmative. Thirty-one percent said the current policy is correct and 34 percent said the U.S. should be less involved. The poll was completed before the downing last week of Malaysia Airlines Flight MH17, the civilian airliner that was apparently attacked over eastern Ukraine. More than three-quarters of likely voters say they support plans to withdraw all troops from Afghanistan by the end of 2016. Only 23 percent oppose the plan. Forty-four percent of likely voters favor less involvement in Iraq's civil war, versus 19 percent who favor more involvement and 23 percent who say the current level of involvement is appropriate. A 51 percent majority said the situation in Iraq affects U.S. national security "a little" or "not at all." Forty-two percent said it affects U.S. national security "a lot." Likely voters prefer less involvement in Syria's civil war over more involvement, 42 percent to 15 percent. Twenty-six percent of likely voters support the current, limited level of involvement. The picture that emerges from the survey is consistent across issues of foreign policy and national security: Americans are profoundly wary of getting entangled overseas and seem to be skeptical of the value of projecting U.S. power on foreign conflicts.





Lee Rowland


There Is No 5-Second Rule for the First Amendment, Ferguson
Tear gas, rubber bullets, and assault weapons; free speech zones, gags, and press pens: This is the arsenal of the police state. Some of these tactics are physical. The other ones—all the more pernicious for their quiet coercion—impose a veil of silence over the actions of law enforcement. And each of these weapons has been unleashed on the people of Ferguson, Missouri, since the killing of Michael Brown. The message was clear: The public is the enemy. And as we the people started getting that message, Ferguson starting working harder to shoot the messengers.



Los Angeles Times


A first step in reining in the National Security Agency
Sen. Patrick Leahy (D-Vt.), the chairman of the Senate Judiciary Committee, has proposed a version of the bill that is significantly more protective of privacy than one passed by the House in May. Like the House bill, Leahy's proposal would end the NSA's bulk collection of telephone "metadata" — information about the source, destination and duration of phone calls that investigators can "query" in search of possible connections to foreign terrorism. For all its limitations, the USA Freedom Act is a testimony to the importance of informed public debate. Whatever one thinks of Snowden, his disclosures brought into the open a dramatic expansion of government power that had never been discussed openly by the people's representatives. As a result of his disclosures, liberal Democrats in Congress joined libertarian Republicans in pushing back against an overweening national security establishment. Even Obama was affected. Initially, he defended the phone records program, assuring Americans that "nobody is listening to your telephone calls." Eventually, however, he endorsed an end to the bulk collection program. His signature on the bill should be the beginning, but not the end, of an overdue recalibration of the balance between national security and personal privacy.



Doyle McManus


Make no mistake: We're back in an Iraq war
Every time Barack Obama thinks he has succeeded in establishing restraint as the central doctrine of his foreign policy, a new outburst of chaos in the Middle East draws him back in. Now it's Iraq, where the president thought he had disentangled the United States, only to see a new threat arise in the form of the terrorist army of the Islamic State. Obama has entered the United States in its fourth Iraq war. It won't be over quickly. As the president said, this is going to be a long-term project.



Lynn Vavreck


It's Not Too Late for Republicans to Win Latino Votes
The Republican Party can compete with Democrats for the votes of Latinos, even young Latinos, without alienating the majority of its voters. But to earn support from this fast-growing segment of the American population, these survey results suggest the party is going to need leaders and candidates strong enough to stand up to the few who have hijacked its policy on immigration.



Allan J. Lichtman


Who rules America?


"The public be damned!"


A shattering new study by two political science professors has found that ordinary Americans have virtually no impact whatsoever on the making of national policy in our country. The analysts found that rich individuals and business-controlled interest groups largely shape policy outcomes in the United States.



Jonah Goldberg


Prepare for a long war against the Islamic State
The hawks (including me) were wrong about a lot, but some got one thing right. It's going to be a long war. In the early days after 9/11, there was a lot of talk about a "clash of civilizations" and a long "existential struggle" facing the West. I once asked the late Christopher Hitchens what he felt on that terrible day and he said he felt no small amount of joy. Not for the suffering and death, but for the fact that the West finally had been awakened to the terrible but necessary struggle before us.



Adam Taylor


The one thing everyone in Israel seems to agree on: John Kerry blew it
Anyone who has made even a passing glance at the Israeli media in the past few days will have noticed the incredible chorus of criticism being directed at John Kerry right now. The secretary of state has been lambasted by all sides for his apparent failure in attempts to negotiate a cease-fire between Israel and Hamas.



New York Times


A Stronger Bill to Limit Surveillance
The Senate is about to begin debate on a bill that could, at long last, put an end to the indiscriminate bulk collection of Americans' telephone records and bring needed transparency to the abusive spying programs that have tarnished the nation's reputation. The bill, to be introduced on Tuesday by Senator Patrick Leahy of Vermont, chairman of the Judiciary Committee, is a significant improvement over the halfhearted measure passed by the House in May. That legislation was notable for putting even Republicans on the record in opposition to the broad domestic spying efforts of the intelligence agencies, but its final version was watered down at the insistence of the White House. Over all, the bill represents a breakthrough in the struggle against the growth of government surveillance power. The Senate should pass it without further dilution, putting pressure on the House to do the same.



Elmira Bayrasli


Sorry, Americans, but sometimes democracy simply can't bring peace
The United States has made this mistake over and over again. Americans keep prizing elections over reconciliation and peace. The result: It keeps leaving war zones paralyzed without any prospects for progress.



Steven Greenhut


Supreme Court passes on significant environmental case
Recent U.S. Supreme Court rulings have sparked boisterous national debates that touch on the role of religion in health care and the power of unions to claim dues payments from workers. But sometimes the court's refusal to rule on an issue also has a significant effect on public policy — although such "non-decisions" usually don't lead to big public debates.



David Sirota


Internet's future at risk if corporations stifle competition
The business lobby often demands that government get out of the way of private corporations, so that competition can flourish and high-quality services can be efficiently delivered to as many consumers as possible. Yet, in an epic fight over telecommunications policy, the paradigm is now being flipped on its head, with corporate forces demanding that government squelch competition and halt the expansion of those high-quality services. Whether and how federal officials act may ultimately shape the future of America's information economy.



Charles Krauthammer


Moral clarity in Gaza
Israel accepts an Egyptian-proposed Gaza cease-fire; Hamas keeps firing. Hamas deliberately aims rockets at civilians; Israel painstakingly tries to avoid them, actually telephoning civilians in the area and dropping warning charges, so-called roof knocking. "Here's the difference between us," explains the Israeli prime minister. "We're using missile defense to protect our civilians, and they're using their civilians to protect their missiles." Rarely does international politics present a moment of such moral clarity.



Geoffrey A. Fowler


Getting Rid of Cable TV: The Smartest Ways to Cut the Cord
Going without cable—or at least with considerably less of it—is easier than you think. Last week, I sliced my bill from $212 to $75 without giving up the stuff I really watch. Yes, cable and satellite companies lock away some content for subscribers. But you don't have to be an online pirate to see what you want. Broadcasters give away the most popular HD channels free over the air, and Internet video services like Hulu, "smart" TVs and streaming boxes make it possible to remain a full-fledged couch potato. None of this is as simple as clicking channel up and down on your cable remote. But for the app-savvy, Internet streaming wins not just because of price, but because of convenience. We should send Hollywood a message by voting with our credit cards for the content we want—delivered the way we want it.



Larry J. Sabato


Does the GOP need a FrankenCandidate?
Did you ever see the documentary A Perfect Candidate? It was about Oliver North's 1994 challenge to U.S. Sen. Charles S. Robb, a Democrat from Virginia. Despite the title, North turned out to be less than perfect; he lost to a scandal-wounded but resilient Robb despite a Republican tidal wave. There will never be a perfect candidate, unless brilliant genetic engineers assisted by Watson the computer decide to undertake the task in the distant future. Until then, parties are left with flawed human beings, those bundles of virtues and vices that get proctoscopic treatment during long campaigns.



Sonia Nazario


The Children of the Drug Wars
Children from Central America have been making that journey, often without their parents, for two decades. But lately something has changed, and the predictable flow has turned into an exodus. Three years ago, about 6,800 children were detained by United States immigration authorities and placed in federal custody; this year, as many as 90,000 children are expected to be picked up. Around a quarter come from Honduras — more than from anywhere else.



Dana Milbank


The tea party's embrace of martyrdom
Hiroo Onoda, the last imperial Japanese soldier to surrender after World War II, hid out in a jungle in the Philippines for 29 years, refusing to believe that the war was over. He finally turned himself in, wearing his sword, cap and patched uniform, in 1974. Onoda died this year at age 91, but his passion for lost causes lives on — in the person of Chris McDaniel, a failed Senate candidate in Mississippi. McDaniel gave an election-night speech with no concession. "There is something a bit unusual about a Republican primary that's decided by liberal Democrats," he declared, vowing that he was "not done fighting." Imperial Japan taught its soldiers that death was preferable to surrender. The tea party's code is similar.



Clemens Wergin


Is Obama's Foreign Policy Too European?
I have long been a critic of the German foreign policy debate — of its freeloading on the American security umbrella, coupled with moral grandstanding whenever the Americans did things their way; of too much analysis of past events and not enough thinking about how to get things right in the future; of its tendency to take words as a substitute for deeds. That's why I have usually given the Americans the benefit of the doubt: At least they took on problems nobody else was willing to tackle. But then, at the height of the Syria conflict and just after yet another of Barack Obama's speeches, I suddenly understood the problem with this American president and his foreign policy. He sounded just like a German politician: all moral outrage, but little else to help end one of the most devastating civil wars of our age. President Obama, I thought with a sigh, has become European.



Ruben Navarrette


Border kids issue tells us who we are as a nation
This Independence Day weekend, memory takes me back to something my father said during a Fourth of July celebration many years ago. Days earlier, authorities had made a gruesome discovery. Coldblooded smugglers had left dozens of migrants to die in a railroad car. My dad and I were at a public event and, at the end of "The Star-Spangled Banner," he pointed at Old Glory and said: "See that flag. That's why those people died, trying to get here -- because of freedom and the kind of country we are." It's a good time to ask once again, what kind of country are we? In between parades and barbeques, Americans can show their patriotism by being on their best behavior. This didn't happen the other day in Murrieta. In that city about 90 miles north of San Diego, an angry mob holding placards and shaking fists terrorized a busload of about 140 children and mothers, while chanting "USA, USA." The sickening images remind us of the stakes involved with the "border kids" -- the estimated 52,000 young castaways from Central America who entered the United States uninvited in the last year and the tens of thousands of others likely to follow. This debate isn't just about what will become of often-unaccompanied minors. It's about something more important: What kind of country we've become.



Bill Scher


How Obama's immigration push could hand the House to Democrats
Everyone assumes that Republicans will easily hold the House in November. The dominant storyline among the chattering classes centers instead on the possibility that Republicans could seize control of the Senate from Democrats. But the rapidly escalating immigration face-off between President Barack Obama and House Republicans raises the possibility that Democrats could win back the House — even if Republicans do take the Senate. How is that possible? It's simple: There are more competitive House races than Senate races in areas with significant Latino populations.



Ben Mattlin


Beware the rush to help people die
The Medical Society of New Jersey, the state's largest physicians group, opposed a recently tabled bill for physician-assisted suicide. But it is pushing an alternative that may be just as bad: the Practitioner's Orders for Life-Sustaining Treatment, or POLST. POLST is a legally binding form with medical instructions that other healthcare providers, such as paramedics and nursing home staff, must follow if the patient is unable to speak because of illness. It gives more specific instructions than a living will or advance directive, and is said to be more effective because it comes from — and is signed by — a medical authority, such as the patient's doctor. Ideally, the patient gives permission for the form, but if the patient is unable to, a designated proxy can do so. I'm simply leery of the push for a better death before we've done all we can to promote a better life for those of us on the fringe.



Aki Peritz


I watched all the terrorist beheadings for the U.S. government, and here's what I learned
ISIS's delight in its gruesome exploits indicates the way its leaders would run their self-declared "caliphate" across a broad swath of Iraq and Syria. But their bloodthirstiness may prove to be the group's downfall; after all, no other Iraqi insurgent organization or Sunni tribe subscribes to its fanatical agenda. It's hard to imagine that any permanent political settlement there could tolerate such stunts for very long. The Sunni tribes of Iraq will eventually turn on ISIS, as they have done in the past. But when that occurs, expect even more bloodletting — and more gruesome videos.



Terrence Mccoy


The war on terror didn't defeat al-Qaeda. But ISIS could
One of the great ironies of the current battle for Iraq is that for all the billions spent on the war on terror, all the bullets fired, all the lives lost, what may ultimately defeat al-Qaeda isn't the United States or another Western power — but a group from within the jihadist movement. It didn't take drones. Or the surge. It took a charismatic, emergent leader known as Abu Bakr al-Baghdadi, who recently threw off the yoke of al-Qaeda's command and decided he and his militant pals would do their own thing.



Raoul Lowery Contreras


A 3-year-old is not a criminal
Is a three-year-old Honduran kid a criminal if he is carried across the Rio Grande in South Texas by a teenager who himself isn't carrying a passport from his native country with an visitor's visa, an I-94 form, attached to it? If not, who is the criminal in the current crisis on the border?